Power, Thermals and Noise

For our thermal testing, we ran Gaming loads rather than a power virus type of load as this represents a far more realistic loading scenario for those looking to see what you can expect when gaming on your new RTX card.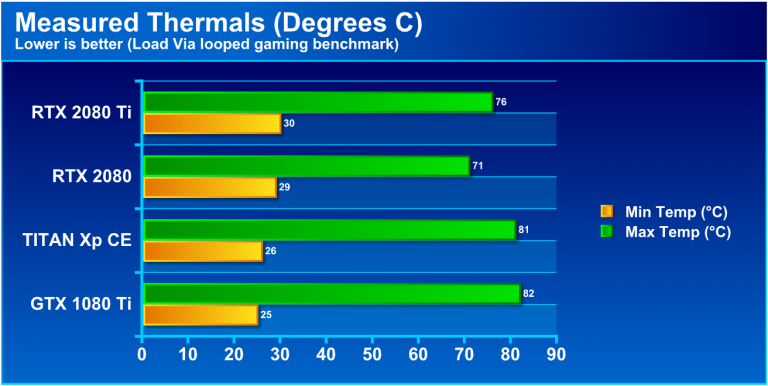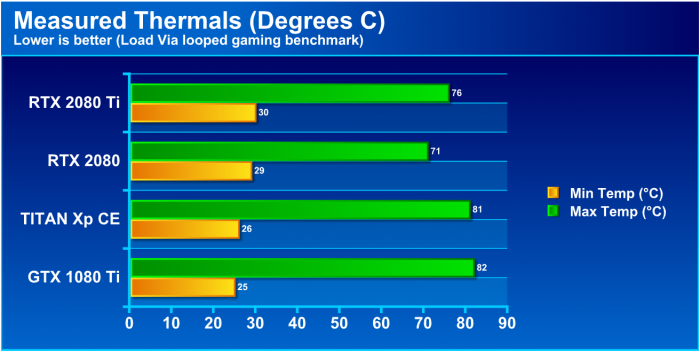 As you can see the new dual axial full vapor chamber setup achieves some very nice results, never coming close to touching the stock thermal target of 83.

The fan noise on an open testbench was not really audible unless you put your head right next to the card while running a gaming benchmark on loop. When in a case it was not at all discernable from the standard Corsair HD fans in the chassis. However it is worth noting when pushing the overclock and setting the temp tuner for max performance or easier explanation, I eliminated the plateau and let it run full bore until it hit the thermal limit at which point the fans would ramp quite a lot. Then at that point did I finally hear the fans jump up. I will honestly say that most people will not set up their card this way as I only did it to find the limits.