Gigabyte Z390 AORUS Pro WiFi BIOS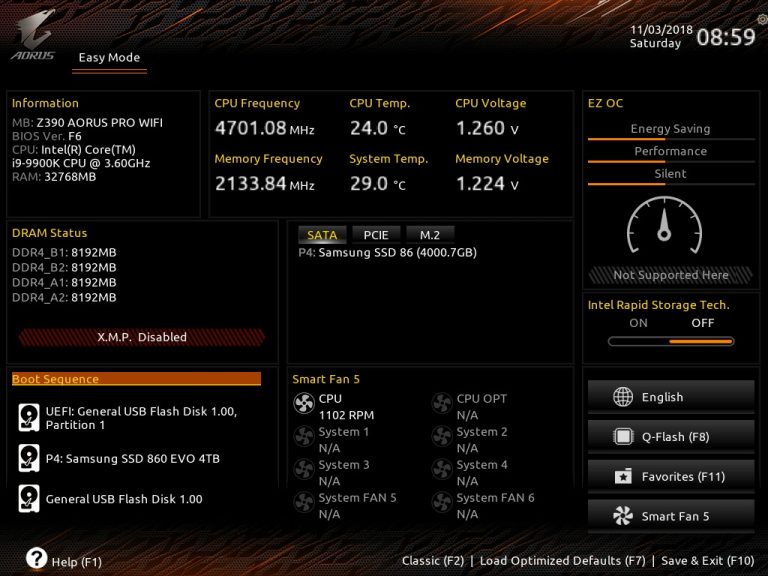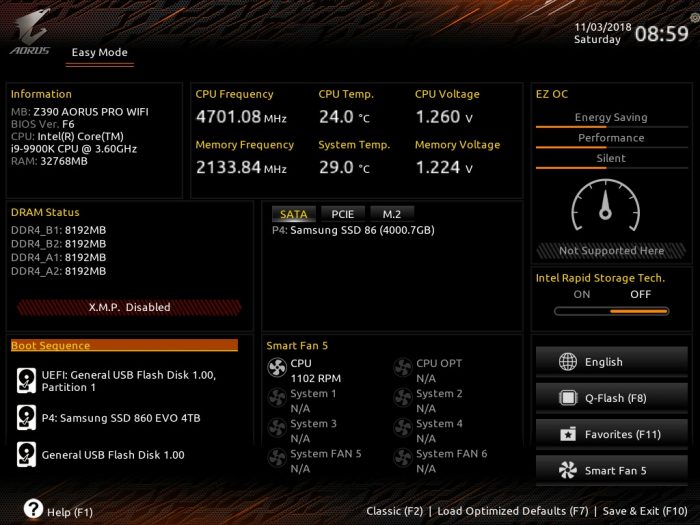 The Gigabyte BIOS is functional and has all of the necessary information in Easy mode but if you really want to tune anything you're going to want to enter advanced mode.
In the advanced mode, we can see that Gigabyte has tons of adjustability with some options such as per power level power controls in place which I find welcome for the ultimate level in tuning. I feel like most users might be a little over encumbered should they stray into this area as you can quickly end up in the twilight zone of PL settings that make no sense. Overall the BIOS is easy enough to tweak with many of the settings being a menu or sub-menu away.
Now we will take a peek at the included software suite for the Gigabyte Z390 AORUS Pro WiFi
Gigabyte Software Suite
Here we have the APP Center which is the Hub at which all of your Gigabyte software lies. all of gigabytes Apps over the past several years have been revamped to have a more soft app like feel which makes them less barebones looking and all features share a common theme which makes them feel more cohesive. I'm not a huge fan of most motherboard software as much of it can be bloaty or even very clunky. as it stands I'm not a big fan of some of the Gigabyte software as I don't see the need for it, but there are a few good bits scattered throughout.
Gigabyte RGB Fusion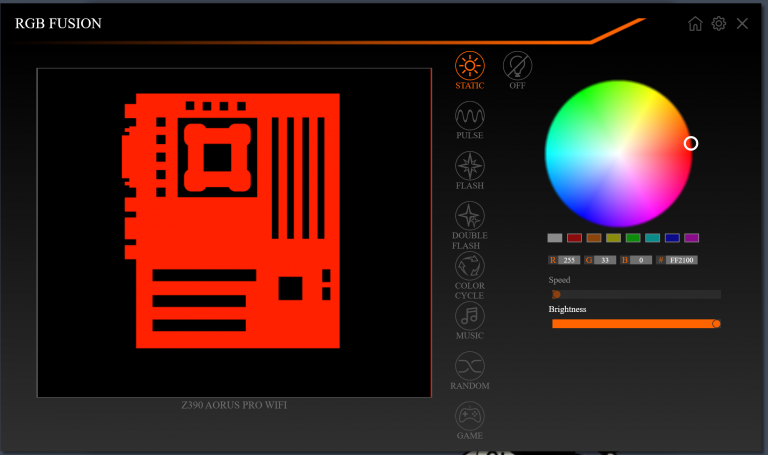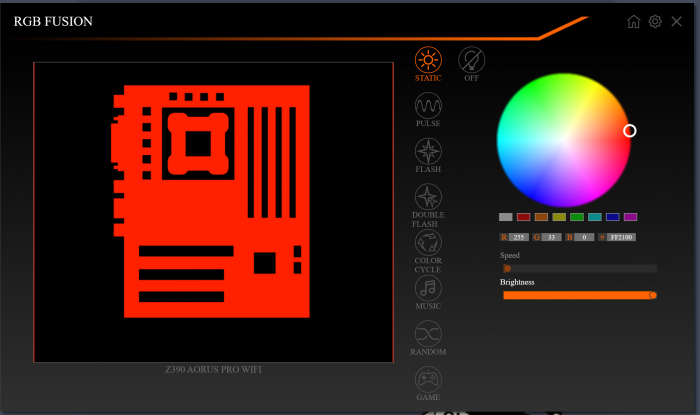 The Gigabyte RGB Fusion software is simple, it carries the same app lick soft appearance which is good as it feels more refined like a mobile app. Changing colors was quick and worked every time with no issues observed.
Gigabyte Easy Tune
Gigabytes Easy tune software used to be a very stripped down and lean interface but now is a bit more refined to fit with the rest of the App Like experience. Everything is there you would expect and then some, I'm not really sure I would bank my overclocking efforts on an App though, that's just me and I tend to stick to BIOS unless you are edge overclocking and simply cannot boot a specific setting but you can adjust it while in the OS for that last little bit.
cFos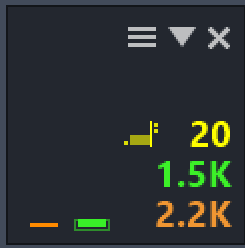 Gigabyte has chosen to include a packet prioritization service via cFos, which to their credit many are now doing. I don't necessarily care for this as I have seen it cause issues in the past especially for those who run their own network monitoring appliances and I have seen it raise utter hell with my edge appliances same as the Killer software/NICs will do. However should you want it, this does exist and as shown in the features section will allow packet prioritization based on your preferences to allow optimal ping and throughput while gaming if you have other network-intensive tasks going in the background.
Gigabyte 3D OSD
The 3D OSD software included with all boards is also included with the Gigabyte Z390 AORUS Pro WiFi and it allows you to set a ton of different system parameters as an OSD. This I like as you can customize to the hilt to best match what you need to see.
Gigabyte System Information Viewer
The Gigabyte System information viewer is a nice tool which you can see pretty much every detail about your system, functionality and installed components. You will also notice the smart Fan portion is in here which seems a bit odd as this would seem to be just for monitoring but this is where you can apply different fan profiles from within the APP interface.
Gigabyte USB Blocker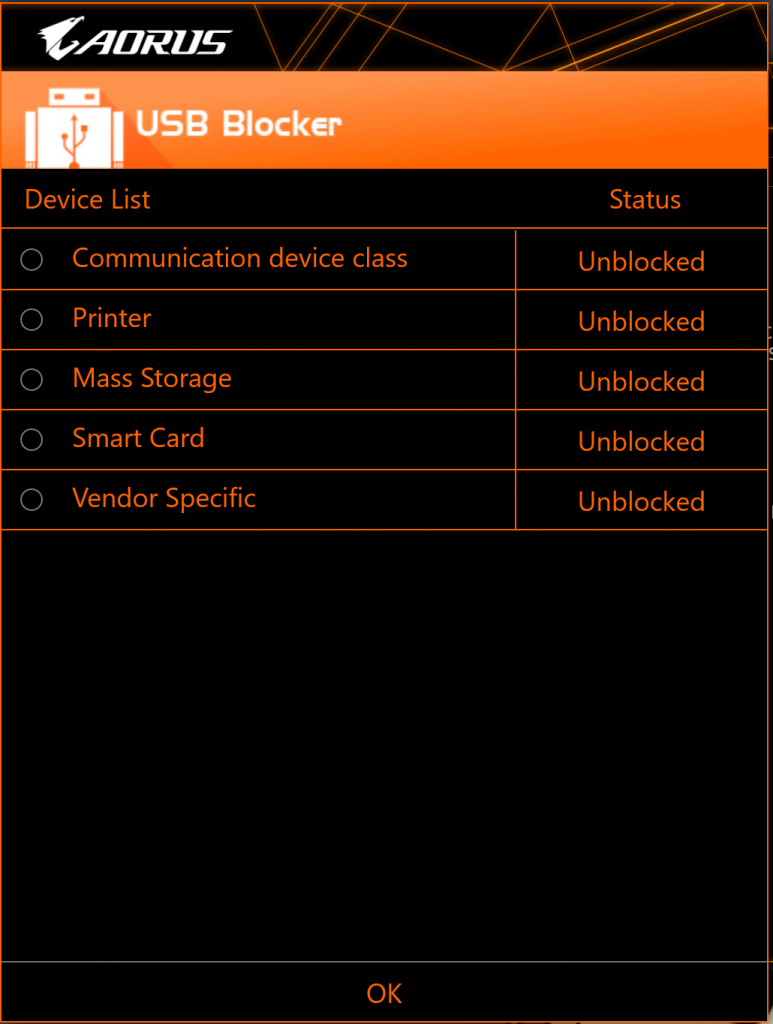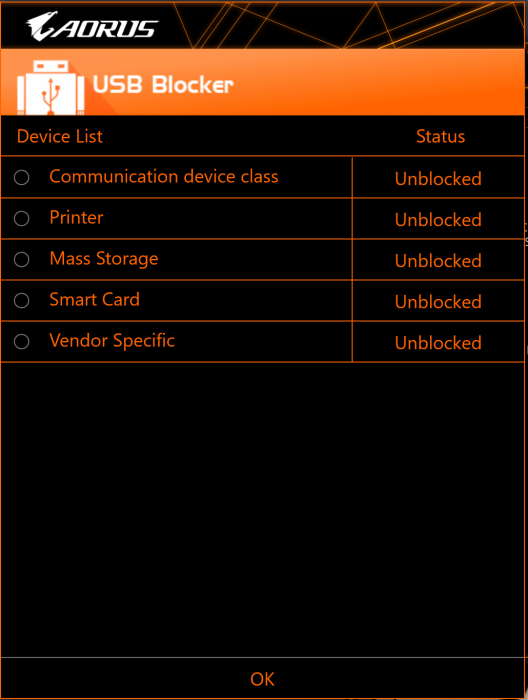 The USB blocker is interesting as Gigabyte offers the ability to block specific types of devices but I do wonder if it's just as easy for someone to go into the software to just unblock the devices.
Now, this was a quick view of some of the more pertinent software which Gigabyte offers with their boards. There are others but I just don't think they really need to take up page space as even most of you won't find some of the ones I showed above very interesting but I felt they at least needed a mention.
Now let's get into the performance. As you may notice this is the same data in the Maximus XI Extreme, MSI Edge AC and the Gigabyte Z390 AORUS Pro WiFi since all three were tested in succession for comparison.