Packaging
The packaging for the Gigabyte Z390 AORUS Pro WiFi is standard fare with nothing jumping out at me as being different from what we have seen before. This is a good thing.
Accessories
The accessories for the Gigabyte Z390 AORUS Pro Wifi are simple and get the job done.
Manuals
AORUS Case Badge
M.2 Standoffs and mounting screws
Quick connect Front panel connector
RGB Extension Cables
Temp Sensor probes
WiFi/Bluetooth Antennae
SATA Cables (x4)
The Board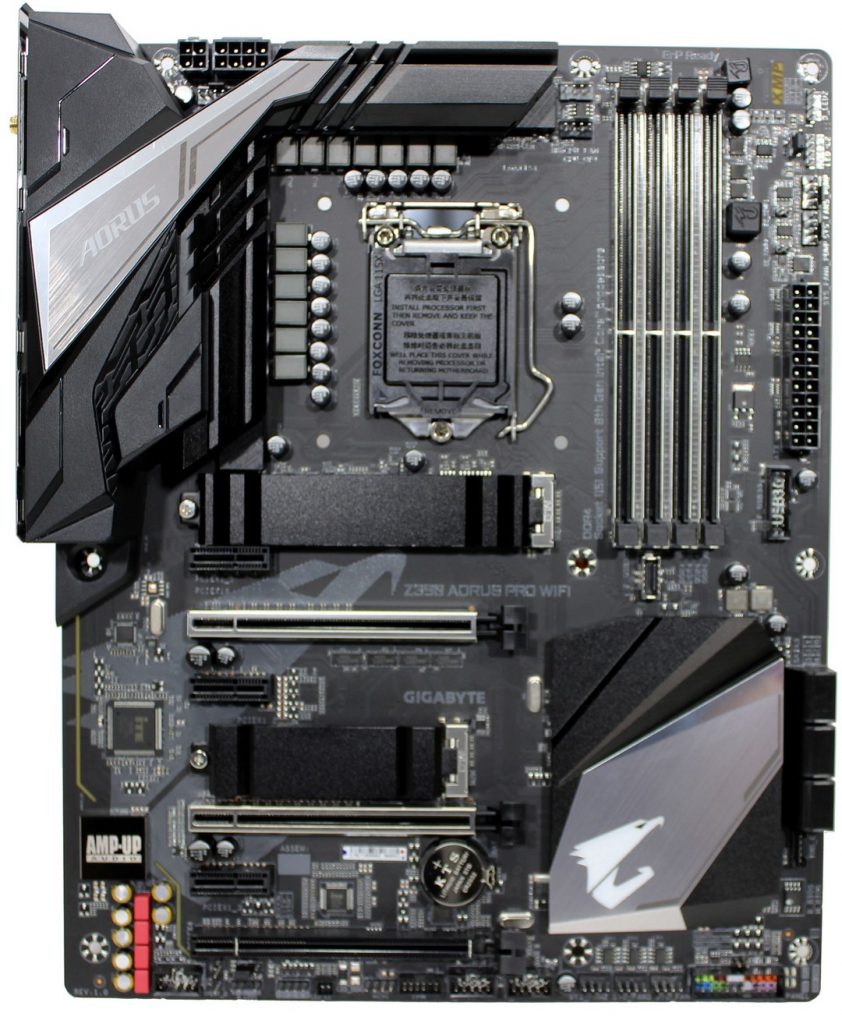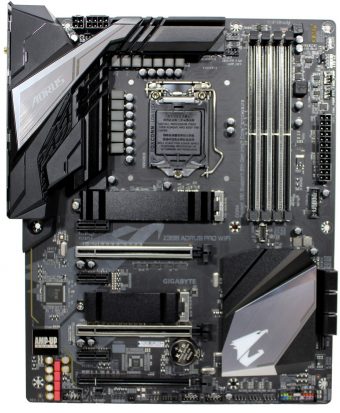 The Gigabyte Z390 AORUS Pro Wifi motherboard is simplistic which still driving home the design with the cuts in the fins fitting the overall design story of resembling claw marks from its namesake eagle. The board does not have any crazy OLED displays or other gadgets here which is not a bad thing but one omission I believe should not exist in 2019 is a 2 digit POST display. In my book, unless you simply have so many features cluttering the board you simply cannot fit a post display would be the only reason, but I have seen mITX boards with POST displays so, omitting it from this board makes absolutely no sense and makes diagnosing power-on issues much more of a hindrance than it needs to be.
A Closer Look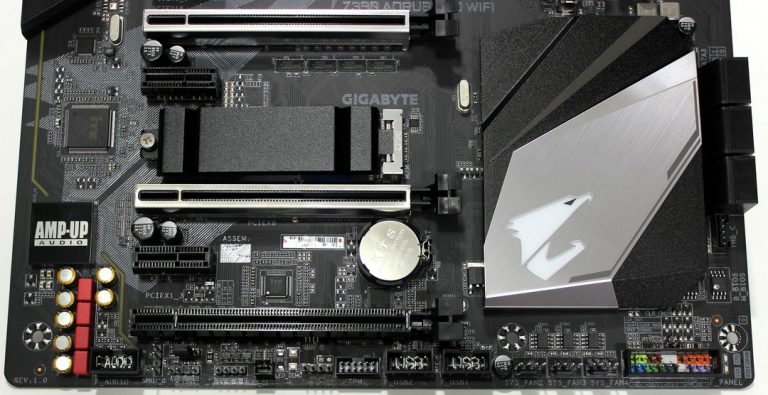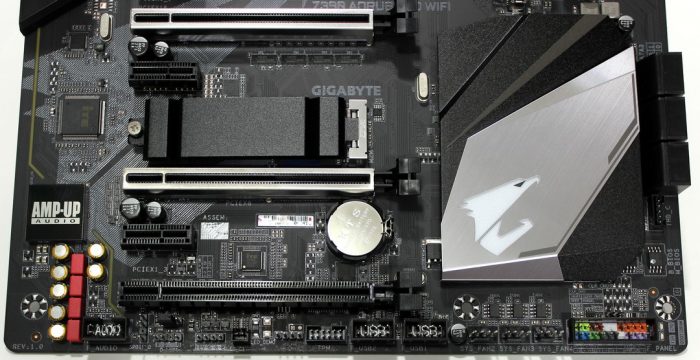 The Gigabyte Z390 AORUS Pro WiFi has 3 mechanical X16 length slots and two x1 slots. The bottom-most slot is an x4 electrically and fed by the PCH. The upper two metal shielded units are direct CPU attached lanes and they share lanes with the top being 16/8 while the second is 0/8.
The lower edge of the board's connectivity is as follows. (Left to right)
Front Panel Audio Header
SPDIF header
Addressable LED Header
LED Jumper (switch between 12V & 5V)
5050 style Header
LED CT header (appears to be an LED demo mode control)
MCU Connector (Appears to be a possible debug or programming interface for LED MCU)
TPM Header
2x USB 2.0 headers
3x Sys fan headers
Front Panel header
4 way LED array for post sequence debug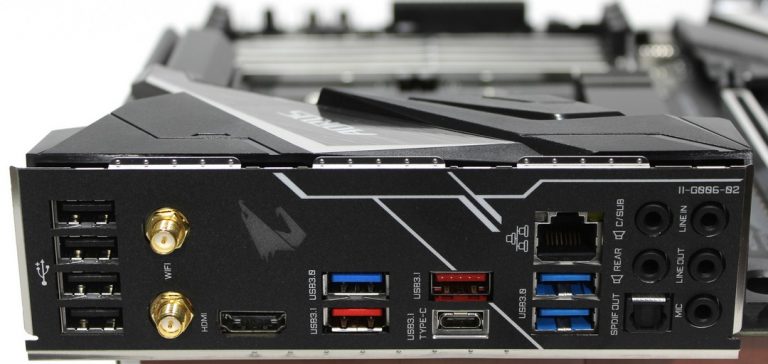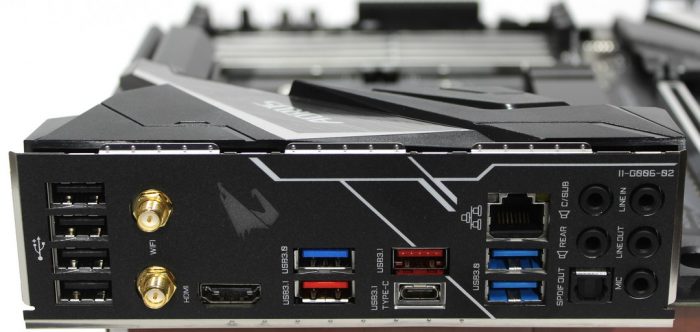 The rear panel I/O  has everything you could need for a full gaming rig with some to spare. (Left To Right)
4x USB 2.0 ports
Dual WiFi/BT Antennae ports
HDMI Port for onboard Intel GPU
3x USB 3.1 Gen 1 Type A ports
2x USB 3.1 Gen 2 Type A ports
1x USB 3.1 Gen 2 Type C port
1x 1Gb RJ45 port (powered by Intel I219)
7.1 Channel audio ports w/ S/PDIF Optical port powered  Realtek ALC1220


The storage side of things we find 6x SATA ports right above the Thunderbolt header. To the right, you can see the USB 3.1 Gen 1 20 pin header along with between the DIMM slots and PCH sink you can see the USB 3.1 Gen 2 onboard header.
The previously mentioned audio solution you can see here. Gigabyte opted not to do any strange plastic shielding over this which gives you a full view of the audio hardware onboard. The WIMA caps really jump out at you with the matte red/pink hue.
The reinforced DIMM slots on the blacked out board simply works and makes for a very clean looking board and quite picturesque being you don't have plastic covers protruding everywhere. 4 DIMM slots mean 64GB capacity and with the new DC modules, who knows maybe you could get 128GB on here but I have not had a chance to try those out to see if the memory controller could handle it.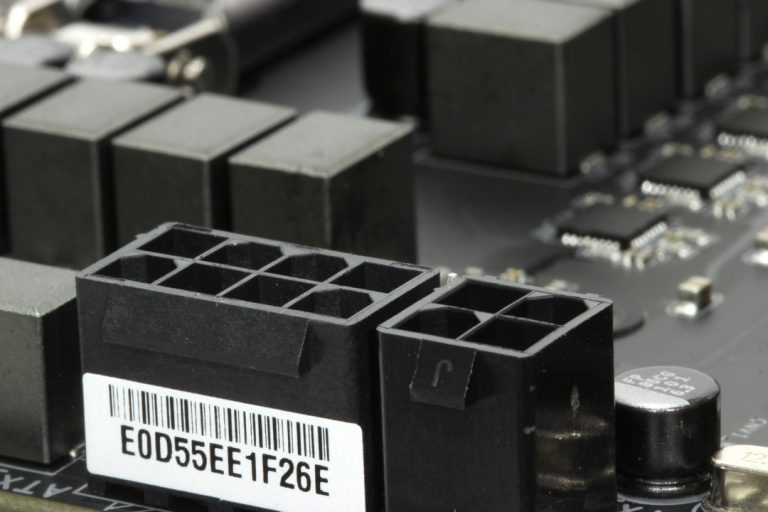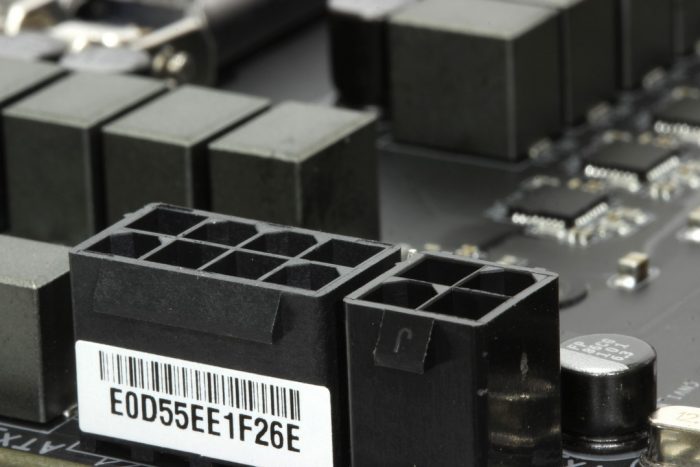 Here we have the 8 + 4 pin EPS connectors used to feed +12V to the CPU VRM and well as I stated before even under heavily loaded situations a single 8 pin can easily do the job. Should you have an LN2 style load with this board the supplementary 4-pin will help but in all honesty for the 9900K even at maxed out load, it will be more than enough.
Let's take a closer look at what makes the Gigabyte Z390 AORUS Pro WiFi tick.