This is the ASUS Maximus XI Extreme
I don't think there are many PC enthusiasts that are not at least familiar with the ROG line from ASUS and the Maximus line fo boards. They are well known and well equipped for high-end users who want to push the limits of their rigs and gaming performance with enhanced capabilities for liquid cooling, overclocking support and even extensive RGB setups if you're into that kind of thing.
The board we have today is the Maximus XI Extreme which is considered by most to be the top of the top in the Maximus lineup as it has a ton of bells and whistles especially if you are talking overclocking. Now with that being said, there is an argument to be made for the Formula as it has a liquid assisted VRM cooler whereas the Extreme has a beefy passively cooled unit. So whichever one you find is best, we will let you call that your kind of the hill.
For myself, being well versed in LN2 overclocking the Extreme or APEX models are the top of the top in my definition. This chipset at least so far has not seen the debut of an APEX model with a dual DIMM board being deployed as the GENE with a higher supported memory frequency as well.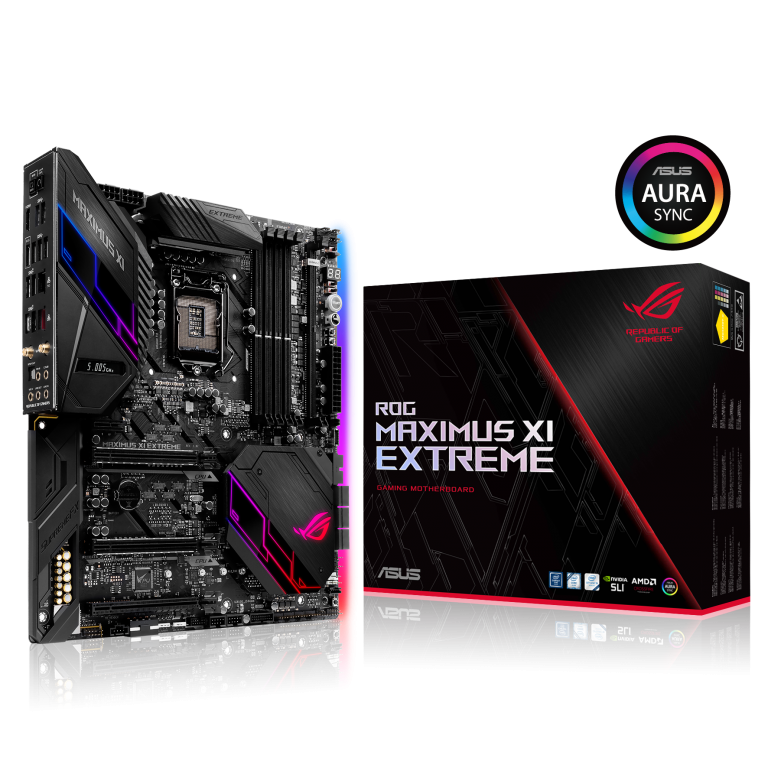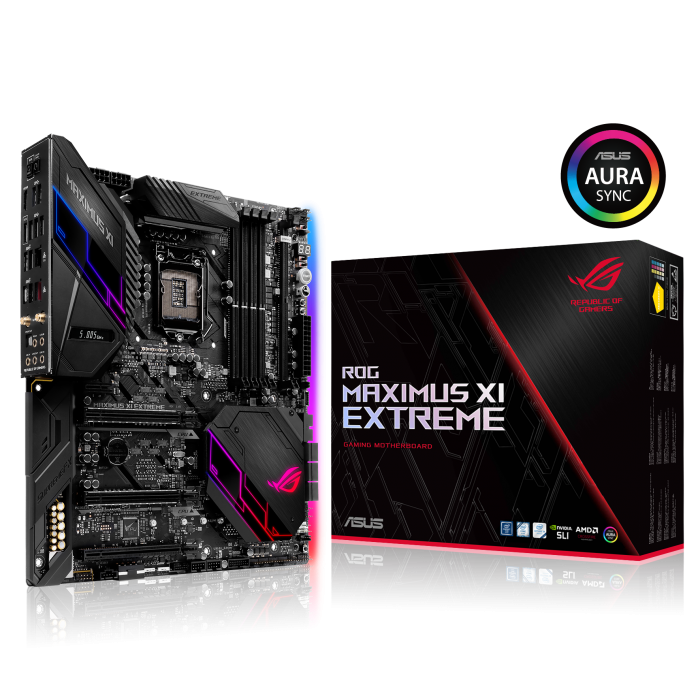 And there it is, this is obviously a photo provided by ASUS as we are vigorously testing this board for this very launch review. A full review will follow as soon as reasonably possible fully covering the board's performance and feature set. However here are some things which we find interesting.
High-speed memory capability
The Extreme board is validated up to 4400MHz and we have a Corsair set of 4600's that we wanna see just how much they can do when pushed.
Dedicated water cooling zones
ASUS has implemented this before and I think its a great feature. Its a conglomeration of connections for fans, pumps and sensors to allow you to better manage a liquid cooling setup vs needing an ancillary hub or device to hook up all of your components.
DIMM.2 has been a thing for a bit and basically, looks like a standard memory module except you mount M.2 PCIe SSDs to it and it slots into a slot similar to a DDR4 module. this allows for easy placement of the M.2 and even removal if necessary whereas the onboard connectors are under covers such as the PCH sink and would require removing GPUs to access them.
Another cool part is the new DIMM.2 has passive heatsinks that make the DIMM.2 look more like a very wide version of an actual performance memory module.
Men, We're gonna need a better switch!
That's right we only have a 1Gb switch so testing on that will move forward once we have a proper 10Gb switch to test throughput.
This one is cool because not only does it give you a live readout of critical system info and postcode definitions (in most cases) but it also can be customized to show whatever you want.
We have talked about ASUS' T-Topology memory designs and optimizations to the trace layouts. Well with Z390 they took it even further pushing through the most efficient path to try and perfect trace lengths to ensure as consistent equal clock signaling as possible which means we may see much higher possible memory speeds on this platform.
This one is cool as ASUS states that the new AI overclocking will learn from your usage and cooler performance where the optimal edge settings are to give you an overclock you normally can spend days working on automatically.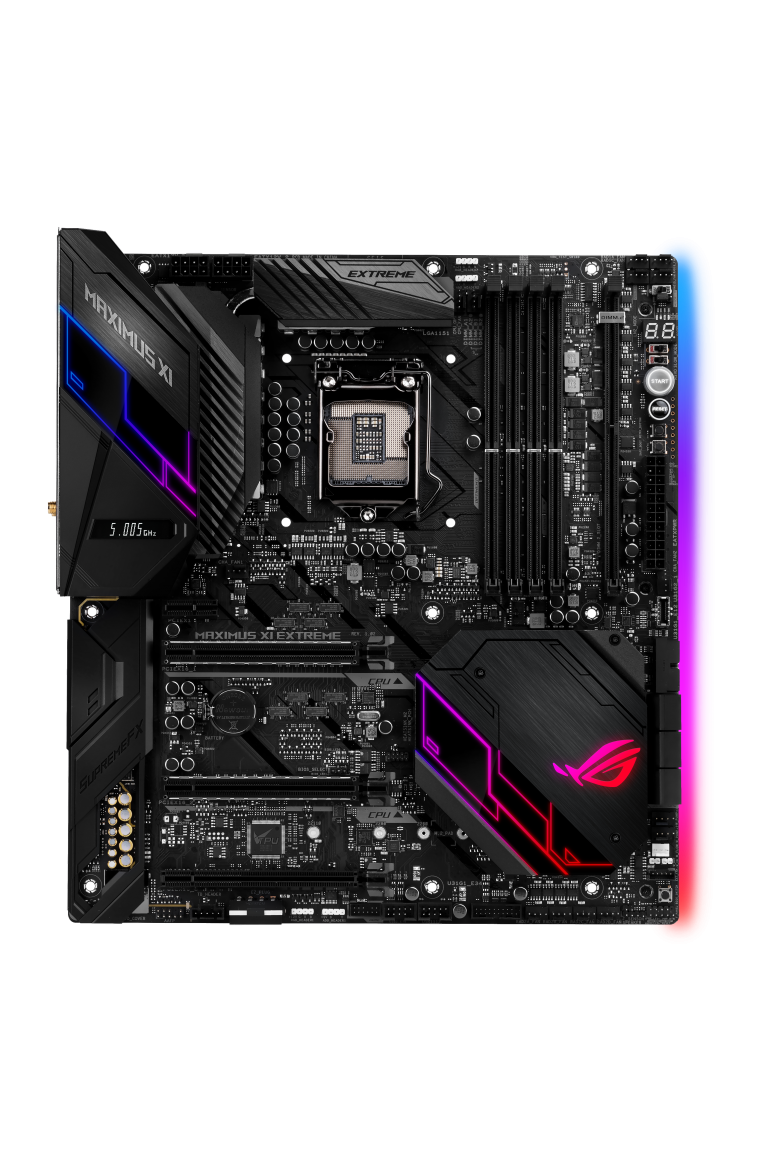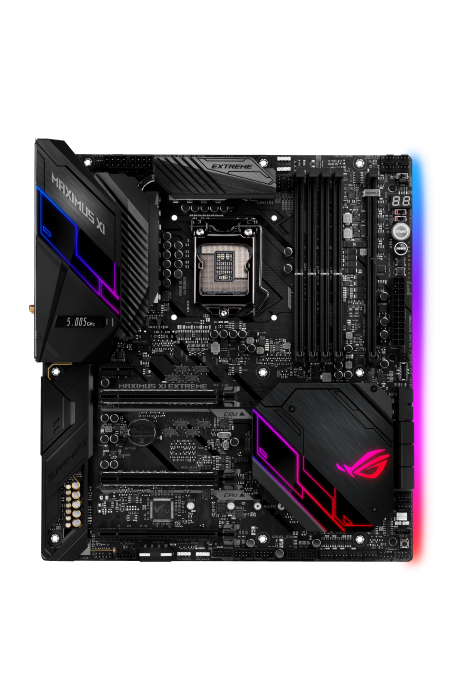 This is the board which we used for all launch testing and you can be sure we are looking forward to playing with some of the new features to see what they can do for you.
Stay tuned soon after this review for the full review of the Maximus XI Extreme from ASUS.