EVGA's Proprietary ICX Cooling Technology
EVGA got a bad rap when some of their GTX 1080 models had a heat related failure and it was later discovered EVGA's heat failure rate was no higher than previous generations of GPU's. In response to the failures, EVGA offered free heat pads to help the much-inflated problem. That set EVGA's engineers on overtime and they came up with the ICX cooling solution which is de facto the most technologically advanced cooling solution currently used on Video cards! Evga put 9 additional sensors on the ICX cooling solution and made them easily accessible through EVGA Precision XOC. That's more information about video card thermal conditions than we have ever had. We would expect to see competitors implementing some form of EVGA's innovation.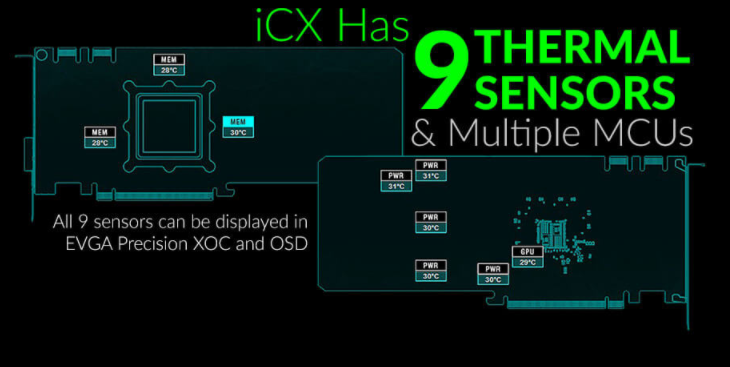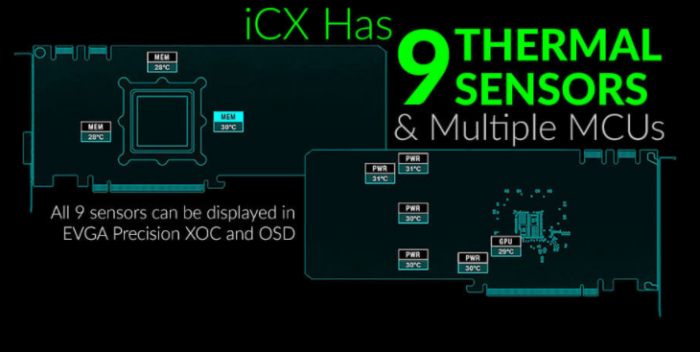 The ICX cooling solution had 9 thermal sensors that are accessed through EVGA Precision XOC giving us more information about the thermal status of the video card than ever before.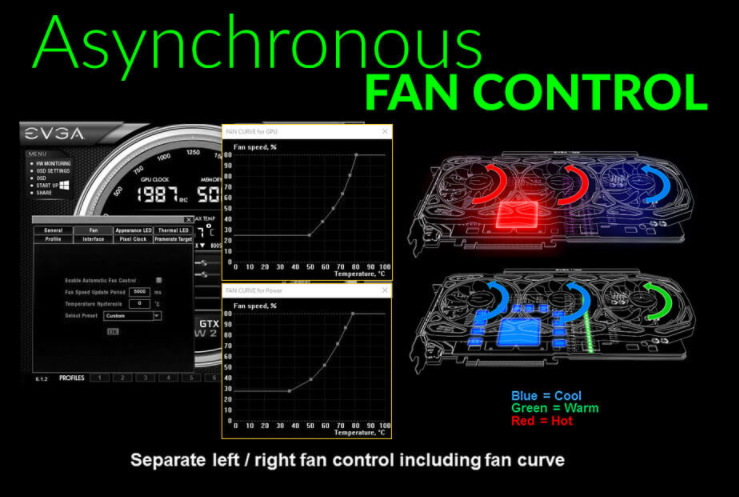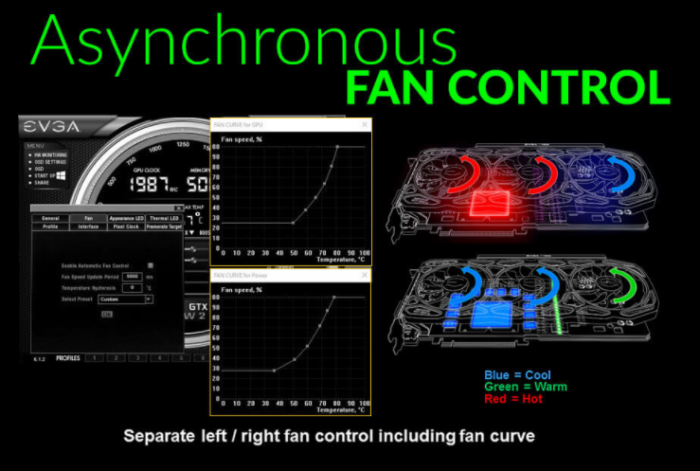 The fan controls on the ICX cooling solution gives you separate control of the GPU fans and you can control the fan curve to each independently.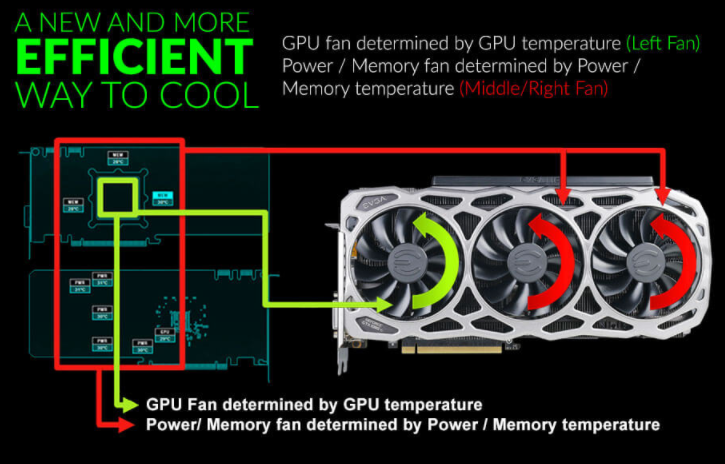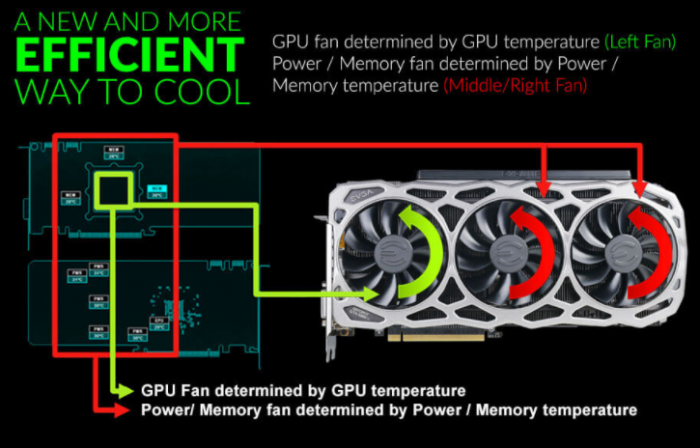 Traditionally video card fans were controlled by one sensor on the GPU core which controls all the fans on a card. ICX's revolutionary approach changes that and the GPU core controls the GPU fan while the sensors on the Power and Memory control the other fan(s). This approach allows the fans to go to 0dB and completely stop when temps are acceptable, then when the GPU core heats up one fan kicks in, VRMs and Memory heat up the other fan(s) kick in adding additional cooling.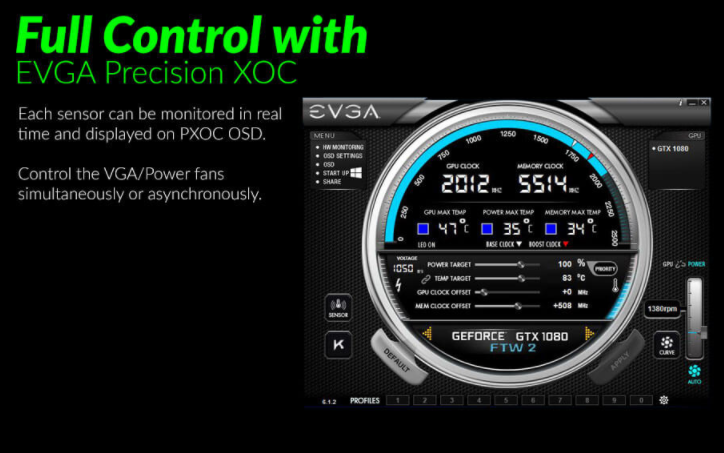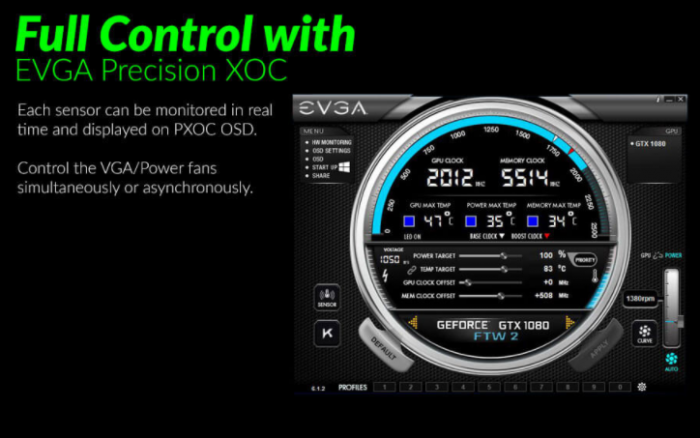 The ICX cooling adjustments can easily be controlled by EVGA Precision XOC and as mentioned can control them simultaneously or asynchronously.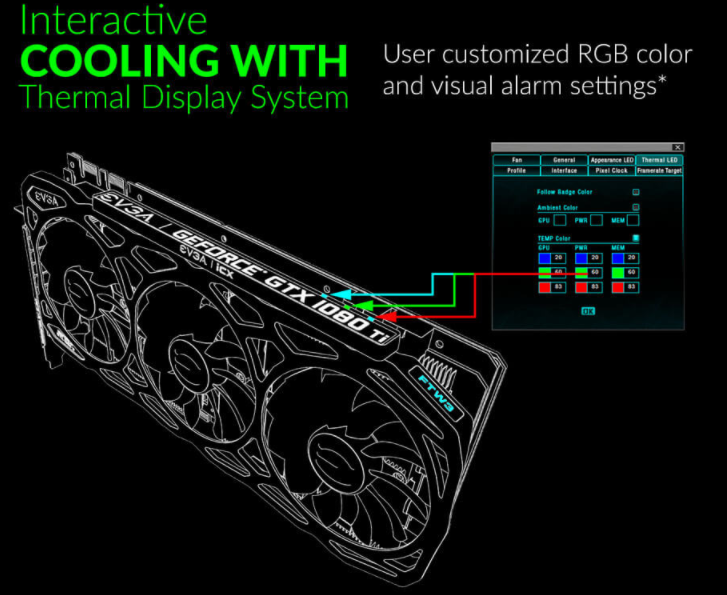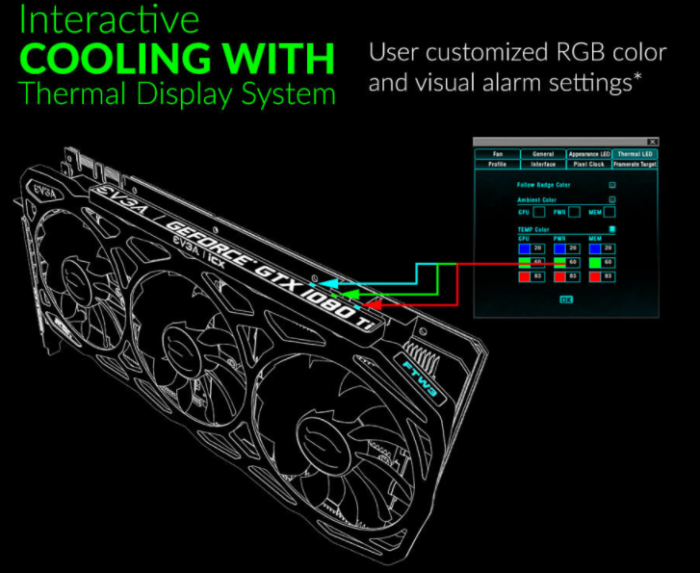 So your gaming along and want to check on your new video cards thermal state, previously you needed to drop out of the game and check or run a secondary monitor and use two monitors (one gaming one monitoring). EVGA changed all that in one fell swoop and you can merely glance at the top of the video card and 3 LEDs will give you a quick and dirty readout of the thermal state. Blue indicates running cool, Green warming up and Red running hot.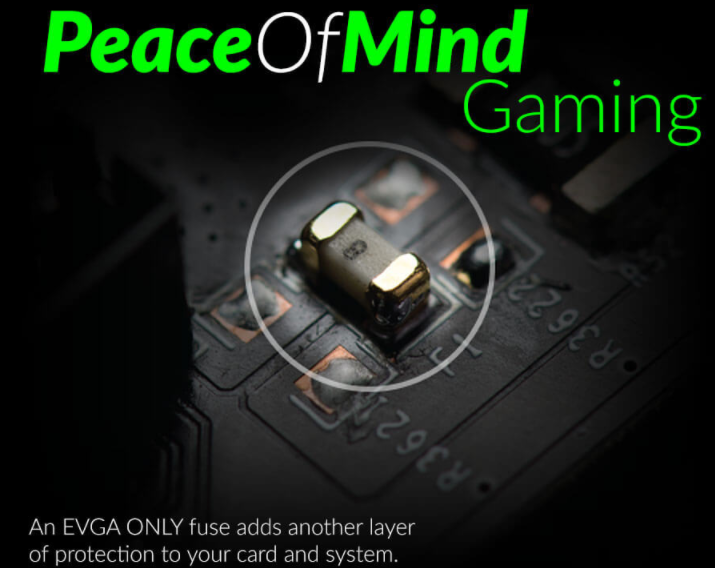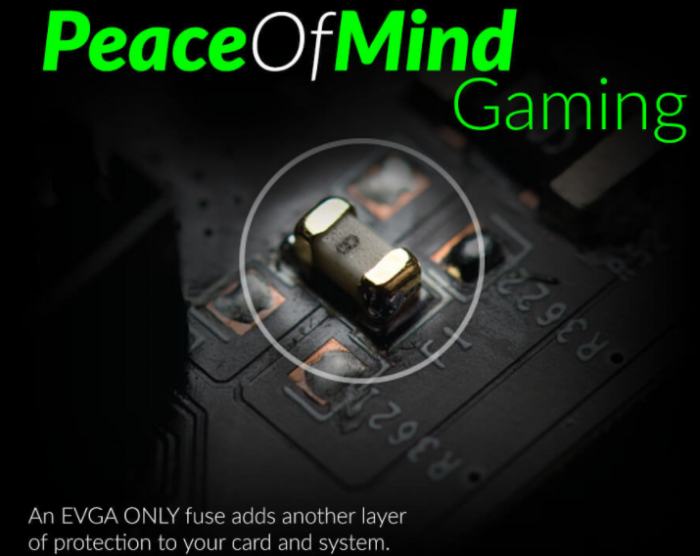 EVGA went one step further and includes an EVGA only fuse that will protect your investment from power related failures. Should your card have a power circuit overvolt the fuse will trip and EVGA will replace the fuse for you.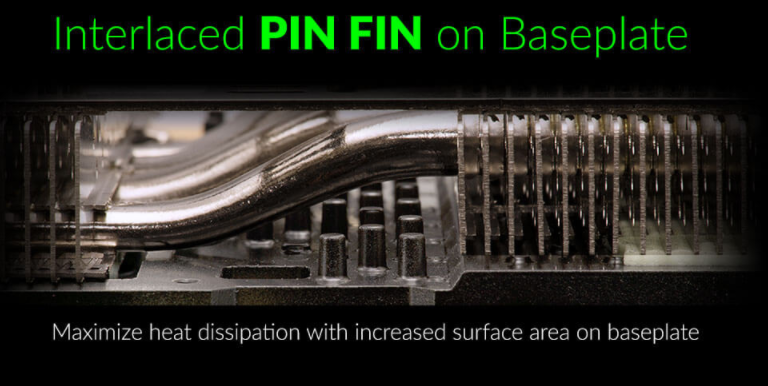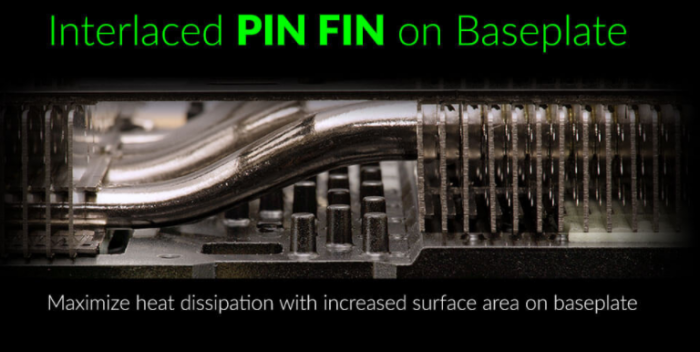 EVGA further innovates by including raised pins on the base plate that intrude on the heat sink, those pins allow a 360° heat absorption. We were a bit skeptical on the elevated pins but on checking the raised pins did accumulate heat faster than the rest of the baseplate so job well done EVGA. Now if you glance at the left of the picture the fins are bent into an "L" shape and that allows for more heat to be leeched into the fins. The ICX cooling solution is well thought out and well implemented or as we jokingly like to say EVGA overengineered. (Overengineered is highly underrated!)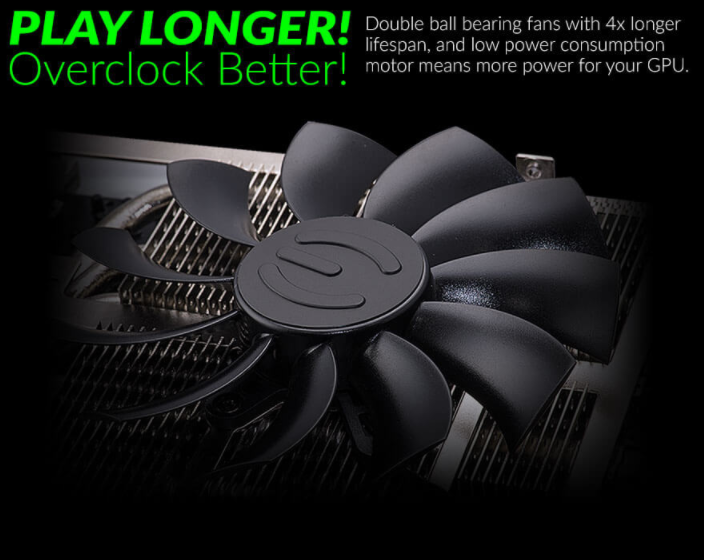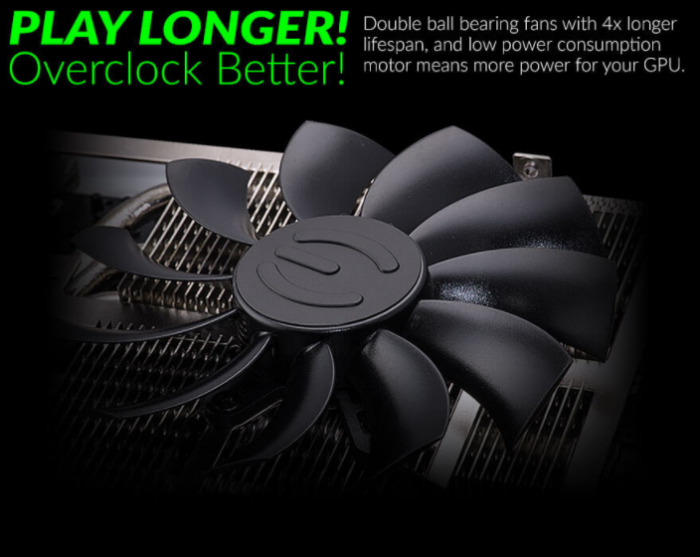 Not only has EVGA built the most technologically advanced cooling solution they put their double ball bearing fans on it for a 4x longer lifespan with lower power consumption than ordinary mortals fans.
Here's a short (under 3 minutes) iCX video you might find interesting!