EVGA GeForce GTX 1080 Ti FTW3 GAMING, Unleash The Beast!!!
There's just no way to hide it when EVGA puts out a GTX 1080 Ti FTW3 they have unleashed the beast! The EVGA GeForce GTX 1080 Ti FTW3 is so beefy and ankle deep in geeky goodness that just holding one in your hand is an amazing feeling. EVGA really went the distance on this one, ICX cooling, Dual BIOS, 11GB of GDDR5X, RGB, GPU / Memory / PWM Thermal Status Indicator LEDs and backed with an EVGA 3 Year warranty. The core on this beast runs at (Base) 1569MHz and Boost clock of 1683 MHz and packs a whopping 3584 Cuda Cores as opposed to the might GTX 1080 which has 2560 Cuda Cores. That's a 1024 more thumping cores than the GTX 1080 and we've yet to hear anyone complain about the GTX 1080 so the 3584 Cuda cores in the GTX 1080 Ti should make you intoxicated happy!
Let's just get really geeky here, the EVGA GeForce GTX 1080 Ti FTW3 GAMING has:
GP 102-350 Core
3584 Cuda Cores
224 TMU's
88 ROPs
11GB GDDR5X
352 Bit-Bus
Which adds up to one seriously butt-kicking graphics card that can handle max eye candy at 4k resolutions and simply sneers at 1440p.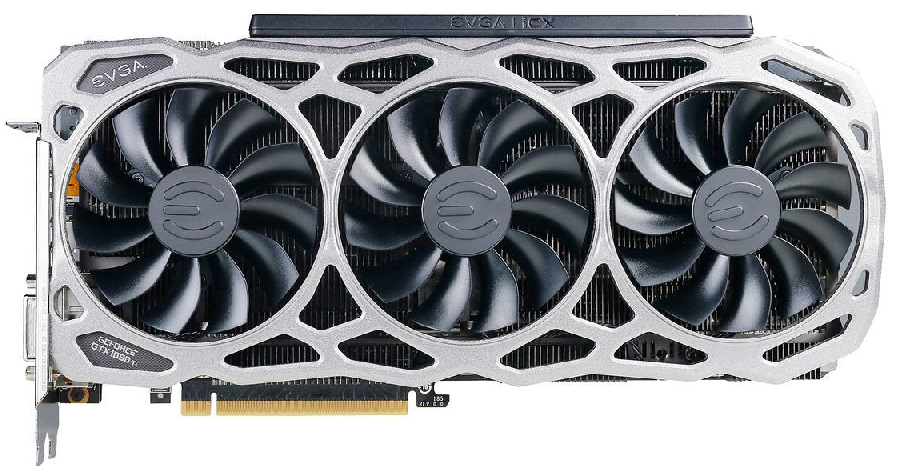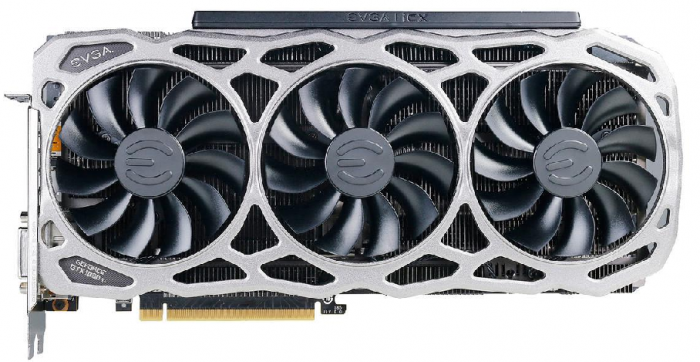 Here's a comparison table of the different GTX 10XX models: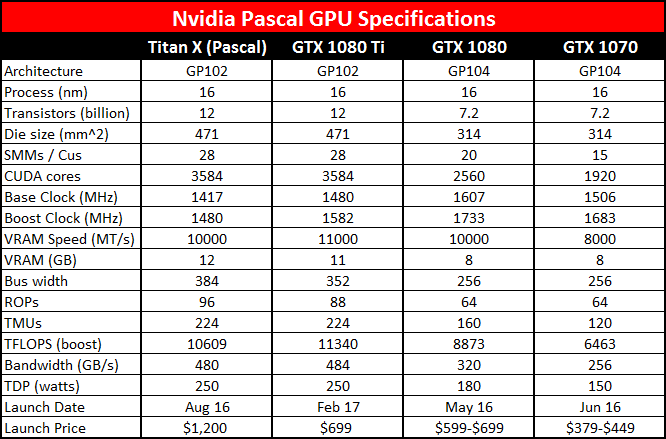 Now as you can see the EVGA GeForce GTX 1080 Ti FTW3 GAMING uses the same GP102-350 core as the Titan XP (GP102-400), same 16nm process, the same number of Cuda Cores and the reference model even has a higher clock speed than the Titan XP. The Titan XP does get a slightly wider Bus coming in at 384 as compared to the 1080 Ti which gets 352 or 32-bit less bus than the Titan XP. The Titan XP has a slightly better Bandwidth and 8 more ROPs. The EVGA GeForce GTX 1080 Ti FTW3 GAMING is essentially a slightly (very slightly) clipped Titan XP and while the Titan XP surely inspires awe the $1200 – $1500 price tag compared to the 1080 Ti's base price of is a much better deal for home users! When you think about it two 1080 Ti pushing 7168 Cuda Cores at a base price of $1400 – $1500 should outperform a Titan XP easily. SLI limits you to the first video cards memory so you'd be running 11GB of GDDR5X instead of 12 with the Titan XP but pushing a lot more horsepower for not much more money.
Let's look at this generation Titan (Pascal) vs the last generation (Maxwell) with a 1080 thrown in the mix:
GTX
1080 Ti
Titan
X
GTX
1080
GTX
Titan X
Architecture
Pascal
Pascal
Pascal
Maxwell
GPU
GP102-350
GP102-400
GP104-400
GM200
Fab
16nm
Finfet
16nm
Finfet
16nm
Finfet
28nm
Shader
procs
3584
3584
2560
3072
Base
1480
MHz
1417
MHz
1607
MHz
1000
MHz
Boost
1582
MHz
1531
MHz
1733
MHz
1075
MHz
Performance
11.5
TFLOPS
11
TFLOPS
8,87
TFLOPS
6,6
TFLOPS
Memory
11GB
GDDR5X
12GB
GDDR5X
8
GB GDDR5X
12
GB GDDR5
Mem
freq.
11000
MHz
10000
MHz
10000
MHz
7000
MHz
Mem
bus
352-bit
384-bit
256-bit
384-bit
Mem
bandwidth
484
GB/s
480
GB/s
320
GB/s
336,5
GB/s
TDP
250W
250W
180W
250
W
Last generations Titan X (Maxwell) was running 3072 Cuda cores, this generation Titan and 1080 Ti are running 3584 Cuda Cores. Maxwell's base clock was 1000MHz while today's Titan XP and 1080 Ti are running in excess of 1400MHz quite the core speed increase from one generation to the next! We would easily say that the current generation of GPU's is more an evolutionary leap than just an incremental improvement.
SPECIFICATIONS EVGA GeForce GTX 1080 Ti FTW3 GAMING

Base Clock: 1569 MHZ
Boost Clock: 1683 MHz
Memory Clock: 11016 MHz Effective
CUDA Cores: 3584
Bus Type: PCI-E 3.0
Memory Detail: 11264MB GDDR5X
Memory Bit Width: 352 Bit
Memory Speed: 0.2ns
Memory Bandwidth: 484 GB/s
LED Logo: RGB
KEY FEATURES
Simultaneous Multi-Projection
VR Ready
NVIDIA Ansel
NVIDIA SLI w/ HB Bridge Support
NVIDIA G-SYNC
NVIDIA GameStream
NVIDIA GPU Boost 3.0
Microsoft DirectX 12
Vulkan API
OpenGL 4.5 Support
Max Digital Resolution – 7680×4320
HDMI 2.0b, DisplayPort 1.4 and Dual-Link DVI
Built for EVGA Precision XOC
Asynchronous Fans
9 additional temp sensors to monitor Memory and VRM
GPU / Memory / PWM Thermal Status Indicator LEDs
New vented heatsink fin design and pin fins for optimized airflow
Safety fuse to protect components from damage due to improper installation or other component failures
Redesigned cooling with L-shaped contact fins to improve contact surface area for better heat dissipation
EVGA iCX Technology
RESOLUTION & REFRESH
240Hz Max Refresh Rate
Max Digital: 7680×4320
REQUIREMENTS
600 Watt or greater power supply (Bjorn3D would recommend a 750W good quality PSU)
PCI Express, PCI Express 2.0 or PCI Express 3.0 compliant motherboard with one graphics slot
Two available 8-pin or 6+2pin PCI-E power dongles
Windows 10 32/64bit, Windows 8 32/64bit, Windows 7 32/64bit
Warranty
Covered under EVGA's 3-year warranty which covers parts and labor.
Further warranty extension is available upon registration within 90 days of purchase.