Battlefield 4
Battlefield 4™ on PC, powered by the advanced technology of DICE's proprietary Frostbite™ 3 engine, blurs the line between game and glory. With dynamic destructable environments, vehicular combat, and the chaos of all-out-war with 64 players, Battlefield 4 on PC is an unmatched interactive experience.
In addition to its hallmark multiplayer, Battlefield 4 features an intense, dramatic character-driven campaign that starts with the evacuation of American VIPs from Shanghai and follows your squad's struggle to find its way home.
There is no comparison. Immerse yourself in the glorious chaos of all-out war, found only in Battlefield.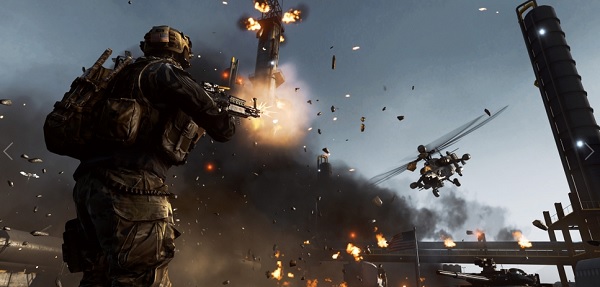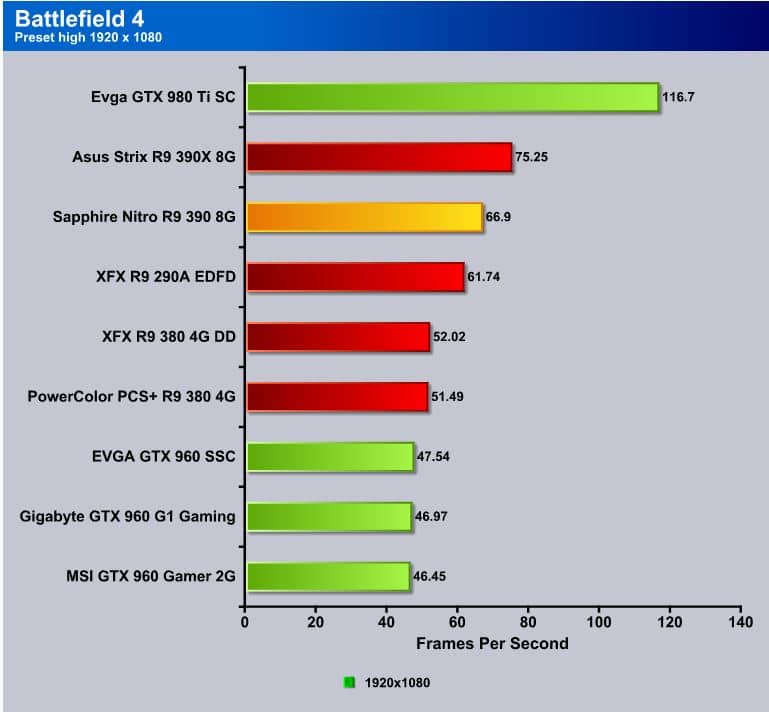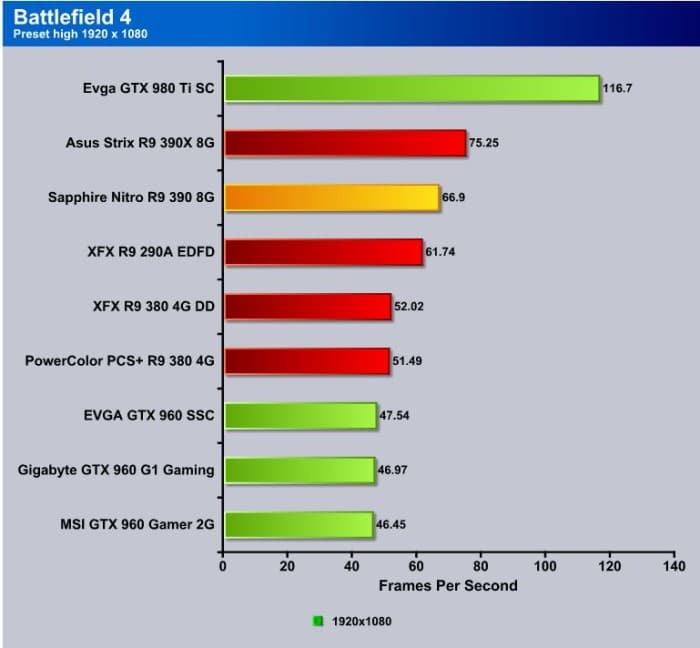 Battlefield 4 is one of our favorites and the Sapphire Nitro R9 390 did well at 1080P and kicked out 66.9FPS, close behind it was the XFX R9 290A EDFD with 61.7FPS the R9 380's did well in the 50+FPS range and the GTX 960 pack hit the high 40's.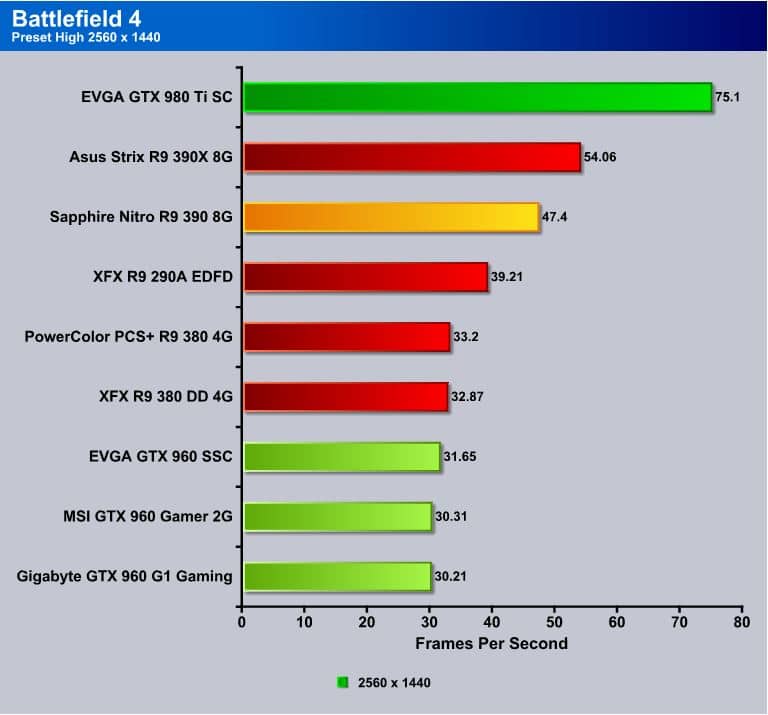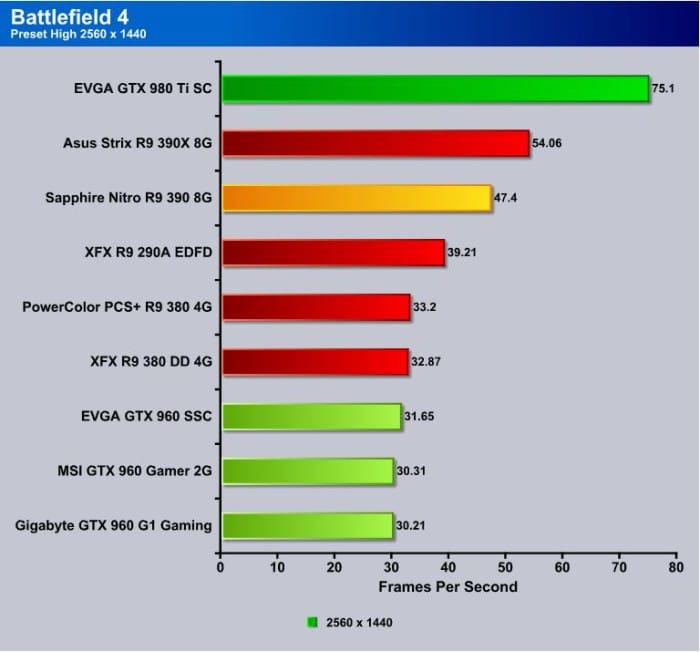 Our Sapphire Nitro R9 390 gave us 47.4FPS at 1440p again falling between the XFX R9 290A and the Asus Strix R9 390x.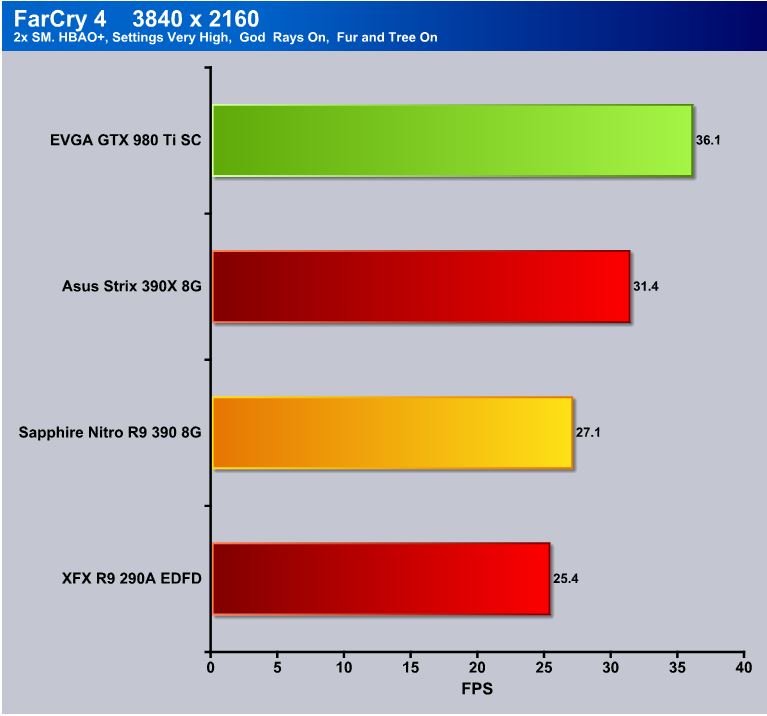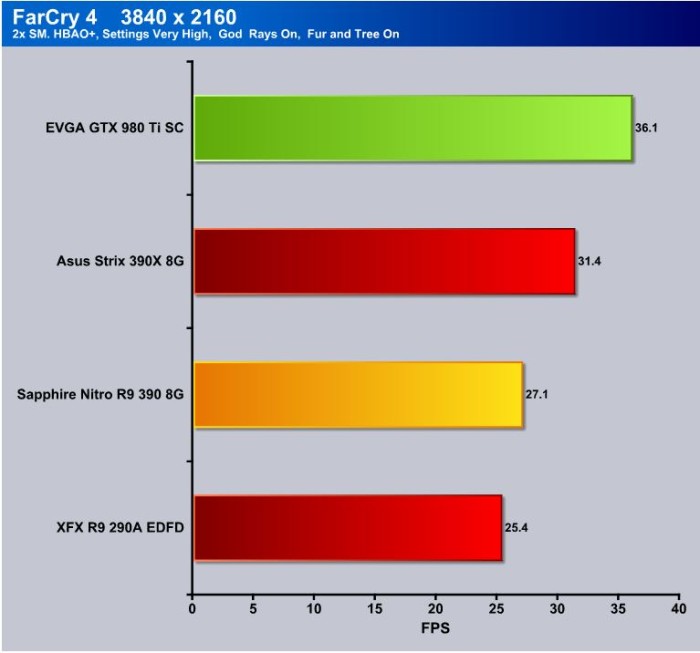 Battlefield 4 at 2160p shows the cut of the rug and the Asus Strix R9 390 pulled playable FPS and everything below that failed to hit 30FPS and resulted is graphics that were a little choppy.
Battlefield 4 Settings

`1920 x 1080
2560 x 1440

Graphics Quality: Custom
Texture Quality: Ultra
Texture Filtering: Ultra
Lighting Quality: Ultra
FX Quality: Ultra
Post Process Quality: Ultra
Mesh Quality: Ultra
Terrain Quality: Ultra
Terrain Decoration: Ultra
Antialiasing Deferred: 4x MSAA
Antialiasing Post: High
Ambient Occlusion: HBAO

Graphics Quality: Custom
Texture Quality: Ultra
Texture Filtering: Ultra
Lighting Quality: Ultra
FX Quality: Ultra
Post Process Quality: Ultra
Mesh Quality: Ultra
Terrain Quality: Ultra
Terrain Decoration: Ultra
Antialiasing Deferred: 4x MSAA
Antialiasing Post: High
Ambient Occlusion: HBAO