Sapphire Nitro R9 390 8G D5 Review, Playing With Nitro
By now we know all about the new refresh of the R9 2xx lineup that AMD recently released with faster renamed cores, faster GDDR5-memory as well as mature silicone. This has presented OEM's with the opportunity to tune up the cores and  Sapphire has taken the initiative to launch a new twist on their GPU's; the Nitro Series. Nitro is focused on high performance at a good value which in our minds is a winning strategy. Pop a high quality card like the Sapphire Nitro R9 390 out there with 6.2 Billion transistors and 2816 Stream processors at a value price and people will gravitate to it. Sapphire, of course, has a new logo for the Nitro series.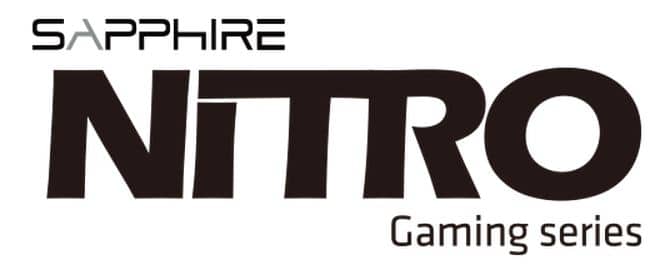 Sapphires Take on the Nitro Series:
"The SAPPHIRE NITRO series boasts a range of features previously reserved for high-end cards, including long-life capacitors and award-winning Black Diamond Chokes, as well as new versions of our award-winning cooling solutions. Its elegant contours with purposeful black and gunmetal finish have been designed to suit any build. And the latest graphics architecture from AMD ensures fast, reliable gaming, performance tuned for any level of gaming. So whatever kind of gamer you are, the SAPPHIRE NITRO series offers you the maximum gaming experience for your budget."
| | | | | |
| --- | --- | --- | --- | --- |
|   | Dual-X 285 | Nitro 380 | Ref 290 | Nitro 390 |
| Microarchitecture | Tonga | Antigua | Hawaii | Grenada |
| Manufacturing Process | 28nm | 28nm | 28nm | 28nm |
| Transistors | 5000M | 5000M | 6200M | 6200M |
| Stream Processors | 1792 | 1792 | 2560 | 2560 |
| Core Clock | 965MHz | 985MHz | 947MHz | 1010MHz |
| ROP / Texture | 32 / 112 | 32 / 112 | 64 / 160 | 64 / 160 |
| Memory | 2048MB | 4096MB | 4096MB | 8192MB |
| GDDR5 Memory Clock | 1375Mhz | 1450Mhz | 1250MHz | 1500MHz |
| Memory Bus Width | 256-bit | 256-bit | 512-bit | 512-bit |
| Memory Bandwidth | 179.2GB/s | 185.6GB/s | 320GB/s | 384GB/s |
| Typical Board Power (TDP) | <200W | 225W | <300W | 375W |
| Warranty | 2 Years | 2 Years | 2 Years | 2 Years |
The Specifications table makes it clear that the Sapphire Nitro R9 390 has the same basic design as the TRI-X R9 290 Sapphire released early on in 2014. The Sapphire Nitro R9 390 get a few tweaks and the core is pushed up to 1010MHz. The card also gets an additional 4GB of memory that runs 250MHz (real) or 1000MHz effective faster. As we all know raising the core speed and memory speed requires more power so the TDP on the Sapphire Nitro R9 390 jumped up 375W from the reference R9 290 which hit the wall socket for 275 – 300W at full load.
So what makes the Sapphire R9 390 distinguish itself from the previous generation of R9 290? The answer is the technology that surrounds the GPU itself and the time it takes to learn how to put together a better GPU.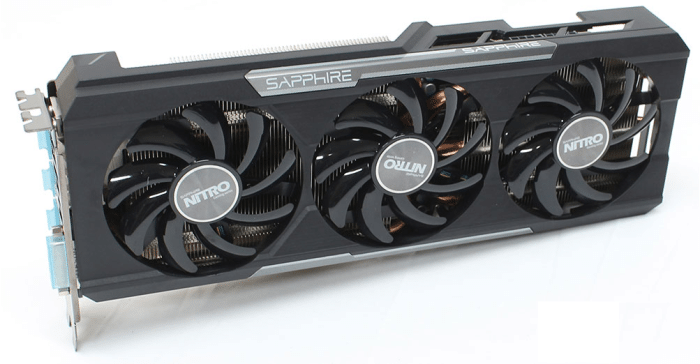 The Nitro series focuses on simplicity and what we would call no frills. Gone are the flashy colors on similar model R9 390's and no matter which Nitro you get it's going to be a Black Cowling with the familiar Tri-X cooler,  Under the cowling Sapphire hasn't skimped on quality components and has given the GPU Sapphires signature Black Diamond chokes, long life 16k hour capacitors, dual ball bearing fans and intelligent fan control.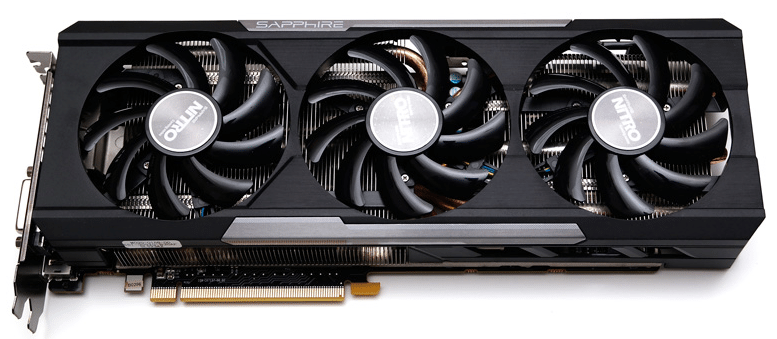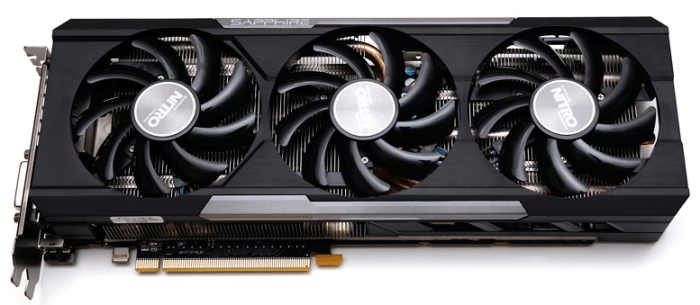 Sapphire has brought forth a new GPU rating system that scales from 1 – 4 and the Sapphire Nitro R9 390 rates a 4 on their new scale. The Reference R9 390 from AMD runs a core speed of 1000MHz and with the mild 10MHz core overclock on the Sapphire Nitro R9 390 we wonder why it rates a 4 on Sapphires new scale. Of course we'll test the card at factory speed but we always give GPU's a good stable maximum OC. We've seen mild factory OC's on most of the R9 390's and even seen vendors software limit overclocks to 1120MHz and the OCing limitation here is the silicone itself. With the Sapphire Nitro R9 390 we are already riding a core that's been pushed for more performance and we can expect an OC to between 1150 and 1200MHz on most R9 390's.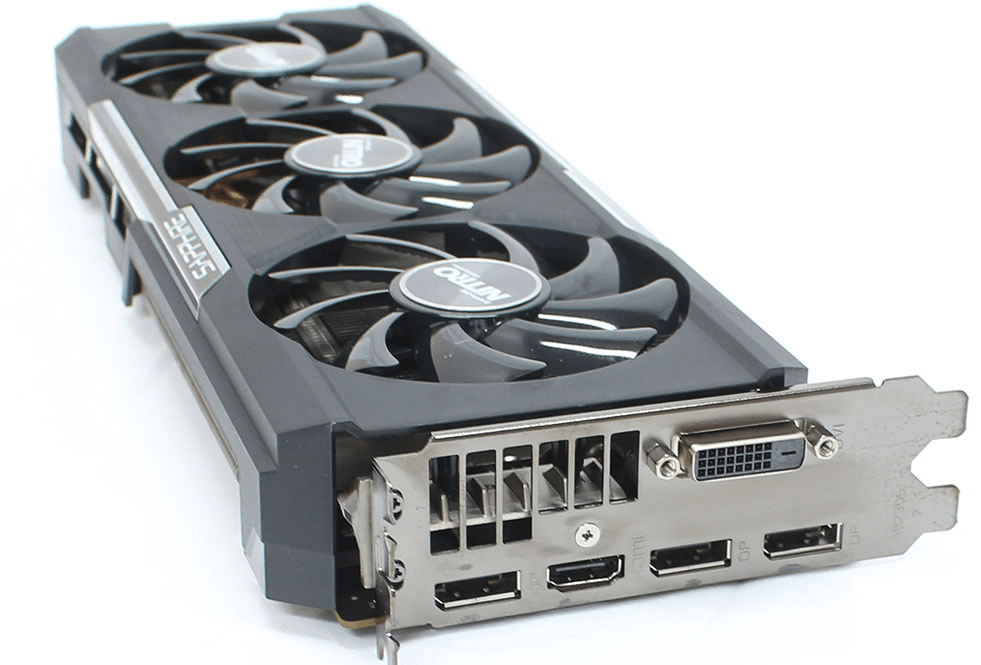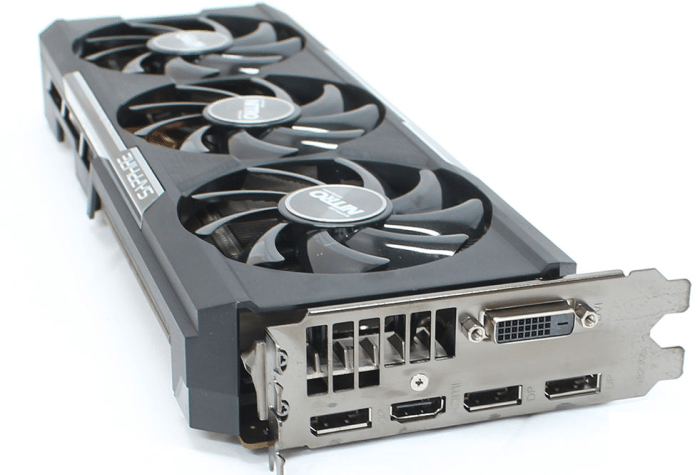 Sapphire stuck with the now familiar dual slot design with 3 Display port, one HDMI and one DVI-I leaving a little room for a rear exhaust.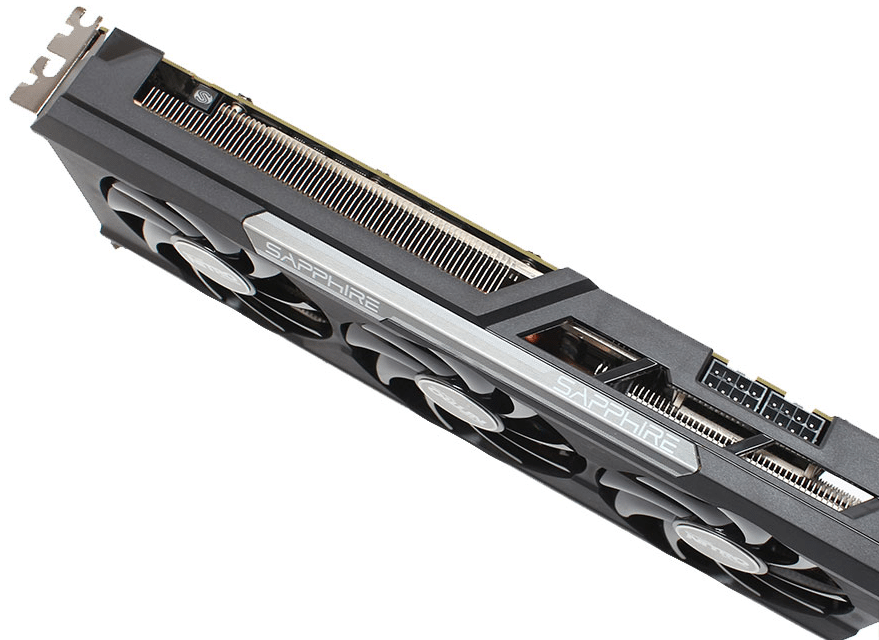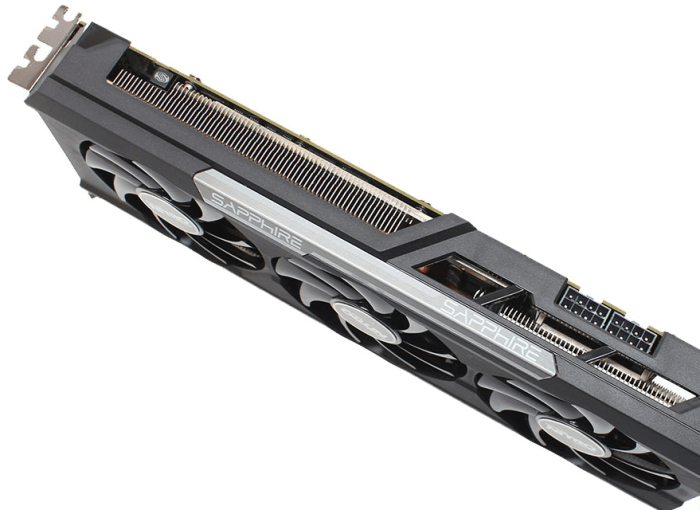 Running with 3 80mm fans the Tri-X cooling system Sapphire built into the Nitro R9 390 should provide plenty of airflow for the 5 heatpipe design which incorporates a single 10mm heatpipe, two 8mm heatpipes and 2 6mm pipes.  The thermal designs specify that the 10mm heatpipe is good for dissipating 90W of generated heat, the 2 8mm are good for 65W each which totals to 220W of thermal dissipation and the remaining 2 60mm take up the slack for over 300W of GPU power heat dissipation. At first that seems a little strange as the specifications of the card are for 375W but we've run the Sapphire Nitro R9 390 and it runs nice and cool while remaining quiet.


Taking a gander at the two 8 Pin PCI-E connectors capable of delivering 150W each and the PCI-E slots provided power of 75W to GPU's we can see that the maximum power draw on the Sapphire Nitro R9 390 is going to be 375W. So far its been standard on the R9 390's we've seen but we aren't big fans of having notches in the PCB for the power connectors to snap into. That won't be much of an issue for non-reviewers as we expect the normal end-user to snap the beefy card into place and enjoy it's 2816 shading units for a couple of years.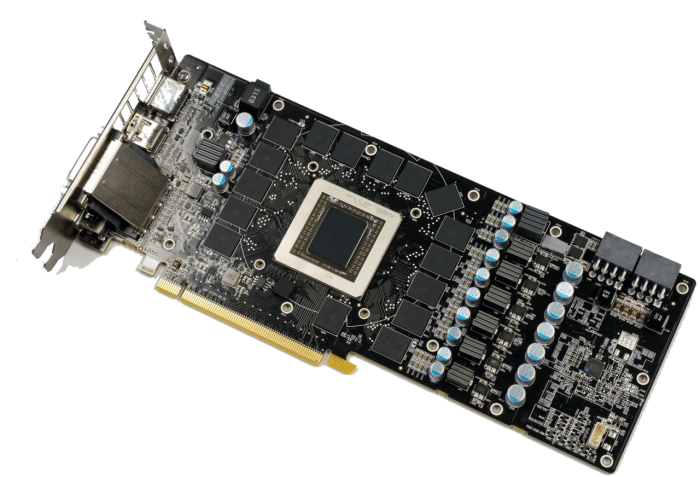 Getting naked with the Sapphire Nitro R9 390 you can see sixteen 512MB memory chips for the aggregate total of 8GB. Glancing toward the power connector end we see the 16K hour capacitors and Sapphire Exclusive Diamond chokes that provide up to 25% more efficiency than a standard choke while running as much as 10% cooler.