CRYSIS 3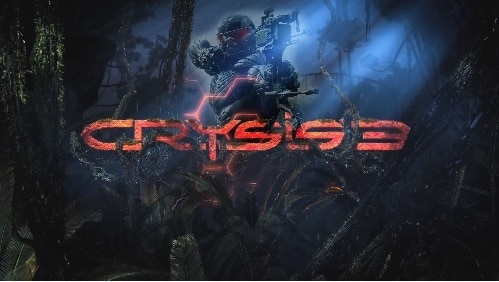 Crysis 3 is the Fourth installment in the Crysis series. It is was released on February 19th, 2013 in North America, and February 21st in Europe. It was made using CryENGINE 3 and published by Electronic Arts.
Just an editorial note, Crysis 3 running CryEngine 3 at very high settings kills the FPS of GPU's so badly no real comparison can be made so we use medium settings. When EA catches up with reality and better optimizes the game we'll gladly retest at Uber High Settings.
Crysis 3 is such a GPU crushing game we decided to run it at medium settings as it didn't really let any GPU make playable FPS consistently at Ultra settings. At these medium settings the Sapphire Nitro R9 390 hit 72.9FPS and the graphics were pretty good.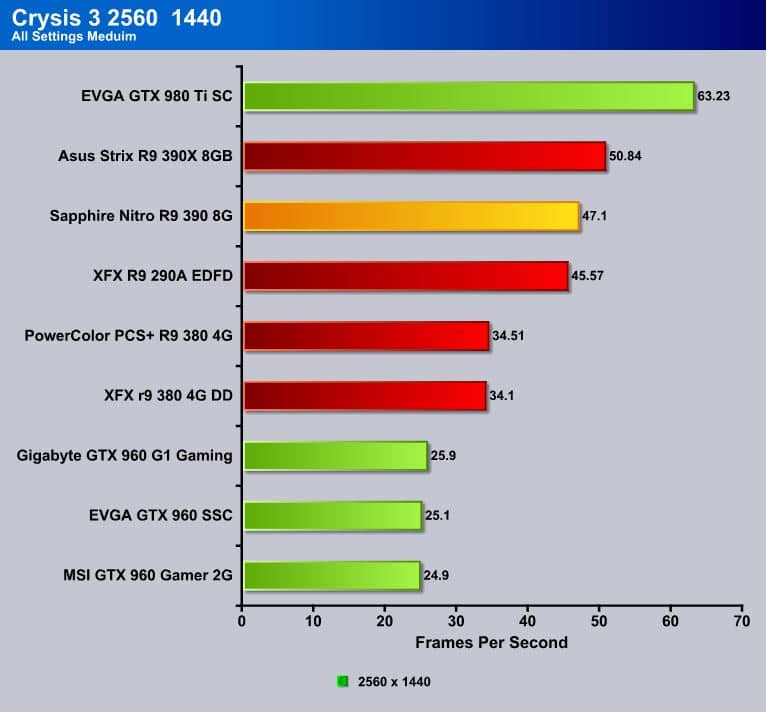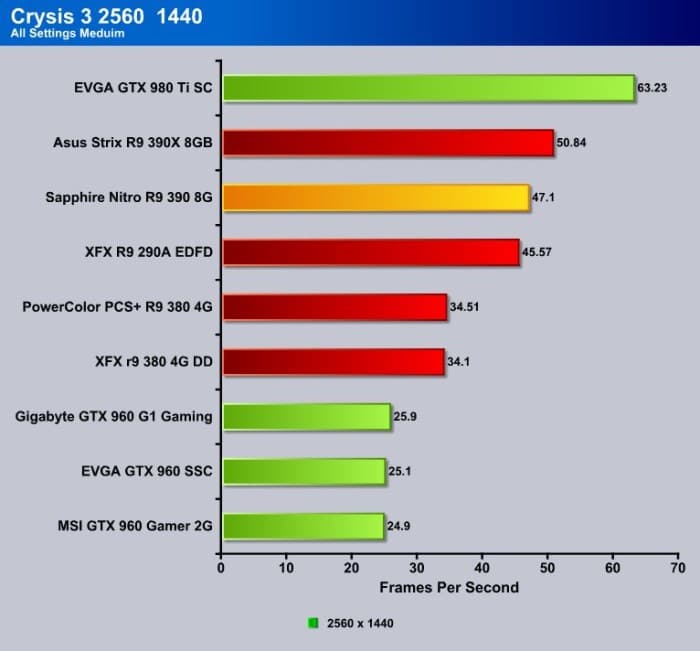 Run Crysis 3 at 1440p and the Sapphire Nitro R9 390 hit 47.1FPS just ahead of the XFX R9 290 DD which is where it is expected to fall.
Crysis 3 Settings


1080p

1440p

Anti Aliasing: MSAA low 2x
Texture Resolution: Medium
Vsync: No
System Spec: Medium
Game Effects: Medium
Object: Medium
Particles: Medium
Post Processing: Medium
Shading: Medium
Shadows: Medium
Water: Medium
Anisotropic Filtering: 2x
Motion Blur Amount: Medium
Lense Flares: Yes

Anti Aliasing: MSAA Low 2x
Texture Resolution: Medium
Vsync: No
System Spec: Medium
Game Effects: Medium
Object: Medium
Particles: Medium
Post Processing: Medium
Shading: Medium
Shadows: Medium
Water: Medium
Anisotropic Filtering: 2x
Motion Blur Amount: Medium
Lense Flares: Yes