Temperatures, Noise, Power, & Overclocking
Power Consumption


We take power consumption at the wall using a Kill A Watt Power drain measurement device, I loaded Unigine Heaven and let it idle for 30 minutes recorded the Idle temperature and Power Consumption, shut it down and let it cool for a half hour then repeated the test twice in this sequence, For the load I ran Unigine Heaven looping for 30 minutes, let it cool down to the Idle temps established in the previous test then looped it 30 minutes repeating the process a total of 3 times. Once completed I take the three results from each test and average them giving me an aggregate  average for each result. Killing two birds with one stone and getting Power Consumption and Thermals.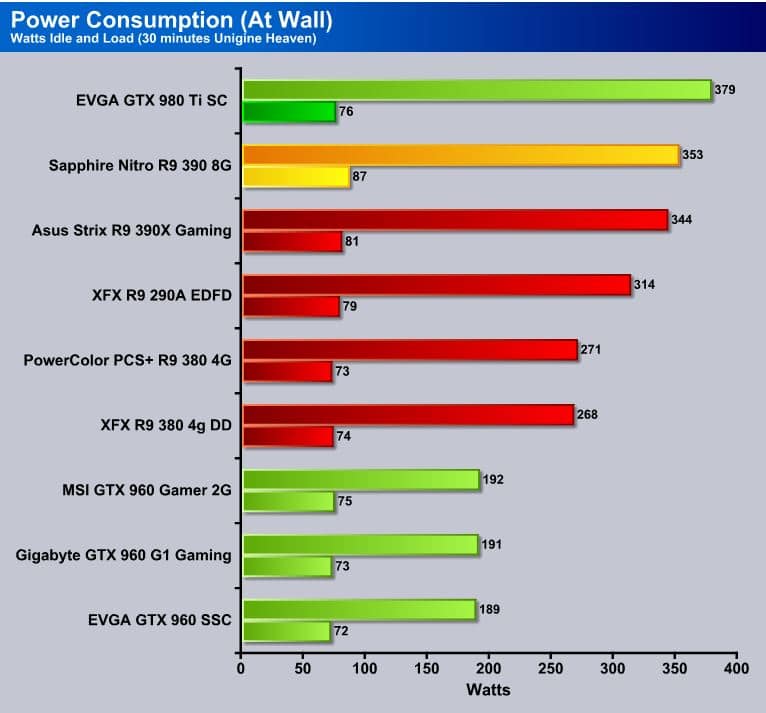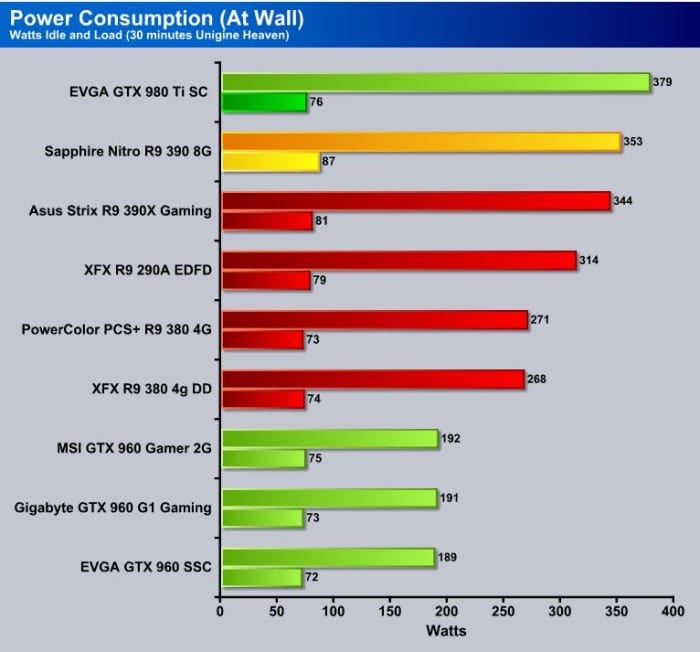 With a Faster core and faster memory we expected the Sapphire Nitro R9 390 to pull a few more watts from the wall and at idle we hit 87W and load took us to 353W.
Temperatures


For Thermal readings I load and run Unigine Heaven for 30 minutes then read the thermal load, Cool the machine down for 30 minutes at an idle then read the Idle temperatures. I repeat that same process three times then average the three runs and report those scores. An eye is kept out for anomalous runs, if an anomaly occurs I shut the machine down let it cool off, reboot and rerun the test.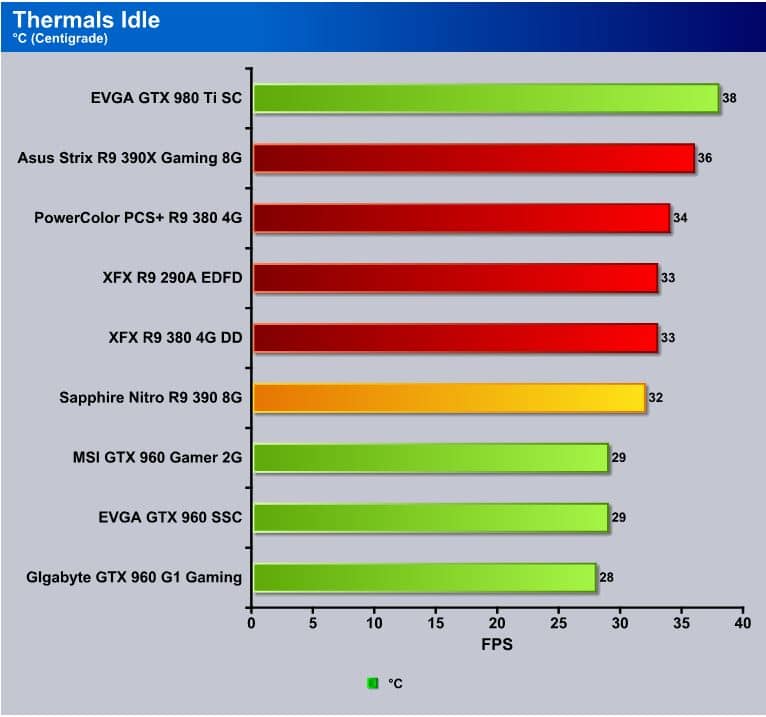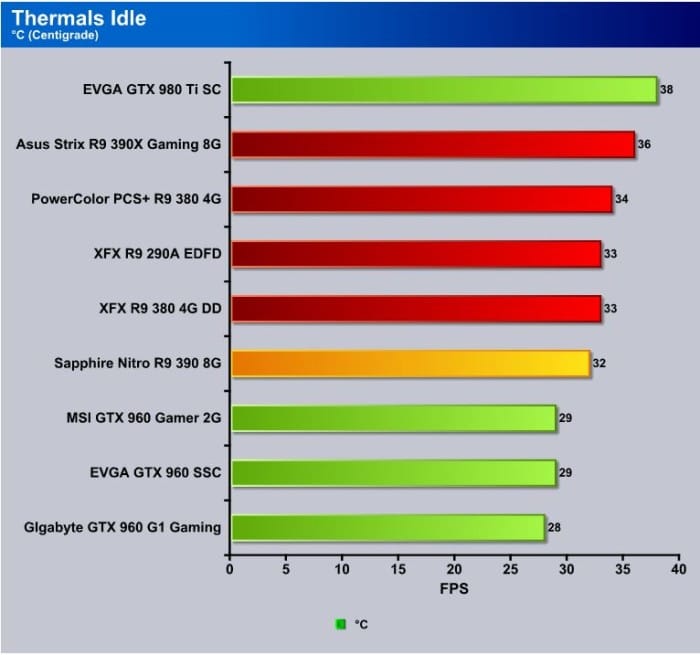 At an idle the Sapphire Nitro R9 390 did pretty well and ran at a comfy 32°C. The Tri-X cooling is working impressively at keeping the Sapphire Nitro R9 390 cool.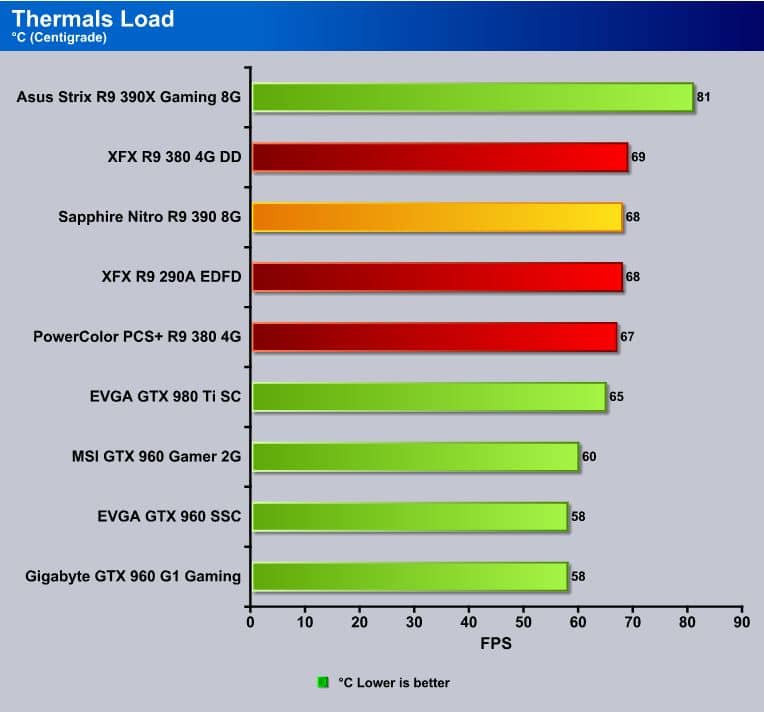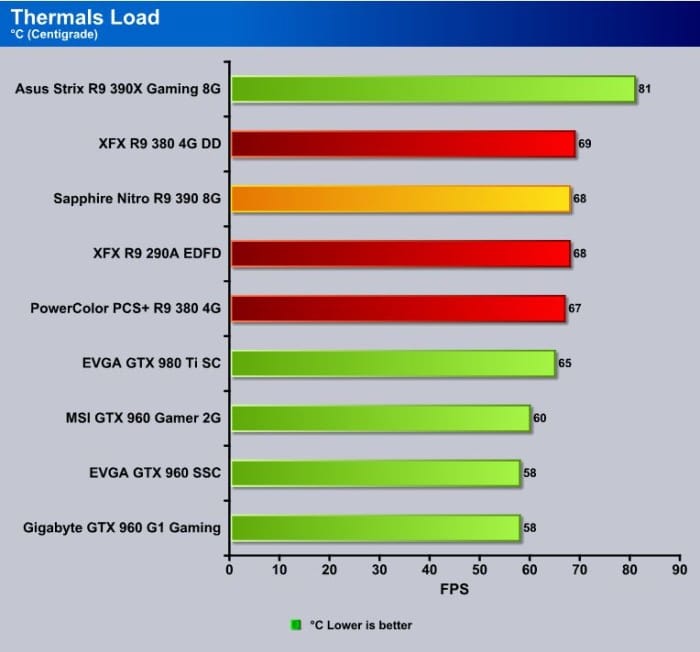 At load we got an impressive 68°C which is an amazing result for any R9 390.
Noise

We all hate noisy or whiny fans that intrude on our gaming / computing time. We run several noise level tests, Complete Idle, spiking load where the graphics load fluctuates between high and low load, and high load. We generally record sound levels sitting next to the tower with the tower at floor shelf level. We put the decibel meter close to where our ear would be and take measurements from there.  To better get an idea of what the sound compares to here is a scale of typical sound levels.
Typical
Sound Levels
| | | |
| --- | --- | --- |
| Jet takeoff (200 feet) | 120 dBA | |
| Construction Site | 110 dBA | |
| Shout (5 feet) | 100 dBA | |
| Heavy truck (50 feet) |  90 dBA | |
| Urban street |  80 dBA | |
| Automobile interior |  70 dBA | |
| Normal conversation (3 feet) |  60 dBA | |
| Office, classroom |  50 dBA | |
| Living room |  40 dBA | |
| Bedroom at night |  30 dBA | |
| Broadcast studio |  20 dBA | |
| Rustling leaves |  10 dBA | |
We aren't really known for running a quiet test rig and you push the CPU to full usage overclocked to 4.4GHz and you get some noise with our setup.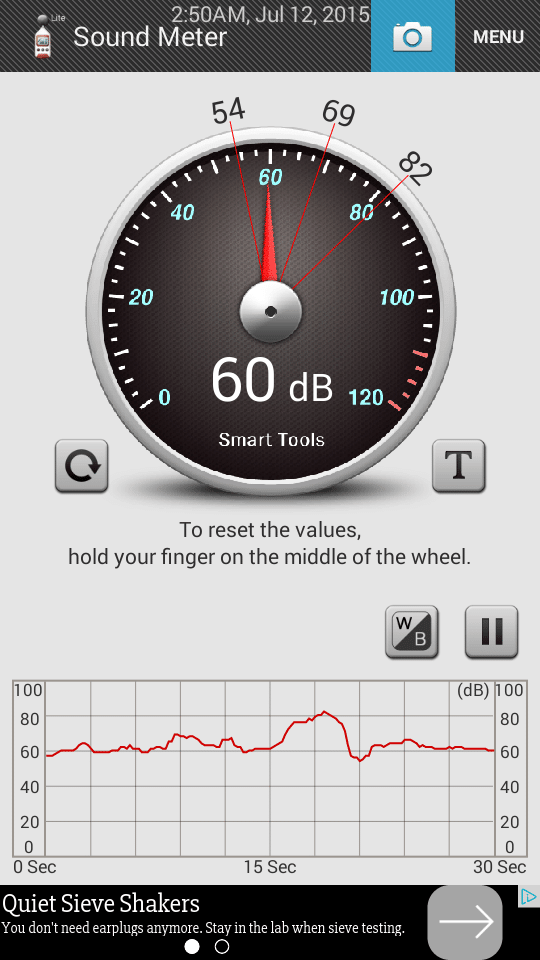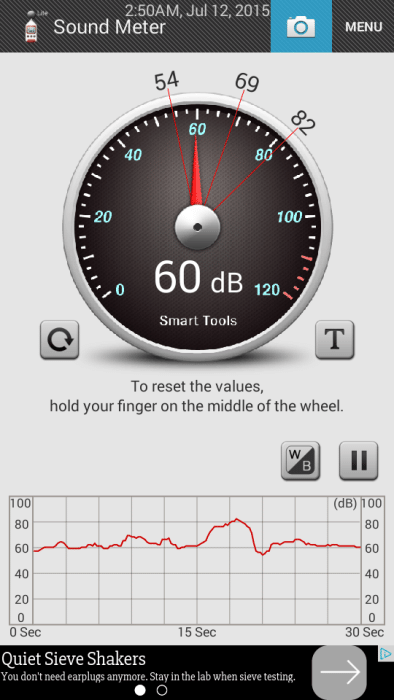 We averaged around 60dBA with the Sapphire Nitro R9 390 but we would suspect that most of that was Radiator and system fan cooling. The best way for us to put it is that we were happy with the quiet operation of the Sapphire Nitro R9 390 and HExzilla is getting transformed to a triple Radiator shortly to quieten the beast down a little.
Overclocking


Here's the stock GPU-Z Shot showing the core is primed to run at a 10MHz factory OC and memory running at 1500MHz real 6000MHz effective. GPU-Z hasn't caught up with the Grenada renaming so it sees it as a Hawaii GPU but since it plainly states it's an R9 390 we know that it's a Grenada core and DirectX 12 ready.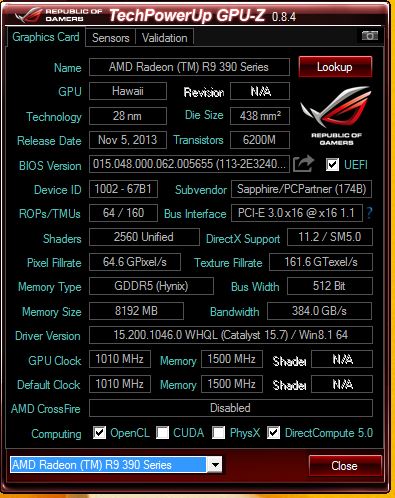 Our Stock shot of GPU-Z shows that everything is in order and we have a true R9 390 but like most utilities GPU-Z is still reading it as a Hawaii Core and since it's an R9 390 it sports the Grenada core.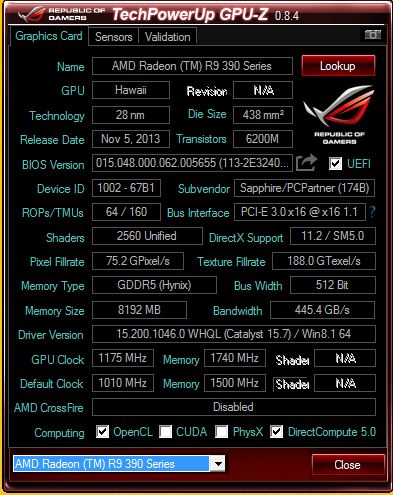 Here's our best stable OC which is darn good for an R9 390 and we hit 1175 on the core and 1740 on the memory. This isn't one of those pretty we didn't benchmark it shots, this is an entirely stable benchable and playable OC.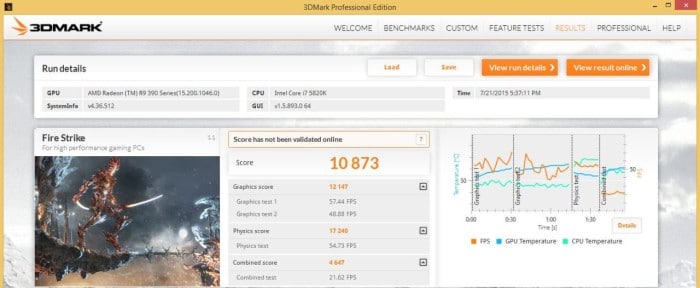 Here's one of out Stock Clock FireStrike runs and GPU score hits 12147 on stock clocks s lets take a look at the OC'd score.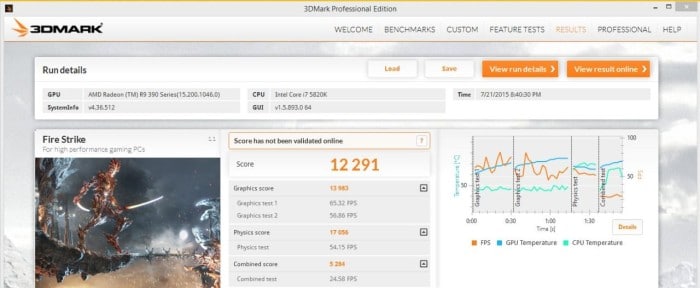 With our sweet OC we got a graphics score of 13983 considerably better than the stock score of 12147 so lets look at it on a chart.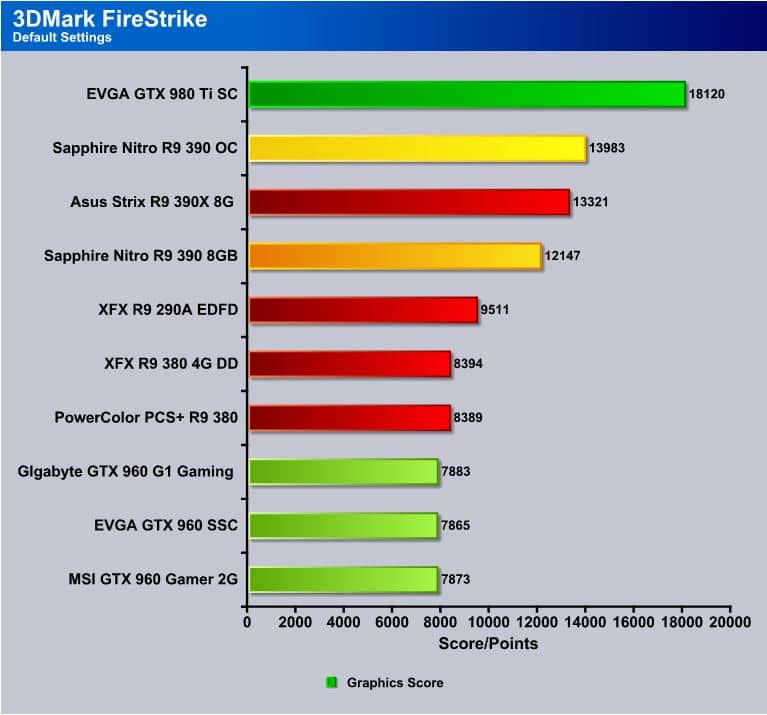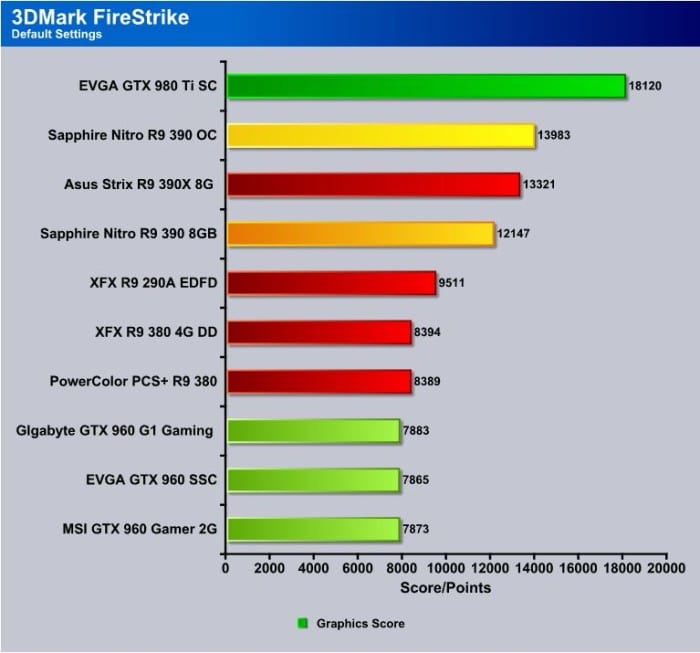 Our 13983 boosted the Sapphire Nitro R9 390 ahead of the Asus Strix R9 390x by just a couple of points, like 662 points higher so that's a pretty sweet OC. Of course OC the Strix to the max and it would take back the lead but at stock clocks it got beat by a R9 390.