MSI Radeon R9-390 Gaming 8G
MSI is known for its custom "Gaming" series graphics cards and at this point have become quite mainstay for many gamers not just due to performance but the styling of the cards really holds up to expectations along with taking any gaming rig from a high-end rig to an awesome looking high-end rig.
With the new cooling solution and slick backplate MSI has really pushed this new card to the limits as far as looks but that's just part of the package as this is part of the new AMD 300 series.
Before we get too far ahead of ourselves here I have to say that the "New 300 series" is kind of taken with a grain of salt as at this point it really is the 290 with a higher clock speed and more memory but overall that's not a bad thing at the right price point.
The R9-390X Gaming 8G card hits the market at an expected MSRP of $329.99 which is quite competitive for the power we know that the previous gen 290 holds but in new skin, now lets dig inside and see what really makes the MSI Gaming R9-390 Gaming 8G Tick.
Key Features
Military Class 4 Components
MSI has long touted the Military Class components on their cards due to the fact that they are specially tested components, not just by them but by a third-party testing center according to the enclosed certificate. "Military Class components" sounds nice, but are they really necessary on a card or motherboard? Honestly, no as most times the reference components are good enough to do their job. However, they are not designed to push the limits to the extreme. The answer is better and stronger components. Most manufacturers worth their salt will use better components, so in order to try and stand out, MSI uses "Military Class" components in an attempt to ensure better hardware reliability.
Military Class Component Testing
When MSI puts military class components to the fire they are not joking as they come to the table claiming to have passed multiple tests following Mil spec (MIL-STD-810G) tests including:
Temperature Shock testing: Sudden thermal changes which can normally wreak havoc on electrical components are fully tested on these components to ensure they can last through some of the worst conditions like lets say what the extreme enthusiasts community may employ them for. Although im sure the Lightning card will be more in that category it's still nice to know it's there.
Humidity Testing: Testing of components in different humidity conditions can make a big difference as to the capabilities of the cards as different areas can have much different environments and not every deployment will be like a sterile lab and knowing they can take that kind of abuse once again is a major plus.
Vibration tests: This one is a little nuts but being in California I guess if I have an earthquake I can ensure the shaking wont affect the components.
Low Pressure Testing: This once again is a little extreme as deployment for different elevations especially extreme enough to require low pressure testing is gonna be extremely rare if ever but it will handle it.
High Temperature Testing: This one should be a standard for every component in a high end PC as thermals are the enemy of every enthusiasts rig so I like to see such attention paid here.
Low Temperature Testing: Once again I think something more targeted at the Lightning model, but the fact that they test these cards to withstand LN2 benchmarking temperatures tells me that under standard gaming stresses this card is gonna run and keep on running.
Shock Testing: This is once again more extreme as these are similar to drop or rough impact testing which even if the card survives I'm sure other components may not fare so well in this kind of scenario.
So what we can take from this is that this card may survive the nuclear apocalypse or even a Zombie infestation but well in the case of a nuclear apocalypse this card looks like it could probably take it, and with The North Korea situation maybe you can hide behind a stack of these cards.
Advanced Twin Frozr V Cooler
MSI once again has a version of its Twin Frozr design this time with the Twin Frozr V which includes "Zero Frozr" technology designed to have the fan off completely running in passive mode when the GPU is below 60C.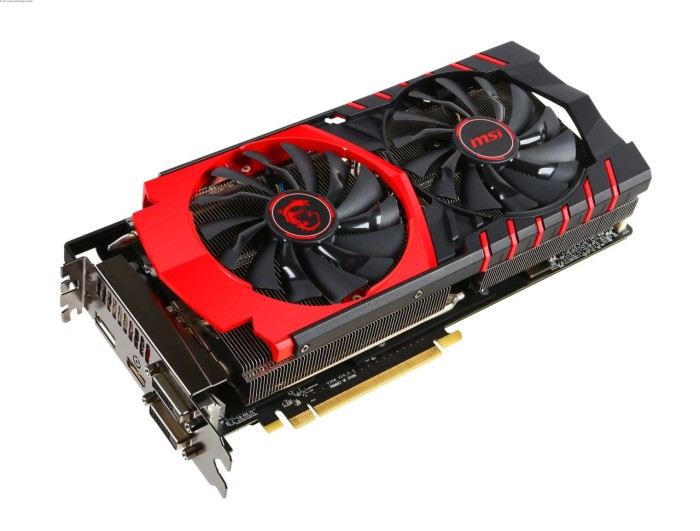 The Twin Frozr V cooler on the R9-390 Gaming 8G also includes TORX fans designed to offer optimum airflow with minimal noise via its dual angle swept blade design.
MSI Afterburner
MSI offers its own software utility. MSI Afterburner is co-developed with Rivatuner which is very similar to what the other top manufacturers are offering.

The MSi afterburner software is a very capable app and one of the most popular right up there with EVGA Precision, and besides it awesome functionality it also offers excellent user-created skins which really change the way it works from very futuristic to maybe even just a larger default skin, but my favorite to date would still be the Dragon Army skin as you see above.
MSI Gaming App
The Gaming app is a cool design as it offers a simple to use interface where users can quickly set a overclock or even Eco setting without having to work with the Afterburner app which for some can be a bit confusing especially for a newer or inexperienced user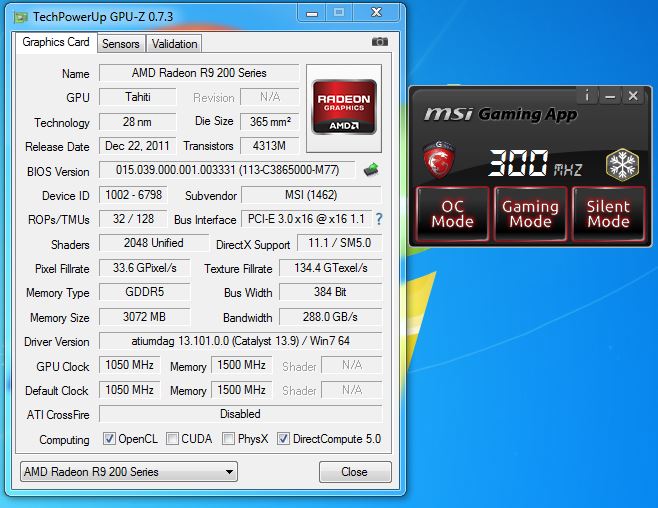 Above you can see the small footprint of the gaming app. there is an addition to this gaming app vs the very first one I had used on the GTX 770 which it now has a cooldown button which you will notice as the snowflake above the silent mode button. This allows quick timed bursts of the fan up to 70% to rapidly cool the card when needed I am guessing if benching or stressing the card this could be pretty handy to cool down quickly between runs.