Testing Methodology
The OS we use is Windows 8 Pro 64bit with all patches and updates applied. We also use the latest drivers available for the motherboard and any devices attached to the computer. We do not disable background tasks or tweak the OS or system in any way. We turn off drive indexing and daily defragging. We also turn off Prefetch and Superfetch. This is not an attempt to produce bigger benchmark numbers. Drive indexing and defragging can interfere with testing and produce confusing numbers. If a test were to be run while a drive was being indexed or defragged, and then the same test was later run when these processes were off, the two results would be contradictory and erroneous. As we cannot control when defragging and indexing occur precisely enough to guarantee that they won't interfere with testing, we opt to disable the features entirely.
Prefetch tries to predict what users will load the next time they boot the machine by caching the relevant files and storing them for later use. We want to learn how the program runs without any of the files being cached, and we disable it so that each test run we do not have to clear pre-fetch to get accurate numbers. Lastly we disable Superfetch. Superfetch loads often-used programs into the memory. It is one of the reasons that Windows Vista occupies so much memory. Vista fills the memory in an attempt to predict what users will load. Having one test run with files cached, and another test run with the files un-cached would result in inaccurate numbers. Again, since we can't control its timings so precisely, it we turn it off. Because these four features can potentially interfere with benchmarking, and and are out of our control, we disable them. We do not disable anything else.
We ran each test a total of 3 times, and reported the average score from all three scores. Benchmark screenshots are of the median result. Anomalous results were discounted and the benchmarks were rerun.
Test Rig
Test Rig
Case
Test Bench
CPUs
Intel i7-4770K
Motherboards
ASUS Maximus VI Formula
Ram
Gskill TridentX 8GB (2x4GB) 2666Mhz 11-13-13 Dual-Channel Kit
CPU Cooler
Custom Liquid Cooling
Hard Drives
8x Western Digital RE4 2TB 7200RPM 3Gb/s Hard Drives (Raid 5)
SSD
3x Kingston HyperX 240GB SATA III 6Gb/s SSD
Optical
ASUS DVD-Burner
PSU
Thermaltake Toughpower XT 1475W Gold
Mouse
Tt eSPORTS Theron Gaming Mouse
Keyboard
Tt eSPORTS Meks G1 Illuminated
Synthetic Benchmarks & Games
We will use the following applications to benchmark the performance of the MSI R9-290X Gaming video card.
Benchmarks
3DMark 11
3Dmark 2013
Sleeping Dogs
Tomb Raider
Metro 2033
Unigine Heaven 4.0
Batman Arkham City
Dirt 3 Showdown
Metro Last Light
Sniper Elite V2
3DMark 11

Here we see the 390 Gaming pulls some respective numbers even besting the previous gen 290X by a decent margin while being a bit behind the new Nvidia 900 Series cards, but at the price point it's hardly a complaint.
3DMark 2013
In 3DMark Firestrike and extreme the MSI Gaming model does well to hold its own against some higher priced competition being bested only by the new 970/980 offerings
Unigine Heaven 4.0

Unigine Heaven is a benchmark program based on Unigine Corp's latest engine, Unigine. The engine features DirectX 11, Hardware tessellation, DirectCompute, and Shader Model 5.0. All of these new technologies combined with the ability to run each card through the same exact test means this benchmark should be in our arsenal for a long time.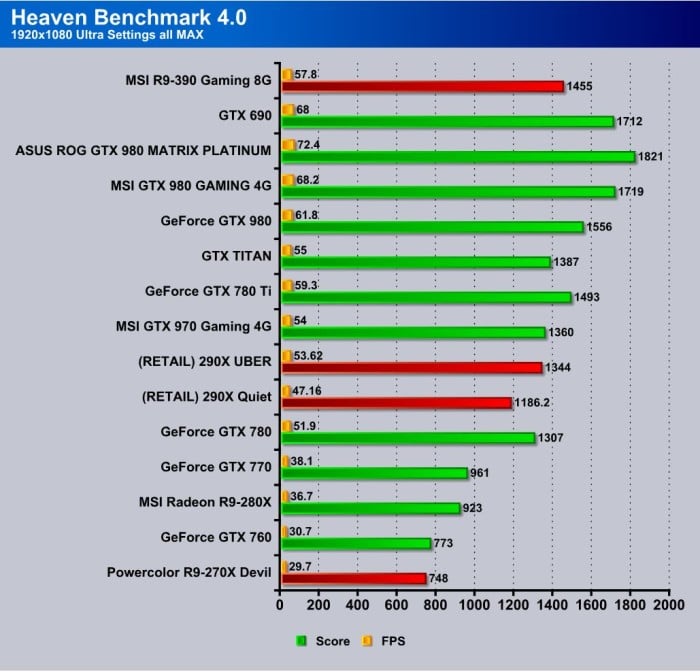 Heaven pushes the 390  past the 970 and even the original TITAN to deliver performance just shy of the 980 reference model.
Sleeping Dogs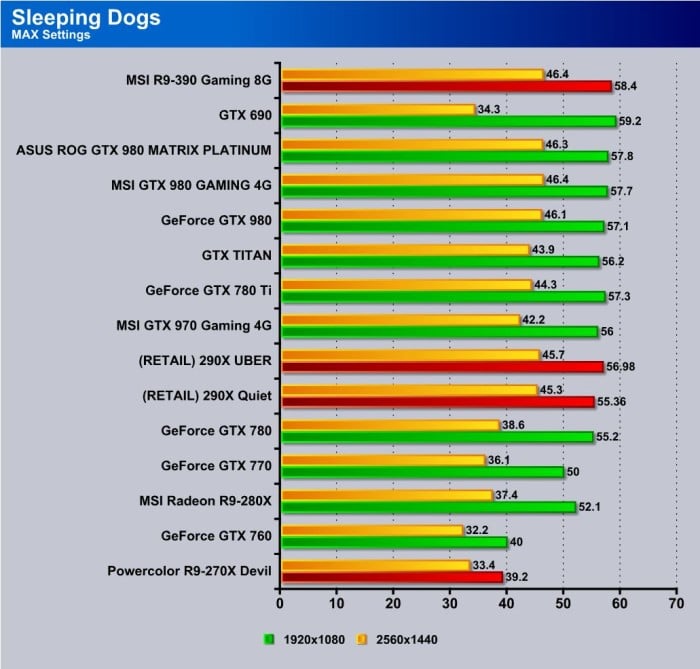 Sleeping Dogs is actually a game that is actively bundled by AMD and here with the 390 comes to life just about stomping everything in its path even being shoulder to shoulder with the 980 models.
Metro 2033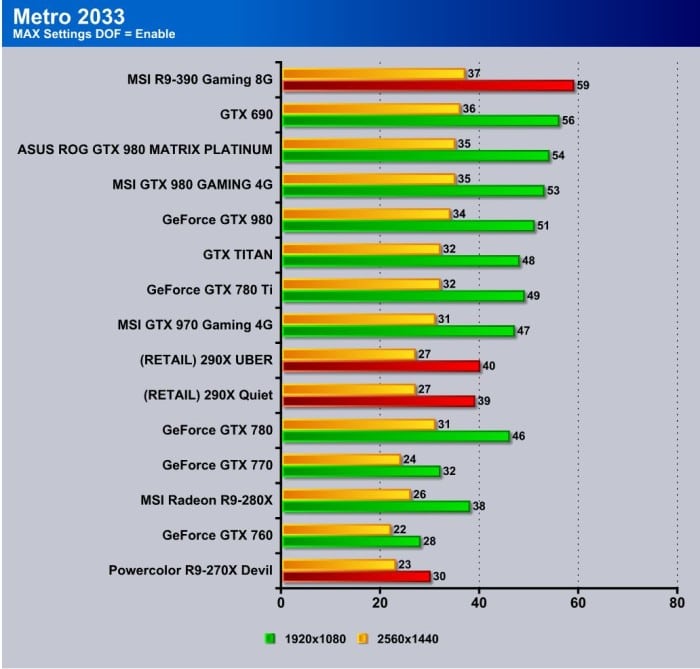 Even after many years, Metro 2033 is still one of the most demanding DX11 video games available to really push the limits of your system. Here the MSI 390 slides in for the top spot as this game seems to really pull some good performance from every AMD card we test it on.
Batman Arkham City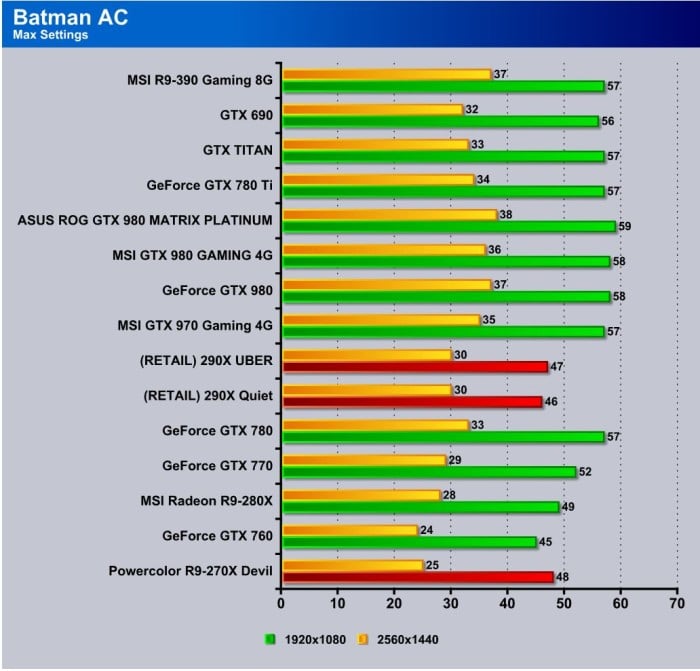 Batman Arkham City is a fun game and utilizes FXAA fully. It is nice to see the full screen anti-aliasing getting picked up by popular titles. Here being an Nvidia based title I was happy to see that the 390 pulls a good spot being bested only by the top Nvidia GPU the GTX 980 models.
Tomb Raider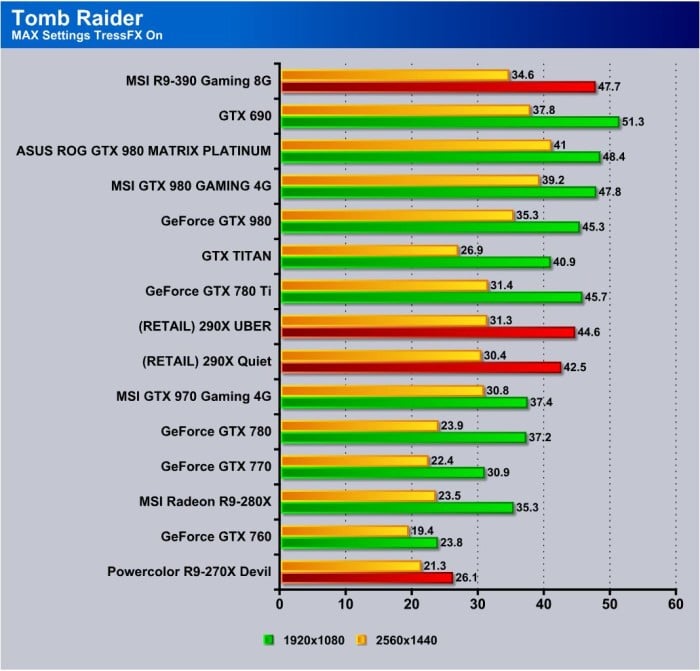 Tomb Raider once again is a heavily pushed title by AMD and so you can imagine my surprise when the 390 pulls in behind the 980 in this test but still not a bad position to be in when you look at the price.
Metro Last Light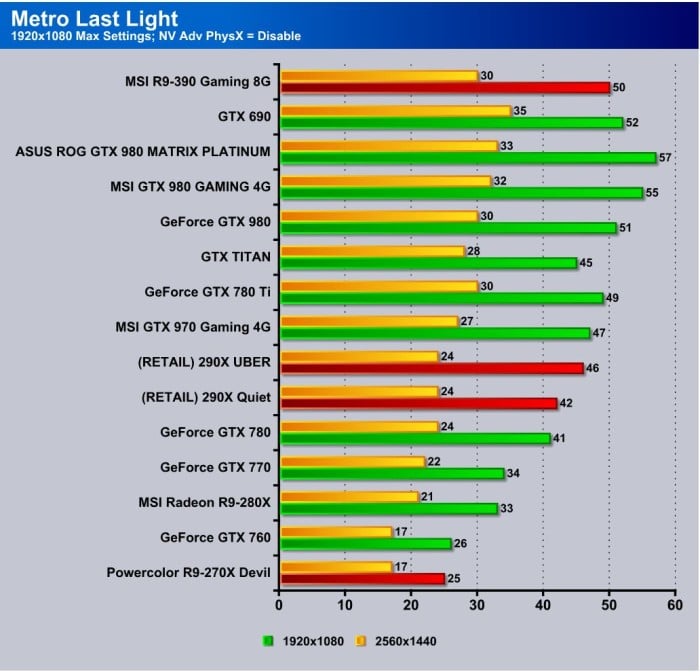 Here we have Metro Last Light which is a brand new game added to our testing platform. If you thought Metro 2033 was stressful you have seen nothing yet. The particles and lighting, as well as the PhysX effects all add up to an amazing looking game that can put a stun even the most powerful system in its tracks. Here the MSI 390 once again shows the ongoing trend as it settles in right on the heels of the 980 models.
Sniper Elite V2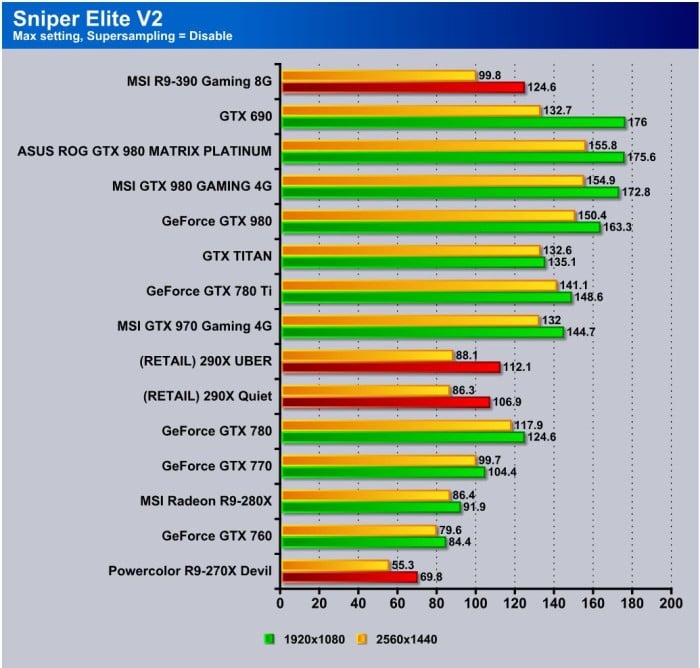 Sniper Elite V2 is a fun game which, when first released, was quite stressful but still playable on most higher end cards. By now, most cards have surpassed it, and today is no different however the 390 falls far behind the Nvidia parts as the game is not very well optimized for AMD cards as seen by the history in our testing.
Dirt 3 Showdown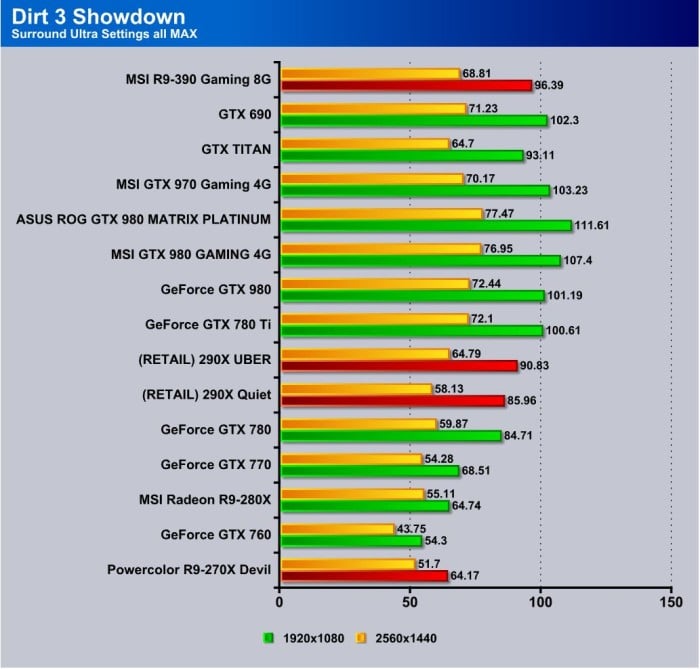 Dirt 3 Showdown is a visually beautiful game with excellent lighting and overall motion blurring creating a real visual spectacle of a game. The MSI 390 Pulls some nice results once again slotting in just behind the current gen Nvidia parts