Sapphire Radeon R9-280X VaporX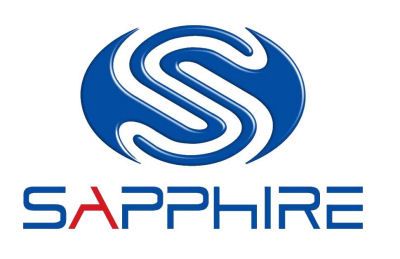 Sapphire as we all know is AMDs premier partner so we always see cool stuff coming from them, but honestly we had already seen a VaporX 280X so we have all simply been waiting for what would come next such as the much rumored 295X or another 290X iteration. To my surprise I got hands on with a newer VaporX 280X model card which is actually a whole new configuration and looks very much like the Toxic model we looked at some time ago now sporting the Tri-X cooler. However this card carries blue hints instead of the orange from the Toxic model which actually looks really good in my opinion.
Add to this the fact that the Tri-X cooler now also employs Sapphires signature Vapor Chamber design which is what the VaporX naming is all about. The Vapor Chamber from previous testing always helps pull a few extra degrees away from the GPU which can really make a different to the cards performance and even fan noise of the card. The Tri-X cooler which worked so well for the Toxic model card is back but with the addition of the vapor chamber I am very interested to see exactly how this card will perform.
The price point for the new 280X VaporX model directly from Newegg at the time of writing is $359.99 which places it 30 dollars behind the Toxic card we had looked at previously. Now we must find out what was done to the VaporX that would allow it to be in a fairer part of the playing field in relation to other 280X models on the market presently.
Key Features
 

New VaporX Cooler
Sapphire made an awesome cooler with the Tri-X model and now to see it employed with a vapor chamber in place I have to wonder will it help performance and if so how much?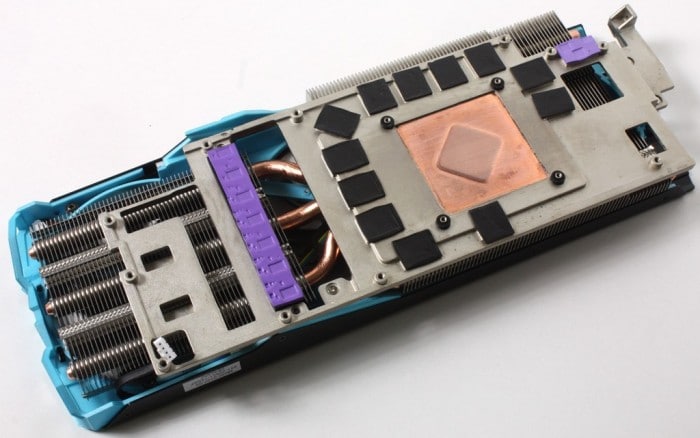 Above you see that the layout is very similar in terms of GPU and memory but unlike the Toxic model the VaporX opts to have a full plate cooling the memory and VRM rather than the separate heatsinks for the VRM components. I like this idea better actually as it adds some rigidity to the card which as cards and coolers getting bigger and heavier it can never hurt to have a heatsink that mounts further onto the PCB which doubles as a stiffener. 
Tri-X Triple Fan 
Sapphire Changed up the Tri-X cooler a bit also in way of the fans by going with triple equal sized fans vs the Toxic which used larger outer fans with a smaller middle fan. I am pretty sure that this kind of configuration will be batter as now you will not be battling with different airflow from opposite fans throwing air back and forth.
Dual BIOS (Legacy and UEFI)
Sapphire equipped a dual BIOS feature just like all other AMD cards but they decided to go with two different BIOS types with a standard BIOS and a UEFI firmware so that you can run this card in virtually any machine but if capable you can enable UEFI which allows much faster booting due to the way a UEFI firmware initializes components.
AMD Mantle Support
Sapphire fully supports the new AMD mantle API which in simple terms is a efficient API designed to allow more efficient usage of CPU/GPU which will allow better performance in game. Now this is obscenely simplified but since much of the key mantle specifications and Dev data has still not been released to the public, even though it is an "Open API" I still am excited to see how it rolls out especially now that DX12 has been shown. 
Sapphire Trixx
Sapphire has its own overclocking software and has had it for awhile now called Trixx, while it is lesser known than those such as MSI's Afterburner or EVGA's Precision but it is still a capable tuning utility although its feature set is a bit lighter than some other offerings on the market.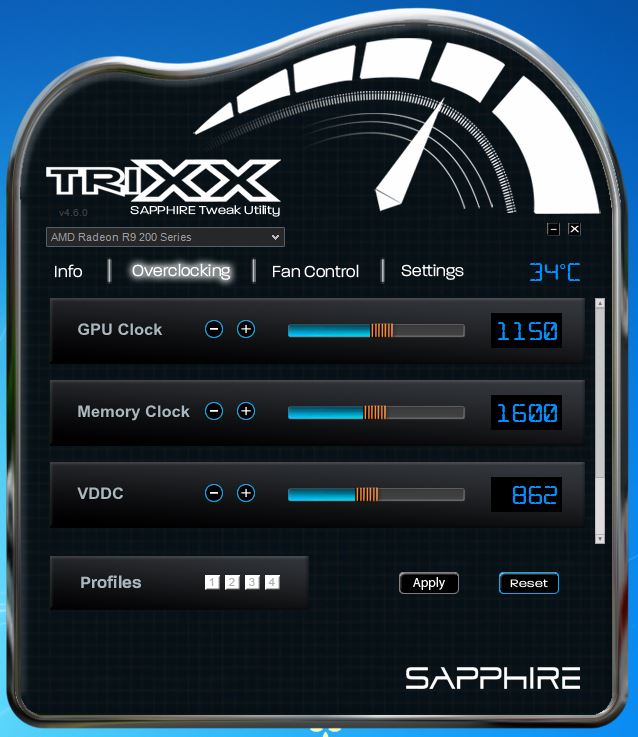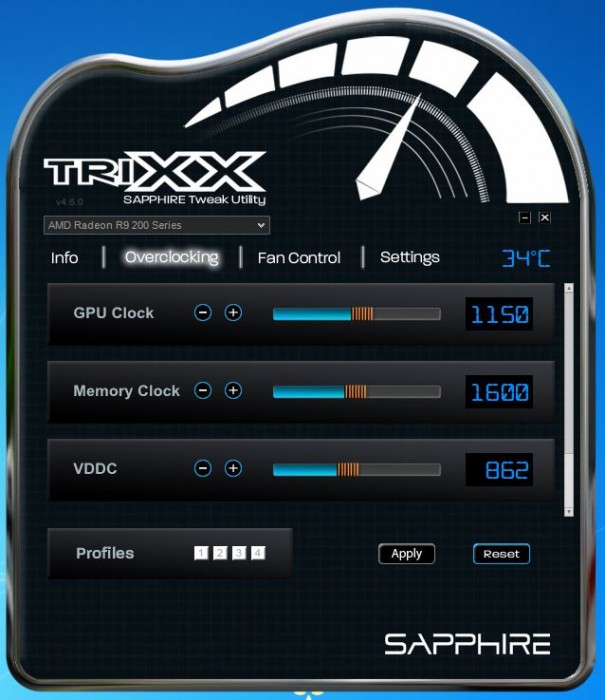 Above you can see that the functionality is basic but the layout is super clean, I think with some time the features could be added to make this a great tuning utility. 
Review Overview
Performance - 9
Value - 9.5
Quality - 9.5
Features - 9.5
Innovarion - 9.5
9.4
Sapphire innovated their way into an amazing position by taking a proven cooler and finding ways to make it amazing! instead of strictly focusing on overclocking they pulled out the stops to make an amazing "Gamers" card