Bioshock Infinite
Set in 1912, the game has protagonist, former Pinkerton agent Booker DeWitt, sent to the floating air city of Columbia to find a young woman, Elizabeth, who has been held captive there for most of her life. Though Booker rescues Elizabeth, the two become involved with the city's warring factions: the nativist and elite Founders that rule Columbia and strive to keep its privileges for White Americans, and the Vox Populi, underground rebels representing the underclass of the city. During this conflict, Booker learns that Elizabeth possesses strange powers to manipulate "Tears" in the space-time continuum that ravage Columbia, and soon discovers her to be central to the city's dark secrets.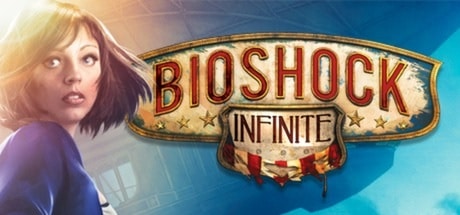 In our humble opinion the current state of gaming and GPU's just aren't ready for 2160p, televisions might be ready but GPU's and 4K resolutions the industry hardware just isn't up to the task. What's sad is that monitor manufactures will push 2160p which has 4x the pixels of 1080p and in order for current GPU's to handle that resolution game settings will have to be lowered in most cases. Since there are 2160p Monitors GPU developers will push the envelope to accommodate the massive amount of pixels and monstrously powerful GPUs with ungodly prices will spring up.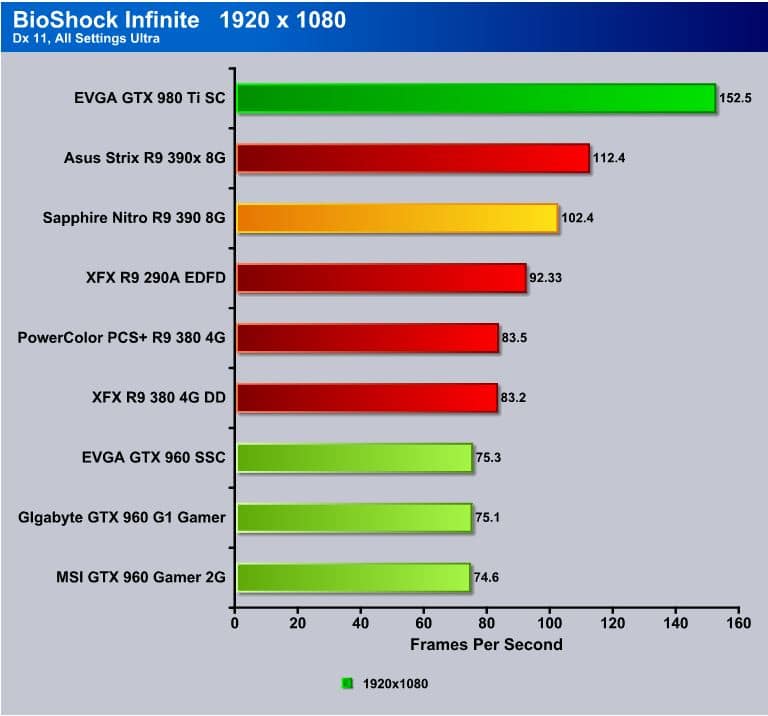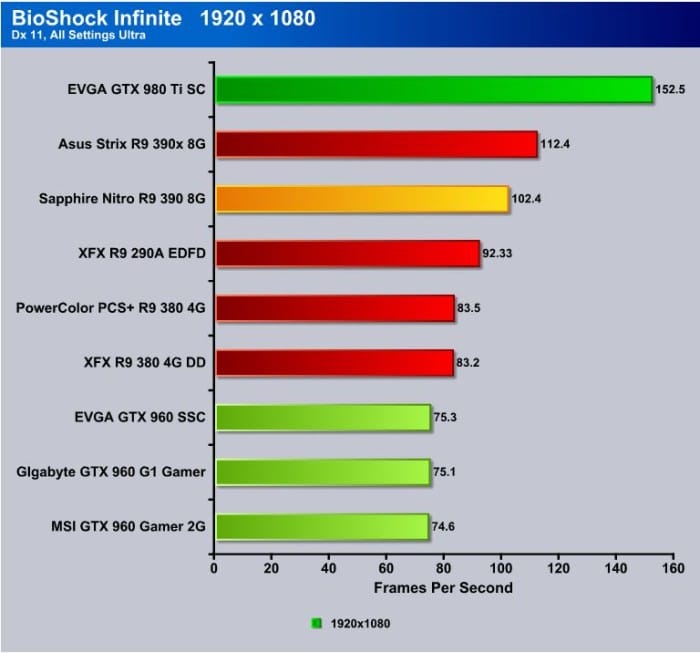 At 1080P the Sapphire R9 390 ran 102.4FPS and Bioshock isn't really hard for GPU's to run but it scales well and shows the differences in FPS a little better than the GPU grinder games some of which are just bad console ports to the PC platform.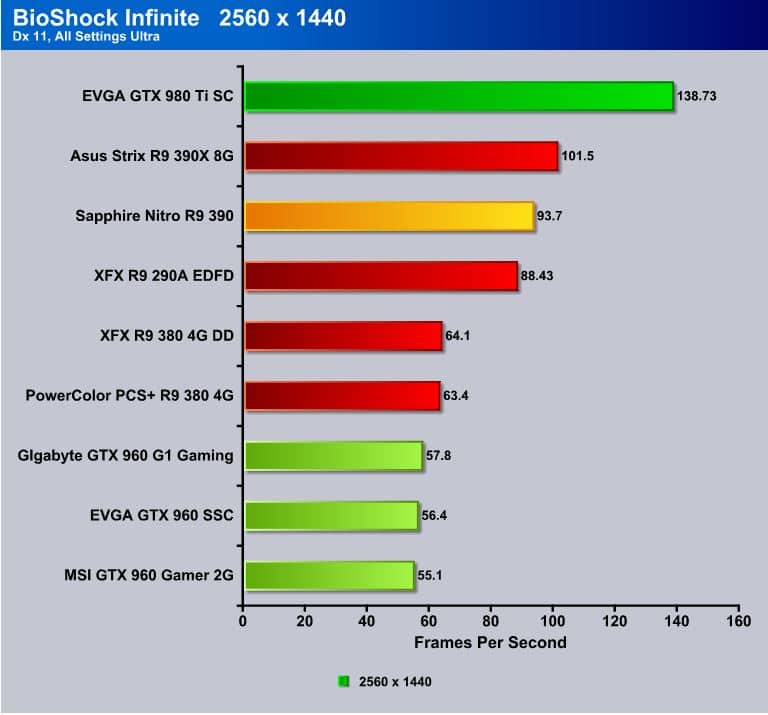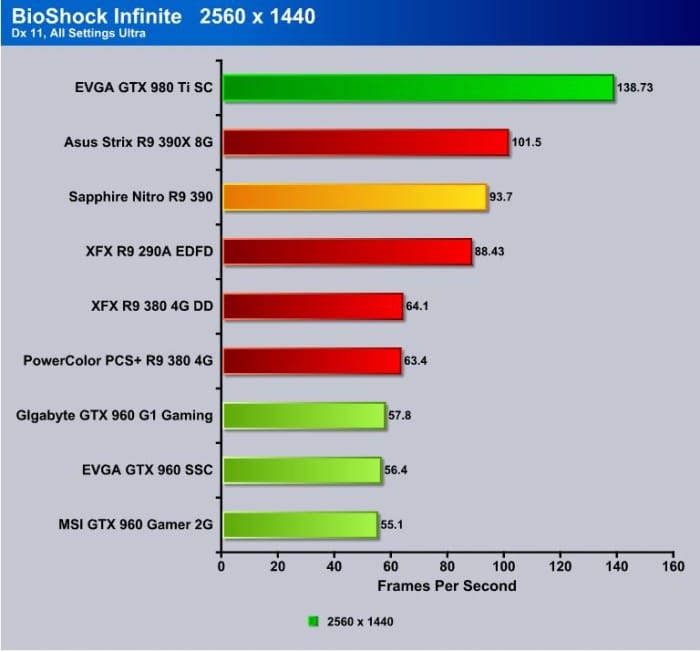 At 1440P even the GTX 960 pack did well and the Sapphire Nitro R9 390 ran 93.7FPS slightly more than the R9 290A EDFD.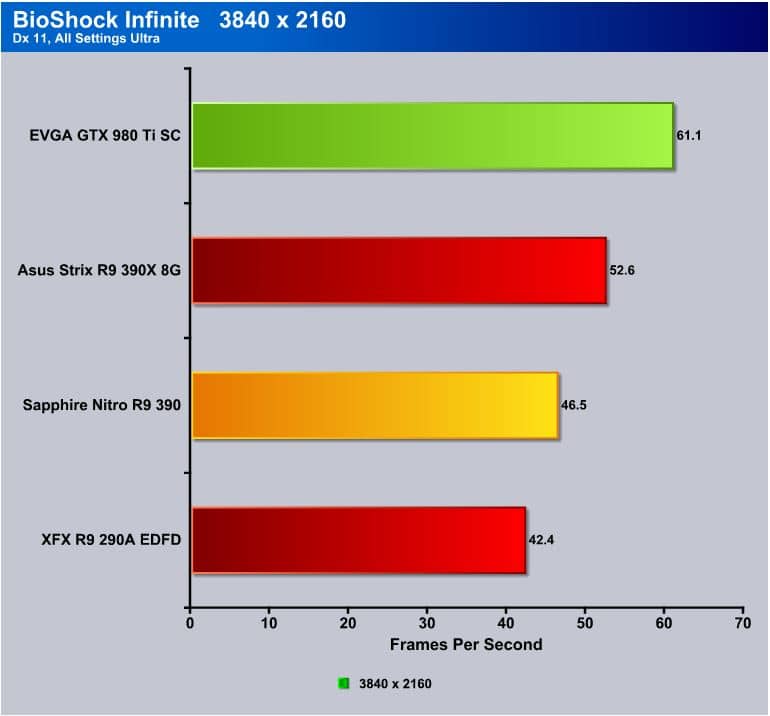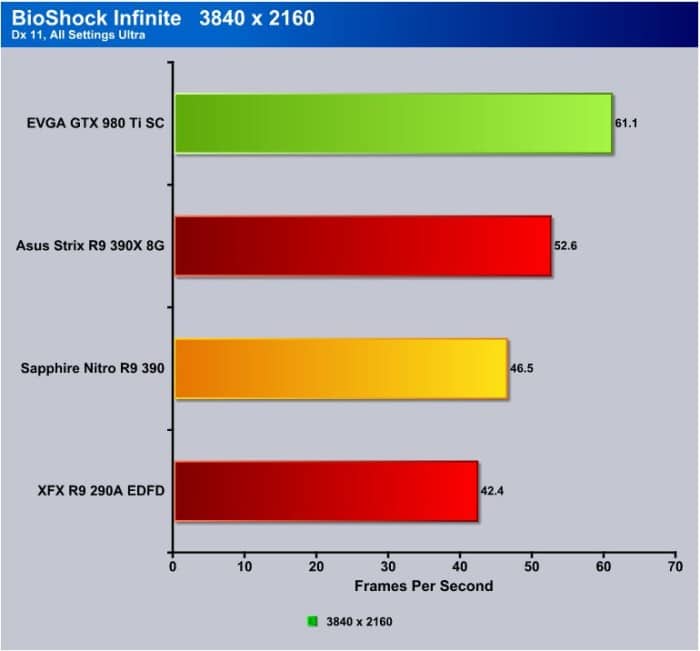 BioShock is one of the few games you can run the 4K resolution with ultra Graphical settings and still get single GPU scores in the playable FPS range. The Sapphire Nitro R9 390 ran a 46.5FPS and falls into the rock solid steady FPS range the human eye needs for good quality video, we consider 30 FPS adequate for the human eye.
BioShock Settings

1920 x 1080
2560 x 1440

DirectX 11
Ultra Quality
DODD Enabled
FXAA Enabled

DirectX 11
Ultra Quality
Dodd Enabled
FXAA Enabled