XFX RX 570 RS 4GB XXX Edition (RX-570P427D6)
 Clock Speeds
7100
OC+ Memory Clock (MHz)
 KEY FEATURES
2048 Stream Processors
1264 MHz True Clock
1284 MHz OC+ Clock
8GB 256-Bit GDDR5
7000 MHz Effective Memory Clock
Designed for Gamers. Built on the future-ready Polaris architecture, the Radeon™ RX 570 Series Graphics play your favorites at Ultra settings at 1080p, from the latest eSports games and MOBAs to the most popular, graphically-intensive AAA titles. With leading DirectX® 12 performance, Asynchronous Shaders, game-ready drivers, and frequent software improvements, you'll feel confident that your investment will last for years to come.
Award Winning Technologies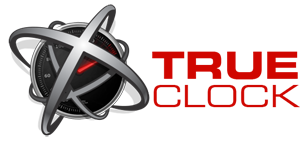 XFX True Clock Technology
BIOS Controlled overclocking
Software controlled clock speeds can be hindered by overall computer performance. XFX's True Clock however is hardware controlled clock speed performance optimization, so your card is always running at an optimized performance level.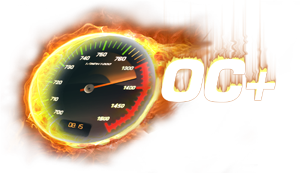 XFX OC+ Capable
Going Beyond True Clock
While True Clock locks in a super fast optimal speed on a hardware level, RX Series cards with an OC+ rating are tested at the factory to go even beyond XFX's True Clock. We encourage you to try these factory tested speeds by using the simple to use AMD Wattman utility, letting you squeeze every last bit of performance out of your card.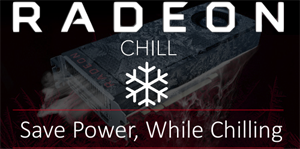 Radeon™ CHILL Technology
Smart GPU control
Radeon™ Chill is an intelligent power-saving feature for Radeon™ graphics that dynamically regulates framerate based on your movements in-game. During peak gameplay, Radeon Chill works to deliver the full framerate potential of Radeon graphics. As movement decreases, Radeon Chill reduces your gameplay framerate. Designed to save power, lower temperature, and increase GPU life, Radeon Chill enables high performance graphics when you battle and saves power when you explore.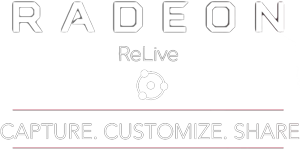 Radeon™ ReLive Software
Share your victories
Effortlessly capture, stream, and share your memorable moments and clutch victories with Radeon™ ReLive. Included free with the Radeon™ Crimson Software Package
*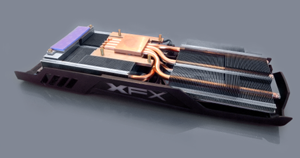 High Performance Unibody Heatsink
Enhances thermal efficiency by 40%
The XFX RX 570 RS series features our all new Unibody VRM Heatsink construction enable direct transfer to the primary heatsink and heatpipes. This unique combination of material and construction enhances thermal efficiency by a total of 40%.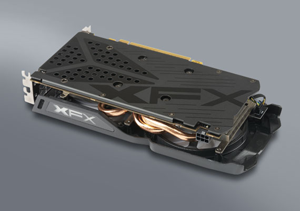 Custom XFX Aluminum Backplate Design
Protects your GPU while providing additional cooling overall
GPUs are one of the most important, complex and delicate pieces of hardware in your computer and as a game, nothing is as important and the slightest bend can drastically affect the performance of your graphics card. But that's a thing of the past because XFX's solid backplate keeps the card strong and secure, eliminating card bend. Graphics cards also emit some heat from the back as well which rises up and affects other components but our cool aluminum backplate can absorb that heat and keep the overall case cooler.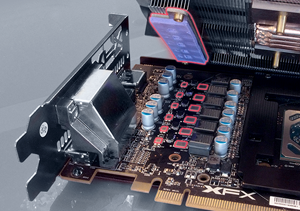 Enhanced VRM and Memory Cooling
Cooling technologies don't stop at just the GPU.
After countless hours of research, development, and testing our engineers have developed all new VRM and Memory cooling technology, reducing temperatures VRM by up to 30′ C and GDDR temperatures by 20′ C, all while reducing dB noise by an additional 5%. Best in class for the GPU enthusiast.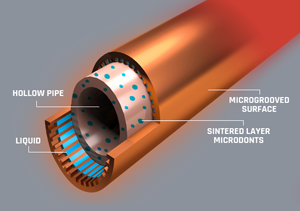 All New Composite Heatpipe Technology
We combined technologies to create the first super heatpipe.
The new composite heatpipe design used in the XFX Radeon™ RX 570 RS combines the technologies of both Liquid and Capillary Action heatpipes into one. Doing so allows us to increase the total heatpipe surface area by 30% which tremendously increases the thermal efficiency.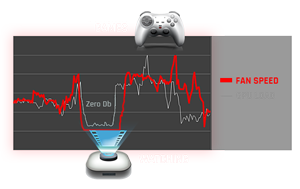 All New Zero dB Auto Load Sensing Fans
Power when you need it and quiet when you don't.
XFX fans are equipped to run at the highest possible performance, while our Zero DB Fan System will also keep your fans running at efficient RPM in order to minimize annoying fan noise by lowering RPM all the way down to Zero RPM. When the heat is on during intense gaming, our fans will speed up as needed.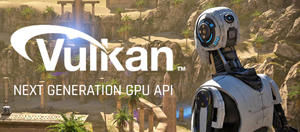 Designed for Vulkan Cross Platform Graphics
The next generation graphics API from Khronos.
Vulkan is the new generation, open standard API for high-efficiency access to graphics and compute on modern GPUs. This ground-up design, previously referred to as the Next Generation OpenGL Initiative, provides applications direct control over GPU acceleration for maximized performance and predictability.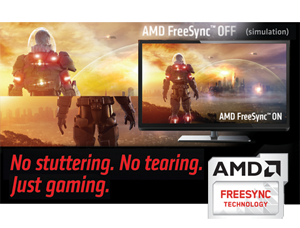 AMD FreeSync™ 2 Technology
No stuttering. No tearing. Just gaming. Gaming shouldn't be a choice between choppy gameplay and high performance. With XFX Radeon™ RX RS Series graphics and FreeSync technology, it doesn't have to be. Transform the most demanding games into a liquid-smooth, artifact-free, 4K cinematic experience with the highest performance at virtually any frame rate. FreeSync works at the speed of your game for incredible responsiveness and uncompromising smoothness. Every gamer deserves perfectly smooth gameplay and peak performance. Unlike the competing technology, you don't have to choose with FreeSync technology.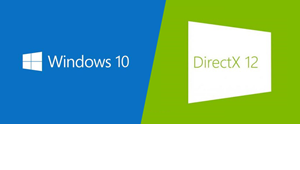 Microsoft Windows 10 and DirectX 12
Optimized for gaming performance
New features and functions bring new computing experiences to life with AMD Radeon™ graphics on the Windows® 10 platform. Take your gaming further with XBOX ONE on Windows. Play and connect with your games and friends. Everywhere.
Microsoft's new technology enables great performance and dramatically improved GPU and CPU multiprocessing and multithreading performance thanks to Async Shaders and Multi-threaded Command Buffer Recording for more efficient rendering of richer and more complex scenes.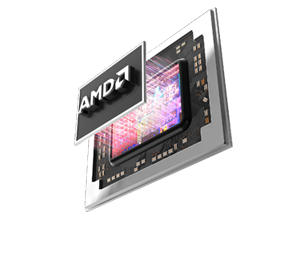 FinFet 14nm Technology
Unprecedented efficiency on nextgen GPUs.
Enjoy whisper quiet gaming with the revolutionary Polaris architecture. Combining the latest FinFET 14 process technology and AMD's advanced power, gating and clocking technologies, you'll enjoy dramatically cool and quiet gaming. The FinFet 14 process technology puts more transistors in less space, enabling dramatic increases in processing power and power efficiency helping to provide better processor performance while using less power and enabling better transistor efficiency than previous generation technology.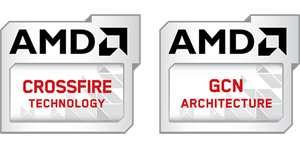 AMD Exclusive GCN & Crossfire Technology
The Ultimate Compute Architecture with Multiple GPU Scaling
Discover the direct-to-theGPU performance advantage of Graphics Core Next (GCN) architecture, enabling stunning detail and dynamic gaming, a richer and more immersive VR experience, with exceptional graphics performance and low power consumption. 4th generation Graphics Core Next (GCN) architecture features asynchronous shaders and an enhanced geometry engine, so you can enjoy exceptionally smooth gameplay on the latest DirectX® 12 and Vulkan™ titles.
AMD CrossFire technology lets you connect multiple graphics cards to amplify your system's graphics processing capability including enhancements that set a new standard of consistent and smooth gameplay.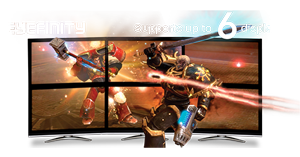 AMD Eyefinity Technology
Multidisplay technology for gaming, productivity and entertainment.
Expand your territory and customize your field of vision. Connect up to six displays on a single GPU for dynamic, panoramic multi-screen gaming. You'll get an expansive experience that's truly out of sight. (additional displays may require the use of MST hub).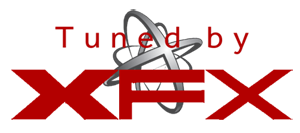 Tuned By XFX For Peak Performance
Giving you the performance you have come to expect from XFX.
Overclocking your card to it's peak performance potential is not an easy task but a stock card is simply under-utilizing your graphics card's full potential. Luckily for you, we have factory overclocked the RX 570 RS at the BIOS level and have fine tuned it for optimal gaming performance. Our state-of-the art equipment and testing labs ensure that your card reaches it's maximum performance level safely and optimally.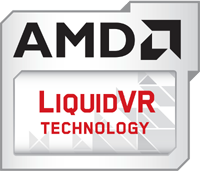 AMD LiquidVR
Exceptionally Comfortable VR.
Experience beautifully rich and immersive VR experiences with advanced comfort and effortless compatibility. Avoid nausea and motion sickness, made possible by the AMD LiquidVR™ initiative, featuring ground breaking Asynchronous Shaders.
The Radeon™ RX 500 graphics cards, combined with AMD LiquidVR™ technology already in use by leading head-mounted display (HMD) vendors, provides an exceptional platform for a fully immersive and comfortable VR experience.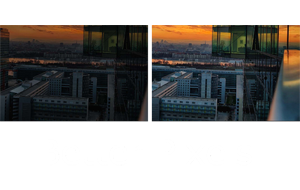 Premium HDR
Expand the range of colors.
Premium HDR – High Dynamic Range (HDR) is a state-of-the-art technology for gamers and cinephiles that care deeply about the display quality of their TV or monitor. Modeled after the acuity of human vision, HDR vastly expands the range of colors and contrast ratios that can be shown by compatible displays. HDRready games and movies played on an HDR display appear strikingly sharp, colorful, and vivid, with enhanced contrast and sophisticated nuance compared to even the most stunning SDR content.
The Radeon™ RX 570 graphics card's brand new display engine and HDR ready capabilities equip you for the new wave of HDR displays, content and the future of gaming.
 Radeon™ Software
A premium set of driver utilities.
As sophisticated as the Polaris architecture based graphics cards are, the software that powers the cards is equally as sophisticated. Radeon™ Software delivers the ultimate in performance, features and stability to help ensure an exceptionally smooth and fast out of the box experience.
With Radeon™ WattMan (formerly AMD Overdrive™) – Push your hardware to the limits. Radeon™ Settings takes customization to a whole new level with per state control over clocks, voltages, and temperature.
 Latest Display Connections
Ready for the latest displays
Radeon™ GPUs with the Polaris architecture support HDMI® 2.0b and DisplayPort™ 1.3 for compatibility with a new generation of monitors that would make any gamer excited:
1080p @ 240Hz
1440p @ 240Hz
4K @ 120Hz
1440p ultra-wide @ 190Hz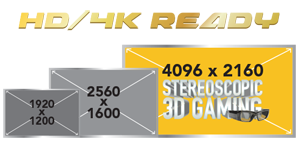 Extreme 4K Gaming for serious gamers.
Experience resolutions up to four times higher than HD and see everything your opponent throws at you without sacrificing a single detail.
Teleport into life-like 4K gaming realism with AMD Radeon™ Rx 570 Series graphics. Delivering 4K video playback with hardware-accelerated H.265 encode/decode enabling smooth live streaming of 4K (Ultra HD) content for your viewing pleasure.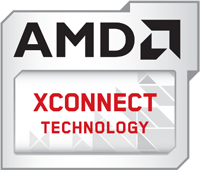 AMD XConnect Technology
Great performance, even on the go.
Should a PC gamer on the go buy a gaming notebook that's tough to carry, or a thin notebook that's tough to game on?
AMD XConnect™ unlocks the best of both worlds on systems designed for Thunderbolt™ 3 eGFX enclosures. Finally you can use a desktop graphics card on a notebook.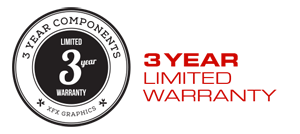 XFX's 3 Year Warranty
Giving you the performance you have come to expect from XFX.
Even though we trust that our high-quality products will continue working at peak performance well beyond your use of it, we want to put our word behind that promise. That is why we offer our 3 Year Warranty with this series of graphics cards. This means that your product is protected by a 3 year limited hardware warranty on manufacturing defects of anything on the card.