INTRODUCTION
While we here at Bjorn3D typically focus on the top-end, enthusiast-level hardware, we frequently come across a piece of hardware that is a bit more tame. Take for example the XFX RX 460 4GB Heatsink Edition graphics card. Built with 1080p gaming in mind, the RX 460 provides beginner and budget gamers a platform to get started on. With support for DirectX 12 and Vulcan, the RX 460 promises to provide users with enhanced graphics rendering power for the future when compared to integrated solutions. The most unique feature of this RX 460 iteration is the fact that this unit is completely silent, as XFX has designed a fanless cooling solution. Follow along as we take a look at the XFX RX 460 4GB Heatsink Edition.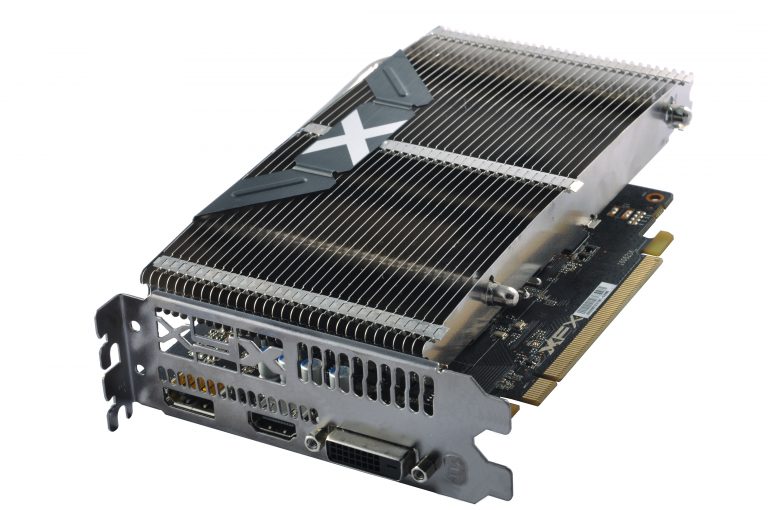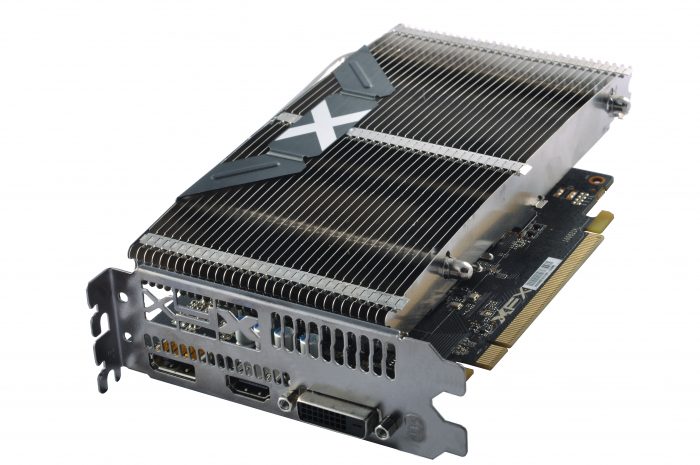 STANDOUT FEATURE
As with all products, there is at least one unique feature of the XFX RX 460 4GB Heatsink Edition that we would like to cover. Without standout features to differentiate one product from another, we would live in a pretty boring world. Lets take a look at what makes the XFX RX 460 4GB Heatsink Edition stand out from the crowd.
Completely Passive Cooling – With no fans to make any noise, this videocard is inherently silent. Two heatpipes wick heat away from the GPU and passively dissipate the heat via a large array of aluminum cooling fins. This cooling solution provides the full power of the RX 460 platform with zero noise. By using the internal flow of air provided by other sources like case fans and CPU heatsinks, the Heatsink Edition is one less noise-producing component in your system.
SPECIFICATIONS
GENERAL
Part Number : RX-460P4HFG5
Product Name : AMD Radeon™ RX 460
Product Description : XFX RADEON RX 460 Heatsink 4GB GDDR5 TRUE OC 1220MHZ DISPLAYPORT HDMI DVI 3 year warranty
UPC Number : 778656073173
PROCESSOR & BUS
Bus Type : PCI-E 3.0
Chipset version : Baffin
GPU Clock : 1220MHz
Performance Category : Mainstream
Stream Processors : 896
MEMORY
Memory Bus : 128 bit
Memory Clock : 7000Mhz
Memory Size : 4GB
Memory Type : GDDR5
DISPLAY OUTPUT
Display Port ready : 1.4
HDMI Ready : 2.0b
Max Supported Resolution (DIGITAL) ;4096 x 2160(HDMI;DP)
Output – Display Port : 1
Output – HDMI : 1
Output – DL-DVI-D : 1
PHYSICAL
Card Profile : Dual
Thermal Solution : Heatsink
Thermal Type : Dual Slot
Card Dimension (cm) : 20.4 x 14 x 4
Card Dimension (inch) : 8.03 x 5.51 x 1.57
Master Carton Dimensions (cm) : 36 x 56.5 x 19
Master Carton Dimensions (inch) : 14.17 x 22.24 x 7.48
Package Dimensions (cm) : 28 x 18 x 7
Package Dimensions (inch) : 11.02 x 7.09 x 2.75
Package Weight (Kg) : 2.35 est.
Package Weight (lb) : 5.18 est.
INCLUDES
Driver Disk Installation Guide : 1
Warranty Terms Card: 1
Installation DVD : 1
REQUIREMENTS
Minimum Power Supply Requirement : 400 watt
XFX Recommended Power Supply : XFX 450W PSU
FEATURE TECHNOLOGIES
AMD Eyefinity Technology : Y
AMD Xconnect Technology : Y
AMD Virtual Super Resolution : Y
AMD GCN Architecture : 4th Gen
AMD FreeSync Technology : Y
AMD LiquidVR Technology : Y
FinFet 14nm : Y
Microsoft Windows 10 Support : Y
OTHER FEATURES
DirectX™ 12 Support : Y
Radeon Software : Y
HDR Ready : Y
ENVIRONMENTAL
RoHS : Y
CLOSER LOOK
Packaging
XFX's packaging for the RX 460 is pretty bland compared to some other vendors. The front of the box features a mostly matte black color scheme with shiny black and red highlights. A listing of basic features found on the card are notated at the bottom. The back of the box makes note of the passive cooling design found within, and also includes a slightly larger list of features. Past that, it is a bleak sea of black ink.
Videocard
With the RX 460 4GB Heatsink Edition out of its packaging, we are presented with a smallish videocard by today's standard. A quick glance shows us that the black PCB is mostly covered by the nearly full-length cooling solution, save for a few spots towards the output ports. From the other side we get a look at a fairly generic PCB, one that comes without a backplate. Noticeable here are both the heatpipes and cooling fins that extend past the edges of the PCB itself.
From the top, we can nearly see straight through the silent cooling solution to the videocard itself. Two 6mm heatpipes are embedded in a cooling block serve to bring heat away from the GPU to be passively dissipated by the rows of cooling fins. A bit of a nameplate occupies a portion of the top third of the cooling fins and sports a large "X" for XFX.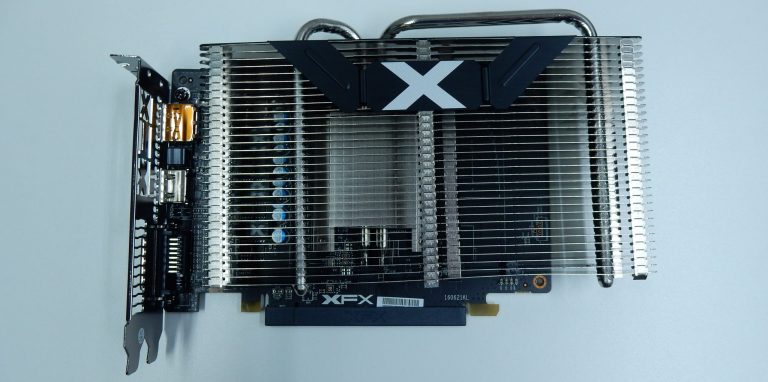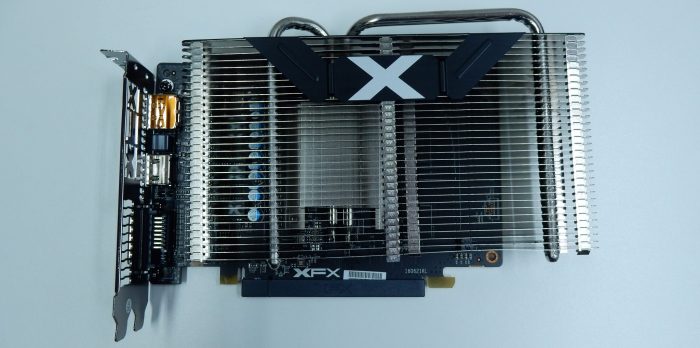 Taking a look at the side of the card shows us that this is a two-slot form-factor, and not only requires two slots, but also additional height for the two heatpipes which extend past the boundaries of a standard-sized card. An XFX design has been applied to the outermost cooling fin to make sure there is brand recognition when the videocard is installed in a windowed case. It is in this view that we would typically see a 6-pin or 8-pin PCIe power connector, but as the RX 460 has a TDP of less than 75 watts, no such connector is required.


From the other side we see a plain cooling fin that will face the motherboard. Each heatpipe slightly protrudes from this fin, completing the process of heat removal from the GPU itself.


The RX 460 provides not only DVI-D, but also an HDMI 2.0b and DisplayPort 1.4 port. Passive ventilation is found in the form of both standard slots, as well as an XFX logo cutout.


SYSTEM SETUP AND INSTALLATION
Test Setup
Case
Anidees AI Crystal Lite
CPU
Intel Core i7 4790K
Motherboard
ASUS Z97M-PLUS
Ram
G.Skill Ares DDR3 1866, 16GB
CPU Coolers
Cooler Master MasterLiquid Pro 140
Storage Drives

Crucial MX200 250GB SSD
OCZ VX500 1TB SSD

GPUs

XFX RX 460 4GB Heatsink Edition
ASUS GTX970-MOC-4GD5

PSU
SilverStone SST-ST55F-G
Installing a new videocard is usually one of the easiest upgrade you can perform, and the XFX RX 460 was no different. Making things even easier was the fact that no external power was needed for the card, as all voltage is supplied via the PCIe slot.
BENCHMARKS
Generic
As the RX 460 is aimed at the mainstream or entry-level gamer, all of our testing for this card was performed at a resolution of 1920×1080, unless otherwise noted. Both the SteamVR and VRMark benchmarks were performed using default settings, which stray from the 1920×1080 resolution.
3DMark Fire Strike – Score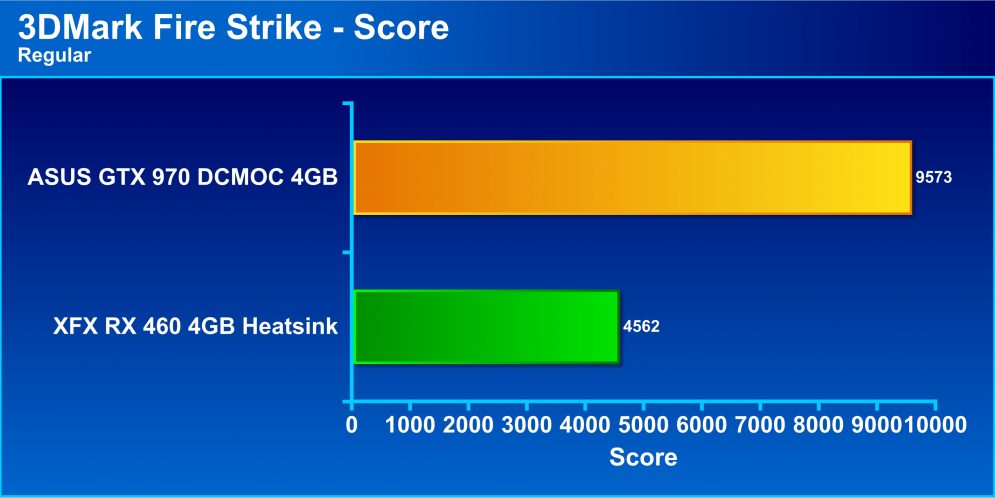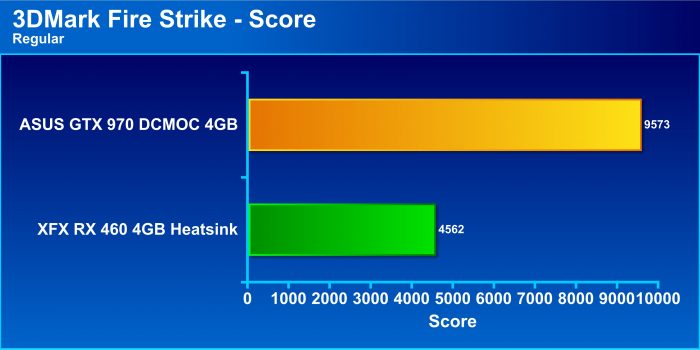 The first results we see from the RX 460 start a pattern that will continue throughout our benchmark results. This AMD offering simply can't keep up with a mid-range, previous generation NVIDIA offering, but that's not what it is designed to do either. We must remember that the RX 460 GPU is aimed at providing an upgrade when compared to integrated solutions found on CPUs themselves, or for stepping up the included add-in card found in an OEM system.
3DMark Fire Strike – Graphics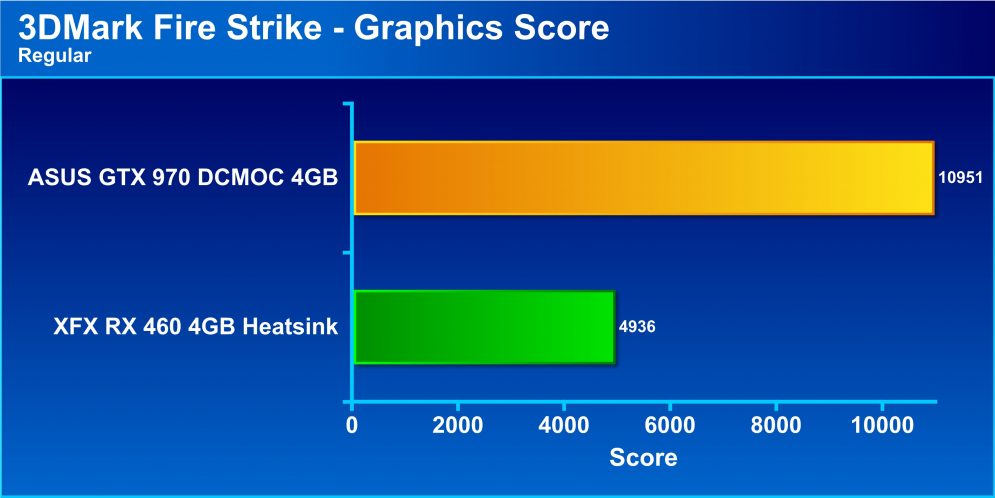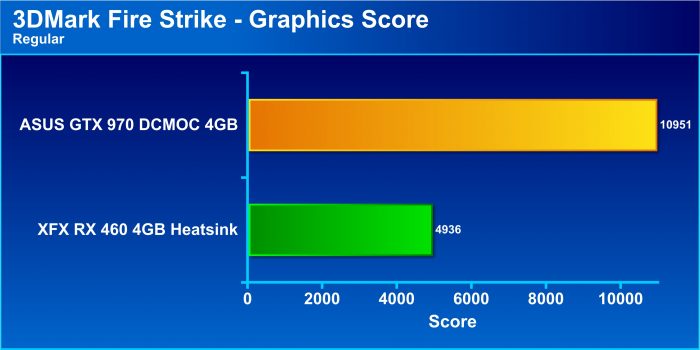 The Graphics portion of the 3DMark Fire Strike benchmark again shows us a staggering difference in performance between the two cards tested.
3DMark Timespy – Score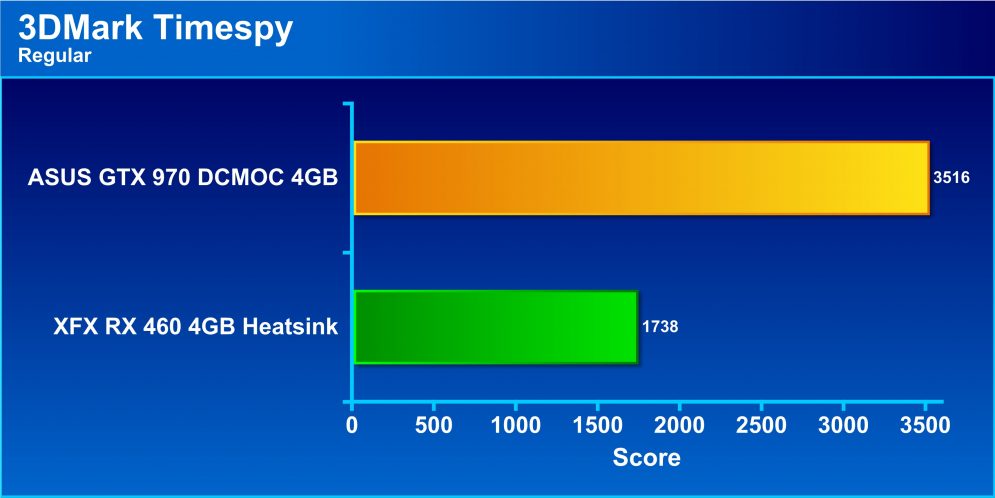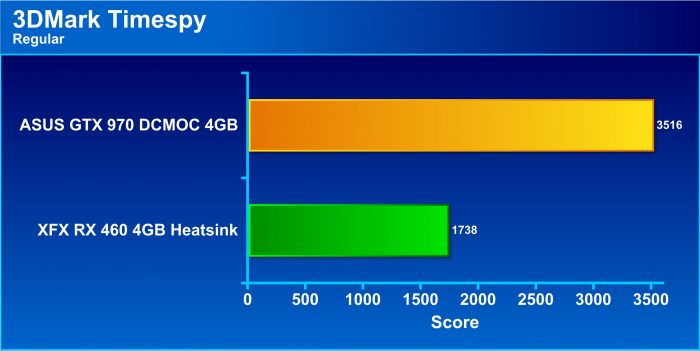 Our final 3DMark benchmark, Timespy, pushed the limits of both of our tested cards. Neither card nets very impressive results, but again we see the GTX 970 offering twice the power of the RX 460.
Unigine Heaven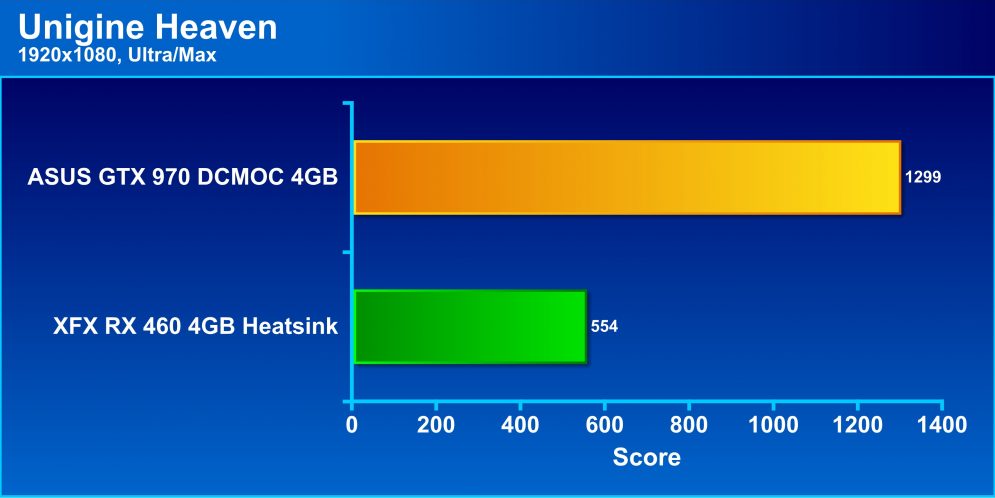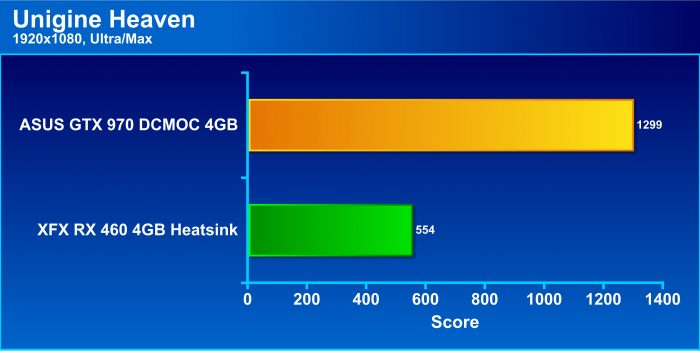 Unigine Heaven offers another synthetic benchmark to gain insight from, and once again we have a graph similar to our previous synthetic results.
SteamVR Performance Test – Score
Valve's SteamVR Performance Test provides a good understanding of just how well a system will perform when paired up with a VR headset like the HTC Vive or the Oculus Rift. While the GTX 970's score of 6.2 is in the "Good" category, the 0.2 that the RX 460 achieved is in the "Low" category, and not suitable for VR applications. Again, the RX 460 is not designed to function as a VR rig's videocard, but showing these results will hopefully keep unknowing buyers from making this purchase with thoughts of VR in mind.
VRMark Orange Room – Average FPS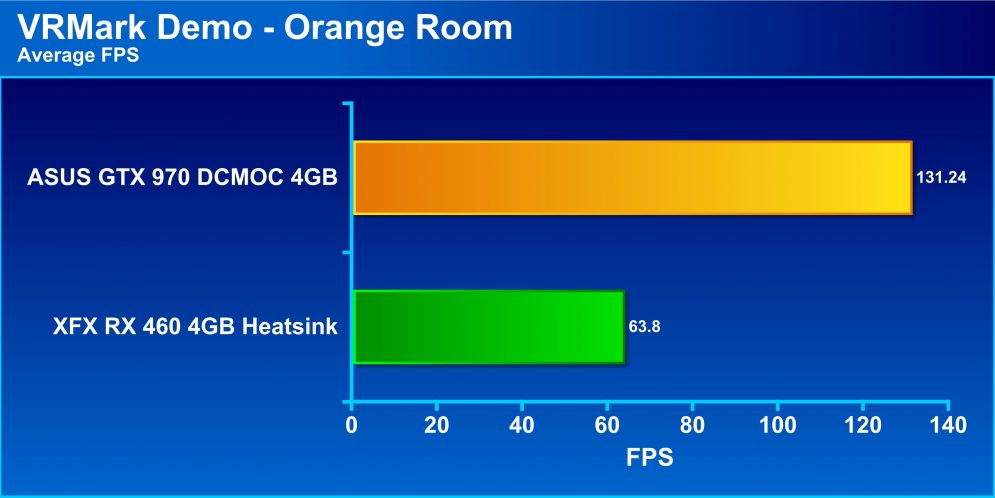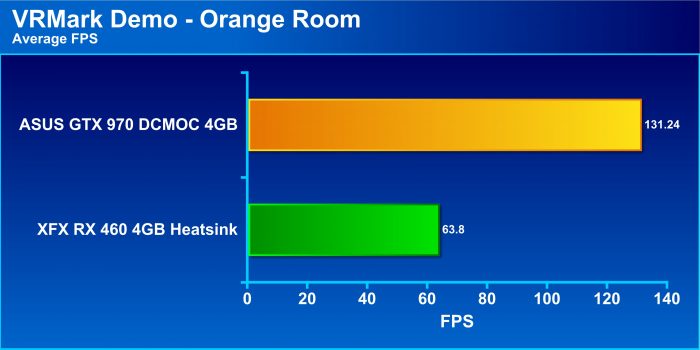 With VRMark's Orange Room benchmark, the RX 460 was able to achieve an average framerate of 63.8FPS. Unfortunately, this is still well below the recommended 90FPS for VR use.
Games
Ashes of the Singularity – Average Frames – DirectX 12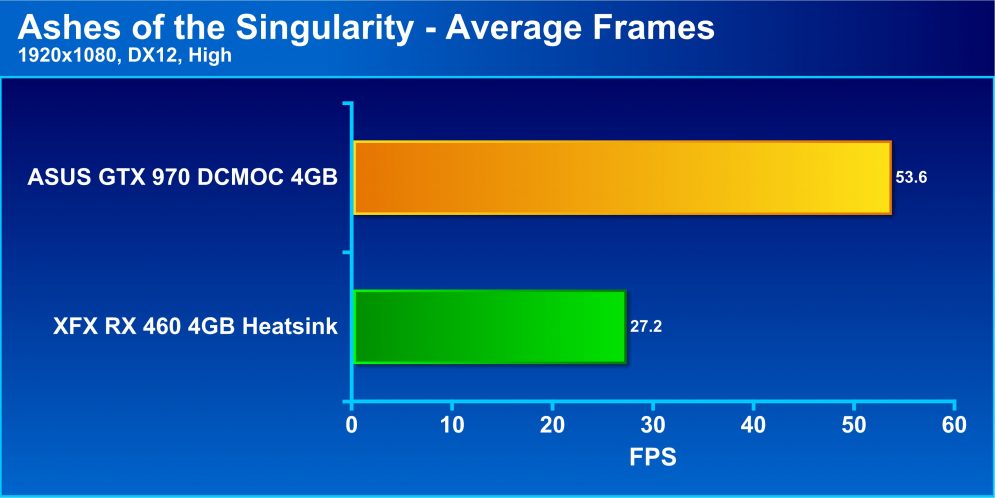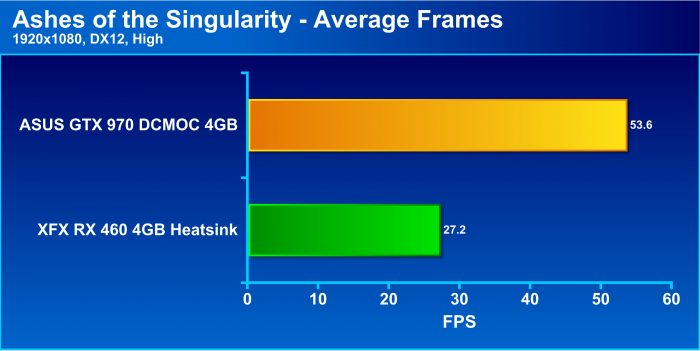 Moving over to Ashes of the Singularity, we tested the DirectX 12 performance of the RX 460 at a resolution of 1920×1080 with High settings. Our results once again show nearly half the performance of the GTX 970.
Ashes of the Singularity – Average CPU Frames – DirectX 12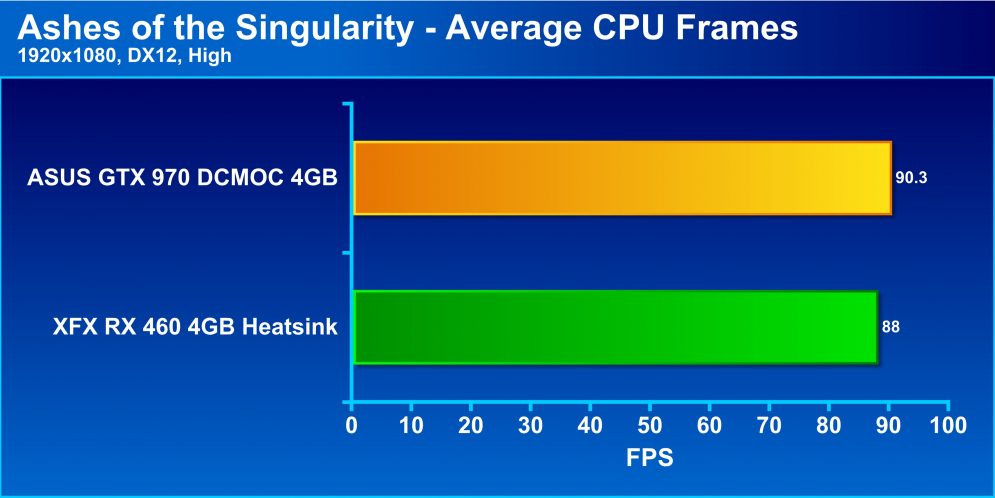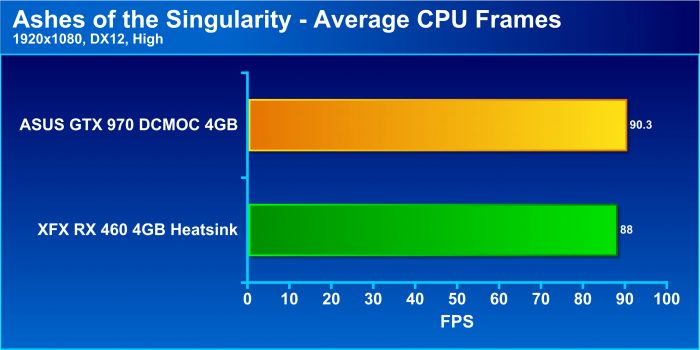 When taking a look at the Average CPU Frames result from both video cards, we see nearly identical results in both configurations. With the GPU out of the way, our test system provided results that are within a small margin of error, and give us a nice look at just how important the videocard is for gaming applications.
Overwatch
Firing up Blizzard's Overwatch showed that the XFX RX 460 4GB Heatsink Edition can really hold its own in modern games. We tested first at a resolution of 1920×1080 with Ultra settings, and we were more than surprised to see average framerates of over 65FPS. We even cranked up the resolution to 4K, keeping the settings on Ultra, and we were shocked to see 60+ FPS. According to both FRAPS and Overwatch's built-in graphics monitoring, our average frame rate was nearly 62FPS at 4K.
Heroes of the Storm
Jumping over to Heroes of the Storm, we saw a bit less performance out of the RX 460, but nothing we couldn't handle. At 4K and Ultra settings, we were showing an average of 29.17FPS, and when lowered to a resolution of 1920×1080, we jumped up to an average of 37.88FPS. And while these are quite the drop from our Overwatch numbers, both settings were perfectly fine to game with. We had no trouble playing multiple matches with either resolution.
Noise and Temperature
Noise
This portion of the review is definitely the easiest, considering the XFX RX 460 4GB Heatsink Edition has no moving parts or fans to make any noise. The passive cooling solution that XFX has implemented does a good enough job wicking heat away from the CPU and passively dissipating it into the case that a fan is not required. At the same time, we wouldn't recommend placing this videocard in a case with no fans, as the overall airflow within a case from the intake and exhaust fans is what keeps this card cool.
Temperature
Being a passively-cooled videocard, we expect temperatures to be higher than an actively-cooled card. Another factor to keep in mind is that the temperatures seen on the XFX RX 460 4GB Heatsink Edition will vary depending on case layout and airflow within said case. Good front to back airflow will be the best for this card, as the long rows of cooling fins run parallel with the card.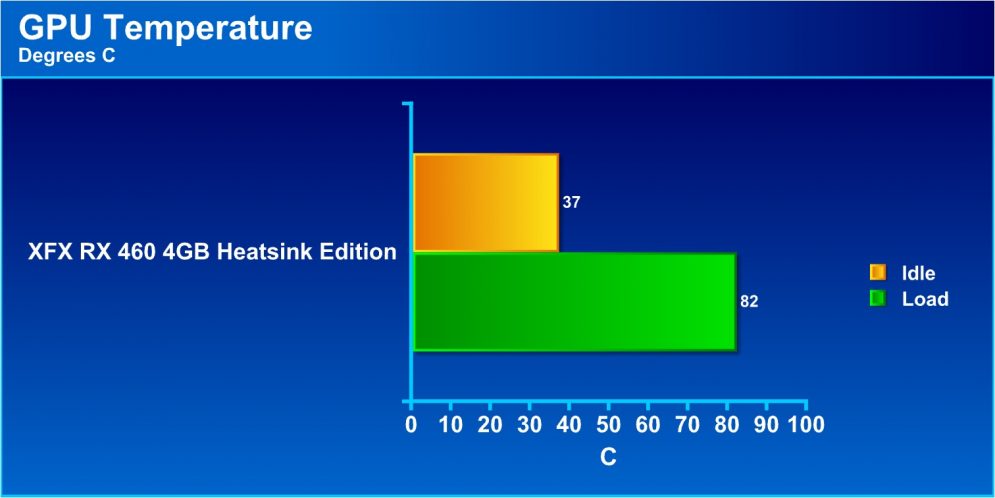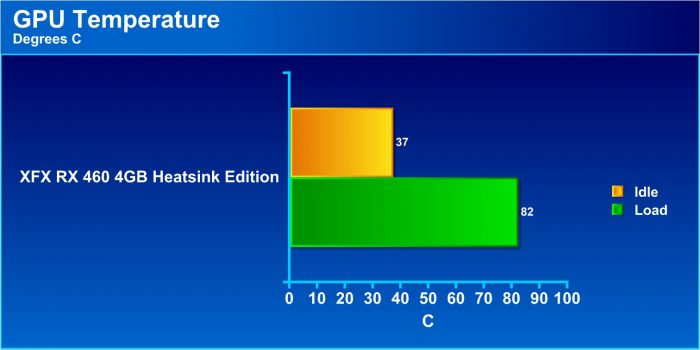 CONCLUSION
So we know up front that AMD's RX 460 isn't designed to go toe-to-toe with high-end videocards, but to provide a worthwhile upgrade from previous generations of GPUs, at an affordable cost. That leads to performance that will definitely beat out any integrated GPU solution, and will usually rise above older add-in cards. Unfortunately, the horsepower just isn't there for this GPU to be any more than a low to mid-range gaming card for low resolutions and medium to high settings.
Where XFX has really strayed away from other RX 460 implementations is on the cooling side of things. The passive dual-heatpipe and cooling fin design throws the typical fans out the window and relies on case fans and internal case airflow to keep the card cool, and quiet. In fact, the XFX RX 460 4GB Heatsink Edition is silent. We know that seems obvious, but a silent videocard is a great addition to an HTPC that sits in a living room or other viewing area where the sounds of a videocard's fans ramping up is the last thing you want to hear.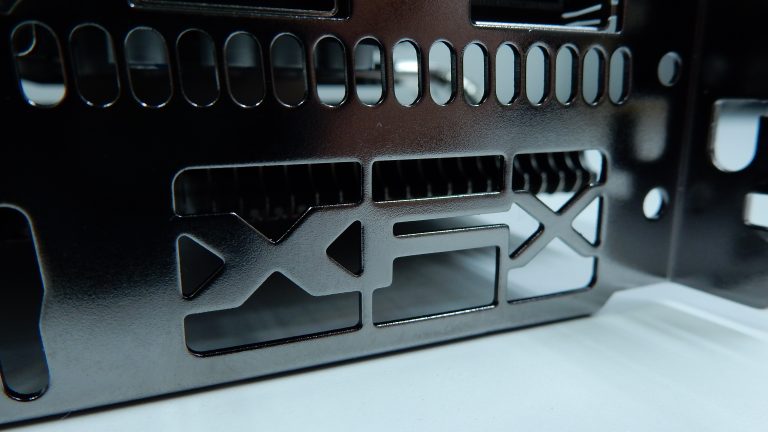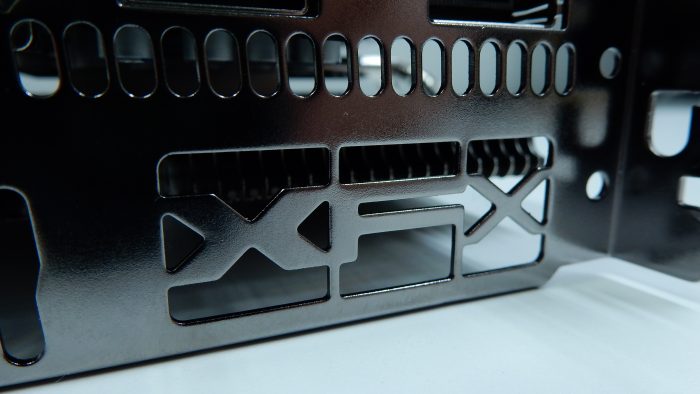 So while we don't see any amazing benchmark results from an RX 460-based videocard, the XFX RX 460 4GB Heatsink Edition has other advantages going for it. The passive cooling removes the potential issue of fan noise under load, making this a great choice for when integrated graphics don't quite cut it, and quiet operation is a must. Also, the ability to power this card via the motherboard's PCIe slot alleviates the need for additional cabling, and allows for a slightly lower powered PSU to be used.
We think the XFX RX 460 4GB Heatsink Edition is definitely worth considering for an HTPC build that demands silence, or as a replacement for an integrated graphics solution in need of an update to support technologies like DirectX 12 and Vulkan. The XFX RX 460 4GB Heatsink Edition can be found over at Amazon for $140.
XFX RX 460 4GB Heatsink Edition Pros
  XFX RX 460 4GB Heatsink Edition Cons

Silent Operation
Utilizes Motherboard's PCIe Power
Upgrade Path For Integrated Solutions
Supports DX12 and Vulkan

Lacks Performance For High Resolutions and Graphics Settings