HIS RX 480 IceQ X2 Roaring Turbo 8GB Review
HIS has a long history of producing high quality video cards and is a 1st Tier AIB partner with AMD. Their video cards have been renowned worldwide as performance-leading graphics cards and are more well known in the Euro market than the United States. The vendors stateside need to stock HIS and are missing out on a killer brand of highly-engineered, imminently-overclockable video cards that have a unique look and excellent cooling solutions.
We are lucky enough to have the HIS RX 480 IceQ X2 Roaring Turbo 8GB on the test bench today and not giving away any spoilers, it is a killer Polaris GPU. The ICEQ X2 Roaring Turbo cooling solution, with it's clear blue fans and King Lion metal shroud design, make a striking image that is unique looking and durable. Protecting the ICEQ X2 Roaring Cooling heatsink, the metal cowling protects the front and the metal back plate protects the back. From the 0dB fans to the Advanced Composite Heatpipes, every aspect of the HIS RX 480 IceQ X2 Roaring Turbo 8GB video card was well thought out and well implemented.
Packed with 2304 Shader Processors and 8 GB of GDDR5 running across a 256-Bit bus, the HIS RX 480 IceQ X2 Roaring Turbo 8GB has a core popping at 1338 MHz. The Polaris 10 GPU code named Ellesmere (RX 480 Ellesmere XT) is presented as an upper-mainstream GPU and isn't even the top 4xx AMD offering. Slated for release the first half of 2017 the RX 490 (rumored to be a Vega core) will have more Shader processors and sets our mouths watering at the prospect of a HBM 2520 Shader Processor Polaris refined core with 8GB of HBM or more. Using the same 14nm FinFet process NVIDIA does from the TSMT foundry, AMD and their partners decided to present the mainstream lower cost video cards rather than jump out with the flagship.
This isn't an unheard of strategy, but the implications are that AMD and their board partners will present a refined Polaris core rumored to be renamed to Vega. NVIDIA's general strategy is to release the flagship and then move down to mainstream cards, so any refinements will have to be saved for the 1060's or the 1080Ti. AMD's strategy allows them to study and refine the mainstream cores into lean, mean, FPS killing machines and if insiders are correct, it'll present with refined High Bandwidth memory first seen on the Fiji-based RX 390X. Hopefully this iteration will provide more memory bandwidth than the fledgling HBM seen on the 390x.
Back to the HIS RX 480 IceQ X2 Roaring Turbo 8GB and away from the projected cores, HBM, and next year's model, let's get a look at the new HIS video card.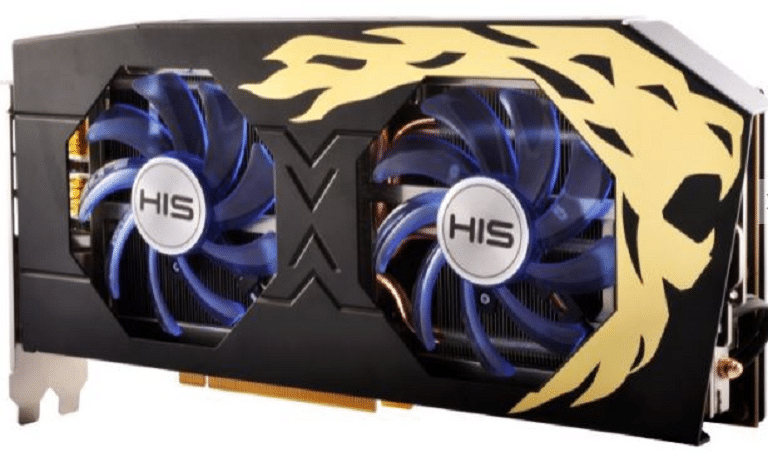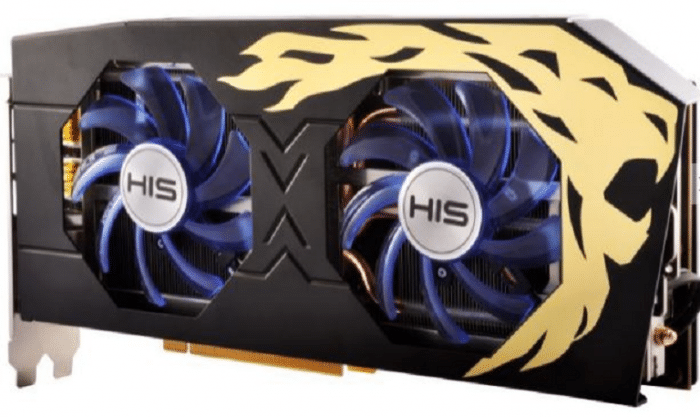 HIS RX 480 IceQ X2 Roaring Turbo 8GB Specifications
| | |
| --- | --- |
| Product Code | HS-480R8DTBR |
| EAN Code | 48951390 11548 |
| Cooler | IceQ X² Roaring Cooler |
| GPU | AMD Radeon HD 480 |
| Core Clock | 1338 MHz |
| Memory Clock | 8000 MHz |
| Memory Size | 8192 MB |
| Memory Type | GDDR5 |
| Memory Interface | 256 bit |
| Interface | PCI Express x16 (PCI Express 3.0) |
| LED |  HIS Logo On Top |
AMD GPU Comparison Table
Radeon 
R9 Fury X
R9 Nano
R9 390X

HIS RX 480 IceQ X2

Roaring Turbo 8GB

RX 470
Fabrication Process
28nm
28nm
28nm
14nm
14nm
GPU
Fiji
Fiji
Hawaii / Grenada
Polaris 10/Ellesmere XT
Polaris 10/Ellesmere
Shader procs
4096
4096
2816
2304
2048
Graphics memory
4 GB HBM
4 GB HBM
8 GB GDDR5
8GB GDDR5
4GB / 8GB GDDR5
Memory Clock
500 MHz / 1.0 Gbps
500 MHz / 1.0 Gbps
6.0 Gbps
8.0 Gbps
6.6 Gbps
GPU Clock Max
1050 MHz
 1000 MHz
1050 MHz
1338 MHz
1206 MHz
Memory Bandwidth
512 GB/s
512 GB/s
384 GB/s
224 GB/s (4GB)
256 GB/s (8GB)
211 GB/s
Power Connectors
2 x 8-pin
1 x 8-pin
1 x 6-pin – 1 x 8-pin
1 x 8-pin
1 x 6-pin
Form Factor
Dual slot
Dual slot
Dual slot
Dual slot
Dual slot
Freesync
 Yes
Yes
Yes
Yes
Yes
DirectX 12
Support
 Yes
Yes
Yes
Yes
Yes
About HIS
HIS – is an internationally acclaimed brand of graphics cards . Time and time again, HIS were compared and tested by hundreds of worldly renowned critics. The results are phenomena, HIS have proved to offer far superior, cooler, quieter, and faster graphic cards than any other leading rivals. Up to the first quarter of 2015, HIS has won over 1700 awards with AMD graphic solutions from major media worldwide. HIS is being recognized by providing performance leading and award-winning products: IceQ, IceQ X, IceQX2 ,  IceQX2II , OC and Turbo Edition.
HIS was established in 1987 with the mission to produce the highest quality PC products in the industry. Headquartered in Hong Kong, and with sales offices and distribution networks in Europe, Middle East, North and South America, Asia Pacific Regions; our worldwide customers benefits from efficient and localized services. HIS's manufacturing facility in China is managed by a team of professionals with expertise in quality control and production planning. Working with world-class clients, HIS has been consistently meeting high quality standards and fulfilled volume order in short lead-time.
HIS is proud to be AMD's Authorized 1st Tier AIB Partner, Certified Partner and Launching Partner. Long term and favorable relationship with AMD, enable HIS to work closely with AMD to promote the HIS AMD Graphics Board; and to strive for best value on the marketing and sales of HIS AMD Product Line.
In Sept 2003, HIS incorporated the state-of-the art Supreme Cooling Technology in the award winning HIS 9800Pro IceQ, which caught the attention of worldwide media. Since then, HIS IceQ series and the latest IceQ X2 II series has been the limelight in the market for its outstanding performance and features over the other rivals.