ASUS ROG Strix Gaming RX 480 8GB
ASUS has done it again and "Strixed" the RX 480 with all the Strix bells and whistles. Direct CU III cooling solution, 3 Wing Blade fans, ASUS Fan Connect, Auto Extreme Technology, Aura Lighting, VR friendly HDMI ports and tosses in GPU Tweak II. No one dresses out a GPU Like ASUS they pack geeky goodness on video cards thicker than icing on a cake. From box to hand we knew we were looking at a totally luxury RX 480!
Under the hood you still get the 14nm FinFET process from TSMT (Taiwan Surface Mounting Technology), the Polaris 10/Ellesmere core with 2048 shader processors, 144 Texture Units, 32 ROPs, 8GB of ridiculously fast GDDR5 at 8Gbps running across a 256-bit bus and wearing ASUS's renowned ROG Strix crown!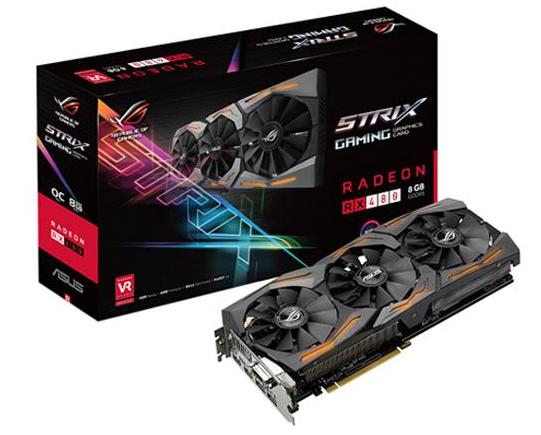 AMD GPU Comparison Table
Radeon 
R9 Fury X
R9 Nano
R9 390X
ASUS ROG Strix

Gaming RX 480

RX 470
Fabrication Process
28nm
28nm
28nm
14nm
14nm
GPU
Fiji
Fiji
Hawaii / Grenada
Polaris 10/Ellesmere
Polaris 10/Ellesmere
Shader procs
4096
4096
2816
2304
2048
Graphics memory
4 GB HBM
4 GB HBM
8 GB GDDR5
4GB / 8GB GDDR5
4GB / 8GB GDDR5
Memory Clock
500 MHz / 1.0 Gbps
500 MHz / 1.0 Gbps
6.0 Gbps
7.0/8.0 Gbps
6.6 Gbps
GPU Clock Max
1050 MHz
 1000 MHz
1050 MHz
1266MHz
1206 MHz
Memory Bandwidth
512 GB/s
512 GB/s
384 GB/s
224 GB/s (4GB)
256 GB/s (8GB)
211 GB/s
Power Connectors
2 x 8-pin
1 x 8-pin
1 x 6-pin – 1 x 8-pin
1 x 8-pin
1 x 6-pin
Form Factor
Dual slot
Dual slot
Dual slot
Dual slot
Dual slot
Freesync
 Yes
Yes
Yes
Yes
Yes
DirectX 12
Support
 Yes
Yes
Yes
Yes
Yes