Power, Thermals and Noise
Power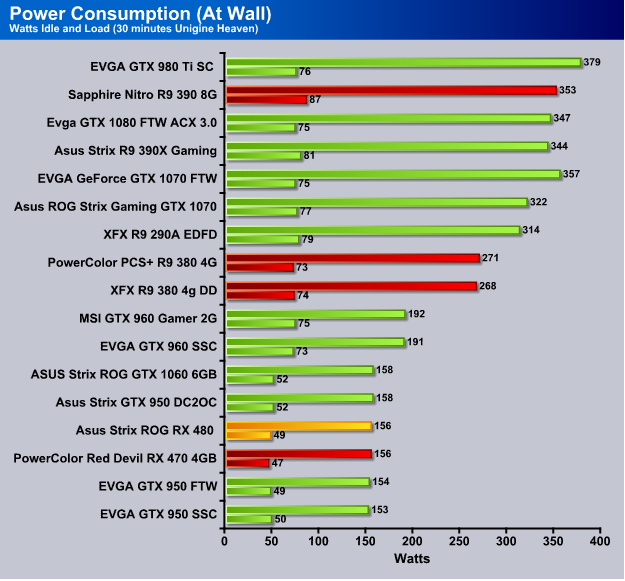 Power wise the ASUS ROG Strix Gaming RX 480 8GB merely sipped at power and drew 49W whole system consumption at idel and 156W at full load on the GPU.
Temperatures

Long chart on how each video card heats up are a bit pointless. What we are concerned with is the thermal properties of the video card being reviewed so we aren't charting the thermal performance of every video card but presenting the thermal readings on the card being reviewed.
Here at an idle after a half hour setting we registered 48°C and the fans never moved they didn't even kick on so the idle test was silent.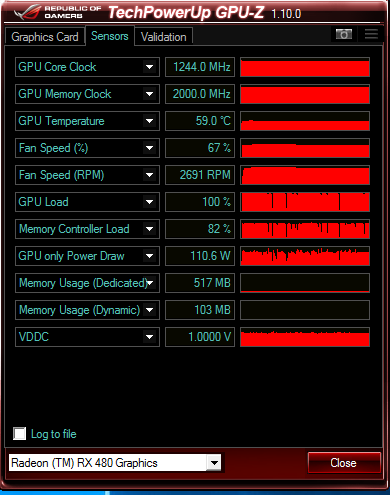 At load for more than 10 minutes we got a temp of 59°C and the fan speed bounced between 65% and 75%. We used MSI Kombuster Core Burn so we would expect this to be a worse case scenario.
Blah

Noise wise the ASUS ROG Strix Gaming RX 480 8GB at full load using the factory hard coded 1310 MHz speed and using MSI Kombuster Core Burn and fans on auto we got a fairly comfortable 40dBA. We should not on glory runs we cranked it up to 100% on the fans and on an open test bed chassis it got a tad noisey at around 50dBA but the fans never went above 75% on the core burn test so 40dBA should be worst case if the chassis is open. If the chassis is closed (We used the Coolermaster Master Case with water cooling top) we actually got 37dBA load and 45dBA at 100% fan.