ASUS ROG Strix Gaming RX 480 8GB, A Closer Look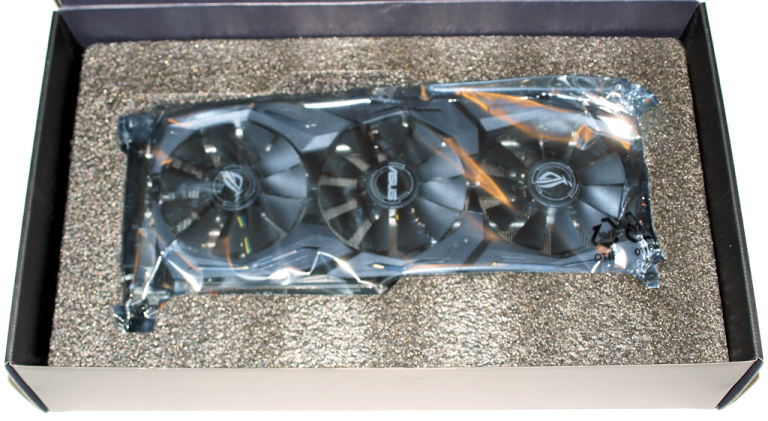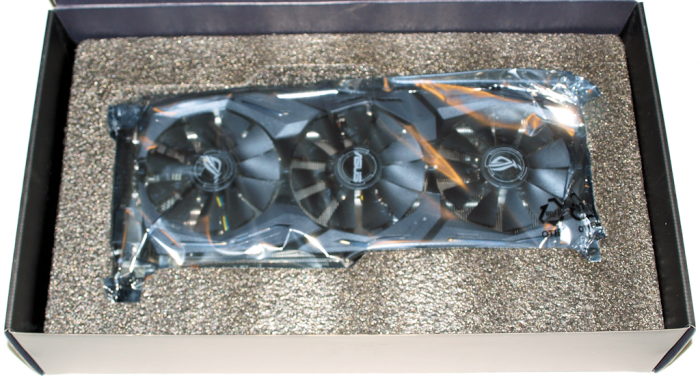 Asus packs your ROG Strix Gaming RX 480 8GB in laser cut resilient foam which is getting to be more of a luxury these days as we have received video cards in cardboard sleeves and plastic cradles. Rest assured when this luxury RX 480 hits your desk it'll be cradled safe and sound in soft protective foam.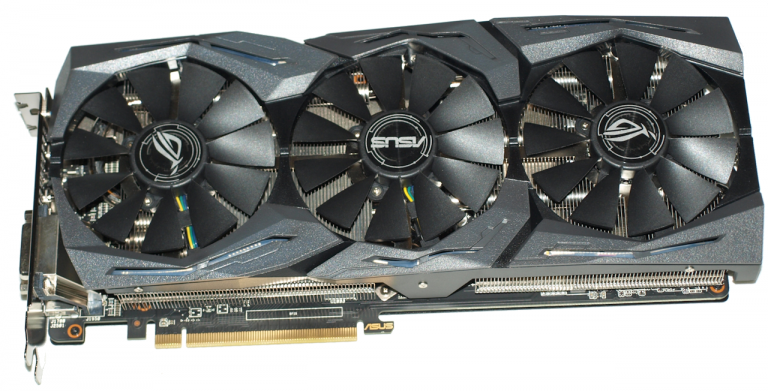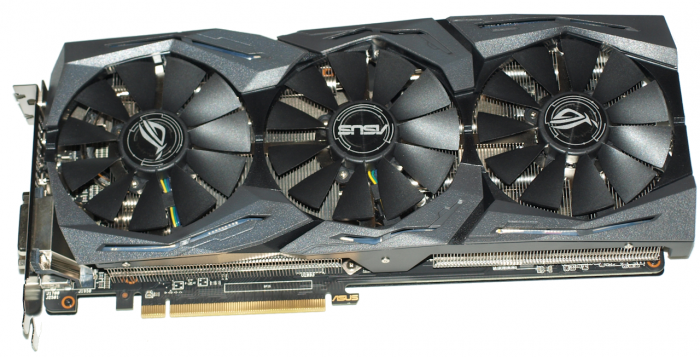 Looking at the card you can tell that ASUS put on the DIrect CU III cooling solution with three Wing Bladed fans providing up to 30% better cooling and 3x quieter performance than the reference design. Here in a bit we'll see if it's over engineered like it's kindred spirit the ASUS ROG Strix Gaming GTX 1060. If you put the two video cards side by side you'd wonder if they were identical videocards and for the life of us they look like twins. That's probably a good thing as on the ASUS GTX 1060 the Direct CU III cooling solution was killer dog, if the performance on the ASUS ROG Strix Gaming RX 480 8GB is similar ASUS will have a superbly cooled RX 480.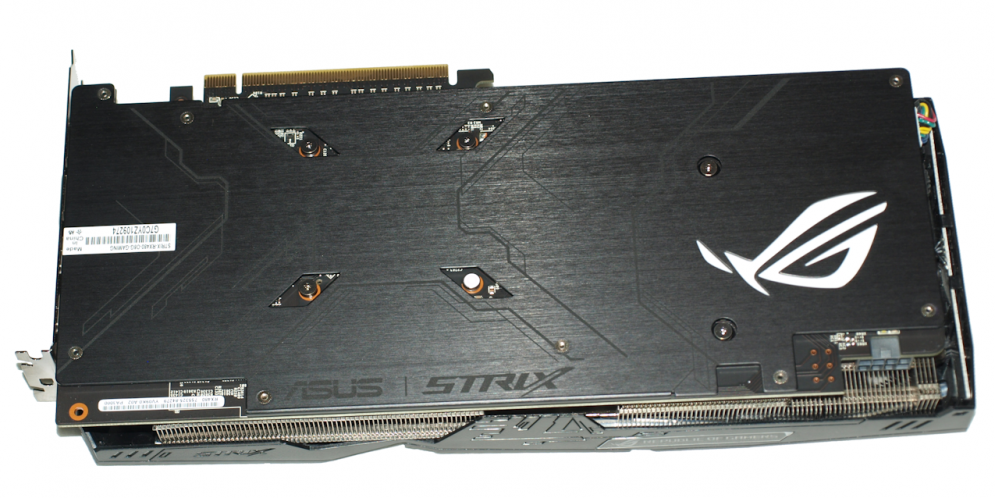 Coming in at a massive 298mm in length the ASUS ROG Strix Gaming RX 480 8GB needed a metal backplate to prevent aging sag. The backplate on this beauty seems to be made of brushed Aluminum and is quite thick, strong and firmly attached. The backplate will prevent sag and keep vital components protected.


Looking down from the top you get to see the Strix logo and Republic Of Gamers Logo distinguishing ASUS's top of the line premium video cards. Look at those perfectly formed vanes and the exacting detail achieved by Auto Extreme manufacturing technology that eliminates human error.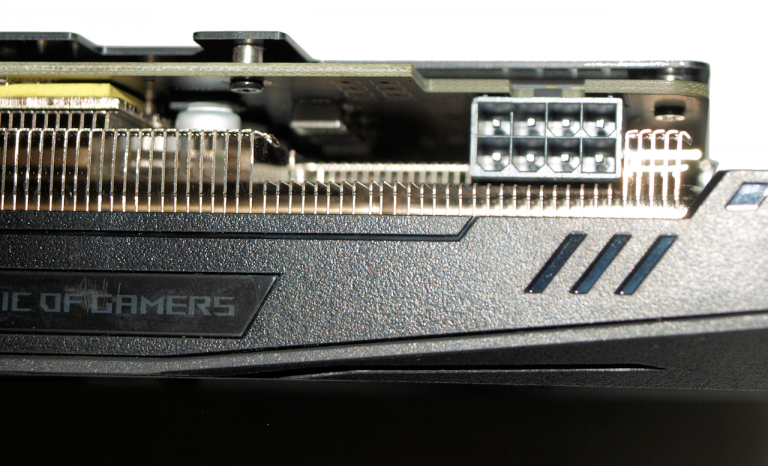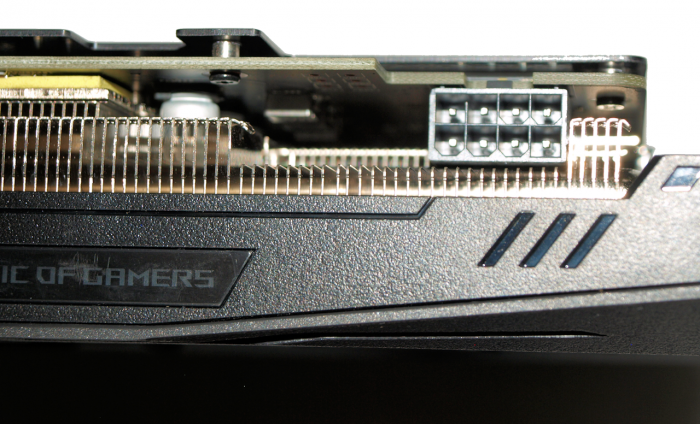 There's a close up of the single 8 pin PCI-e power connector and once again look at the perfectly formed cooling vanes. From top to bottom we were hard pressed to find any flaws.


On the business end of the ASUS ROG Strix Gaming RX 480 8GB we find 2 VR friendly HDMI ports 2 DisplayPorts and A DVI-D giving plenty of connectivity to connect to most modern monitors (no 15 pin DSUB isn't modern).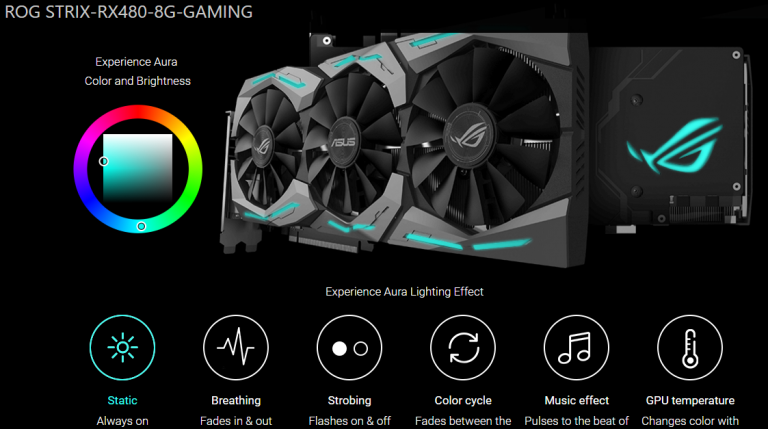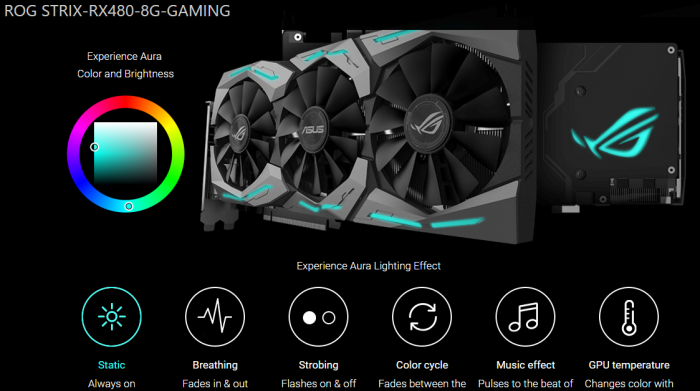 Asus even slapped RGB on the ASUS ROG Strix Gaming RX 480 8GB and it has different color choices. You can go with a system matching Static color, a breathing effect, strobing, color cycle, music effect and one we found handy GPU temperature.  You change colors and effects using ASUS's Aura software provided with the video card or downloaded from ASUS's webby.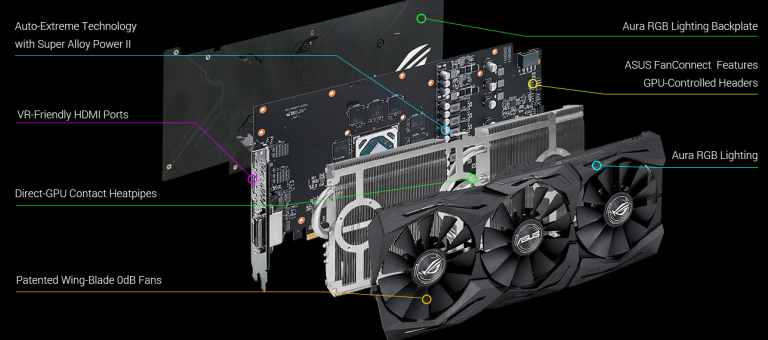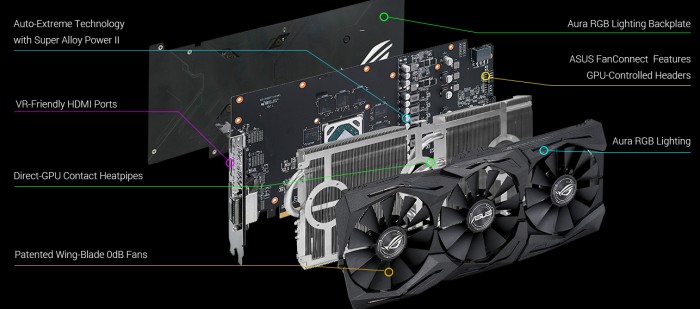 To help understand the layers of technology under the hood on the ASUS ROG Strix Gaming RX 480 8GB the back layer is the backplate. The backplate connects to the back of the video card itself covering the Auto-Extreme technology built components. On top the video card is the Direct CU III cooling solution which allows the heat pipes to directly contact the GPU more effectively passing heat to the pipe and it's coolant filled core. Then the cowling with it's Wing Blade fans and 0dB design keeping the GPU and components cool.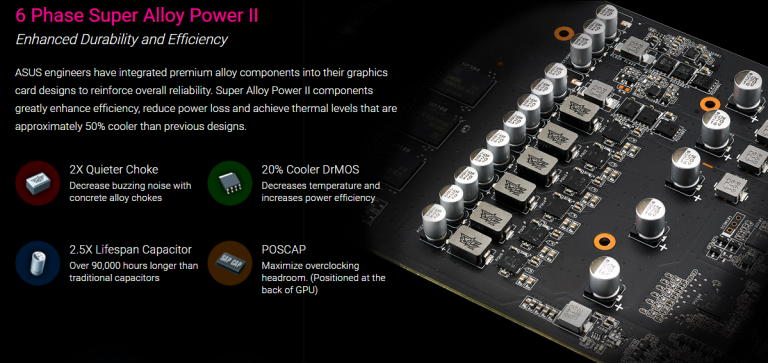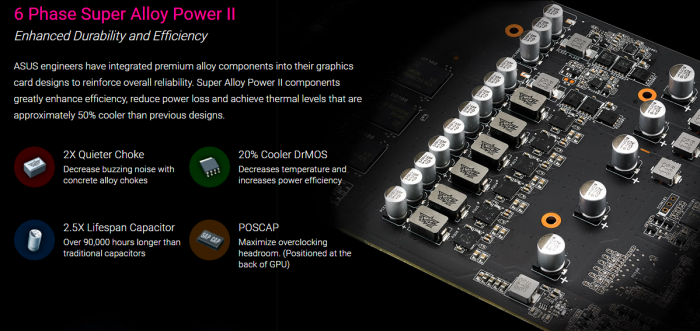 We wanted to touch on the phase power supplied to the ASUS ROG Strix Gaming RX 480 8GB and it was just handier to include a graphic from ASUS. The RX 480 asus puts out has 6 + 1 Phase power as opposed to the 4 + 1 on reference RX 480's. That means that the power/heat load is spread across 50% more power phases resulting in cooler operation of the components, more stable power, better overclocking and extended longevity of your video card. They also use an alloy choke that reduces choke/capacitor buzz yielding a 2x quieter operating component. Generations past there were some cards that had an audible hum/buzz when pushed to the limit, ASUS weeds out the noise with superior components. ASUS also uses a high quality capacitor that has 2x the lifespan or 90,000 hours longer than traditional capacitors, we suppose they mean liquid capacitors as opposed to solid capacitors. ASUS also uses DrMos which may leave you scratching your head but it's simply a Driver-MOSFET that runs 20% cooler. Then last but not least they use POSCAP technology which is another acronym for Conductive Polymer Tantalum Solid Capacitors, solid capacitors generally have a higher quality and longer life than liquid capacitors. The whole message here is that ASUS not only puts a pretty face on it's ROG Strix products but stocks them up with some beefy components.