PowerColor Red Devil RX 470 4GB
Landing on the test bench today we are lucky enough to test the PowerColor Radeon Red Devil RX 470 4GB GDDR5 video card with it's Polaris 10 based 14nm FinFET design. This Polaris 10 variant Ellesmere PRO is a change up in strategy for AMD. Instead of going for "massively powerful and inherently expensive" market AMD aimed this GPU at the larger mainstream market which makes up the lions share of GPU purchases. According to Steam statistics as many as 84% of gamers game at 1080p or below so shooting for mainstream with the RX 470 and high end with the RX 480 while awaiting the enthusiast RX 490 dual GPU is a valid and not unexpected strategy.
Enough about market shares and strategy lets look at the focus of this review the PowerColor Red Devil RX 470 4GB.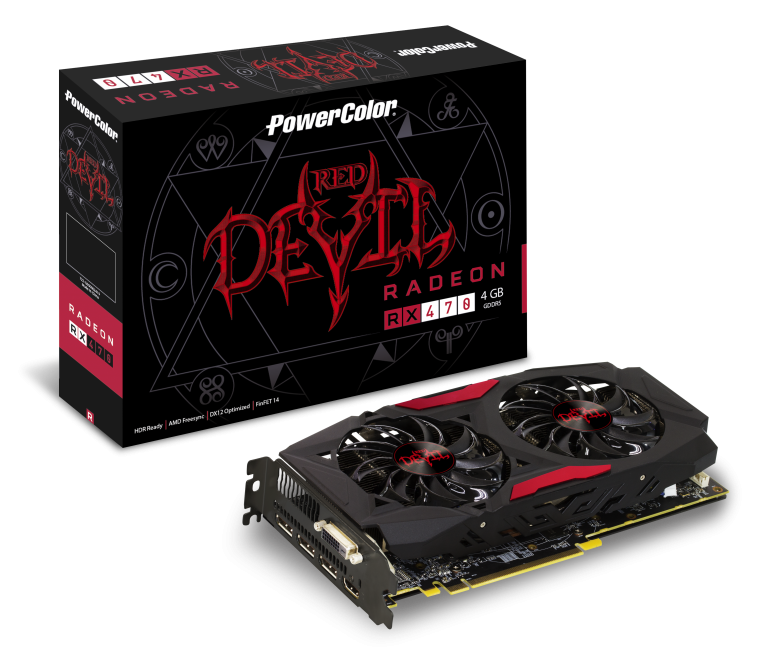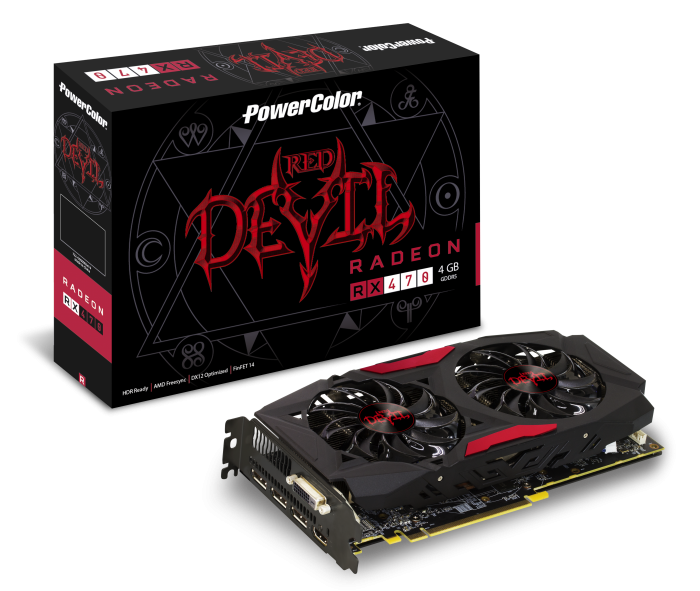 It's not often we see this kind of Die shrink in one generation, AMD went from a 28nm FinFET process to a 14nm FinFET in one fell swoop spawning a new generation of Radeon GPU's. Our PowerColor Red Devil RX 470 4GB sports a core boost speed of 1270MHz and a memory speed of 1750MHz x4 (7.0Gbps) 2048 Shader Processors, 4GB of GDDR5, driving a memory bandwidth of 211GB/s. The TDP on the stock RX 470 is 120W and requires a PCI-e 6 pin power connector but our PowerColor Red Devil RX 470 4GB is an overclocked version and uses a 8 pin PCI-e and may use a few more watts. Utilizing a 6 + 1 phase power design each phase provides a 25W capacity which is 2.5W higher than the 22.5W found on other boards. The slightly increased voltage supplied by the 6 + 1 phase power setup should allow for better OCing but we'll have to wait and see. The PowerColor Red Devil RX 470 4GB is already factory OC'd and with a boost speed of up to 1270MHz we aren't sure how much gas is left in the tank (core). With the 14nm FinFET process we doubt that any added wattage is going to be enough of a concern to worry about. Gamers wanting to get into DirectX 12 capable GPU's for the newer DX12 games hitting the market the PowerColor Red Devil RX 470 4GB at $199.99 and RX 480 8GB running $250 AMD's mainstream first strategy might well pay off in a slightly larger market share.
AMD GPU Comparison Table
Radeon 
R9 Fury X
R9 Nano
R9 390X
RX 480
RX 470
Fabrication Process
28nm
28nm
28nm
14nm
14nm
GPU
Fiji
Fiji
Hawaii / Grenada
Polaris 10/Ellesmere
Polaris 10/Ellesmere
Shader procs
4096
4096
2816
2304
2048
Graphics memory
4 GB HBM
4 GB HBM
8 GB GDDR5
4GB / 8GB GDDR5
4GB / 8GB GDDR5
Memory Clock
500 MHz / 1.0 Gbps
500 MHz / 1.0 Gbps
6.0 Gbps
7.0/8.0 Gbps
6.6 Gbps
GPU Clock Max
1050 MHz
 1000 MHz
1050 MHz
1267MHz
1206 MHz
Memory Bandwidth
512 GB/s
512 GB/s
384 GB/s
224 GB/s (4GB)
256 GB/s (8GB)
211 GB/s
Power Connectors
2 x 8-pin
1 x 8-pin
1 x 6-pin – 1 x 8-pin
1 x 6-pin
1 x 6-pin
Form Factor
Dual slot
Dual slot
Dual slot
Dual slot
Dual slot
Freesync
 Yes
Yes
Yes
Yes
Yes
DirectX 12
Support
 Yes
Yes
Yes
Yes
Yes