XFX Rs XXX Edition Rx 570 4GB OC Review
The bears most of the RX 470's specifications but is based on a slightly more mature 14nm fab process allowing for higher core and boost speeds and shares the same basic core. AMD did rename the Ellesmere PRO core to Polaris 20 XL but it's the same 232mm² DIE size, same 5,700 million transistors and keeps it's 2048 shaders and 4 GB GDDR5. The biggest difference is, of course, the faster core speed on the more mature fab process giving up to a 9% boost in speed.
The  is a custom card so the specs will be a little different than the stock setting shown in our table (Below).
XFX Rs XXX Edition Rx 570 4GB OCSpecs
2048 Stream Processors
1264 MHz True Clock
1284 MHz OC+ Clock
4GB 256-Bit GDDR5
7000 MHz Effective Memory Clock
The stock RX 570 has a core clock of 1168/1266MHz while the XFX Rs XXX Edition Rx 570 4GB OC sports a speedy 1264/1284MHz core giving it a 96MHz advantage over a stock clocked card. The starting price on the vanilla model RX 570 runs about $180 with luxury models slightly exceeding $200. Our XFX Rs XXX Edition Rx 570 4GB OC runs for $189.99 but you need to shop around to find the lowest price.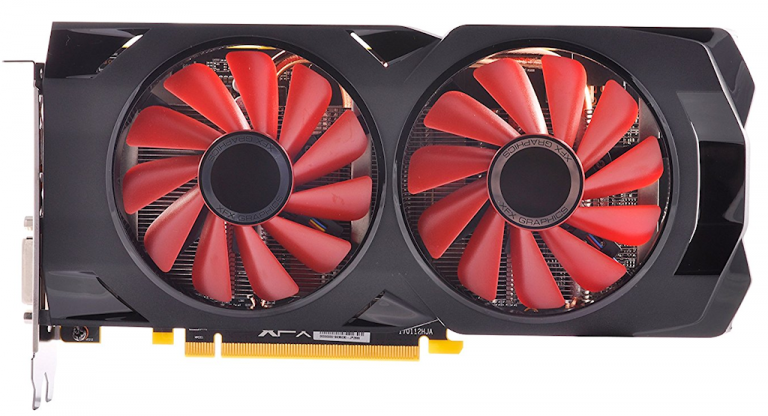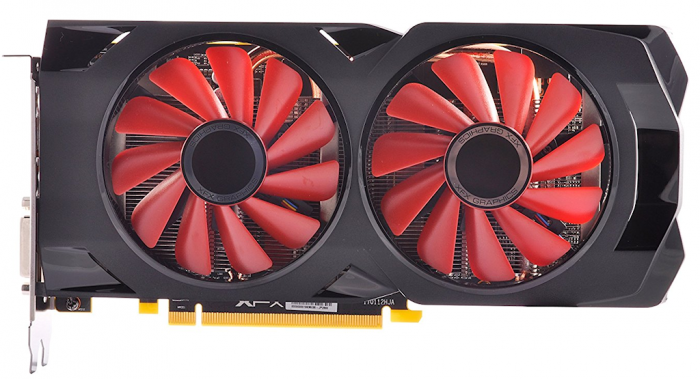 AMD Radeon Specs
| | | | | | |
| --- | --- | --- | --- | --- | --- |
| | AMD Radeon RX 580 | AMD Radeon RX 570 | AMD Radeon RX 480 | AMD Radeon RX 470 | AMD Radeon RX 460 |
| Stream Processors | 2304 | 2048 | 2304 | 2048 | 896 |
| Texture Units | 144 | 128 | 144 | 128 | 56 |
| ROPs | 32 | 32 | 32 | 32 | 16 |
| Core Clock | 1257MHz | 1168MHz | 1120MHz | 926MHz | 1090MHz |
| Boost Clock | 1340MHz | 1244MHz | 1266 MHz | 1206MHz | 1220MHz |
| Memory Clock | 8Gbps GDDR5 | 7Gbps | 7/8Gbps GDDR5 | 7Gbps | 7Gbps |
| Memory Bus Width | 256-bit | 256-bit | 256-bit | 256-bit | 128-bit |
| VRAM | 8GB | 4GB | 4/8 GB | 4GB GDDR5 | 4GB GDDR5 |
| Transistor Count | 5.7B | 5.7B | 5.7B | 5.7B | 3B |
| Teraflops | 6.17 | 5.1 | 5.8 | 4.9 | 2.2 |
| TDP | 185W | 150W | 150W | 120W | 75W |
| Manufacturing Process | 14nm FinFet | 14nm FinFet | 14nm FinFet | 14nm | 14nm |
| Architecture | GCN | GCN | GCN | GCN 2.0 | GCN 2.0 |
| GPU | Polaris 20 | Polaris 20 | Polaris 10 | Polaris 11 | Polaris 11 |
| Launch Date | 4/18/17 | 4/18/17 | 06/29/16 | 8/16 | 8/16 |
| Launch Price | $199/$229 | $169 | $200/$240 | $199.99 | $139.99 |