Packaging
The packaging is very plain with just some angular graphics but one thing I will give MSI credit for is they don't clutter up with a million logos. It has chipset and supported CPU generations and that's about it.
Accessories
The accessories for the MSI MPG Z390 Gaming EDGE AC are simple enough and enough to get the board up and running.
Manuals
Driver CD (Just download newest from the website)
Cable labels
Quick start guide
Other misc documentation
2x SATA Cables
2x WiFi Antennae
RGB LED Extension Cable
HB SLI Bridge
IO Shield
One thing to note is that the IO  Shield is not integrated as I'm sure you noticed as it's an accessory. Yet again something I really hope makes its way to MSI's mid-range sub 200 price point soon. Actually, the Z390 Tomahawk has an affixed IO Shield as well, so with that, I can only assume its some strange segmentation play within the MPG series to help give more differentiation but really would be a nice addition for the MSI MPG Z390 Gaming EDGE AC.
The Board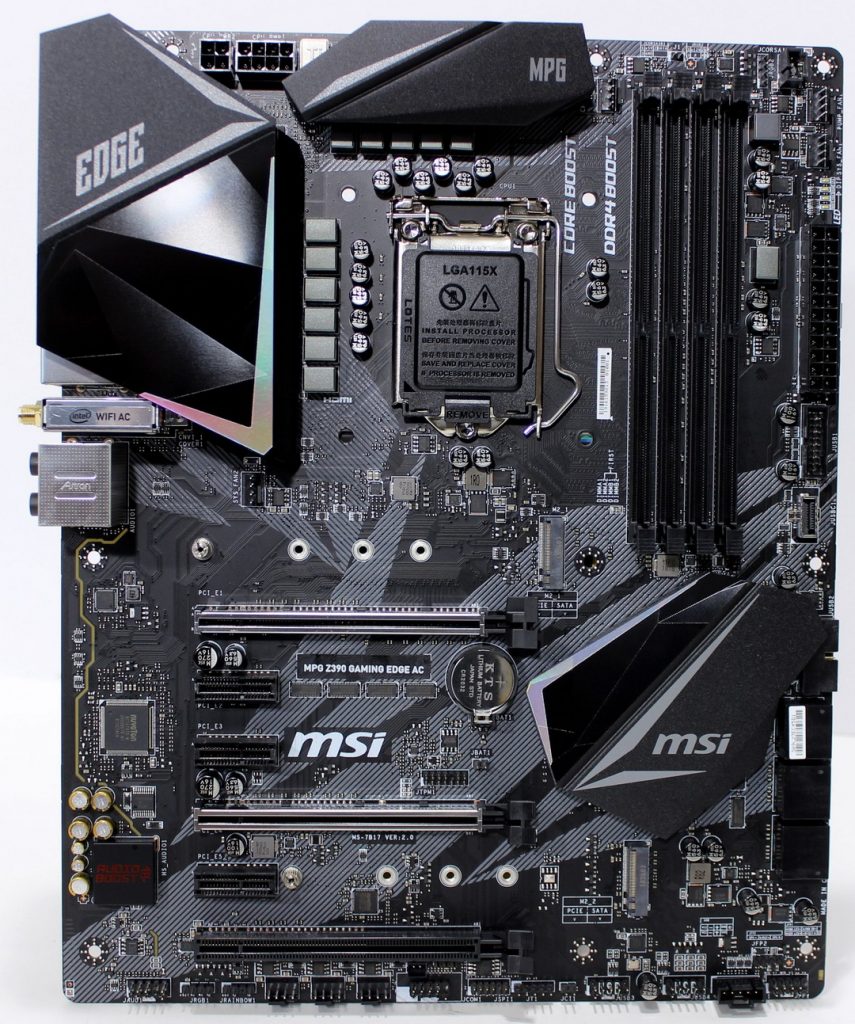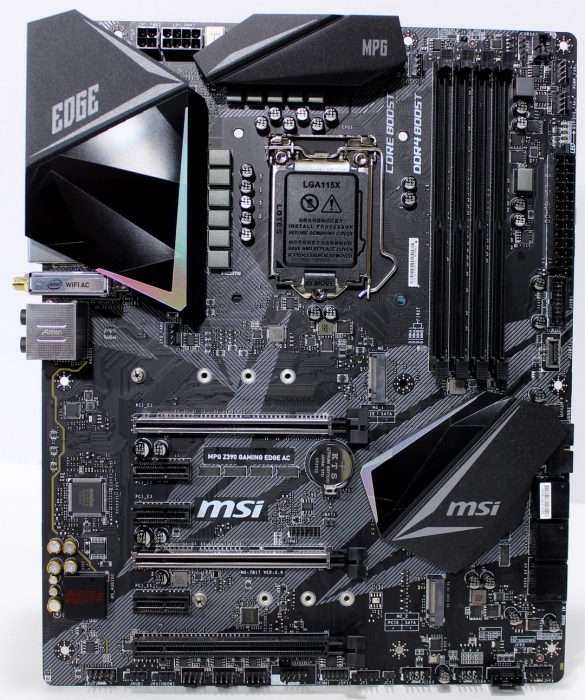 The MSI MPG Z390 Gaming EDGE AC is a solid looking board, the PCB using the white silkscreening design to help give it a less than plain look. However, when you look around the board you can't help but notice it is quite plain which I can understand being a lower cost board but it still feels a bit barren when you compare it to the Gigabyte Aorus Pro WiFi we reviewed just a very short time ago.
The thing that probably hits me the most is the lack of a postcode display. I mean I get it at the lower tier you gotta cut some corners and to be fair the Gigabyte model didn't have one either but it has more RGB such as on the PCH sink and the preinstalled IO Shield. It also has CNVi high-speed 1.7Gbps+ WiFi and it also included M.2 cooling solutions which to be fair have arguable effectiveness, but it was there. They also included WIMA caps and to help better bolster the audio solution. When you consider all of these things I think you can kind of understand my frustration as I start to question what are you paying for with the MSI MPG Z390 Gaming EDGE AC.
One thing I see and love is the fact that the USB 3.1 Gen 2 onboard header is in a place closer to the board's edge as you would expect versus the silly way which the Gigabyte did it where it was several inches inboard.
A Closer Look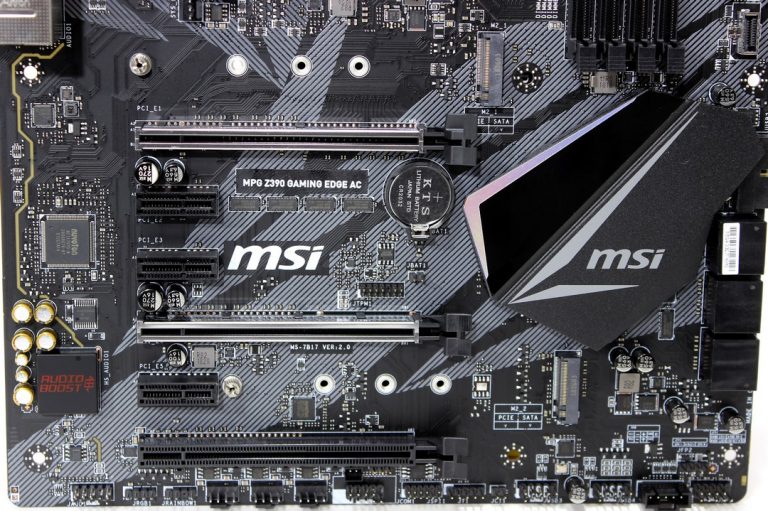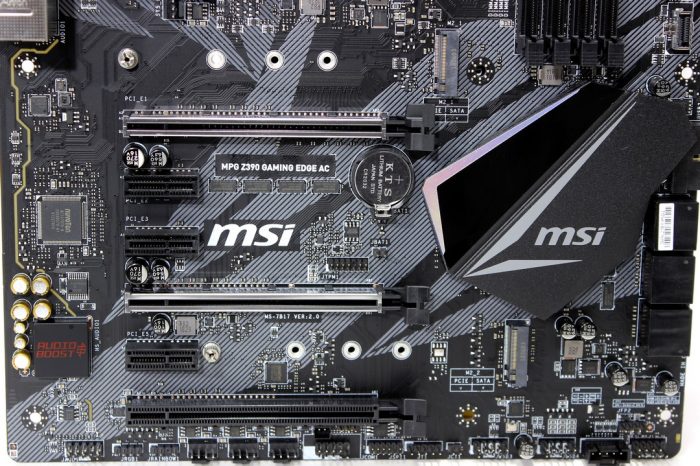 The MSI MPG Z390 Gaming EDGE AC has 3 mechanical X16 length slots and three x1 slots. The bottom-most slot is an x4 electrically and fed by the PCH. The upper two metal shielded units are direct CPU attached lanes and they share lanes with the top being 16/8 while the second is 0/8.


The lower edge of the board's connectivity is as follows. (Left to right)
Front Panel Audio Header
5050 style Header
Addressable LED Header
3x Sys fan headers
COM port header (Does anyone actually use these anymore?)
JSPI1 Header (appears to be a header for programming, maybe for LED MCU)
JTAG Header
Chassis intrusion header
2x USB 2.0 headers
Thunderbolt pin header
Front Panel header


The rear panel I/O  has everything you could need for a full gaming rig with some to spare. (Left To Right)
PS/2 Keyboard/mouse combo port
2x USB 2.0 ports
Dual WiFi/BT Antennae ports
HDMI Port for onboard Intel GPU
DisplayPort for onboard Intel GPU
2x USB 3.1 Gen 1 Type A ports
1x USB 3.1 Gen 2 Type A ports
1x USB 3.1 Gen 2 Type C port
1x 1Gb RJ45 port powered by Intel 1Gb
7.1 Channel audio ports w/ S/PDIF Optical port powered  Realtek ALC1220


The storage side of things we find 6x SATA ports. To the right, you can see the flat mounted USB 3.1 Gen 1 20 pin header along with a USB 3.1 Gen 2 onboard header. Move further to the right and you see a second vertically mounted USB 3.1 Gen 1 20 pin header.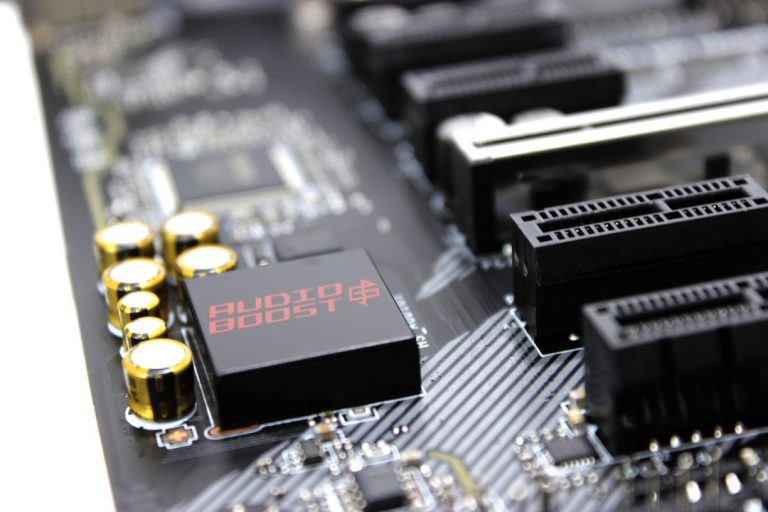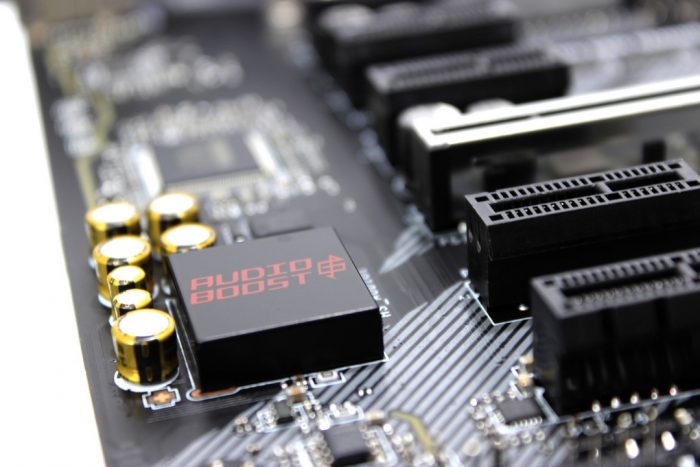 The previously mentioned audio solution you can see here. MSI opted not to do any strange plastic shielding over this which gives you a full view of the audio hardware onboard. The Nichicon caps surround the outer board edge area outside of the ALC1220 Codec's shield MSI deploys which shows their audio boost branding.
The black DIMM slots on the blacked out board looks nice but is a subtle reminder that the MSI MPG Z390 Gaming EDGE AC does not utilize reinforced DIMM slots. Yet again this is something that the similarly priced Gigabyte board offered. This is not a huge deal but can go a long way toward ensuring you do not inadvertently damage your board from the pressure of inserting the DIMMs.
The VRM area you can see here and it is a 10+1 phase unit (utilizing doublers) and the left hand larger heatsink deals with the bulk of the VRM load with 6 phases to manage. The topmost cooler deals with the other 4 phases of CPU power and the single iGPU or GT phase. That is a bit less load so a smaller cooler should be ok here.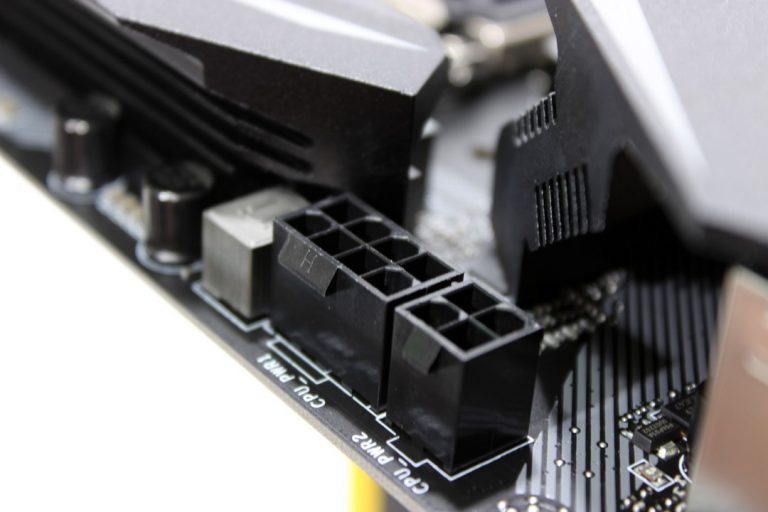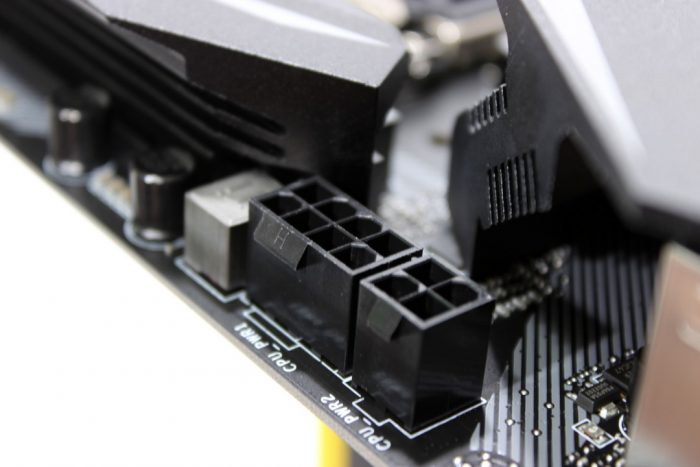 Here we have the 8 + 4 pin EPS connectors used to feed +12V to the CPU VRM and well as I stated before even under heavily loaded situations a single 8 pin can easily do the job. Should you have an LN2 style load with this board the supplementary 4-pin will help but in all honesty for the 9900K even at maxed out load, it will be more than enough.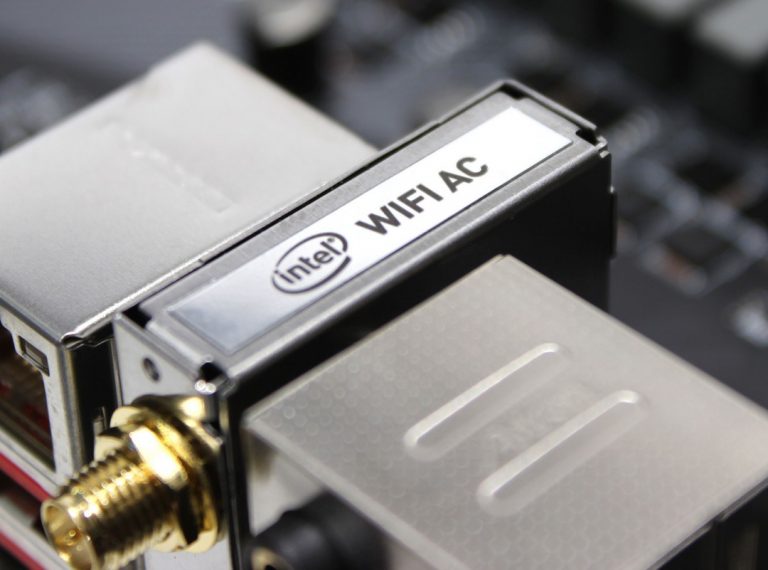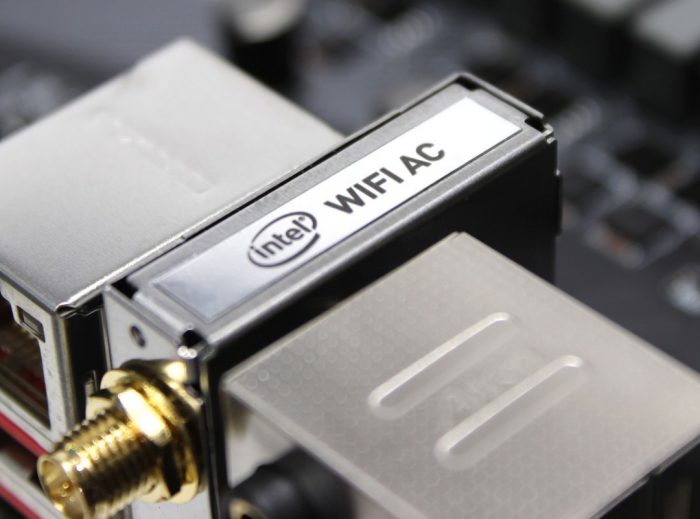 Here we see the WiFi module, normally it's not something I would take a deep look at. In this case, I must look at things as they are and this chipset, one of the major things was CNVi and the ability to offload a lot of the cost and processing to the silicon vs having a controller for high-speed wifi. MSI opted for a much slower 433Mbps solution which is just an odd choice to me and I still for the life of me cannot figure out why when the rest of the exclusions or differences I mentioned before could easily offset that BOM cost.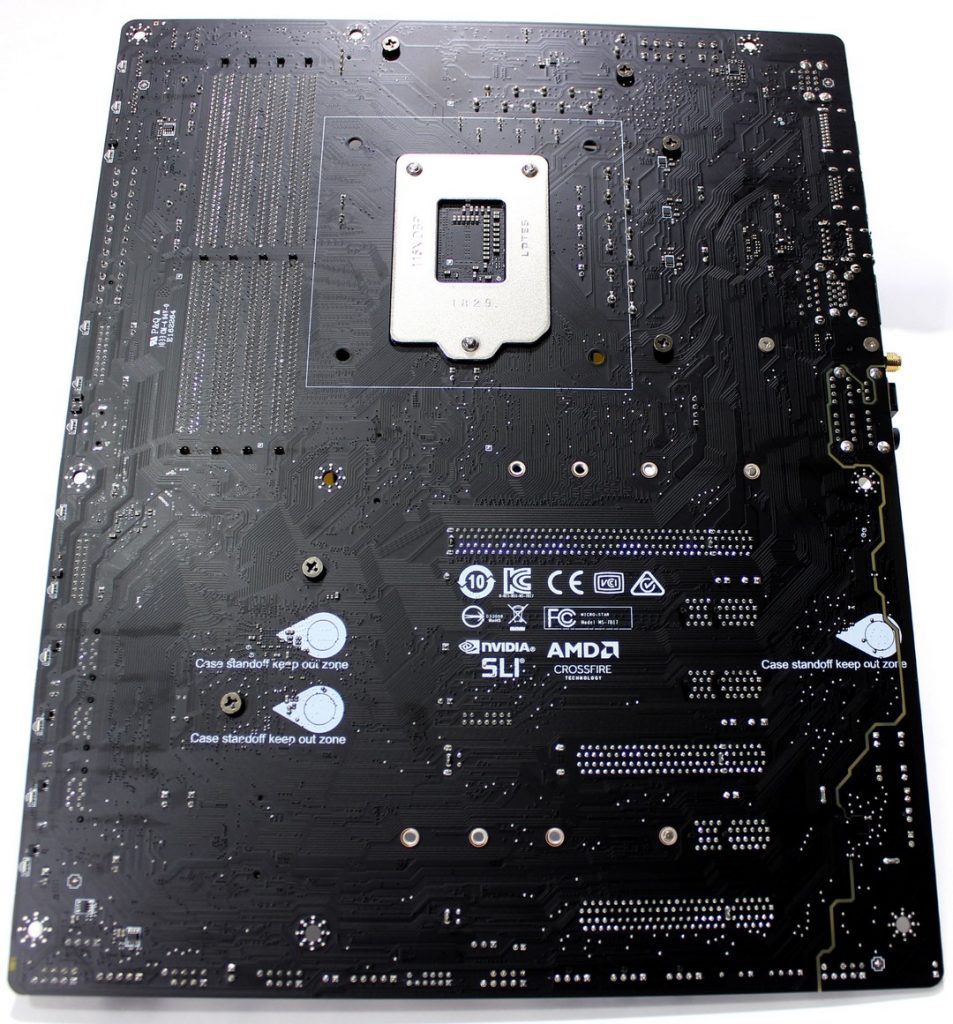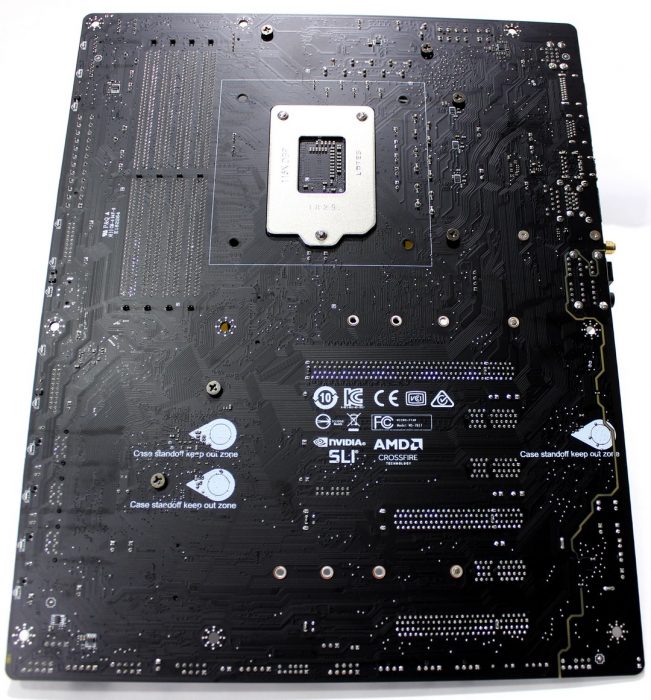 This is one of the cool things I really like and appreciate. Those white marks you see at the rear of the board are the "keep out zones" and make it very clear on areas where you can check your chassis to ensure there should be no standoff there in case you installed one by mistake. I know it may not be the most attractive thing but being as you will never see the back of the board once installed I think this is a great idea.
Let's take a closer look at what makes the MSI MPG Z390 Gaming EDGE AC tick.