Blender


Blender is a great test as it is a good representation of real world productivity with image rendering capability on the CPU or GPU. We test both to show how platform changes can give better performance.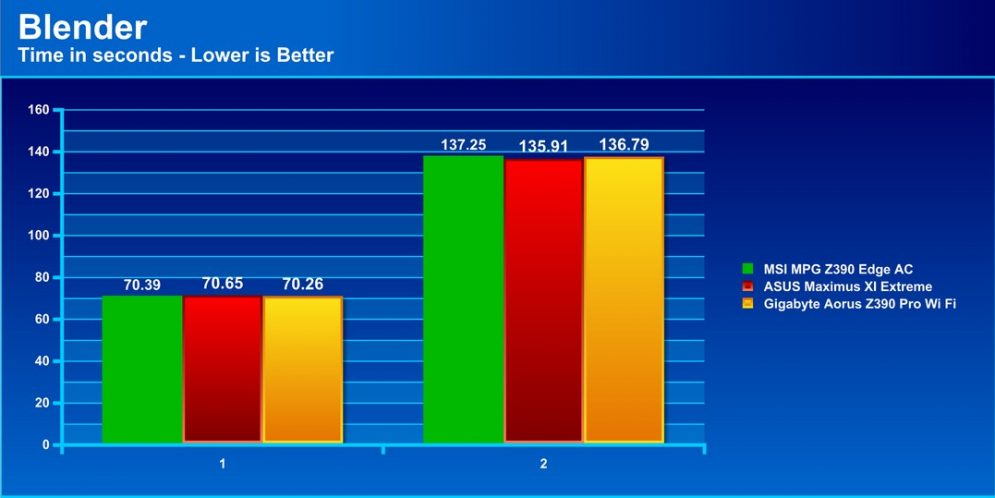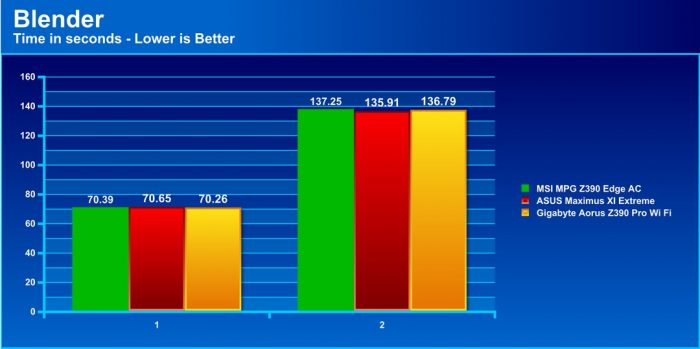 Blender shows the difference between test 1 which is CPU based rendering and 2 which is GPU based. The CPU test for the MSI MPG Z390 Gaming EDGE AC falling right behind the Gigabyte model and besting the ASUS board by a couple tenths. the GPU test shows the MSI board falling behind by about half a second behind the Gigabyte and almost 1.5 seconds off the ASUS board.
Cinebench R15


Cinebench is all about rendering out images and doing this on the CPU is hard work, and it offers tests for both single and multi-threaded renders along with even an OpenGL GPU based workload.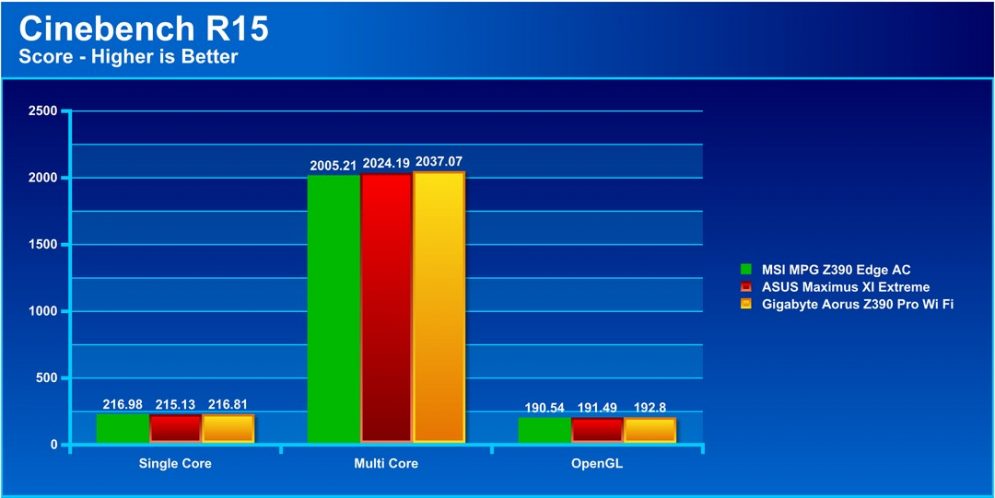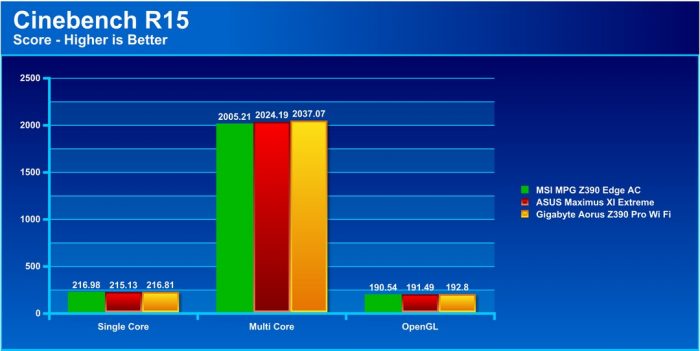 Cinebench is probably the go-to as of recent as far as testing CPU performance. and much to my dismay as the benchmark can vary from run to run so this definitely takes more runs to get a  good solid average that is comparable. here the MSI MPG Z390 Gaming EDGE AC makes a solid showing with the strongest single core runs but in multi-core and OpenGL, it definitely stumbles a bit.
Handbrake


Handbrake is a popular open source video transcoder available free to anyone. We test transcoding a large video file from X264 MKV to MP4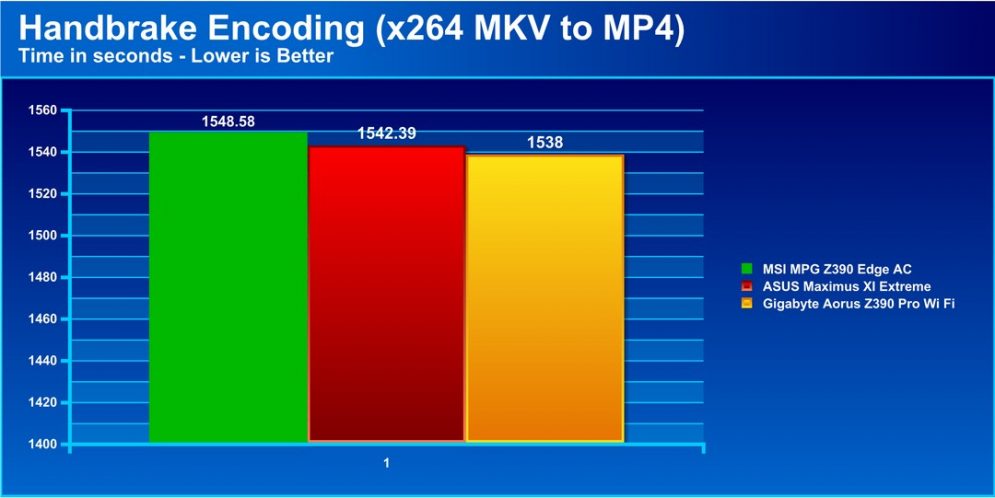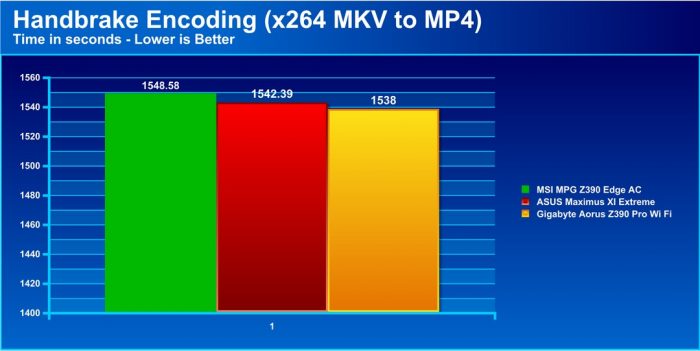 Handbrake is a good test for those looking at video encoding which is becoming a much more common task as more people are now playing with digital video. Handbrake also happens to be an AVX load which of course means torture for a CPU and VRM. Here we see the MSI board fall a bit further behind. Gigabyte runs no AVX offset so it marches ahead but as far as raw performance in AVX and crunching through this video transcode the MSI board falls a little over 6 seconds behind the ASUS model. I understand that may not be a big deal overall in a 25 minute transcode but it does expose a slight repeatable performance disparity.
7-Zip


7-Zip is a free open source file compression utility and also a good way to show your PC's capability to perform compression tasks.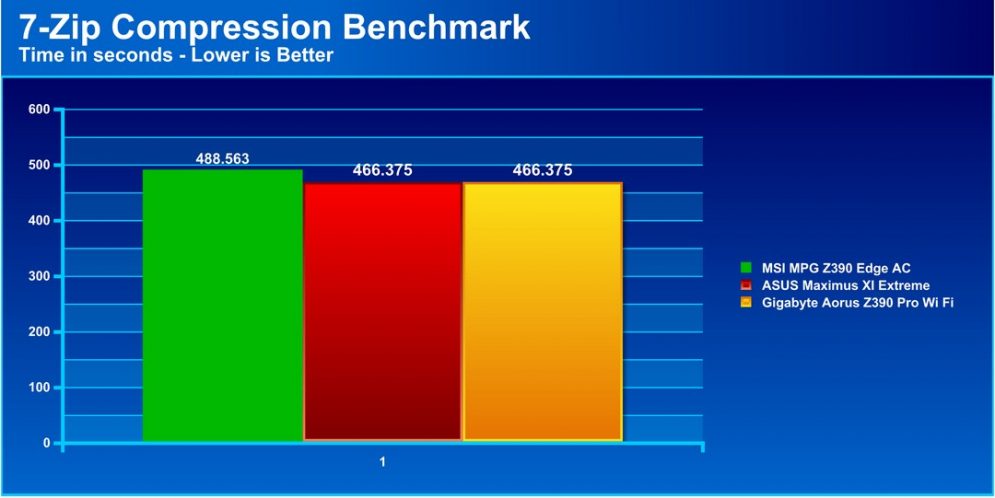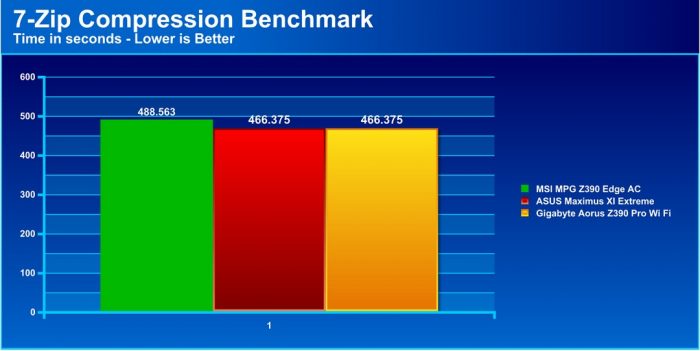 The 7Zip benchmark shows the compression capabilities of the platform. Gigabyte and ASUS boards were a dead heat with the average being exactly the same while MSI fell a bit behind whereas well at 22 seconds longer on an 8-minute task.