The MSI MPG Z390 Gaming EDGE AC Features
The MSI board while being lower priced has some cool features baked in. With that being said we always get "media kits" which show talking points and whatnot, but I prefer to go to the website for the product when possible and share with you my selected features they try to tell you about and even share my thoughts when applicable.
DIY Friendly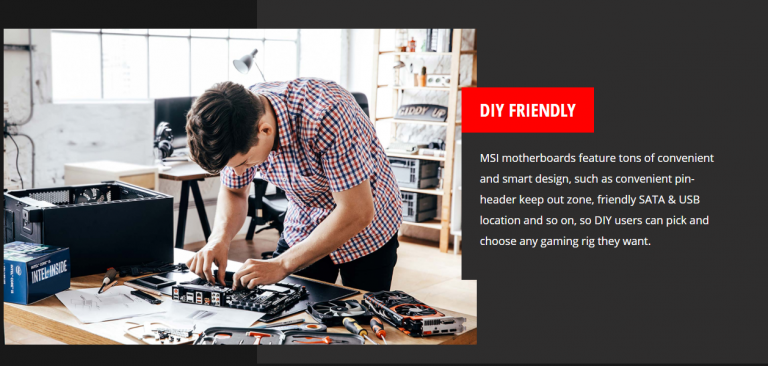 MSI has chosen a quite humorous headline feature being DIY friendly. I'm not gonna poke too much fun as this actually does accurately represent build scenarios for many users and I applaud them for showing a realistic scenario where the GPU is laying on a table. I also applaud them for not making PC building seem overly intense such as a lab coat clean room environments. Oh and extra points for whoever decided to place the "Giddy Up" sign in the background.
LAN Features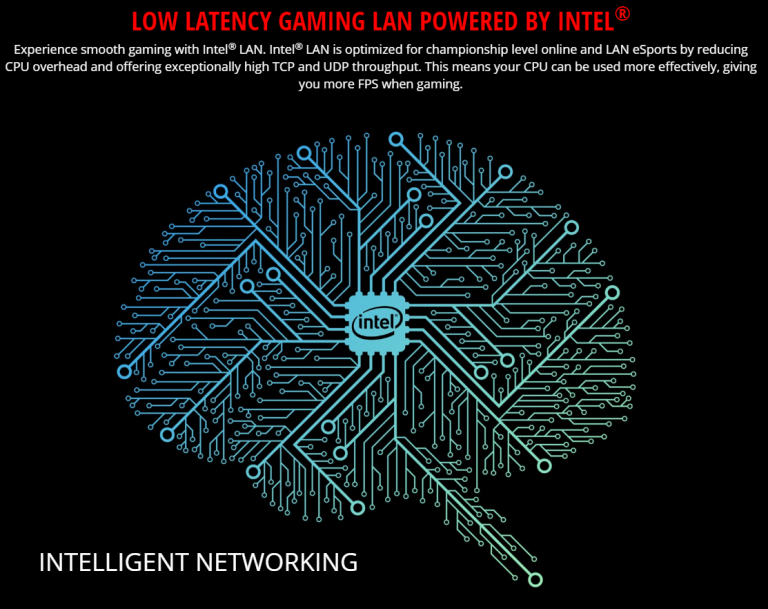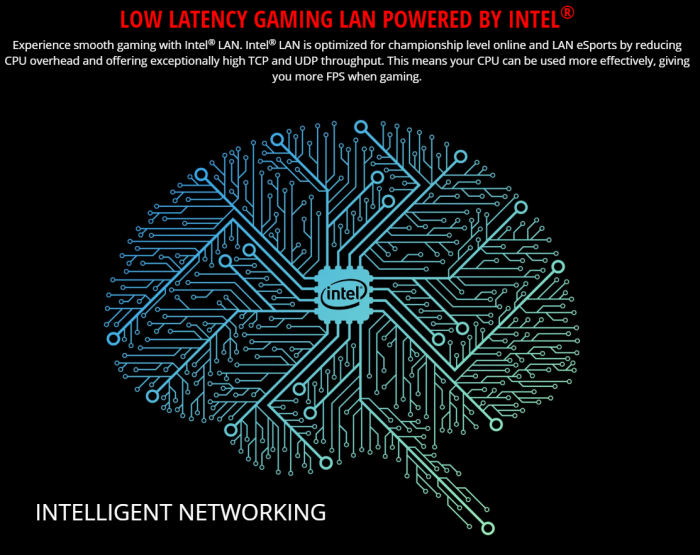 Intel Network is kind of a standard at this point with the days of Realtek LAN fading away from memory (thank whichever deity you choose). Intel makes a solid LAN chip and it does the job rather well. No points can be taken away for this solid addition.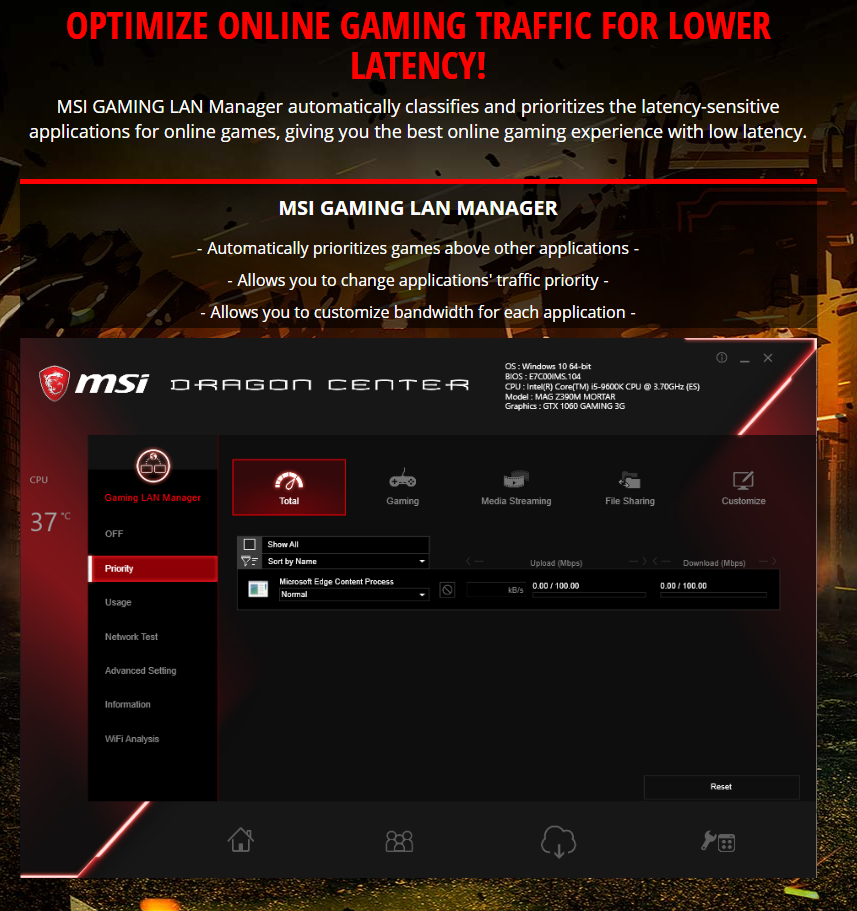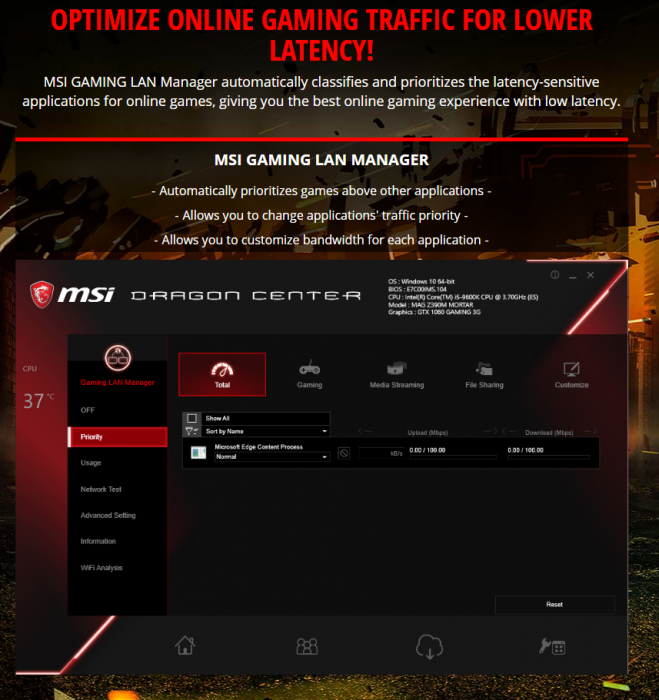 More packet prioritization. I can only assume this is a skinned effort similar to the Killer control panel and cFos implementations which simply give priority to LAN traffic based on which applications have top priority while the rest get minimum access to hopefully help give a better online gaming experience.
WiFi AC, But Not CNVi?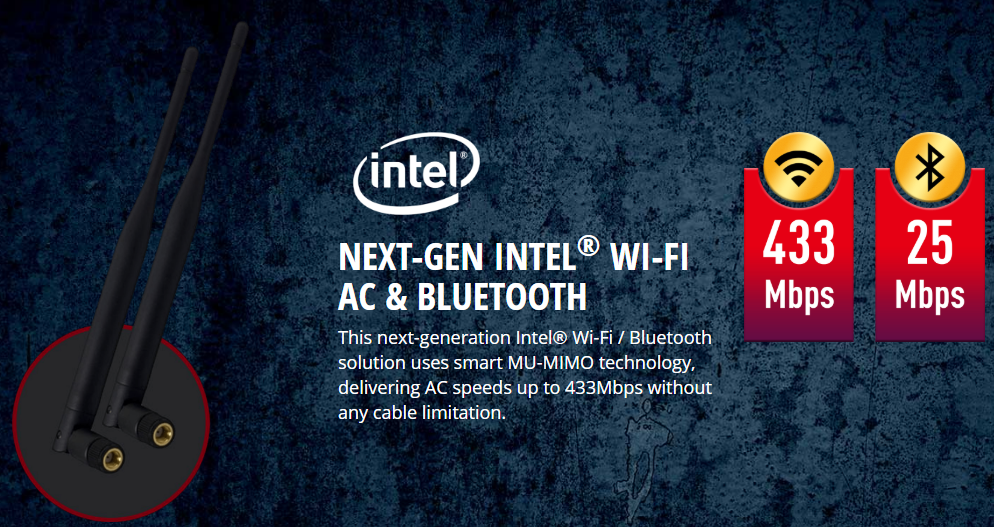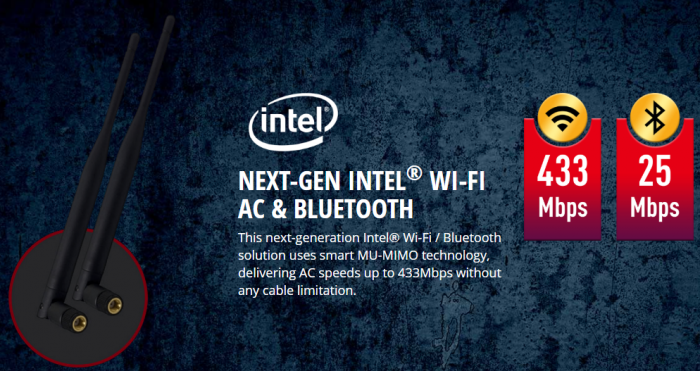 I was a bit surprised to see one of the cool features of CNVi not being used here as MSI opted for a much slower Intel 9462 Wireless AC card. This still enables Bluetooth 5 compatibility but has a maximum data rate of 433Mbps. Stepping up a few board tiers gets you into the 1.73Gbps range but for the MSI MPG Z390 Gaming EDGE AC that's what you get. I do feel like the lower BOM cost of a CNVi solution would have been a no-brainer as we saw it with the Gigabyte model in a very similar price range so this is a miss in my book.
USB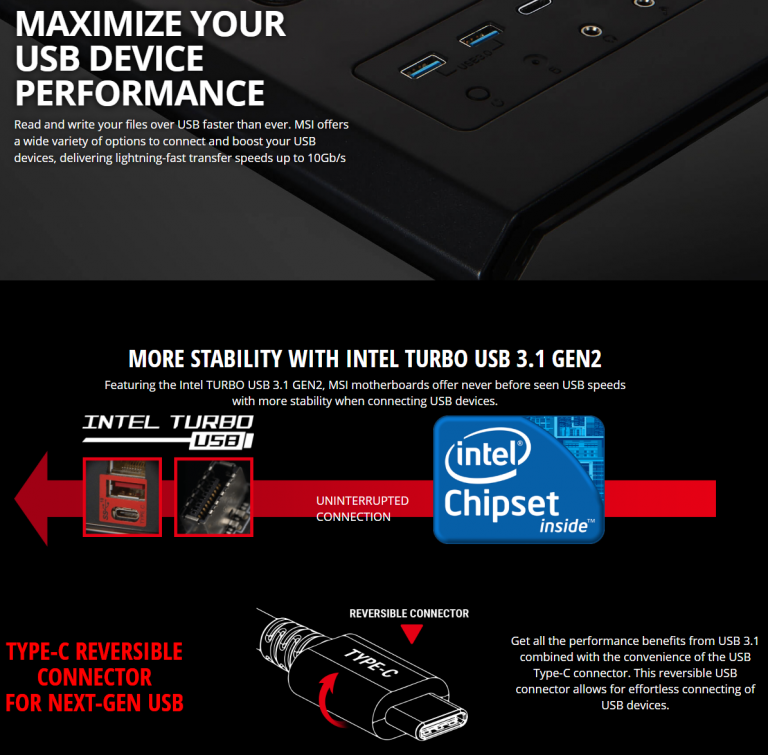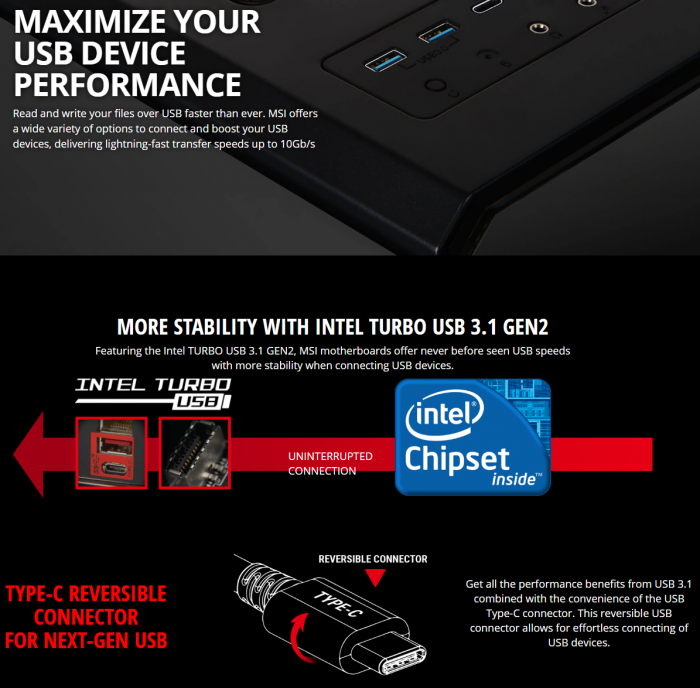 The representation of USB 3.1 Gen 2 (10Gb/s) as Intel Turbo USB I find a little humorous but its good to have and a welcome addition as more devices are coming around that can use it.
Overclocking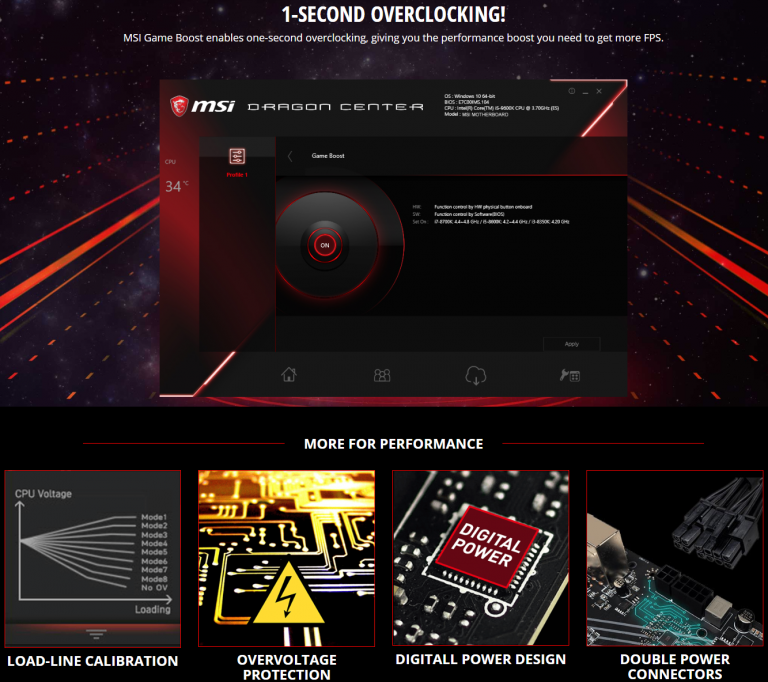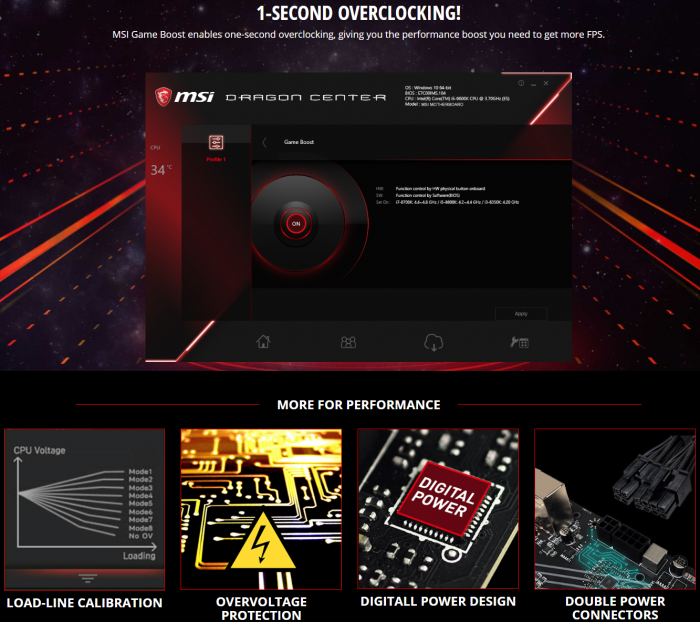 MSI has always had some very good overclocking support, however their support has gone up and down with models and different chipset generations. As of recent, I find that MSI trades blows with the best of them and I am hoping to see the same from the MSI MPG Z390 Gaming EDGE AC
The load-line calibration is very good and useful, just be prepared as most boards as you go up in LLC levels that mean less droop or more overshoot. MSI has it reversed so if you were to choose LLC level 1 that would be the maximum setting whereas mode 8-9 would be full droop.
OVP is pretty standard but I am glad that MSI sees it as a critical feature since many boards we have to assume it has it integrated as they do not tend to talk about it.
Dual power connectors are good if you plan to really push the top end chip (9900K) under extreme sub-ambient cooling. Other than that you don't need to stress if your PSU only has a single connector as it will do just fine with only an 8 pin on any cooling setup even a custom high-end liquid cooling loop. Also, do note if you have the connector, go ahead and plug it in as having the extra 4-pin in place does not hurt anything.
VRM Cooling


The lefthand side VRM cooler pulls double duty as an aesthetic piece covering the IO mostly which further removes excess cost I assume from building a motherboard shield and IO cover. Those fancy pieces are reserved for more the MEG series boards.
Quality Components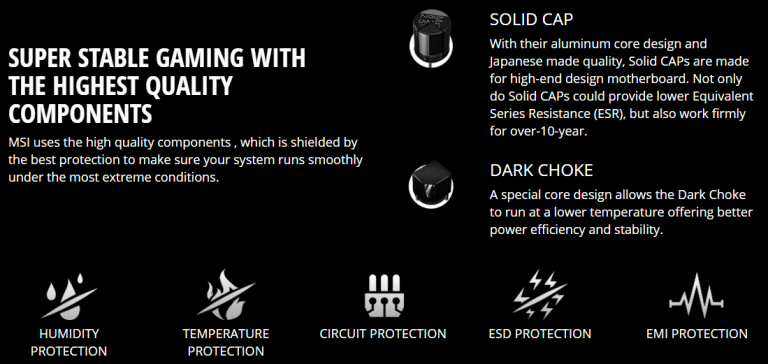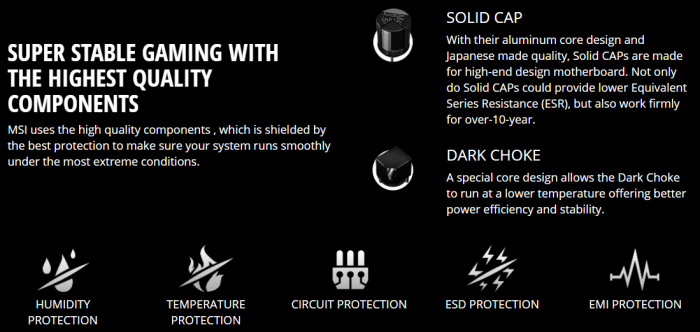 MSI has made sure to highlight their component choices and I wouldn't really argue with the ones listed here. They have done a good job of picking solid components across the board (pun intended) so that users can rest well knowing that the board should last a good long time barring some obscure failure.
There is a bone to pick as far as VRM goes but we will talk about that when we deep dive into the components.
As a side note, I am truly happy that MSI ditched the Military class things, it was very difficult trying to justify the designation for motherboard components. there are plenty of non-MIL-SPEC components out there which do the job exceptionally well and you do a decent job at picking some good ones.
Keep out zones and other debug and safety features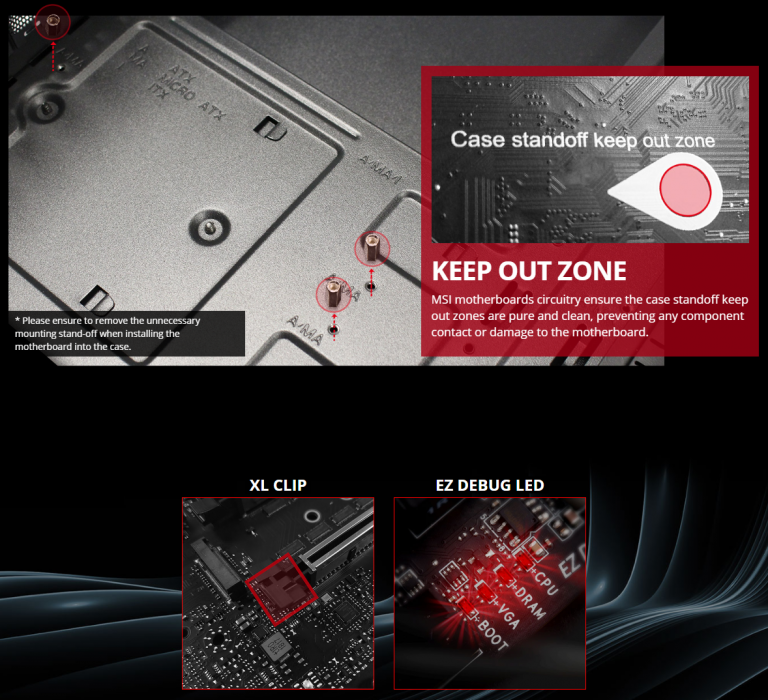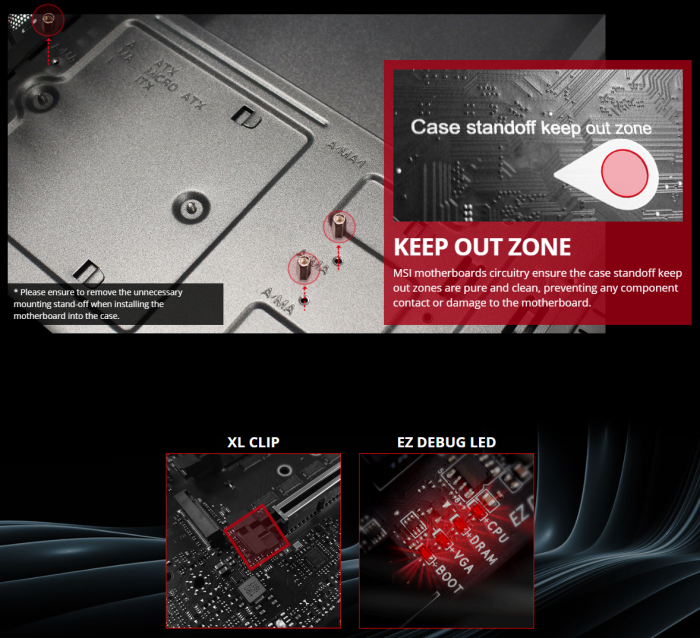 This one is probably one of my favorites and I say this because of more times than I care to admit I have seen scenarios in which users install the board over a preinstalled standoff or even install a standoff in error. This leads to a short and at best an annoying troubleshooting session with potential for damaged hardware a definite possibility.
The XL clips on the PCIe slots are nice as I have big hands and sometimes wedging into the tight area to release a GPU can be a real pain. Having a larger plastic lip I can depress to pop a card out i a huge help for someone like me who services systems and swaps parts regularly.
EZ Debug LED, I love the name but hate it at the same time. Do you know what an EZ Debug LED is? A two digit Post display, something which this board just like the Gigabyte board we looked at recently is lacking as well. I know a lot about BOM costs and the cost of the 2 digit hex display for postcodes is not that expensive. Probably the most maddening thing is when a board does not have a post display since while the quartet of LEDs can help you know which position you are in the post, you have no idea if its a 55 Memory code because the memory won't train or maybe a different issue with a memory DIMM not even being detected or failing.
ESD – The Silent Killer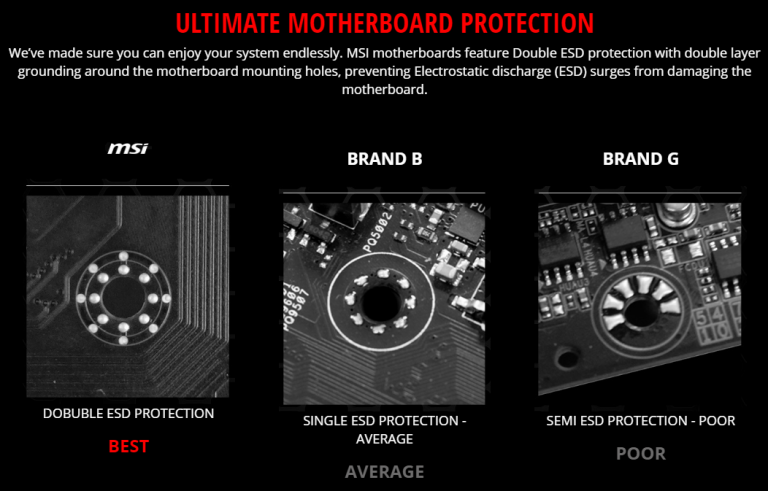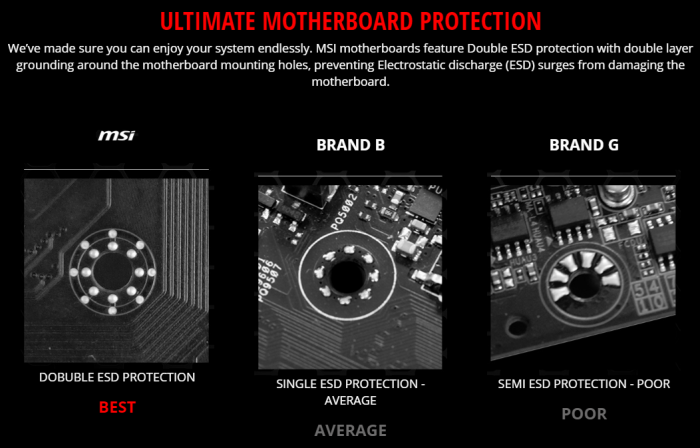 ESD, the thing that anyone who knows about it has a reason to shudder. ESD is no joke and while many people will downplay it, it can kill hardware in one snap. Having a secure connection to the standoffs helps everything ground which means less risk. But trying to downplay the other solutions is a bit off as even a minor contact is still pretty safe. Overall I applaud MSI for taking it so seriously but let's not overdo it and think you need a massive overkill solution for ESD… as long as you have a few good contact points you're fine.
PCIe Slot Armor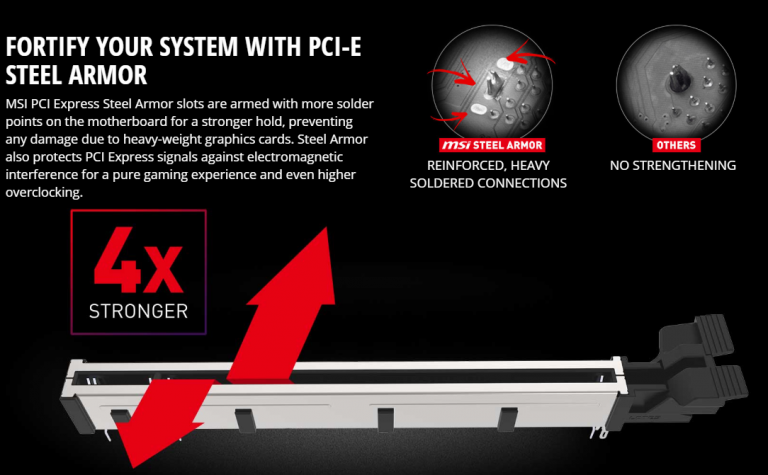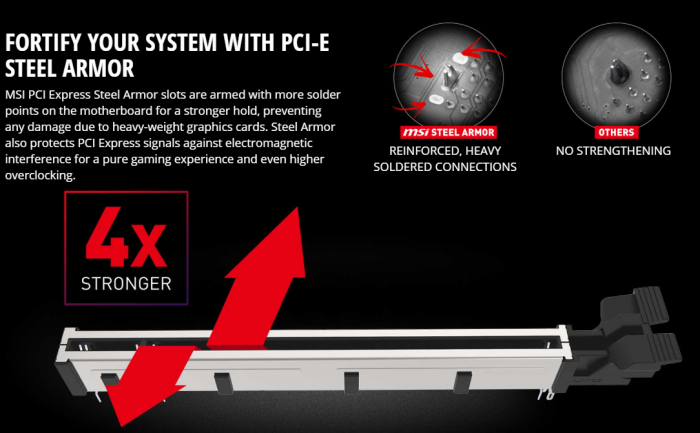 Every manufacturer worth their salt these days have reinforced slots. All of them are metal shielded and soldered through the PCB to add rigidity. Don't think I am saying it's a bad thing MSI is doing this, it is actually a great thing as this keeps PCIe slots from splitting due to heavy GPUs and the inherent flexing of the slot. I guess I should say helps, I'm sure with the right shearing force it could still break but far less likely.
Audio Features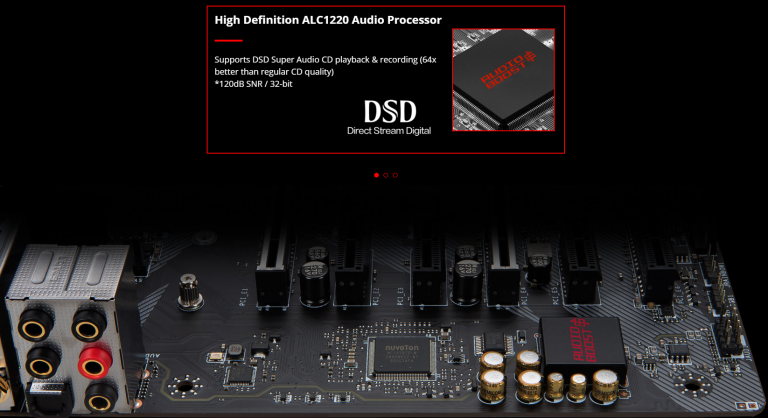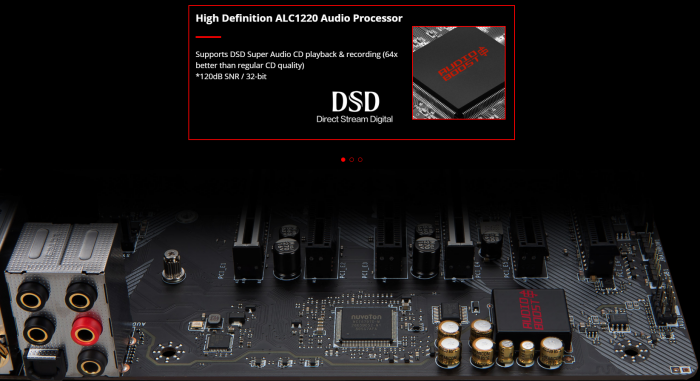 MSI is on the ALC1220 train like most Manufacturers as its simply one of the best audio codecs readily available presently to use on a motherboard. Unless you go nuts with a Creative Core3D unit but then you have another entire BOM issue as to properly run it you want the rest of the supporting components to really show its muscle so that would likely be reserved for a much higher end model where people will be more receptive to the price premium.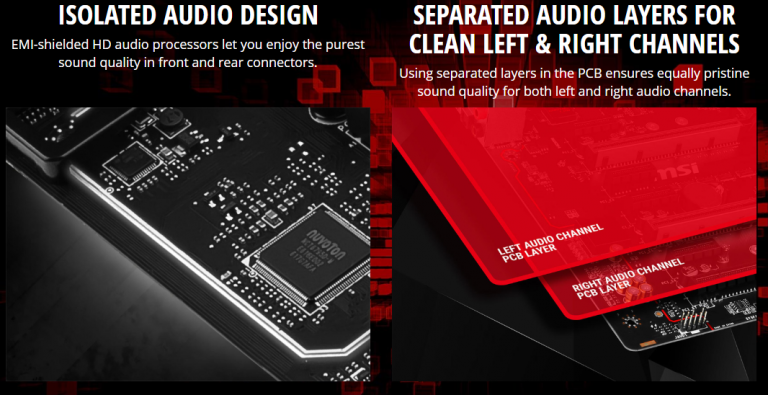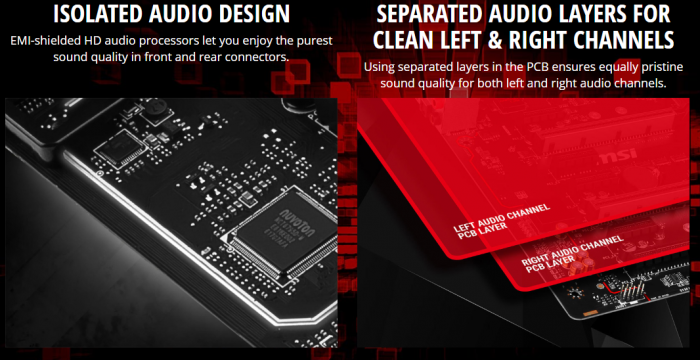 The isolated PCB layers for each audio channel has been going on since I wanna say the Z87 days maybe even longer and I'm glad it's still happening as it truly allows a better overall audio solution by isolating the audio package from other signals which will help reduce electrical interference and potential crosstalk.


Antipop mechanisms are awesome, once again something I love as I remember not too long ago when you would plug in speakers or a headset and the resulting pop was at best jarring and at worst potentially damaging to your audio equipment.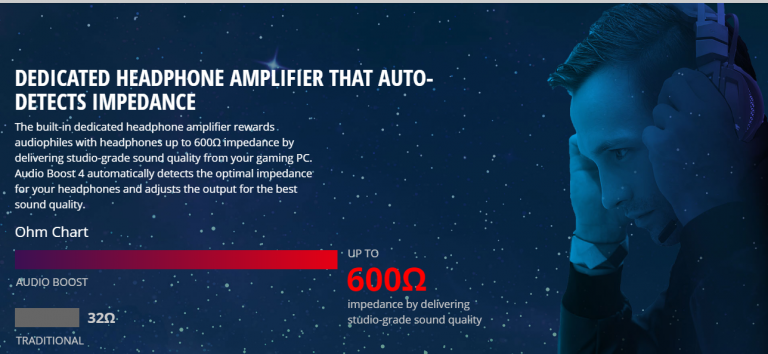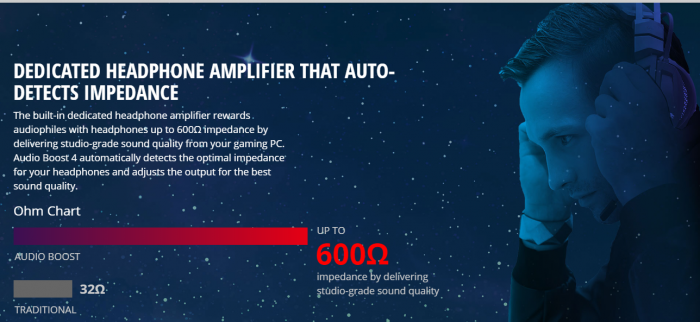 Here I do like that they support a wide range of Impedance to allow much higher end audiophile level headphones. Although I do believe any true audiophile will opt for a dedicated DAC/Audio solution for optimal auditory presentation. I do find the associated graphic quite entertaining as its a dude obviously immersed in his audio with what looks like a LED backlit headset similar to Steelseries but definitely not an audiophile headset I have ever used.
Also, I find the notation below the 600ohm mention humorous as it states "up to 600Ω  impedance by delivering studio-grade sound quality" I do believe they meant to say "Supports up to 600Ω  impedance to ensure you can experience studio-grade sound quality" Impedance support is not achieved by your quality of audio but by your components capability to pass a signal with specific resistance values from a driver.
I know that's nitpicking but just something I got a laugh from, but I digress.
M.2 Genie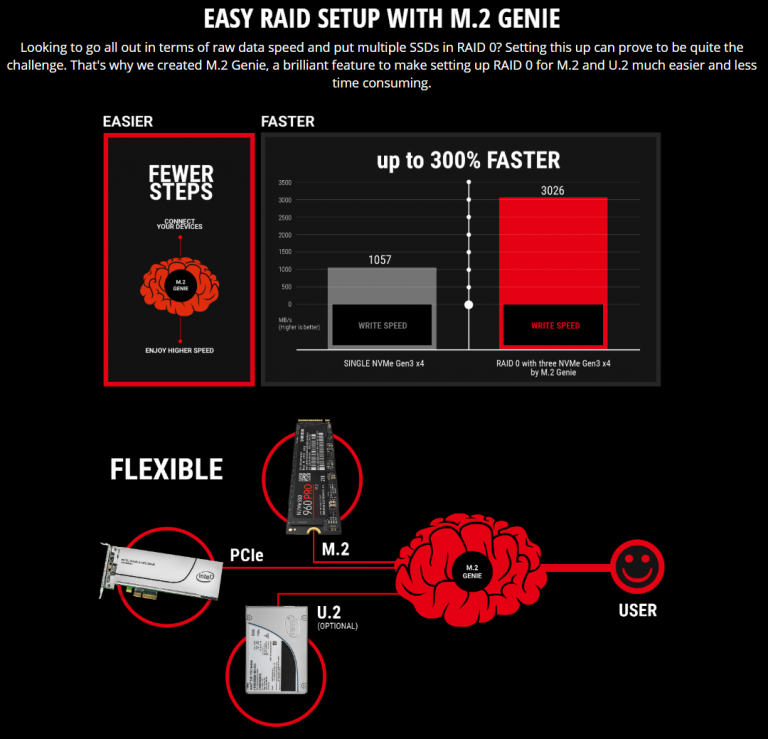 Here is something I have harped on far too many times and I'm gonna do it again. Yes, you can RAID 3x NVMe SSD's… yes you can get better performance theoretically as in you have a drive that does 1GB/s Write, then 3 of them will do theoretical 3GB/s or around there when raided and the right file sizes. However, do keep in mind that your x4 DMI link from your PCH means you will top out around 3.5GB/s or so no matter what drives you choose. This means raiding something like 970 Pro's will not net you any gains on reads but you will see a minor bump on Writes to hit the DMI limit.
Liquid Cooling Support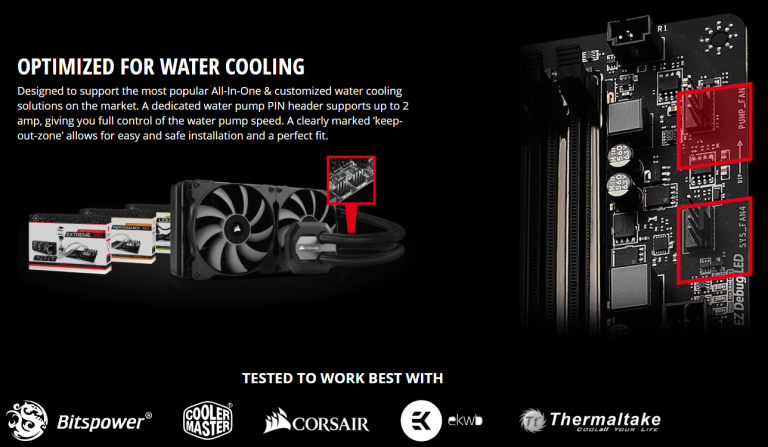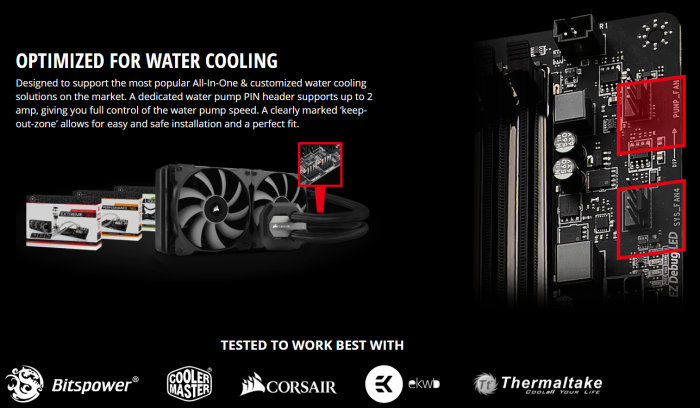 I have to give MSI credit as they worked with some solid names to set up compatibility for their liquid cooling prowess. I also like that they have pump headers dedicated for liquid cooling although to be fair many others also have pump headers as well or even complete water cooling zones such as we saw on the Maximus Extreme, that is if you don't mind spending 600 bucks.
Mystic Light RGB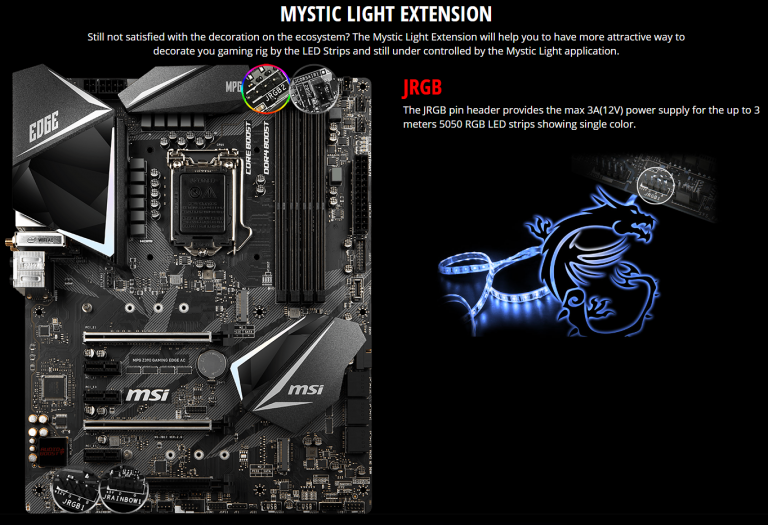 Mystic light is MSIs RGB solution and it has all the things you would expect. 5050 RGB, Addressable and something I was kinda surprised by.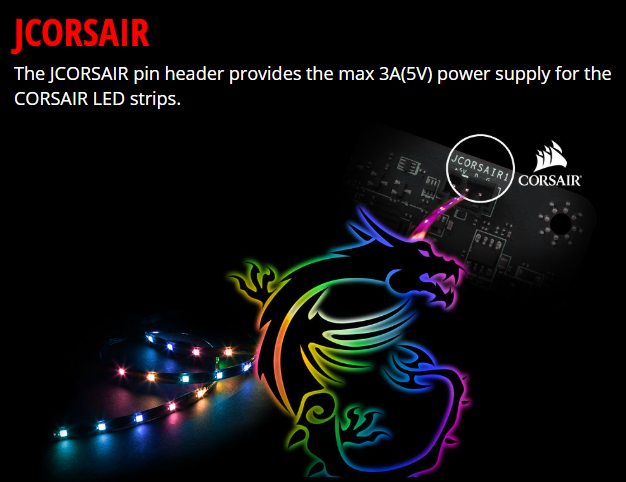 Here it is. MSI actually worked with Corsair to support the Corsair Addressable RGB strips directly from the MSI motherboard. This means you do NOT need a separate lighting node pro or anything like that. They even have the proper connector right on the board. That is something I think MSI deserves some credit for and that's doing partnerships right. Having a connector directly onboard and supporting the strips directly in the software so it syncs with everything else on your board and even your MSI based RGB capable GPU is really cool.
Also, just a note as I looked into this the connector not only supports LED strips but RGB products across the spectrum.
LED Strip = 20
HD120 RGB Fans = 6
SP120 RGB Fans = 6
LL120 RGB Fans = 6
So that makes this integration even cooler.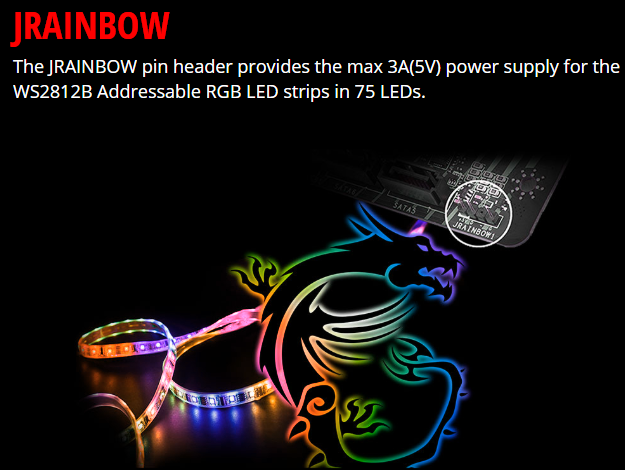 Here we see the 3-pin addressable header as well which allows standard addressable strips to be controlled with up to 75 LEDs, while that may not seem like much that's actually plenty long for most any build.


Once again this is MSI showing partnership done right. MSI looked at the market and found as many partners as possible and worked with them to integrate hardware control into the Mystic light solution so that you can have a more cohesive experience. This is great to see and shows that MSI is pretty well in touch with what their users may need. Granted its only RGB but as market trends have shown, RGB is still a thing and only getting stronger.
Now let's unbox the MSI MPG Z390 Gaming EDGE AC and see what exactly she looks like and what she's hiding under the hood.