Final Thoughts
While 3000MHz certainly isn't the highest speed for RAM these days, the Crucial Ballistix Elite 3000MHz 15-16-16-35 kit certainly turns in an impressive performance. The performance is backed by M.O.D. monitoring which we found extremely useful. We would imagine that M.O.D. would be extremely useful in overclocking and extreme performance testing. It's long past time that RAM has it's own monitoring system, and indeed the ability to modify its own parameters for better performance. Crucial is well on the Intelligent RAM road and incorporated thermal sensors.
We loved the Crucial Ballistix Elite kit's ability to effortlessly run at 15-15-15-35 when the advertised timings are 15-16-16-35, and the ability to get an OC to 3200MHz with those same timings makes this a great kit. The ease of overclocking was a bit of a shock, but one that is appreciated, as it reflects Crucial's dedication to quality and the kit lives up to its elite moniker.
We like the Crucial kit's lifetime warranty, Intel XMP, black heat spreaders, and reliability. The ease of overclocking was a bit shocking and we got a nice boost in performance for benchmarks. We would suggest that 3000MHz is fast enough and doesn't need overclocking, but we know there are overclocking demons out there that will do it anyway. We are quickly entering a phase of computing that doesn't need overclocking, but human nature being what it is we will OC anyway.
Crucial has taken their time in releasing high-speed DDR4 and that's not a bad thing. Crucial has a tendency to refine their higher end brands rather than rush them to market and make on-the-fly corrections later. We like well-engineered and well-implemented products, and the Crucial Ballistix Elite 2 x 8GB (16GB) DDR4 (15-16-16-35) is both well thought out and well-implemented to the point of over engineering. The problem is we love over engineering and believe it is underappreciated. The Crucial Ballistix Elite 3200MHz 2 x 8GB earns the Bjorn3D Golden Bear Award.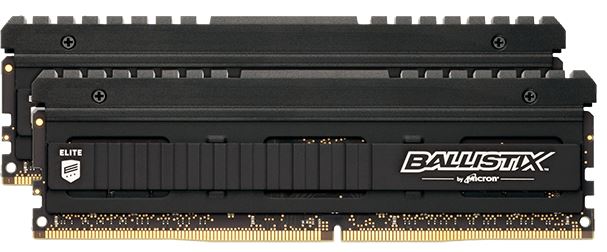 Pros:
Cons

Strong Performance
Nice 15-16-16-35 Timings
XMP Profile Was Plug And Play
Live Chat And Live Tech Support
Lifetime Warranty
Dependable

M.O.D. Doesn't Show The Current SPD Settings