Benchmarks
SiSoft Sandra
SiSoftware Sandra is a 32-bit and 64-bit client/server Windows system analyzer that includes benchmarking, testing and listing modules. It tries to go beyond other utilities to show you more of what is really going on under the hood so you draw comparisons at both a high and low-level in a single product. You can get information about the CPU, GPGPU, chipset, video adapter (GPU), ports, printers, sound card, memory, network, Windows internals even .NET and Java.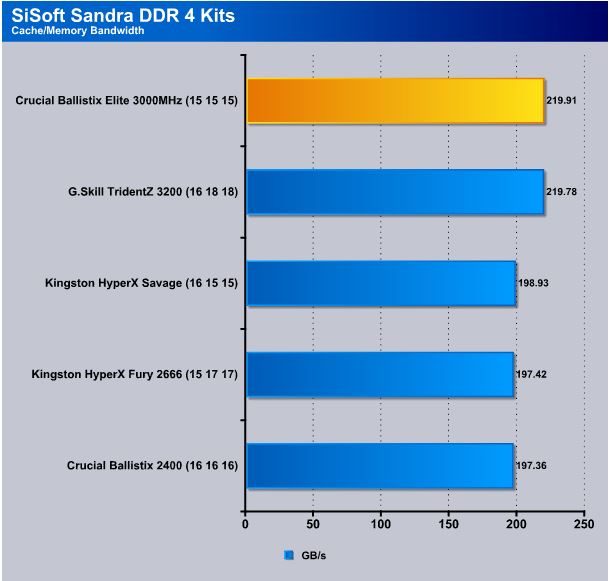 The Sandra Cache Memory Bandwidth test shows the Crucial Ballistix Elite out to an early lead in the charts and the tight timings are telling on the kit. We have a 3200MHz TridentZ kit around the lab, but the timings are 16-18-18-38 compared to the Crucial Kit at 15-15-15-35. At times the tight timings on a kit will cause it to be faster than a looser timed kit and that seems to be the case here.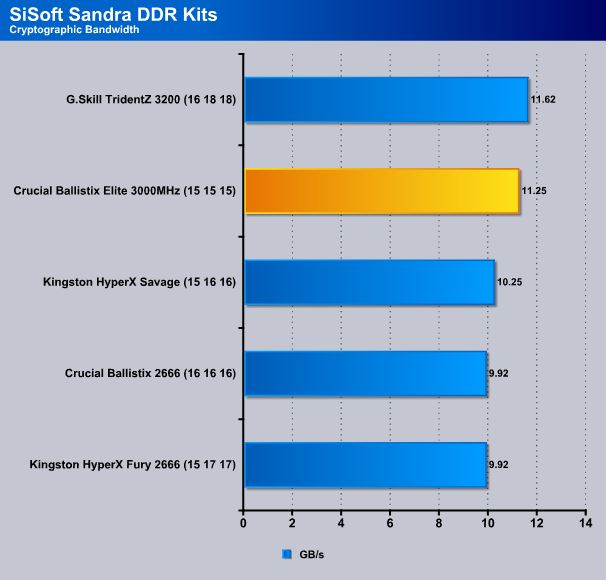 The Cryptographic test in Sandra becomes more important as encryption is more used in computing and the Crucial Ballistix Elite Kit did well coming in at 11.25GB/s on this test.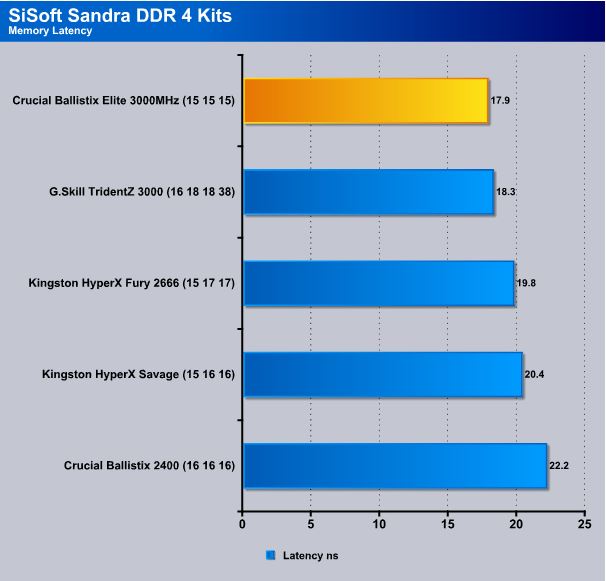 Memory Latency is more tied to the timings on a kit and the Crucial Ballistix Elite Kit topped the chart with a 17.9ns score.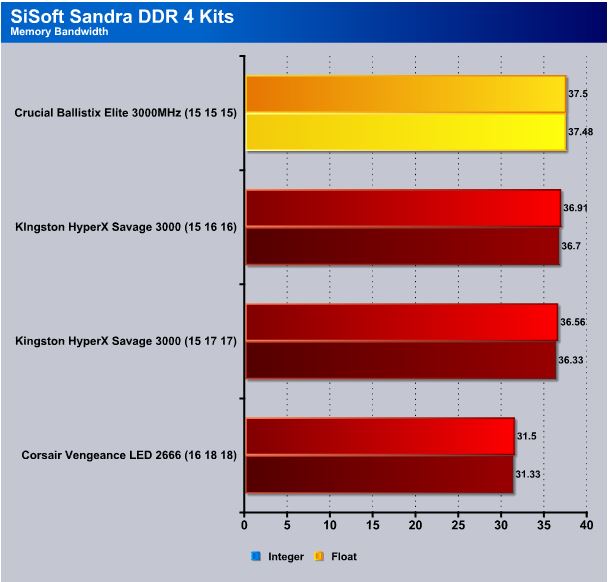 The Sandra Memory Bandwidth test is one we weigh heavily in our testing and the Crucial Ballistix Elite kit topped the chart but not by a great lead over the TridentZ kit.
AIDA64
Memory Tests
Memory bandwidth benchmarks (Memory Read, Memory Write, Memory Copy) measure the maximum achievable memory data transfer bandwidth. The code behind these benchmark methods are written in Assembly and they are extremely optimized for every popular AMD, Intel and VIA processor core variants by utilizing the appropriate x86/x64, x87, MMX, MMX+, 3DNow!, SSE, SSE2, SSE4.1, AVX, and AVX2 instruction set extension.
The Memory Latency benchmark measures the typical delay when the CPU reads data from system memory. Memory latency time means the penalty measured from the issuing of the read command until the data arrives to the integer registers of the CPU.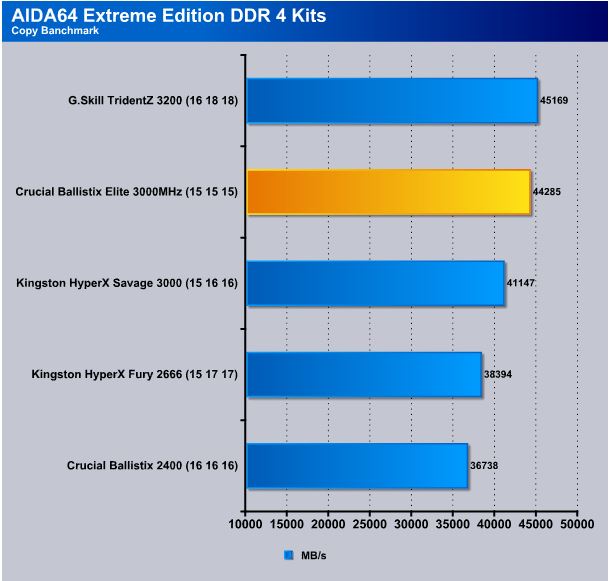 Here in AIDA64 the copy benchmark sees the Crucial Ballistix Elite kit coming in slightly behind the TridentZ kit which is a bit odd as the machine feels snappier with the Crucial kit running,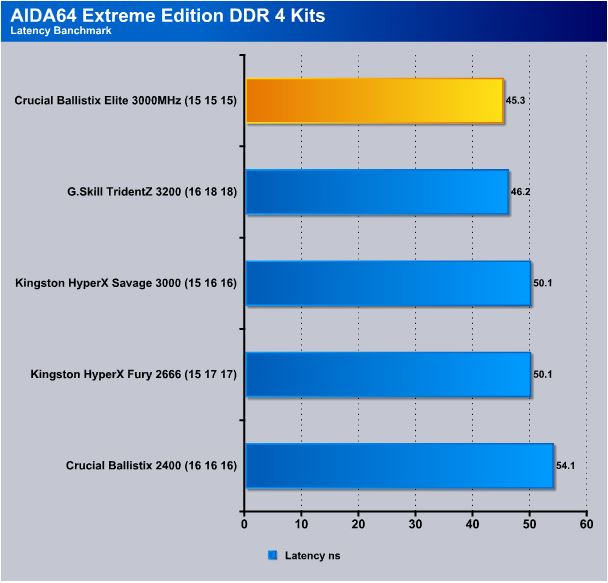 Here in the AIDA64 Latency test the Crucial Ballistix Elite kit again rules supreme in latency and tops the chart at 45.3ns.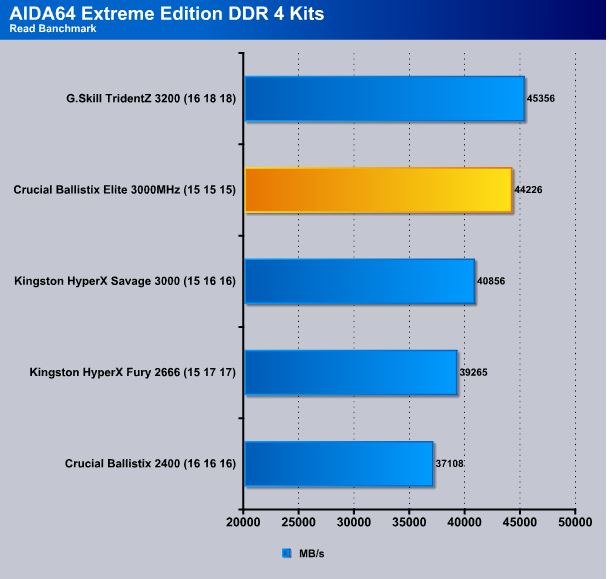 The Read benchmark shows the Crucial Ballistix Elite at about 1MB/s slower than the TridentZ kit but the Crucial kit's score is nothing to sneeze at.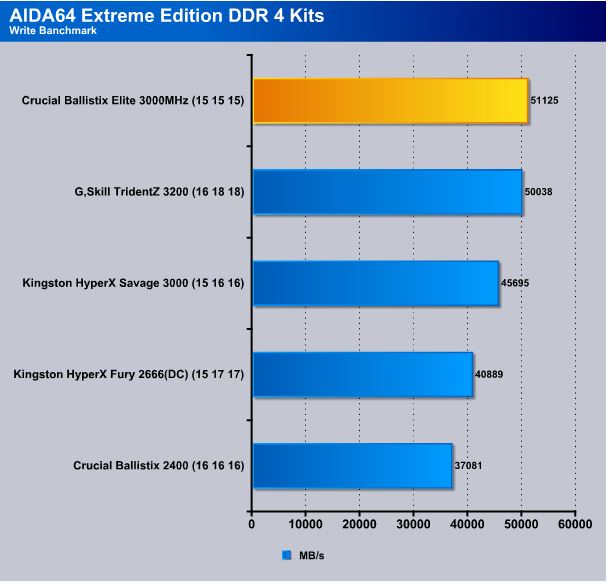 The Write benchmark finds the Crucial kit back on top and repeatedly we've seen the 3000MHz kit running faster than the looser timed 3200MHz kit.
Tags 16GB Ram 3000MHz 8GB RAM Ballistix crucial Crucial Ballistix Elite Crucial Ballistix Elite 2 x 8GB (16GB) DDR4 (15-16-16-35) elite R.A.M. ram
Check Also
Jump to section 4. Testing and Conclusion 1. Introduction2. Installation3. Cooler Master MasterPlus+4. Testing and …
Jump to section 3. The Performance 1. Nvidia GeForce Now – the basics2. The software3. …