Unboxing the Zotac GTX 980 Ti AMP! Extreme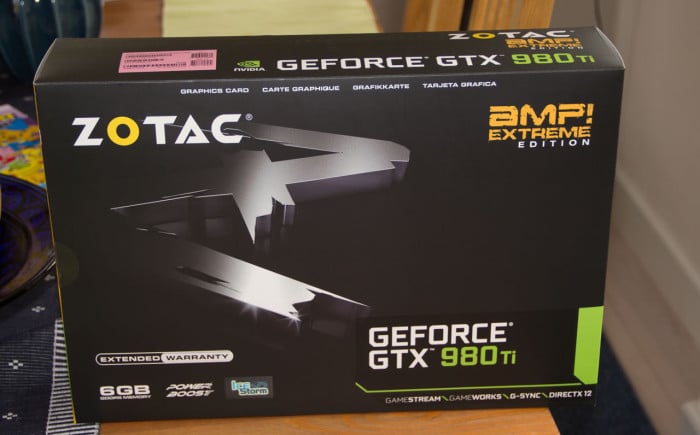 The card comes in a sturdy box that adequate protects the valuable card.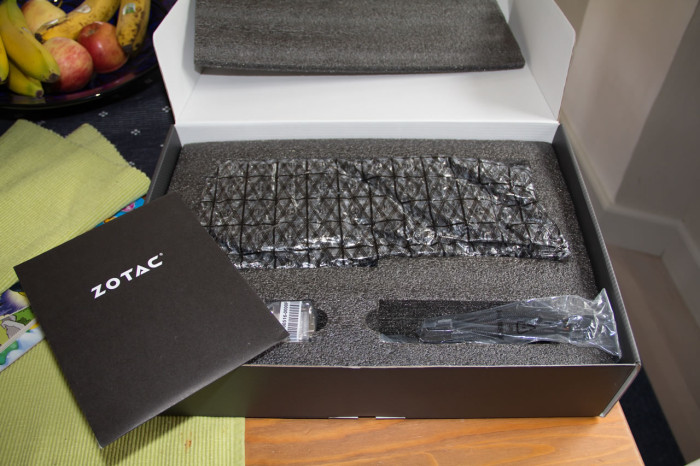 As you can see the card is well protect4ed with lots of hard foam around the card. The days with tons of stuff in tthe bundle is gone and thus we get the bare necessities.
CD with drivers and the Zotac OC-software FireStorm on.
A DVI to VGA-adapter
Two 6-pin to 8-pin PCI-power-adapters
And that's it. Something that no longer is included in these cards are an SLI-bridge, something we realized when we wanted to test SLI. You will have to buy a separate bridge for that.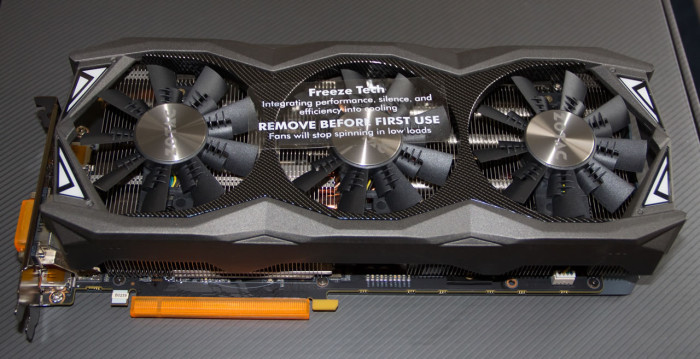 And here it is! The Beast. The Hulk. The … ok – we're out of names describing this huge card. The card is 328mm long, 133m high and weighs 1,285g. Did we mention it is huge? And heavy? Make sure to secure the card to the chassi. The card will take up 3(!) slots so make sure you have room. The weird thing is that Zotac does not even include the measurements of the card on their website. So a buyer might not realize that this is a beast of a card when buying it and realizing to late it won't fit the case.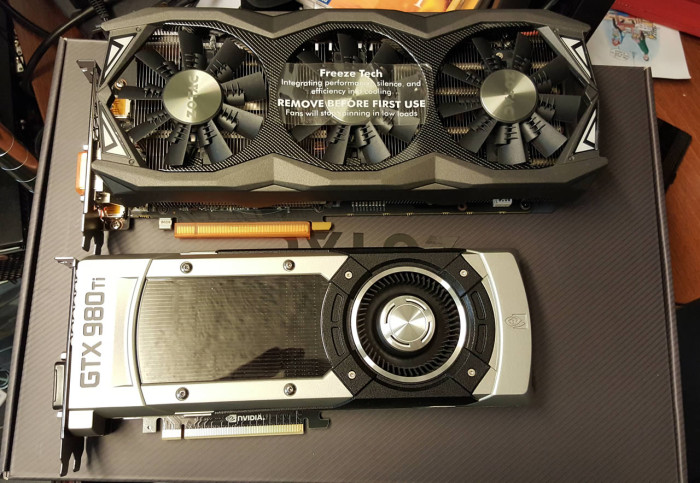 Just to give you an idea how big this card is. This is a comparison between the eVGA GTX 980 Ti SuperClocked card we reviewed earlier and the Zotac GTX 980 TI AMP! Extreme.When we put them together for some SLI-action it was almost comical to see the difference. It is as the eVGA GTX 980 Ti SuperClocked is a small distant cousin, not a card using the same high-end GPU.
The front is taken up by the three fans of the IceStorm cooler.Here you can see the small mini-blades that are supposed to concentrate the air flow towards the middle of the card increasing the air pressure.