Zotac GTX 980 Ti AMP! Extreme-card
. With a base core clock of 1253 MHz, 25.3% higher than a reference GTX 980 TI, this is so far the highest clocked GTX 980 Ti we've seen from any OEM. And just to whet your appetite, the card even overclocks further! Add to that 6 GB of DDR5 memory running at 7220 MHz (up from 7010 MHz) and a special silent tri-fan cooler (IceStorm – love the names) and it is clear that this on paper is the "king of GTX 980 Ti". Can it deliver on its promises? Read on to find out.
Specifications
The Zotac GTX 980 Ti AMP! Extreme stands out with its massive 25.3% overclock against the standard GTX 980 Ti.
Zotac offers 5 different GTX 980 Ti-cards (we left out the 5th, the AMP! Omega, from the comparison below).
Name

SKU

ZT-90501-10P

ZT-90505-10P

ZT-90502-10P

ZT-90503-10P

Interface

Interface: PCI Express 3.0

Chipset

Chipset Manufacturer: NVIDIA

GPU: GeForce GTX 980 Ti
Cores: 2,816
Shader Clock: N/A

GPU Core Clock
1000 MHz (base)
1076 MHz (boost)
1253 MHz (base)
1355 MHz (boost)
1025 MHz (base)
1114 MHz (boost)
1051 MHz (base)
1140 MHz (boost)
Memory
Memory Size: 6GB
Memory Interface: 384-bit
Memory Type: GDDR5

Memory Clock

7010 MHz
7220 MHz
7010 MHz
7010 MHz

3D API

DirectX: DirectX 12

OpenGL: OpenGL 4.4

Ports

DVI: 1 (2560×1600)

HDMI: 1 (4K @ 60 Hz)
DisplayPort: 3 (4K @ 60 Hz)
VGA: With adapter

Cooler

Blower

Triple 90mm IceStorm
ArcticStorm hybrid cooler
Triple 90mm IceStorm

SLI-supported

4-way

2-way
2-way
4-way

General

Max Resolution: 4K
RoHS Compliant: Yes
Dual-Link DVI Supported: Yes
Supported OS: Certified for Windows 8 / 7 / Vista
The main features are of course the same for all of the cards as they use the same GPU, the GTX 980 Ti. The GPU supports DX12 and OpenGL 4.4, it comes with 6 GB of DDR5-memory on a 384-bit memory bus and you get 3 DisplayPorts supporting 4K @ 60 Hz, one HDMI-port supporting 4k @ 60 Hz and a DVI-port supporting resolutions up to 1440p.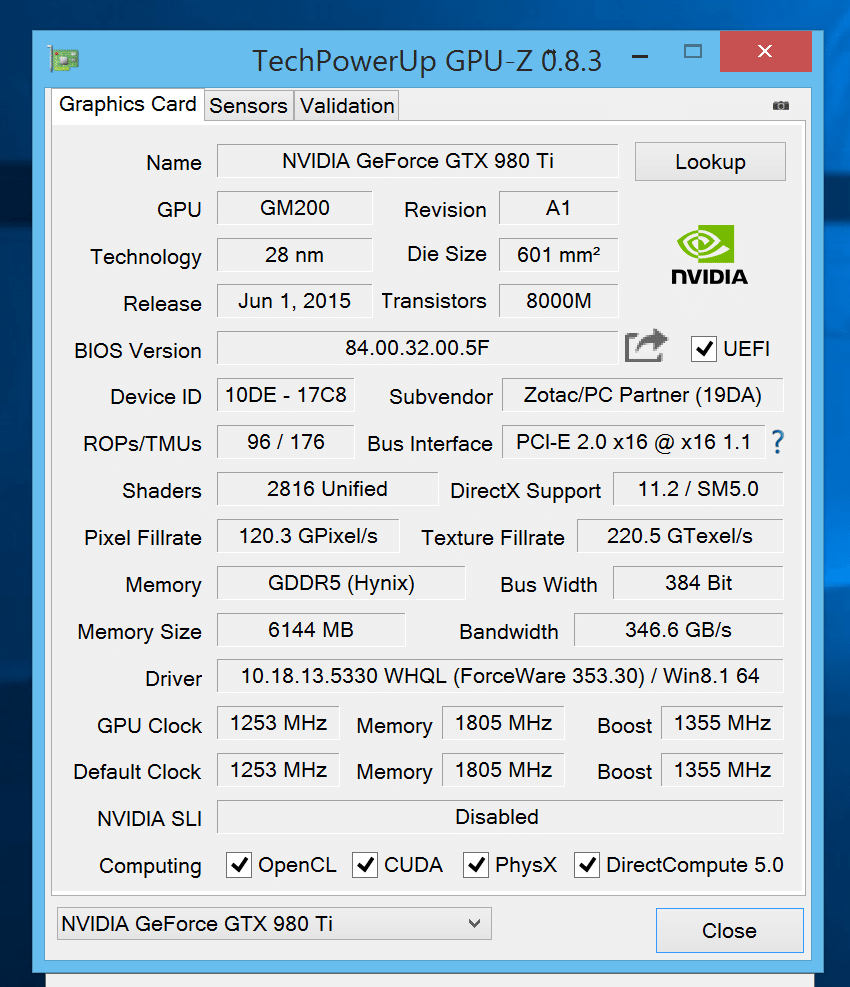 While the other cards are midly overclocked the Zotac GTX 980 Ti AMP! Extreme stands out with its massive 25.3% overclock against the standard GTX 980 Ti. The GPU is cooled with a special tri-fan cooler that promises to keep the card cool while being whisper quiet.

For this card Zotac is selecting only the "finest" GTX 980 Ti-GPU's and paired them with a impressive massive cooler. The result? A huge card that offer promises for even faster speeds.

The GTX 980 Ti is not only a fast GPU but also a GPU that overclocks extremely well. This means that few cards for sale actually are running at reference speeds, 1000 Mhz,  and instead are overclocked at different levels. Zotac are no strangers to overclocking usually offering a wide variety of cards for each generation. Their AMP!-edition cards not only are overclocked but come with their own special cooler and thus when we got a question whether we wanted to review one of their GTX 980 Ti AMP!-cards we jumped to the chance, especially as it turned out to be the