Middle Earth: Shadows of Mordor
Middle-earth: Shadow of Mordor is an open world action-adventure video game set within Tolkien's legendarium, developed by Monolith Productions and published by Warner Bros. Interactive Entertainment.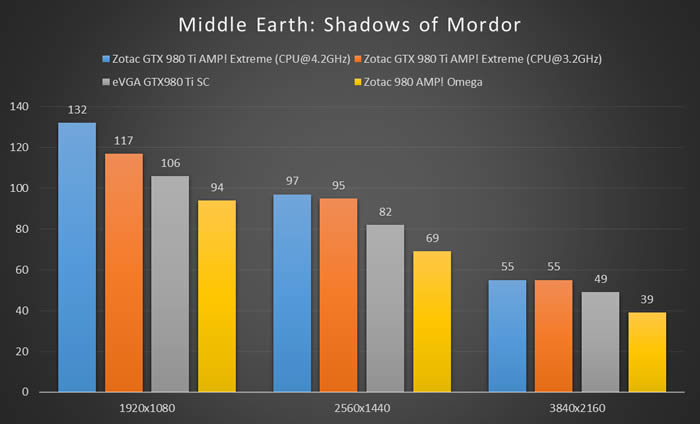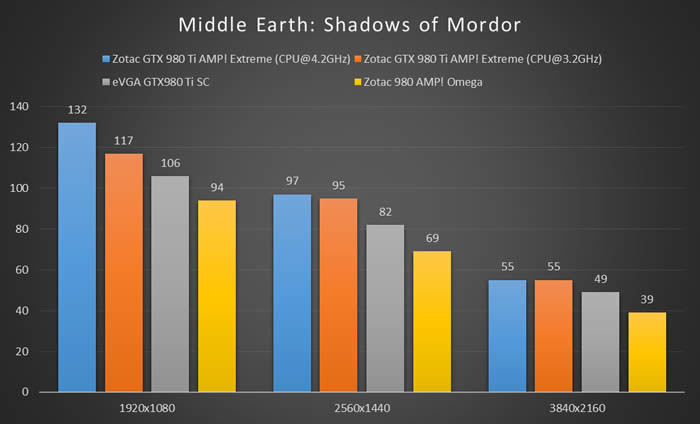 Yet another game where we get between 10-16% higher framerates between the eVGA GTX 980 Ti SC and the Zotac GTX 980 Ti AMP! Extreme. We do not manage to hit an average framerate of 60 fps at 2160p but a look at the minimum framerate both when using the CPU @ 3.2 GHz and @ 4.2 GHz shows us an interesting thing. The minimum framerate at 2160p is 34 fps with the CPU @ 3.2 GHz and 43 fps when @ 4.2 GHz. Basically there are occasions even at 2160p where the game becomes CPU-limited even though the average framerate is the same.
Middle Earth: Shadows of Mordor 
Settings
All resolutions
Quality: Ultra
DoF: On
Order Independent Transparency: On
Tesselation: On