SLI
Even though the Zotac GTX 980 Ti AMP! Extreme takes up 3 PCI-E-slots it still supports dual-card SLI. No SLI-bridge is included so you need to supply your own. In our case we even had to go and buy one as we for some reason could not find our stash of old SLI-bridges. If you buy one make sure it is one of the longest variants as it will need to bridge a big gap.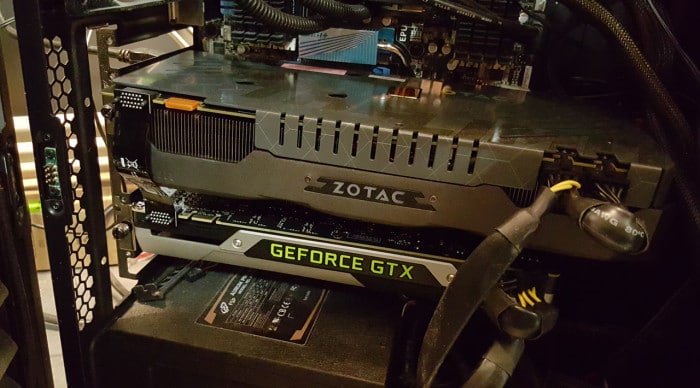 An almost comical image of two GTX 980 Ti-cards. Notice how much longer and thicker the Zotac GTX 980 Ti AMP Extreme is compared to the eVGA GTX 980 Ti SC which is based on the reference design. Still, with the right motherboard it will fit. But make sure you have enough room around the cards.
Note that each card runs at its own clockspeed. This is something we could verify also while running the tests.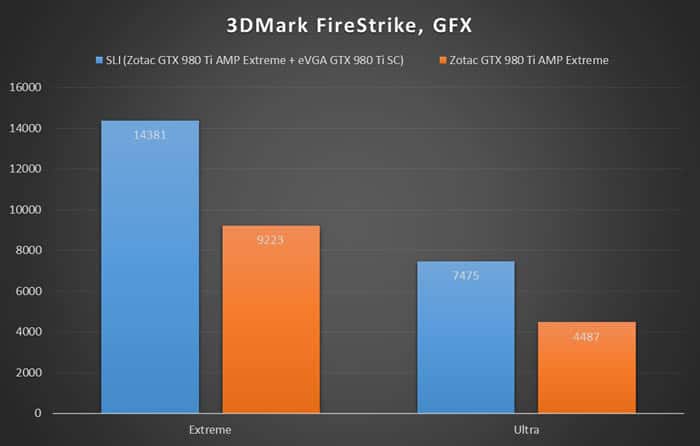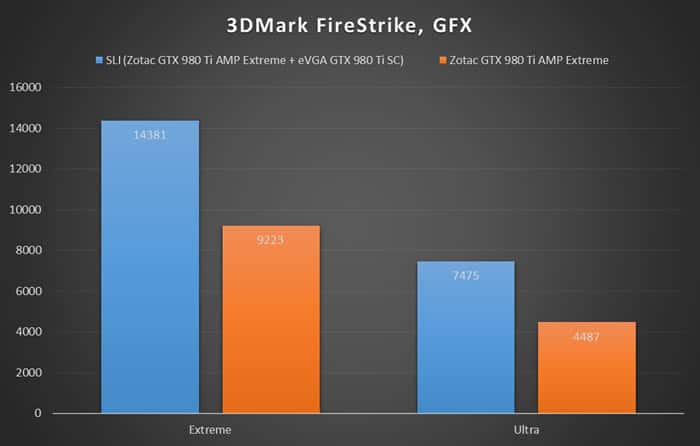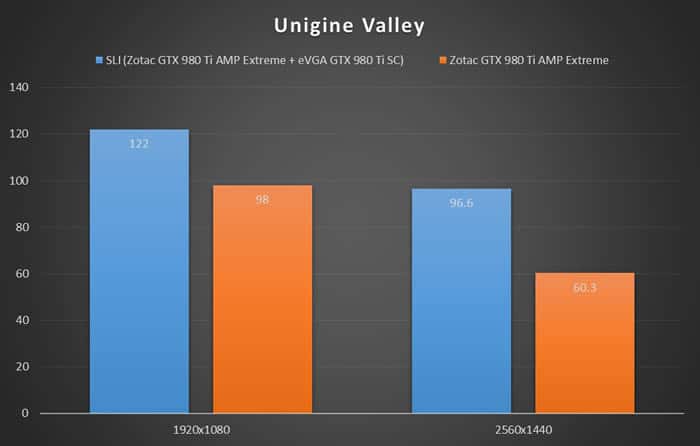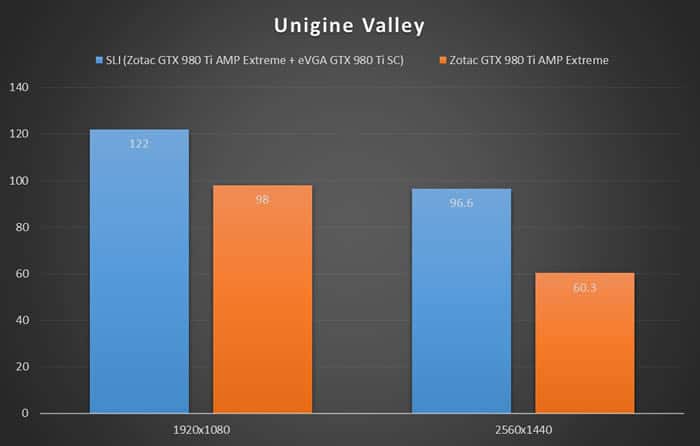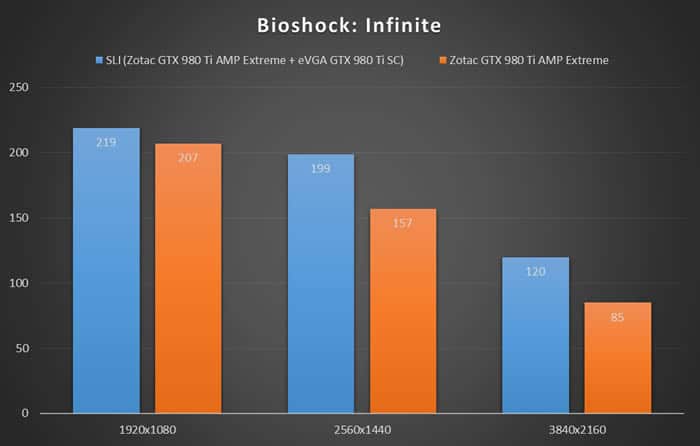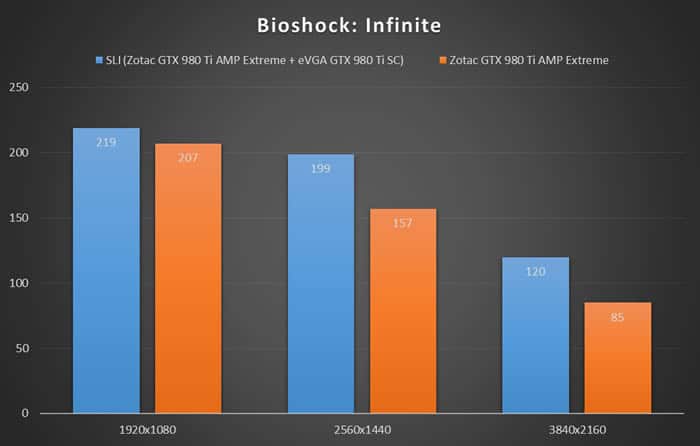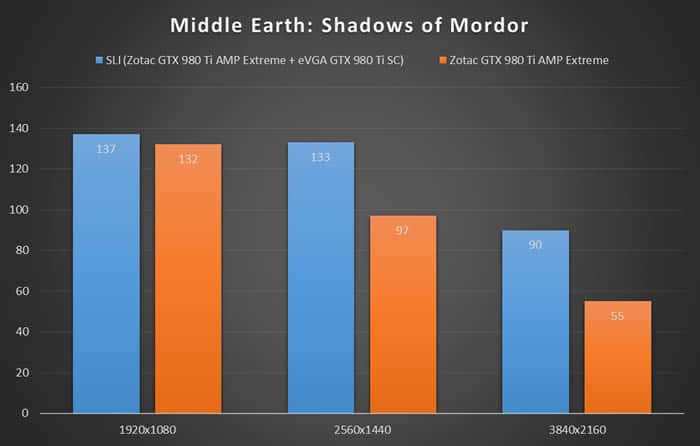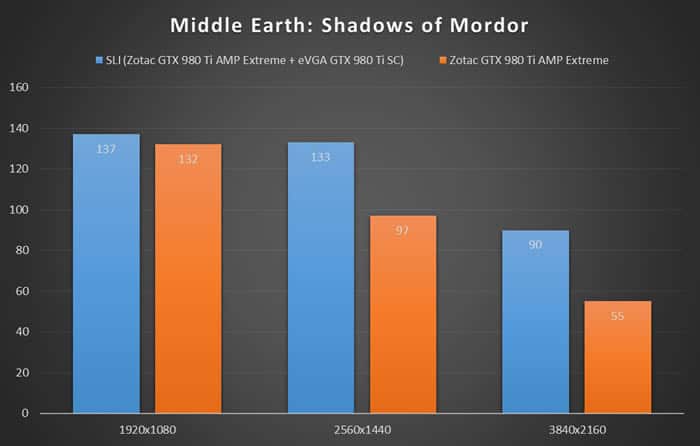 Note: All SLI-results were done with the CPU running @ 4.2 Ghz. 
While we would love to see a 200% higher score (100% increase) when using SLI this is not what you realistically can expect, especially since the cards are running at different clock speeds. At the lower resolutions where the GPU is not the limiting factor we do not see a lot of improvement in performance but as we move up in resolution the extra card starts to show its use and at 2160p we get around 160% of the single-card performance. This for example means that the average framerate in Middle Earth: Shadow of Mordor increases to 90 fps. You might note that Metro Last Light is missing in the charts. This is due to us not managing to get SLI working for that game at all. We even got a decrease in performance at 2160p.