Final Thoughts & Conclusion
The Asus TUF Sabertooth X99 is designed to be durable and they back it with a 5 year Warranty.To illustrate the commitment to "TUF" let's take a look at the bundle that comes with the TUF Sabertooth X99.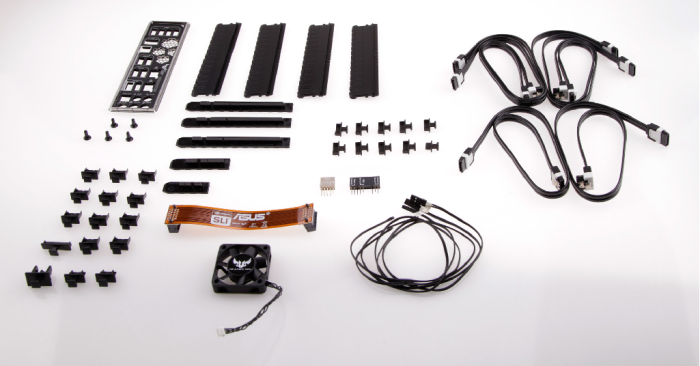 User's manual
Accessory Guide
ASUS Q-Shield
6 x SATA 6Gb/s cable(s)
1 x ASUS 2-Way/3-Way SLI bridge
1 x Supporting DVD
1 x Q-connector(s) (2 in 1)
1 x Assistant Fans(40mm)
1 x TUF Certification card(s)
1 x TUF 5 Year Warranty manual(s) (by region)
1 x TUF Inside sticker(s)(white)
1 x STAY COOL BE TUF sticker(s)(white)
2 x PCIe x16 slot dust cover(s)
4 x DRAM slot dust cover(s)
1 x PCIe x1 slot dust cover(s)
1 x PCIe x4 slot dust cover(s)
3 x Thermistor cable(s)
1 x connector dust cover collection(onboard USB 3.0, LAN)
2 x On board USB 2.0 connector dust cover(s)
11 x back I/O USB 2.0 connector dust cover(s)
9 x On board SATA connector dust cover(s)
1 x SATA Express conector dust cover(s)
5 x Audio connector dust cover(s)
The bundle includes TUF Certification cards, 5 Year Warranty Manual, TUF inside Stickers, Stay Cool Be TUF stickers, PCI-E Dust covers, 3

Thermistor cables, rear I/O plate dust covers, 9x Sata dust covers and even includes audio dust covers.
A lot of the components are tested using Military Certification standard testing including TUF 10K Ti-Caps, TUF Chokes & MOSFETs. You get a full Suite of TUF software with TUF Detective and Thermal Radar 2. Noticeably missing from AI Suite 3 we found no "In-OS" overclocking utility which was quite a disappointment. We generally overclock old school here at the lab but the In-OS overclocking utilities have proven quite useful and take far less time to dial in a solid OC so the lack of an In-OS overclocker shocked us.
The Metal backplate on the Asus TUF Sabertooth will help it stand up to the harshest conditions including Mobile usage where in a vehicle the board is constantly getting jostled. The rigidity of the board due to the backplate also means the heaviest of CPU coolers won't warp the board. The top motherboard cover is more for dust than anything else but it's thin plastic so don't depend on it for protection against much but dust.
We did have a few problems with the TUF Sabertooth including the DRCT chassis open detection system that prevents the system from booting. We didn't like the M.2 slot being obscured if you want to use a second video card. Literally you have to make the choice, SLI or use an M.2 SSD and Asus has shown edge mounted vertical M.2 slots so there's no real reason the board couldn't use an upright M.2.
The Asus TUF Sabertooth X99 (the Sabertooth series in general) is a one of a kind product designed for durability and longevity under the harshest of conditions and priced at $300 you get a lot of value but it's not the best OCer and we found it to be finicky during OCing. The other Asus X99 boards we've seen thus far were dreamy overclockers and you can OC the Asus TUF Sabertooth X99 to a certain point (4.4GHz for us) then you have to invest a chunk of time to get it to go farther. We gave it a 6 hour try to get 4.5GHz on a processor we've hit 4.5 GHz with on every other board tested but the Sabertooth X99 wouldn't go to 4.5 GHz for us using 1.4v. We suspect the board will OC higher given the time to spend with it but we had already spent twice as long covering the feature rich board so we had to call it at 4.4 GHz.
The Bear Facts: The Asus TUF Sabertooth is a one of a kind motherboard designed to take a beating and keep on running and we love the TUF aspect of the Sabertooth. Some compromises were made like the ON Semiconductors' NTMFD4C85N (4C85N) dual N-channel MOSFETs which might meet Military standards but aren't the same OCing quality as the International Rectifiers' IR3550 PowIRStage MOSFETs found on the Pro Series and Rampage boards. The layout of the TUF Sabertooth X99 left a little to be desired but take into account the $300 price tag and the durability and you find a board doing the job it was designed to do. The board was designed to take a beating and Asus stands behind that with a 5 year warranty and if durability and dust intrusion are problems for you the TUF Sabertooth will keep your rig running.
Pros
Cons

TUF Detective
Dust Intrusion Prevention Measures
Price
Rigid Backplate
I/O Dust Prevention Caps
Thermal Radar 2
USB 3.1

No WiFi
SLI or M.2 Not Both
2nd Tier MOSFETs
Lack Of In-OS Overclocker
BIOS Auto OCing minimal