G.Skill Ripjaws 4 2666MHz, A Closer Look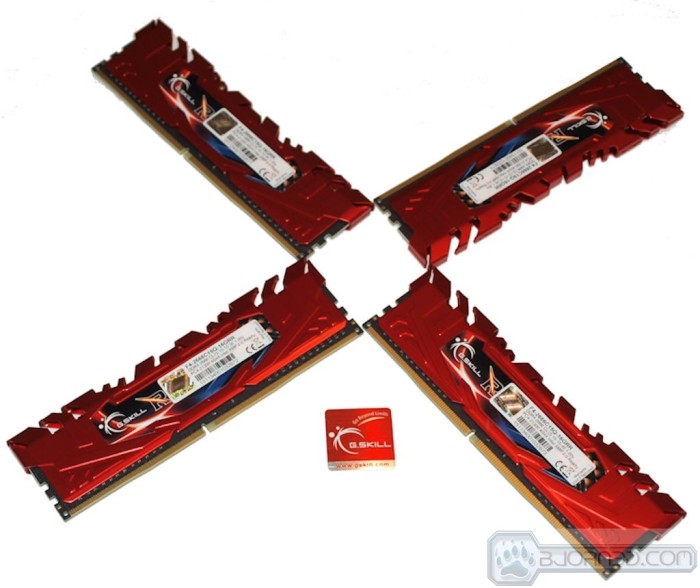 The 4 x 4GB kit of G.Skill came on a simple, retail hang card, and the clam shell package contained four sticks of G.Skill RAM and a case badge. Let's get a look at the specifications sticker in case you're searching for a specific kit.

As you can see, this is a DDR4 2666MHz CL 15-15-15-35 kit rated to run at 1.2V. Since it's quad-channel, it of course has four, 4GB sticks, totaling 16GB and the kit model number is F4-2666C15Q-16GRR.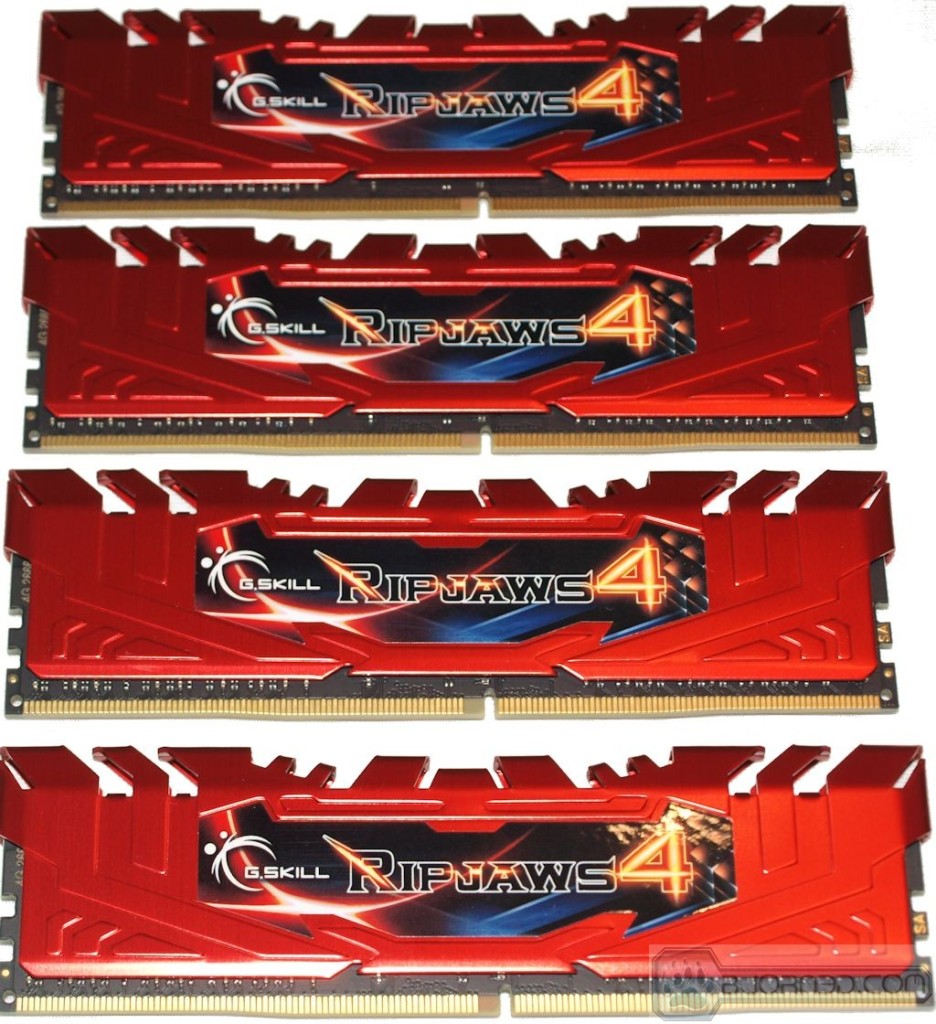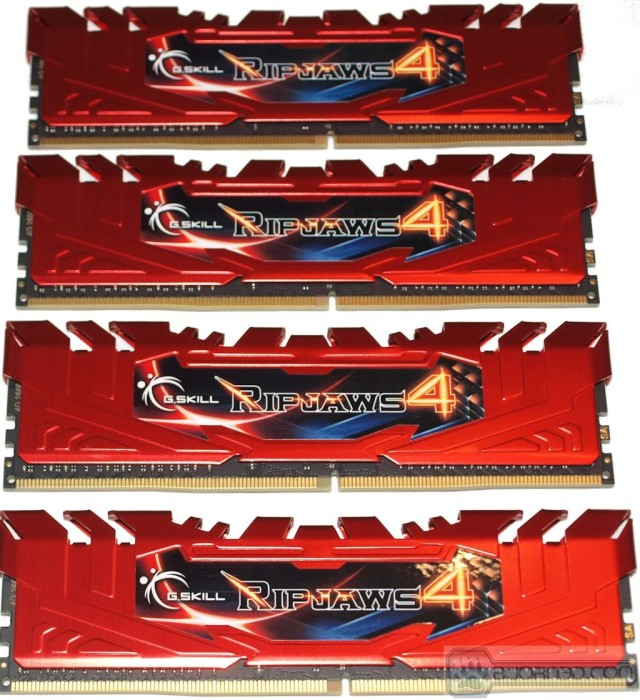 Laid out on the logo side you wouldn't expect the 4th generation Ripjaws kit to be designed for the ultimate experience on the Intel X99 platform. No matter if you are gaming, rendering or churning through large amounts of data, the G.Skill Ripjaws 4 will provide a seamless, hassle-free experience. We've seen kits by major manufacturers with Intel XMP 2.0 clip into systems and just not work with the pre-designed XMP settings. A day or a day and a half later you get them to run correctly and it's smooth sailing from there. This kit of Ripjaws 4 went from the clam shell, into the rig, we clicked enable XMP in the BIOS and it booted right up to 2666 hassle free. Any kit of RAM that boots to its XMP standard hassle-free gets points with us. Any kit that has to be wiggled into place, tweaked and pushed to run the XMP 2.0 profile loses points. The fact is, if it has an XMP 2.0 profile, make triple-sure it works. Inexperienced end users can have horrible experiences from iffy XMP RAM kits.
G.Skill insures that your kit will run right out of the clam shell no tweaking needed. Clip your G.Skill RAM into place, set the XMP BIOS setting and boot into your favorite headshot environment and start owning your opponents.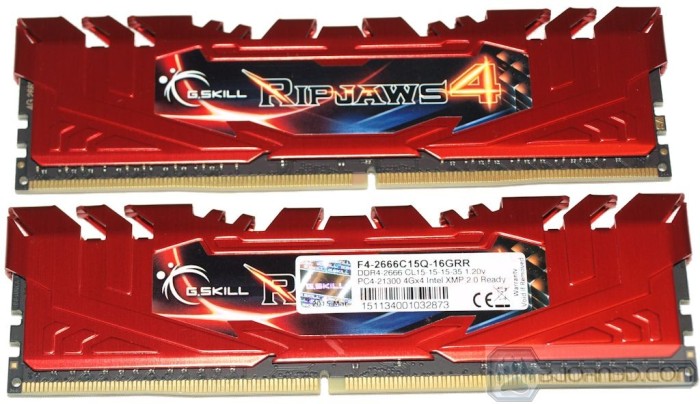 Shown above, the front and back of the Ripjaws 4 kit shows us that G.Skill isn't afraid to put some style into their RAM sticks. Everything about them screams "Look at me! I'm fast!". Looks don't count for everything but G.Skill's philosophy with Ripjaws 4 is to have top performance while looking great.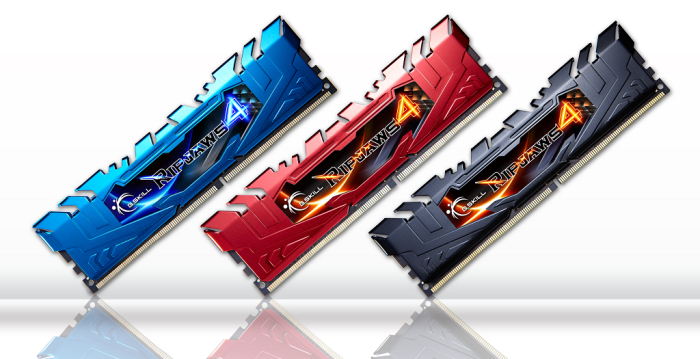 Coming in three colors, G.Skill is sure to have a color to suit your systems motif and running with less voltage than DDR3, the voltage sipping 1.2V kit won't add extra heat to your chassis. We've often wondered why RAM manufacturers haven't stepped up the look of their RAM. Black on black, with maybe a little accent on top, like some old dude headed into church in a black suit. G.Skill breaks from the norm and produces amazing looking RAM and backs it with performance fit for the hungriest enthusiast.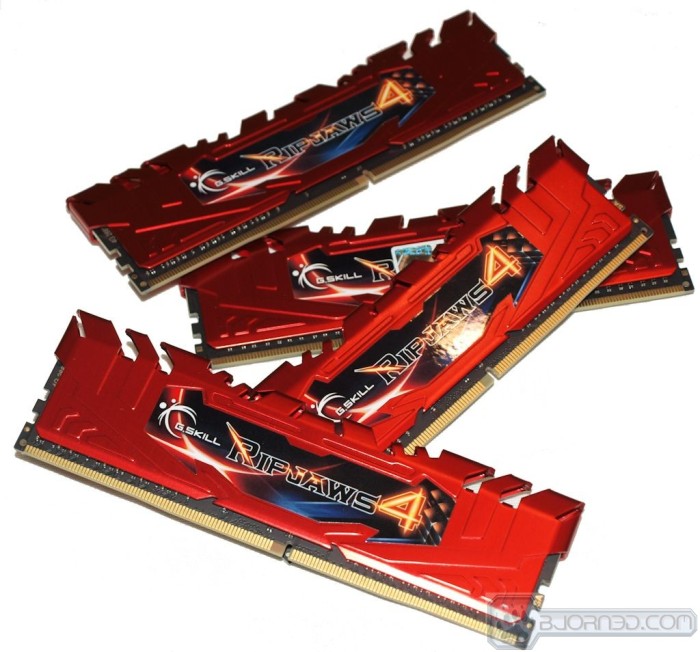 The RAM module beneath the highly effective and solid heat sink is XMP 2.0 and wears a limited lifetime warranty. The G.SKILL technical team is always ready to provide consumers with complete technical support via an online forum, Facebook, telephone, and e-mail. At times we pose as normal customers and call, e-mail or go to a forum and ask for help; after all, tech support and warranty service is as much a part of a product's performance as anything else. If you have a problem, you want prompt help and not some stodgy drone wearing a headset, watching the time clock. We called G.Skill anonymously to request tech support and had them walk us through setting the Asus X99 Deluxe to XMP. The wait for a technician was about three minutes and those three minutes included, the entire call lasted fice minutes and they had successfully walked us through setting up the RAM.  Tech support was prompt, courteous and spot on when it came to the solution we were seeking.