G.Skill TridentZ DDR 4 DC 3200 MHz
When it comes to computers faster bigger and badder is better and speed in computing is a factor of money and carefully selected components that keep you off the Ramen shelves at your local grocers. Processor speed has always been king in computing but if you really must have that high-end instrument of destruction giving you every edge in computing and gaming then you need cutting edge ram as well. G.Skill has been at the forefront of affordable high-end ram and along with that affordability a dominant sense of style.. The G.Skill TridentZ 3200 MHz kit we're looking at today is timed at 16 18 18 38 and rated to run at 1.35v and is a 16GB (2 x 8GB) kit at an amazing price of $138.
Now it would be super nice if all of us could afford a 3200 MHz kit rated to run at 11 11 11 but most of us aren't going to spring the pocket shocking prices e-tailors expect for those tight timed kits. Frankly at the pace technology is running if you like to stay close to the cutting edge this years 11 11 11 timed kit that runs north of $1K is next years prized memory so in most cases we are better of taming the hardware demons and finding a kit that balances the need for speed with the need for a positive bank balance.
We've had hands on several G.Skill kits across X99 and Z170 that are just mind-blowing good deals and all of them have been easy to install and run. We'll get into the niceties of uber fast ram in a bit but ram has changed since the early days of computing and the hardware has changed with it. Now your memory controller i on the CPU die and it's still early enough in the on die memory controller game that different CPU;s will be able to run ultra fast ram while others might have to settle for a slight down clock to pull it off.
Most CPU's in the Skylake series, at least the high-end CPU's will run 3200 MHz ram but it might take a little voltage tweaking to get the best results. G.Skill has multiple forms of support so you can rest assured that if you plug your it in and the XMP puts you onto a "Failed Overclock" screen and you're at your wit's end you can contact them for tech support on the G.Skill Website, by Telephone, Fax or Email which is excellent for your different needs for tech support. They also give a lifetime warranty for their ram so they not only support you if you need a little help but they also stand behind their ram with a rock solid lifetime warranty.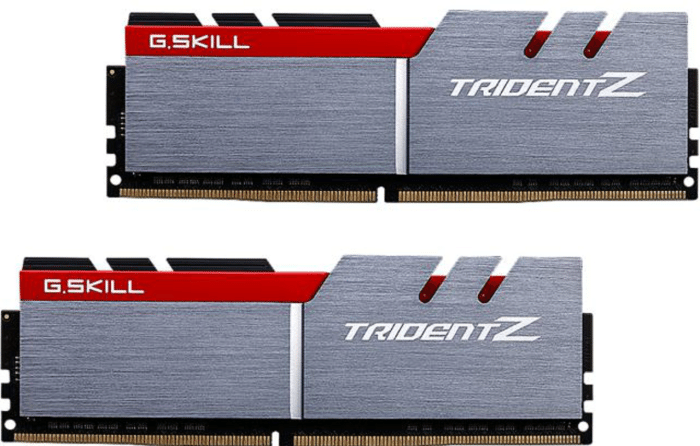 The new look G.Skill has on their TridentZ kit is brushed metal with a beautiful Black PCB and Red strip with the G.Skill name prominently displayed. The razor edged look of the ram fits with a wide variety of motherboards which is something more vendors need to keep in mind. There's no need for those plain black blah looking heat sinks and there's been a disturbing trend of ram going back to generic low profile heat spreaders. G.Skill breaks the mold and designed style into the TridentZ kit along with the blazing speed.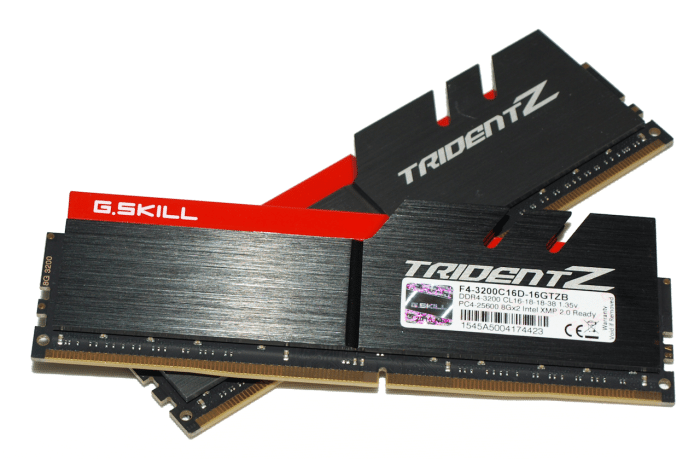 Flip the TridentZ over and you have the specifications sticker and a black brushed metal and the same red strip with the G.Skill name emblazoned on the red stripe. We do have to say this is one of the sharpest looking kits we've seen in quite a while and with great performance that look will probably send us back to the G.Skill well of ram goodness as opposed to the blander heatsinks we've seen from other manufacturers. When it comes to our rigs most of us are willing to put a buck or two more into a great looking part and this is one part we'd spend an extra buck or two to get.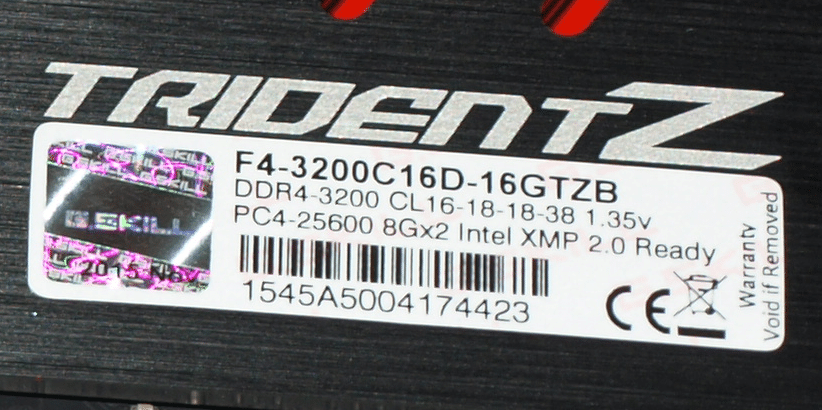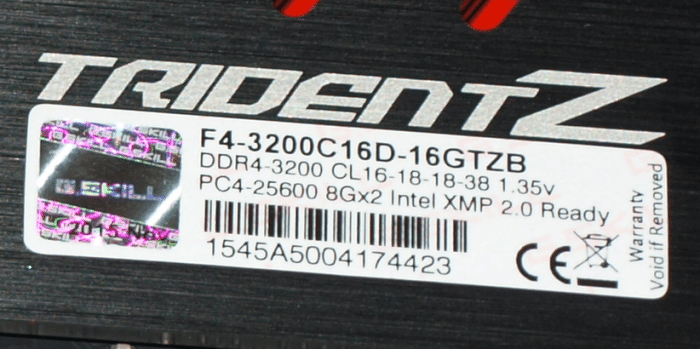 Here's a shot of the sticker found on each stick for identification purposes G.skills part number is F$-3200C16D-16GTZB. The Specs are listed as DDR4-3200 8GBx2 and XMP 2.0 ready. The PC4-25600 is a mind-blowing number and a leftover from lower speed ram but it's simple just divide it by 8 and you get the native speed of 3200.
Specifications
SPECIFICATIONS
MANUFACTURER:
GSkill
MODEL:
F4-3200C16D-16GTZB
SPEED
3200 MHz
RATED TIMINGS:
16-18-18-38-2t
CAPACITY:
16 GB (8 GB x2)
TESTED VOLTAGE:
1.35 V
PCB TYPE:
8-Layer
REGISTERED/UNBUFFERED:
Unbuffered
ERROR CHECKING:
Non-ECC
FORM FACTOR:
288-pin UDIMM
WARRANTY:
Lifetime