Final Thoughts & Conclusion
G.Skill not only built blazing speed into their TridentZ 3200 MHz kit they redesigned the heat spreaders and reminded everyone that ram can be one of the focal points

in your rigs aesthetics. The brushed metal and eye-popping red stripe stand out and make a statement more than a lot of the generic black heat spreaders we've seen. The blend of grey, black and red covers a lot of ground in matching the colors of your rig and frankly the TridentZ kit is one of the nicest looking its we've seen in a while.
Good looks only gets you a few points grace when it comes to reviewing and without performance the best looking part won't pass muster. The G.Skill TridentZ 3200 MHz kit topped the charts in all but one test and in most tests did so with a substantial lead. We were amazed at the ease of installation and configuration but we did have to up VCCIO and System Agent and in the end gave PCH a little bump for good measure.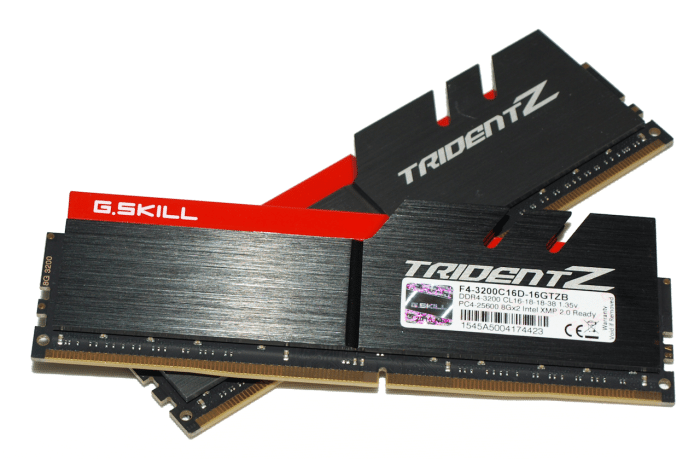 We hit 3297 MHz overclocking which isn't bad for a tightly would kit already running at 3200 MHz and while there is OCing headroom for glory runs and benching we feel that the native 3200 MHz is plenty of speed so we set up a BIOS profile for 3297 MHz and one for 3200 MHz and every day tasks we just run 3200 MHz. Speaking of MHz we did find one minor point lacking on the G.Skill TridentZ kit and it's not really something you can take points away from on scoring. On these uber fast kits we would like to see a second XMP set around 2666 MHz with tighter timings in case someone has install problems they can rely on the slower speed until they have the kit properly tuned.
Overall we really enjoyed installing and OCing the kit but the payoff was in increased performance and it just took minor voltage changes to get the best performance so we could spend more time enjoying the kit and gaming than grueling hours tweaking other kits and that alone scores a lot of points for us. Give us a good solid fast installing component that lets us get back to the fun in computing and gives us the boost in performance we want and you have a winner all day long.
Pros
Cons

Price
Ease Of Installation
Sharp Looking Kit
Top Of The Charts Performance
Nice Black 8 Layer PCB
Bold But Matching Systems Colors Design
Lots Of Speed

Needs A Lower Speed XMP For Beginners