ROG MAXIMUS VIII IMPACT Introduction
Hello hardware enthusiast. Today we look at one of the most impressive and awe inspiring manifestations of technology to grace the Bjorn3D lab, The ASUS ROG MAXIMUS VIII IMPACT. The latest iteration of the Maximus IMPACT pushes the boundaries of what can be expected from a mITX motherboard. ASUS has went above and beyond to produce an mITX motherboard that can hold it's own when facing off against much larger contenders.  With the addition of onboard or vertical daughter cards ASUS has been able to produce a micro monster that doesn't force the user to give up features in search of compact size. The MAXIMUS VIII IMPACT is also not in the business of compromising when it comes to overclocking capability either, with MicroFine Alloy Chokes, PowlRstage MOSFETs, and 10K Black Metallic Capacitors the MAXIMUS VIII IMPACT is undoubtedly without equal in the mITX scene.  For years ROG has been the forefront of extreme enthusiast level hardware and the latest generation of MAXIMUS motherboards shows the techs at ASUS have every intention of continuing to provide the public with design and features that shatter expectations and preconceived notions of what the best of the best can be.
"The Republic of Gamers is committed to producing the most innovative hardcore PC performance hardware, enabling the ultimate computing experience for gamers and enthusiasts worldwide."
 Key Features
Dual DDR4 4133(OC) support
Impact Power III, 5-Way Optimization with Auto-Tuning, Pro Clock, second-generation T-Topology
Champion-level SupremeFX Impact III audio card with intuitive Sonic Studio II
Best-in-class Intel® Gigabit Ethernet, LANGuard and GameFirst technologies
2×2 802.11ac Wi-Fi with MU-MIMO , NVMe U.2 and USB 3.1 Type-A and Type-C for extreme-speed transfers and total compatibility.
Carefully-selected premium components for maximum durability.
ROG gives you gaming-oriented utilities, all free!
Keybot II
ROG RAMCache
Built-in 32Gb/s U.2
Inside The Box
For something not much bigger than the size of one's hand the MAXIMUS VIII IMPACT comes well equipped, as is to be expected from an ROG product. Instant points for ROG fan badges, as well as ROG Cable Labels which are extremely helpful to keep track of all your wires in your new mITX rig, which can be difficult to track in such confined build spaces.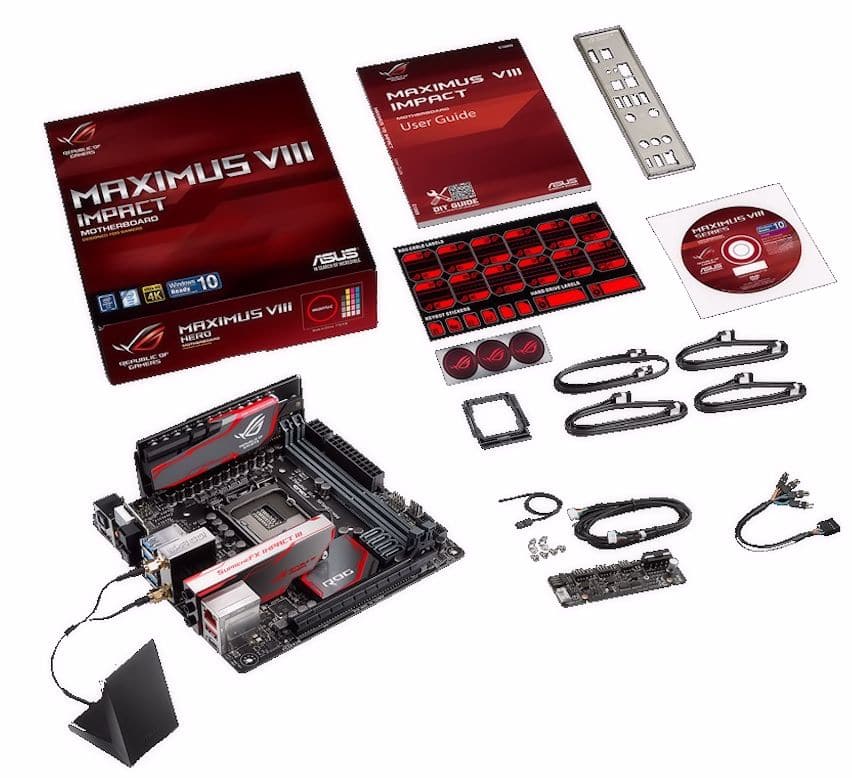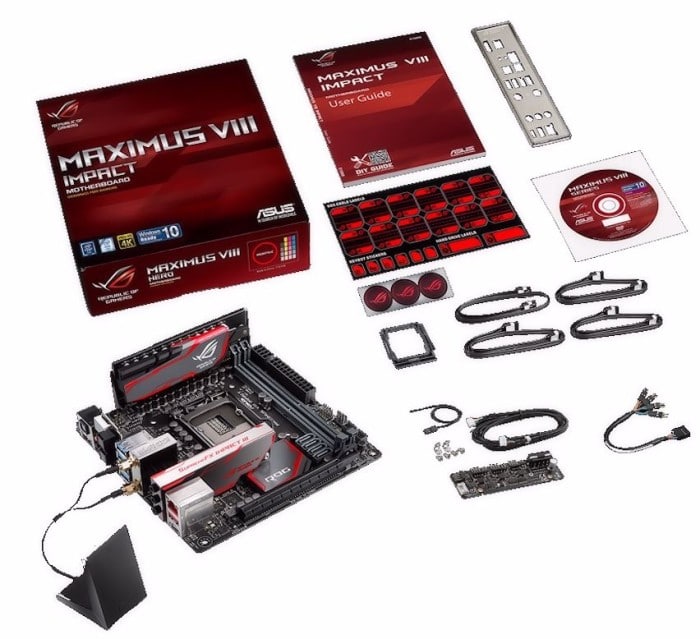 Package includes:
1 x Fan Extension Card (3 x 4-pin fan out)
1 x Fan Extension card screw pack
1 x ASUS 2T2R dual band Wi-Fi antenna (Wi-Fi 802.11a/b/g/n/ac compliant)
4 x SATA 6Gb/s cables
1 x 5-pin to 5-pin cable
1 x Panel cable
1 x Thermistor cable
ROG Fan Label
1 x 12 in 1 ROG Cable Labels
1 x CPU installation tool
1 x Supporting DVD
ASUS Q-Shield
User's manual
In Depth Specifications
CPU
Intel® Socket 1151 for 6th Generation Core Processors
Chipset
Intel® Z170
Memory
2 x DIMM, Max. 32GB, DDR4 4133(O.C.)/4000(O.C.)/3866(O.C.)/3800(O.C.)/3733(O.C.)/3600(O.C.)/3500(O.C.)/3466(O.C.)

Non-ECC, Un-buffered Memory
Dual Channel Memory Architecture
Supports Intel® Extreme Memory Profile (XMP)

Graphics
Integrated Graphics Processor- Intel® HD Graphics support
– Supports HDMI with max. resolution 4096 x 2160 @ 24 Hz
Supports Intel® InTru™ 3D, Quick Sync Video, Clear Video HD Technology, Insider™
Expansion Slots
1 x PCIe 3.0/2.0 x16 (x16 mode, black)
Storage
Intel® Z170 chipset :
1 x U.2 port, black,
4 x SATA 6Gb/s port(s), gray,
Support Raid 0, 1, 5, 10
Intel® Rapid Storage Technology supports*1
Supports Intel® Smart Response Technology*1
LAN
Intel® I219V, 1 x Gigabit LAN Controller(s), GameFirst technology
Intel® LAN- Dual interconnect between the Integrated LAN controller and Physical Layer (PHY)
Anti-surge LANGuard
Audio
ROG SupremeFX Impact III 5.1-channel High Definition Audio CODEC
– Supports : Jack-detection, Multi-streaming, Front Panel Jack-retasking
– SupremeFX Shielding Technology
– ESS® ES9023P DAC: dB SNR, dB THD+N (Max. kHz/ -bit)
– 2VRMS Headphone Amp into (32-600Ohms)
– Front panel audio connector (AAFP)
Audio Features :
– Gold-plated jacks
– DTS Connect
– Optical S/PDIF out port(s) at back panel
– Sonic SenseAmp
– Sonic Studio II
– Sonic Radar II
USB Ports
Intel® Z170 chipset :
6 x USB 3.0 port(s) (4 at back panel, blue, 2 at mid-board)
Intel® USB 3.1 controller :
1 x USB 3.1 port(s) (1 at back panel, black, Type-C)
Intel® USB 3.1 controller :
1 x USB 3.1 port(s) (1 at back panel, red, Type-A)
ROG Exclusive Features
Slow Mode
ROG RAMCache
Overwolf
SupremeFX Impact III
Start Button
Reset Button
LN2 Mode
Impact Power III :
– MicroFine Alloy Chokes
– 10K Black Metallic Capacitors
– IR3553 PowIRStage® MOSFETs
Mem TweakIt
ProbeIt
KeyBot II
– One-click Overclocking
– X.M.P.
– DirectKey
– ClrCMOS
– Power On
UEFI BIOS features :
– O.C. Profile
– GPU.DIMM Post
– Tweakers' Paradise
– ROG SSD Secure Erase
– Graphic Card Information Preview
ROG RAMDisk
Extreme Tweaker
Special Features
OC Design – ASUS PRO Clock Technology
– Full BCLK range for extreme overclocking performance
5-Way Optimization by Dual Intelligent Processors 5
– 5-Way Optimization tuning key perfectly consolidates TPU, EPU, DIGI+ Power Control, Fan Xpert 3, and Turbo App
ASUS Wi-Fi GO!ASUS Exclusive Features :
– MemOK!
– AI Suite 3
– Ai Charger+
– USB 3.1 Boost
– Disk Unlocker
– Mobo Connect
– PC Cleaner
Remote Entertainment
– Media Streamer
– HyStream
ASUS EZ DIY :
– ASUS CrashFree BIOS 3
– ASUS EZ Flash 3
– ASUS USB BIOS Flashback
– Push Notice
ASUS Q-Design :
– ASUS Q-Shield
– ASUS Q-Code
– ASUS Q-LED (CPU, DRAM, VGA, Boot Device LED)
– ASUS Q-Slot
– ASUS Q-DIMM
Overclocking Protection :
– ASUS C.P.R.(CPU Parameter Recall)Wi-Fi 802.11 a/b/g/n/ac
-Supports dual band frequency 2.4/5 GHz
-Supports MU-MIMOBluetooth V4.1
Back I/O Ports
1 x HDMI
1 x LAN (RJ45) port(s)
1 x USB 3.1 (black)Type-C
1 x USB 3.1 (red)Type-A
4 x USB 3.0 (blue)
1 x Optical S/PDIF out
3 x Audio jack(s)
1 x Clear CMOS button(s)
2 x Wi-Fi antenna port(s)
1 x USB BIOS Flashback Button(s)
1 x Q-Code LED
1 x Start Button
1 x Reset Button
Internal I/O Ports
1 x U.2 port
1 x USB 3.0 connector(s) support(s) additional 2 USB 3.0 port(s)
4 x SATA 6Gb/s connector(s)
1 x CPU Fan connector(s) (4 -pin)
1 x Chassis Fan connector(s) (4 -pin)
1 x 24-pin EATX Power connector(s)
1 x 8-pin ATX 12V Power connector(s)
1 x Front panel audio connector(s) (AAFP)*2
1 x System panel(s)
1 x ProbeIt Measurement Points
1 x Thermal sensor connector(s)
1 x 5-pin EXT_FAN(Extension Fan) connector
1 x LN2 Mode jumper(s)
1 x SupremeFX Impact II connector(s)
1 x Slow Mode jumper(s)
1 x SupremeFX Impact III connector
1 x M.2 socket pre-installed with a Wi-Fi/Bluetooth module
1 x System panel connector
Support Disc
Drivers
ROG GameFirst technology
ROG RAMDisk
ROG RAMCache
ROG CPU-Z
ROG Mem TweakIt
Overwolf
Keybot II
Kaspersky® Anti-Virus
DAEMON Tools Pro Standard
ASUS WebStorage
ASUS Utilities