ROG MAXIMUS VIII IMPACT – Looking Closer
First things first we will look at an overview of the MAXIMUS VIII IMPACT to see what features ASUS has included and where everything is located.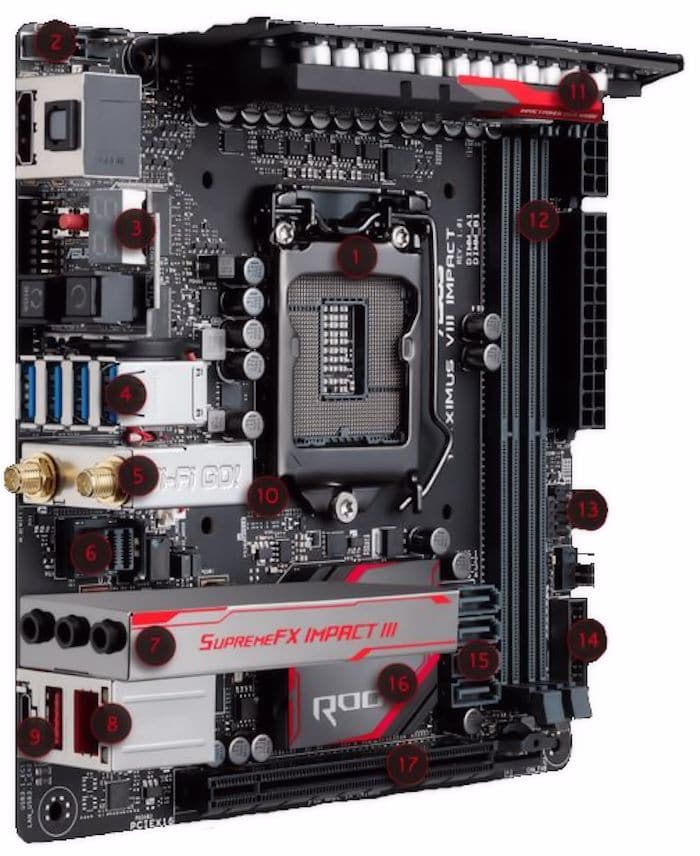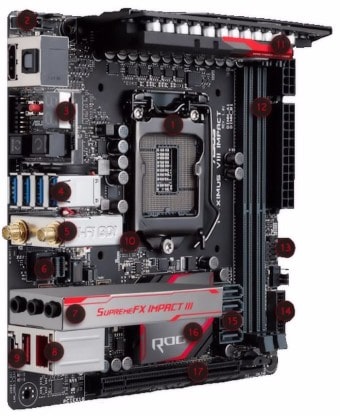 MAXIMUS IMPACT VIII LAYOUT: 
 Intel® Socket 1151 for 6th Generation Core Processors
EXT FAN Header \ CPU FAN Header
Impact Control III – Start, Reset, Clear CMOS, USB BIOS Flashback buttons, Q-Code display
Stack of (4) USB 3.0, bottom port acts as KeyBot II port
Wi-Fi 802.11 a/b/g/n/ac with MU-MIMO
Built-in U.2
SupremeFX Impact III dedicated sound – ESS ES9023P DAC, 2VRMS Headphone Output, Sonic SenseAMP, NEC De-pop Relay
Intel® I219-V – GameFirst, LANGuard
USB 3.1 Type-A, USB 3.1 Type-C, Powered by Intel USB 3.1 controller
ASUS PRO Clock
Impact Power III – MicroFine Alloy Chokes, PowIRStage® MOSFETs, 10K black metallic capacitors
DDR4 4133+ MHz(OC) – 2 DIMM Dual Channel, XMP Support
System Panel
USB 3.0 port
SATA 6Gb/s ports
Intel® Z170 Chipset
PCIe 3.0 x16 (CPU)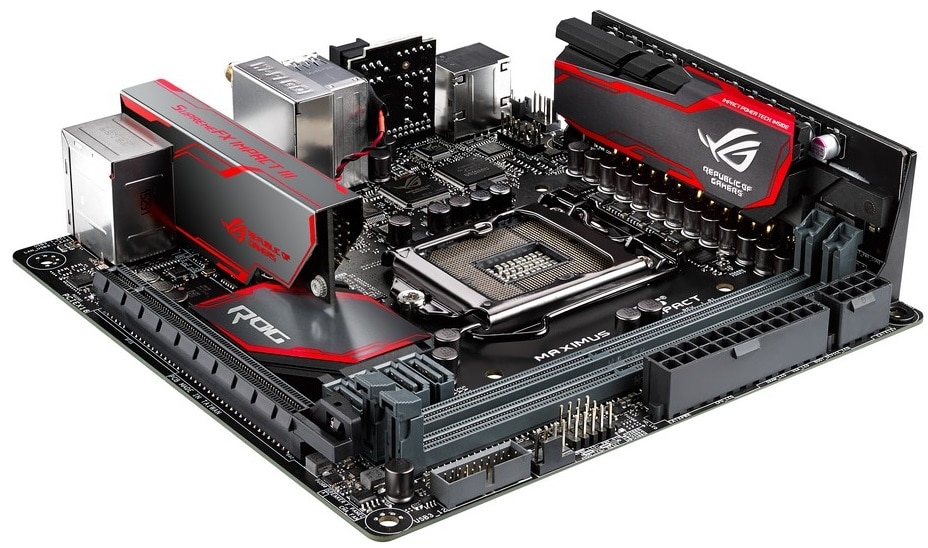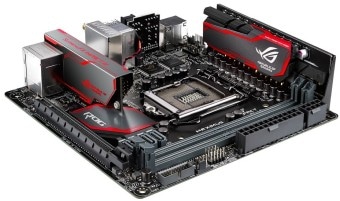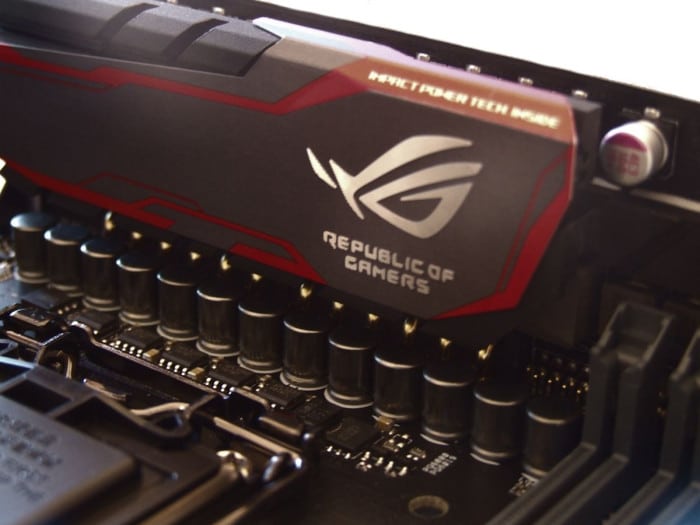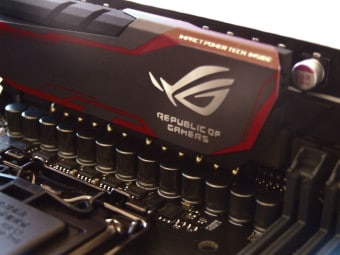 The ROG MAXIMUS VIII IMPACT is packed full of high end hardware that you won't find elsewhere on the mITX market. For VRM component choices you will find MicroFine Allow Chokes which offer high permeability, reduced inductance roll-off, large current capacity, and greater efficiency than previous designs. Next are the PowlRstage MOSFETs which are the best in the business, arranged in a 6 phase CPU (Vcore) power delivery circuit capable of sustained current draw well beyond platform requirements when overclocked. Last up are the 10K Black Metallic Capacitors which have a much wider temperature tolerance than conventional capacitors which translates into greater lifespan. Compared to the general mITX motherboard the IMPACT VIII is like comparing an F16 to a Cesna.

Here we see that backside of the VRM PCB which is protected by a branded ROG backplate to keep things safe. By implementing onboard or vertical daughter cards ASUS has been able to include features that generally there is no room to fit on an mITX board. By utilizing this available vertical space ASUS is able to provide the MAXIMUS VIII IMPACT with a VRM component system and audio capability that rivals most any full size board on the market.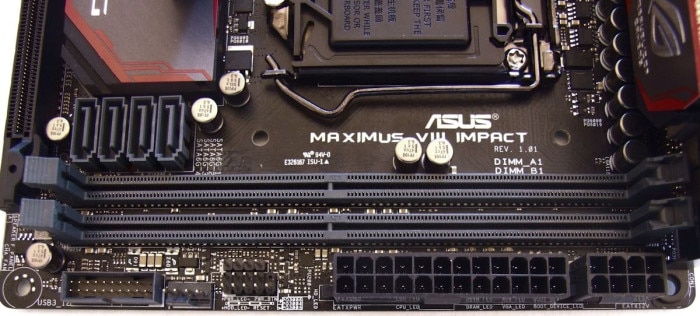 While ATX and mATX boards have room for 4 DIMM slots, due to Skylake CPU pad layout, mini-ITX is constrained to 2 DIMMs only. With the availability of high density memory modules which allow the IMPACT to still reach 32GB RAM this isn't really a problem.  There is actually an upside to having less DIMM slots, having fewer memory slots and an optimized layout allows higher memory frequency capability, lower operating voltages, and lower latencies than ATX counterparts. ASUS Claims 4133MHz Memory OC, now mind you this result was attained under the most optimal conditions possible with the creme of hardware but the fact the MAXIMUS VIII IMPACT hit those numbers under any condition is impressive.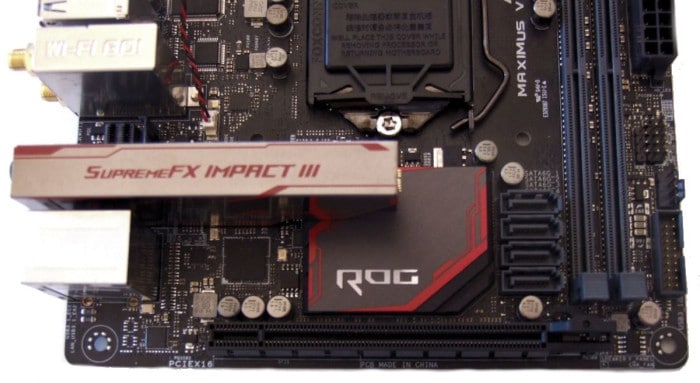 If you haven't already noticed the MAXIMUS VIII IMPACT has a black PCB which makes the red and metal finish ROG accenting look incredible. At this angle we see the IMPACT has one PCIe 3.0 x16 slot. Above that we get four SATA 6Gb/s connectors. To the right sits a USB 3.0 and fan header. To the left we get the SupremeFX IMPACT III dedicated sound card which we will get into more in depth in just a bit.

For the back I\O we get a mITX builders dream layout. From left to right we get an optical S/PDIF out on top of one full size HDMI port. Next is the IMPACT Control III blah area with Q-Code LED display, start button, reset Button, Clear CMOS button, and USB BIOS Flashback Button. Moving along we get a stack of four USB 3.0 ports which double as KeyBot II ports, Wi-Fi antenna ports, and a SupremeFX Impact III dedicated audio card with three audio jacks. Between the Wifi outs and SupremeFX III you can see the onboard U.2. Last but not least is a LAN (RJ45) port with a USB 3.1 (red)Type-A and a USB 3.1 (black)Type-C underneath. Having Q-Code display on the back I\O is a great feature as most mITX builds wont have a way to easily get eyes on the inside.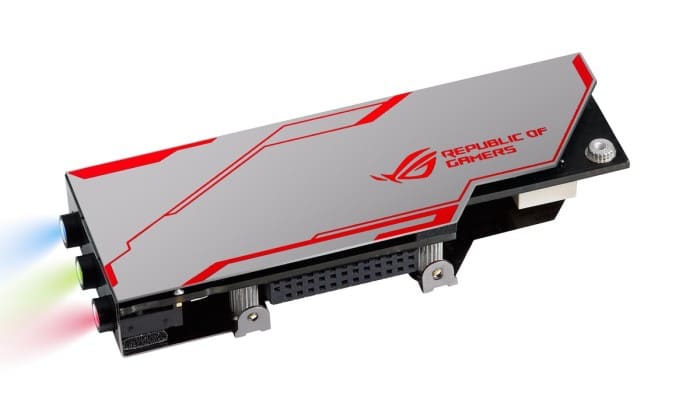 The SupremeFX Impact III has been updated from previous models to include several new features that users will welcome. Headsets and high end micro have become commonplace today and the IMPACT VIII is equipped for the task. You still get the SupremeFX codec, Red Line shielding, and Sonic Sense Amp, but now the SupremeFX III also includes ESS Hi-Fi Sabre™ DAC, Dedicated Clock, Nichicon Capacitors, RC4580 2V Driver, and De-pop relay support. The integrated LED lighting is also a nice touch.
Manufacture Feature Spotlight
SupremeFX Impact III

TI Audio Headphone AMP – Provides a wide operating voltage and high output current, to meet all types of headphone impedance, resulting in true-to-life tonality and sound imaging.
Impedance Sense IC – Supports up to 600ohm – auto-adjusts output gain to suit the headphone drivers being used.
NEC De-pop Relay – Used to prevent DC "thumps" when the system is powered on or off. Time-delays the output latching to occur after the rails have settled.
SupremeFX Shielding – A combination of physical isolation and trace layout techniques that reduce crosstalk between analog/digital domains and noise interference from external sources to preserve a pure audio pathway.
Left/Right Channel Track Separation – Layout technique to separate left/right audio channels, to reduce crosstalk.
Stainless Steel EMI protection cover – Protects the HD audio chip from external noise interference.
Nichicon premium Japan-made audiophile grade capacitors – Provide warm, natural, and immersive sound with exceptional clarity.
ESS Hi-Fi Sabre™ DAC – 24-bit stereo D/A converter powered by the industry proven SABRE DAC technology.
ASUS PRO Clock Technology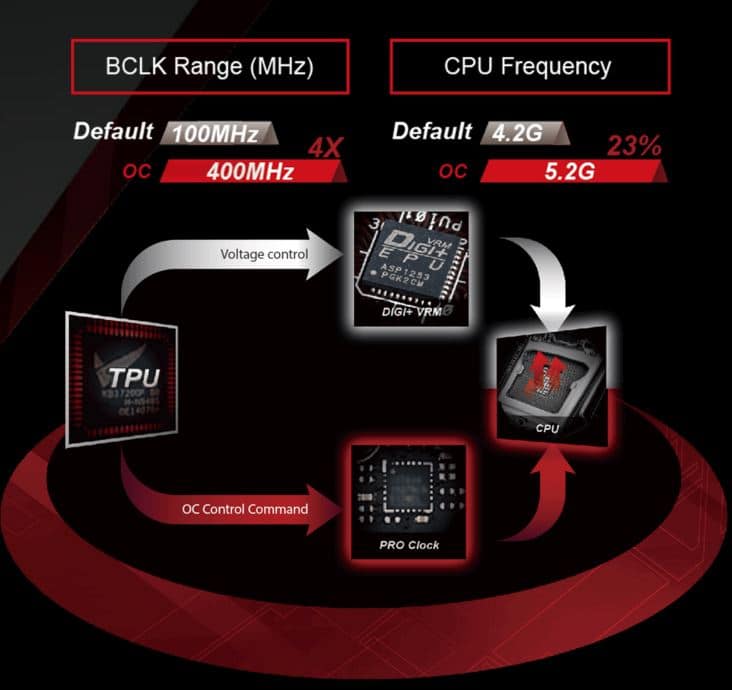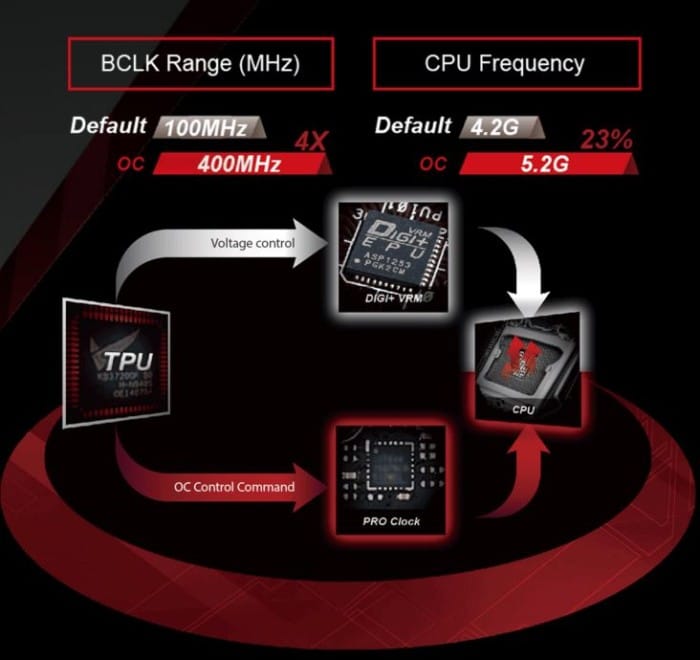 Extended BCLK overclocking range – Intel's standard clockgen is limited to 170 MHz. The ASUS solution is capable of running 450+ MHz (with capable processors).
One-step POST at high BCLK frequencies – The custom micro controller allows setting a high BCLK and can POST without the user needing to increase BCLK in small steps to reach a high BCLK frequency.
Reduced boot times
Lower jitter under extreme conditions for higher overclocks 
Increased stability under heavy overclocking
Sonic Studio II


Smart EQ – Dynamically boost sub bass and high frequency sounds.
Bass Boost – Can boost the bass volume by up to +12dB with one click.
Virtual Surround – Utilizes the world's finest 3D audio algorithms for 360o positioning and virtualization – enabling up to 7.1 channels on 2-channel stereo sets for gaming.
Voice Clarity – Crystal clear voice communication for gaming. Extracts the vocal band and boosts it by up to +6dB to aid clarity.
Reverb – Allows changing the sound scene profile to Studio/Theater/Live/Cave/Church/Stadium type effects.
Equalizer – A 10-band graphic equalizer for users to tune sound to preference.
Form Factor / Compatibility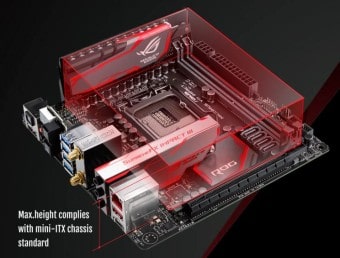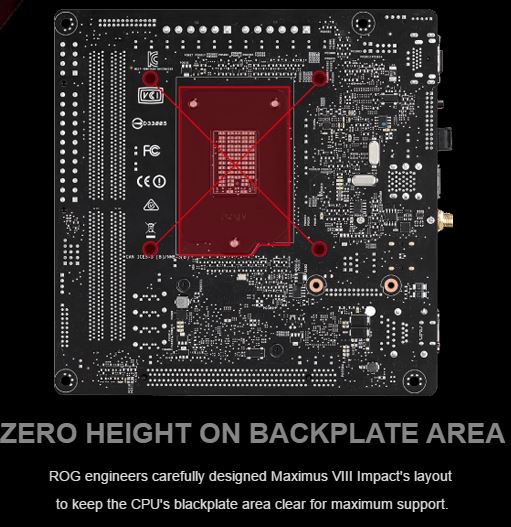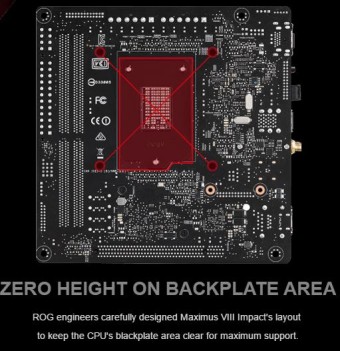 Case and CPU-cooler compatibility is vital to mini-ITX gamers and enthusiasts, so ROG engineers performed hundreds of tests and modifications to perfect the MAXIMUS VIII IMPACT's layout to ensure maximum compatibility with both mini-ITX case designs and CPU coolers.
Intel Ethernet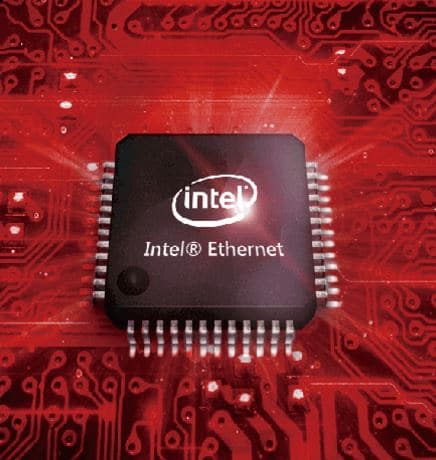 ROG features the very latest Intel® Ethernet (I219-V). Intel's LAN has the serious double advantage of reducing CPU overhead and offering exceptionally high TCP and UDP throughput.