The HyperX Savage 240GB SSD is powered by a quad-core, 8-channel Phison S10 controller providing speeds up to 560MB/s Read and 530MB/s Write. The IOPs on this Savage Monster are 100K/89K read / write and it represents Kingstons fastest Sata drive to date. Sata 6G tops out at 600MB/s per controller but sustained drive operations run more in the 560MB/s range so for Sata 6G the HyperX Savage saturates practical bandwidth. The HyperX Savage challenges the bandwidth Sata 6G offers and shows that drive technology has outstripped the Sata 6G interface. Leave it to Kingston to taunt the Sata 6G interface and challenge the Sata 6G interfaces speed.
Kingston HyperX Savage 240GB SSD Review, Raw Savage Speed
The HyperX Savage 240GB drive comes in two forms, bare drive and upgrade kit. We have to say that we would recommend the upgrade kit for the simple reason that the bundle is so sweet it reminds us of days gone by when vendors offered little luxury extras that were actively sought after. We'll cover the bundle a little later so stick around and discover this luxury bundle containing the must have HyperX Savage SSD.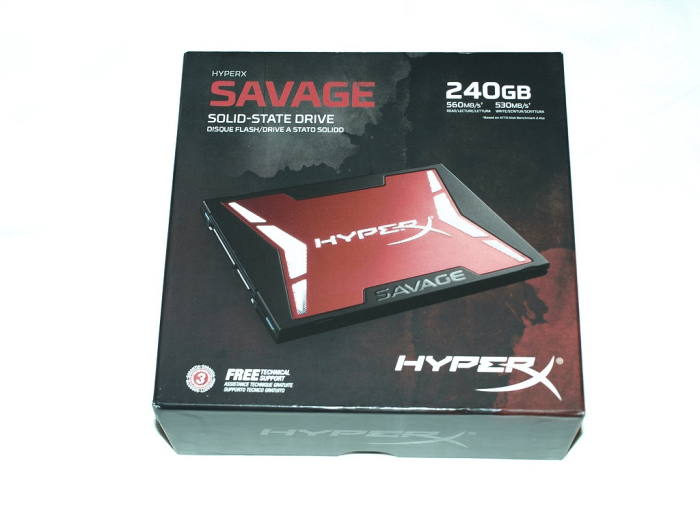 The HyperX Savage comes in 4 flavors, 120, 240, 480, and 960 GB models so we'll cover all the specifications for all the drives. Keep in mind these are advertised specifications and Kingstons tests might differ from ours. Unless specified we test with a completely loaded drive, Operating system, Virus Scanner, benchmarking programs, games and all the productivity software a normal system runs making our test Real World Tests with results you can expect on your machine.
The Specifications table for all the drives is somewhat overwhelming so lets cover our specific HyperX Savage SSD Upgrade Kit then you can feast on the table we created to cover all the drive models.
Our HyperX Savage 240GB SSD offers 560MB/s Read and 530MB/s Write with a 2.5″ form factor using the Sata 6G interface and is a 7mm drive but Kingston includes a 9.5mm adapter. The controller is a quad-core 8 channel Phison S10 which is responsible for handling the blazing 560 / 530MB/s speed the Savage generates. The speed the HyperZ Savage generates should be quite enough to make any system running older SSD's or platter storage seem streamlined and more responsive. If you are coming off of old school 30 MB/s platter storage you are in for an eye-popping experience.
The Power Consumption of the drive is 0.39W Idle / 0.5W Avg / 1.4W (MAX) Read / 4.35W (MAX) Write and it should be stored between -40°C ~ 85°C or for the Metric impaired among us Minus 104°F to 185°F so somewhere between my X-wifes hearts temperature and spilled McDonalds Coffee are safe storage temps. The drive is 100.0mm x 69.9mm x 7.0mm or standard 2.5 inch drive size and depending on model weighs in at 92 – 96 Grams. Here's one that will throw your head for a loop, the 960GB drive weighs 92 Grams and all the others weight 96 Grams so there's something different about the guts of the 960 GB drive but since we don't have a 960 to examine we suppose it just had an extra breakfast pastry this morning. Life expectancy is 1 Million hours MTBF and Kingston stands behind the drive with a 3 year warranty.
Model

 

SHSS3B7A/240G

Form Factor
2.5″
Interface
Sata  Rev 3.0 / 6G
Capacities
120GB, 240GB, 480GB, 960GB
Controller
Phison 3110
Baseline Performance
Compressable (ATTO)
120GB
 560MB/s Read and 360MB/s Write
240, 480, 960 GB
560MB/s Read and 530MB/s Write
Incompressible Data Transfer(AS-SSD and CrystalDiskMark)
120 GB
520MB/s Read and 350MB/s Write
240 GB
520MB/s Read and 510MB/s Write
480 GB
520MB/s Read and 500MB/s Write
960 GB
520MB/s Read and 490MB/s Write
IOMETER Maximum Random 4k Read/Write
120 GB
up to 100,000/up to 84,000 IOPS
240 GB
 up to100,000/ up to 89,000 IOPS
480 GB
up to 100,000/ up to 88,000 IOPS
960 GB
up to 99,000/ up to 89,000 IOPS
Random 4k Read/Write
120 GB
up to 93,000/ up to 83,000 IOPS
240 GB
up to 93,000/ up to 89,000 IOPS
480 GB
up to 92,000/ up to 89,000 IOPS
960 GB
up to 97,000/ up to 89,000 IOPS
PCMARK® Vantage HDD Suite Score
120, 240, 480, 960 GB
84000
PCMARK® 8 Storage Bandwidth
120GB, 240GB, 480GB
223MB/s
960 GB/s
260MB/s
PCMARK® 8 Storage Score
120, 240, 480 GB
4,940
960 GB
4,970
Anvil Total Score (Incompressible Workload)
120. 240, 480 GB
4,700
960 GB
5,000
The Premium Bundle (Upgrade Bundle Kit)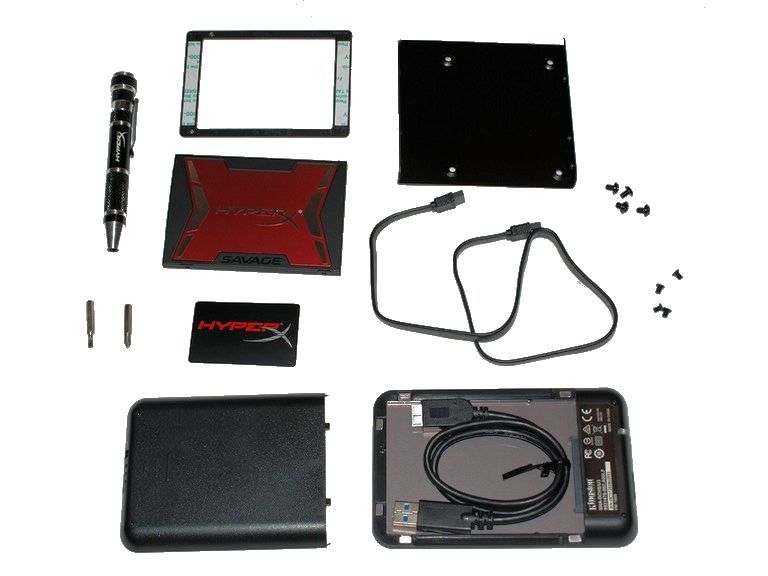 For those wondering the USB 3.0 cable for the external enclosure is indeed stored inside the enclosure which gave us a bit of a start. On first inspection we thought Kingston forgot the cable but on opening the enclosure it fell out on us like a rattle snake causing us to run screaming like very manly little girls. Hey when you live in the Sonoran Desert Valley things that can drop on you are snakes and scorpions so it's prudent to give a manly little girl scream and back away until you see what actually brushed your skin. That's our story and we are sticking to it.
Ugrade Bundle Contents
2.5 inch 7mm HyperX Savage SSD
2.5″ USB 3.0 enclosure
3.5″ bracket and mounting screws
SATA data cable
Hard drive cloning software – download coupon (not pictured)
Multi-bit Pocket screwdriver (two bits)
7mm to 9.5mm Drive Adaptor
Now see what we mean by premium bundle, everything you need except a killer dog computer system is included in this upgrade kit. We were particularly impressed with the HyperX Multi-Bit Screw Driver. The quality is excellent and it's an effective marketing tool the will live on the test bench for years to come. Remember when those massively expensive GPU's came with an actual game on a physical disk and not some $10 in-game purchase certificate, that's what this bundle reminds us of.
Stand Alone Drive Contents
2.5 inch 7mm Hyperx Savage SSD
3.5 inch adapter bracket and screws
Hard Drive Cloning Software
7mm to 9.5mm adapter