INTRODUCTION
Kingston's HyperX Cloud line of headsets have historically been top-notch. And while many gaming headsets come with a premium price, Kingston has taken note, and released the HyperX Cloud Stinger. This stereo headset features a very basic design and feature set, but that doesn't mean you should skip right past it. Kinston took the time to provide not only an affordable headset for gamers, but one that performs quite well when compared to its competition.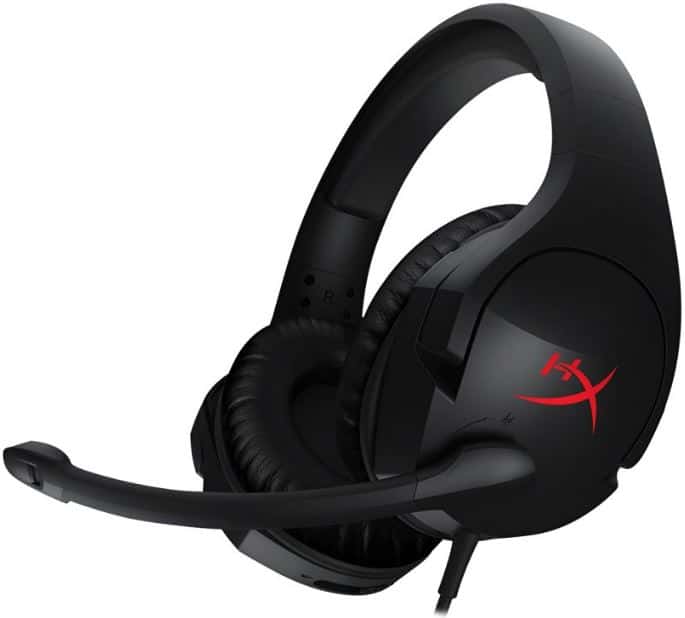 STANDOUT FEATURES
At heart, the Kingston HyperX Cloud Stinger is a stereo headset featuring 50mm directional drivers in each earcup. Stereo headsets are a dime a dozen, so what about the HyperX Cloud Stinger makes it stand out from the pack? Well, we have a few ideas, namely their low weight and comfort.
Lightweight – The first thing we noticed when we picked up the box containing the HyperX Cloud Stinger headset is that it felt almost empty. Fortunately that wasn't the case. The Cloud Stinger headset is just very light, coming in at a mere 275 grams, which translates to right around 9.7 ounces. Oftentimes lightweight devices can feel cheap, but that is not the case here.
HyperX Memory Foam – Nestled under the ear pads and headband is Kingston's signature HyperX memory foam. This foam was very comfortable throughout our testing sessions, and the amount of foam padding seemed to be an ideal amount compared to other headsets we have seen in the past.
SPECIFICATIONS
Headphones
Frequency Response: 18Hz-23kHz
Impedance: 30 Ohms
Sound Pressure Level: 102 (+/-3dBSPL/mW at 1kHz)
Drivers: 50mm with neodymium magnets
T.H.D.: <2%
Cable Length: Headset – 1.3m. Extension – 1.7m
Connector: Headset – 3.5mm 4-pole. Extension – 3.5mm stereo and mic plugs
Microphone
Type: Electret Condenser
Polar Pattern: Uni-directional, Noise-cancelling
Frequency Response: 50Hz-18kHz
Sensitivity: -40 dBV (0dB=1V/Pa, 1kHz)
CLOSER LOOK
Packaging
The Stinger's packaging features a very prominent image of the headset on the front of the box, and lists a few of the various features found on the product. A red bar across the top of the front panel touts some of the various devices that the Cloud Stinger is compatible with, but for our review purposes, we will be focused on PC usage. Flipping the box to the backside reveals another look at the headset, and more highlighted features. One thing we find interesting about HyperX products is the almost non-existent Kingston name on any of the packaging or devices themselves.
Headset
As mentioned earlier, the Kingston HyperX Cloud Stinger is aimed at budget-conscious gamers that don't want to spend an arm and a leg on every single one of their peripherals. Kingston is touting this as the best gaming headset for under $50. With that being said, don't expect any LED lighting on this unit. The Stinger features a nearly all plastic build, along with a nearly all black color scheme. Apart from the red HyperX logo on each ear cup, this thing is pure black, not counting the brushed steel slider used for size adjustments. Build quality is nothing to write home about, but it is not lacking either. It is what we would expect from a $50 gaming headset, and at no point did we think it felt cheap or flimsy. This is to be expected from a nearly all plastic unit.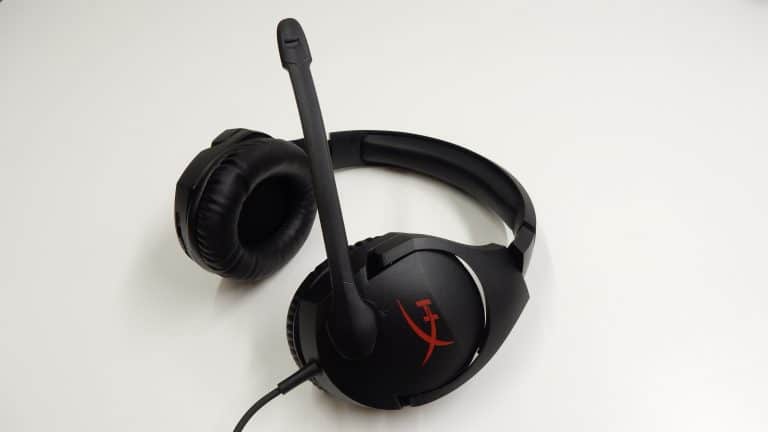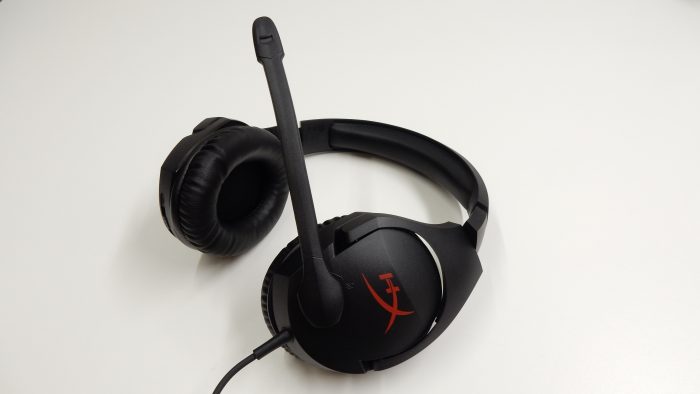 As is expected with quality gaming headsets, both ear cups swivel and hinge to provide a comfortable fit for nearly any head size and shape. The matte black finish of the ear cups is nothing too flashy, which we really liked; not everything needs to be lit up or decked out in gloss and chrome. The left ear cup features a standard swivel microphone arm that has some adjustability to it. Rotating the microphone to a vertical position initiates the mute, while swinging it back down into position re-enables the microphone. No more feeling around for a mute button.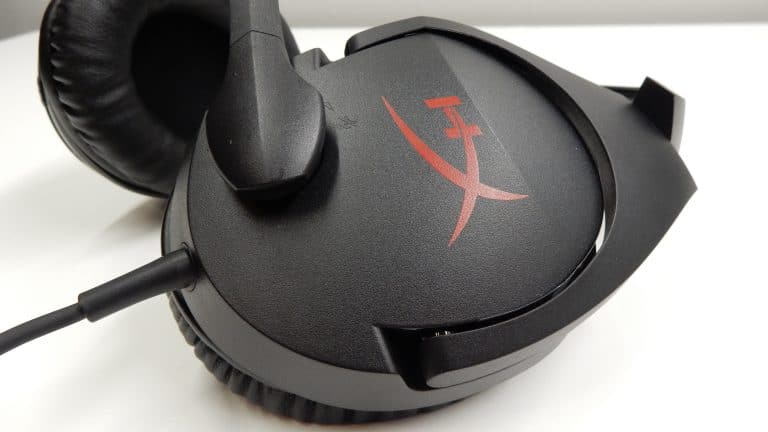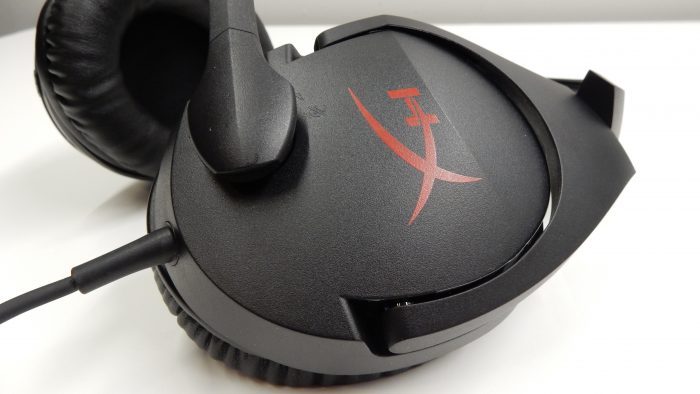 Volume control is handled by an intuitive slider on the right ear cup. Sliding front to back, this easily adjustable method of volume control really impressed us.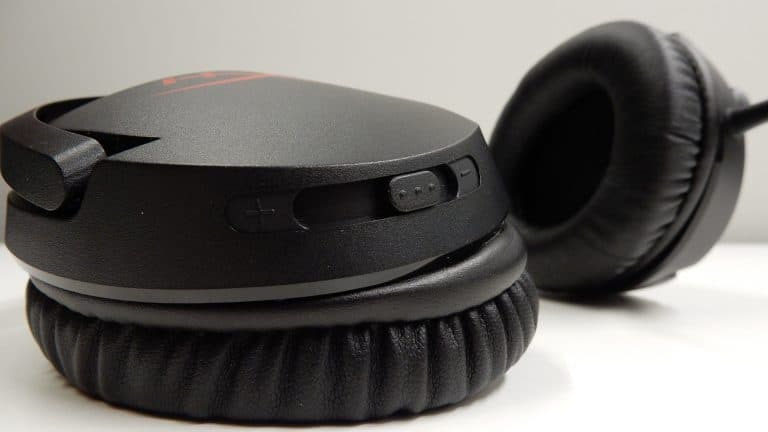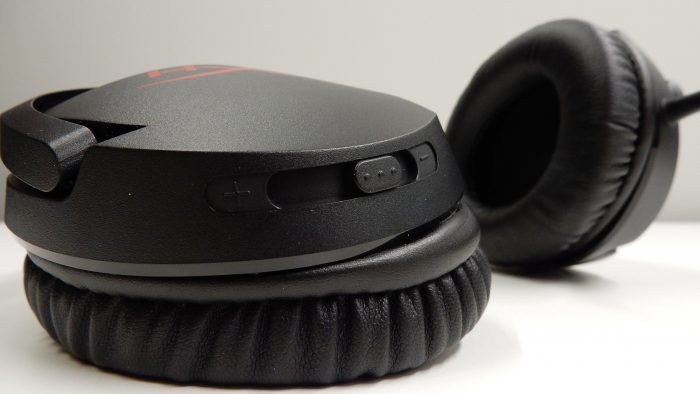 Cost and comfort were really at the forefront of Kingston's plans for the HyperX Cloud Stinger, and the latter was made evident with the inclusion of HyperX memory foam. While we typically prefer a cloth type of material for our headsets, the leather-like material found on the Cloud Stinger was quite comfortable, and did not give us any discomfort during our testing. As expected, the ear cups on the Cloud Stinger feature an over-the-ear design for plenty of cushy comfort.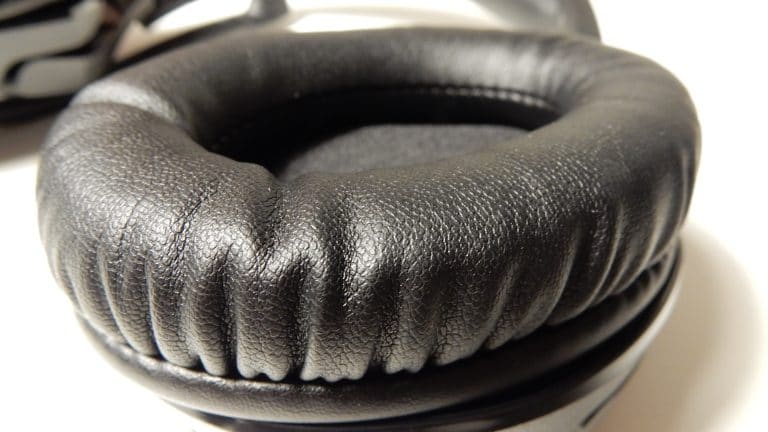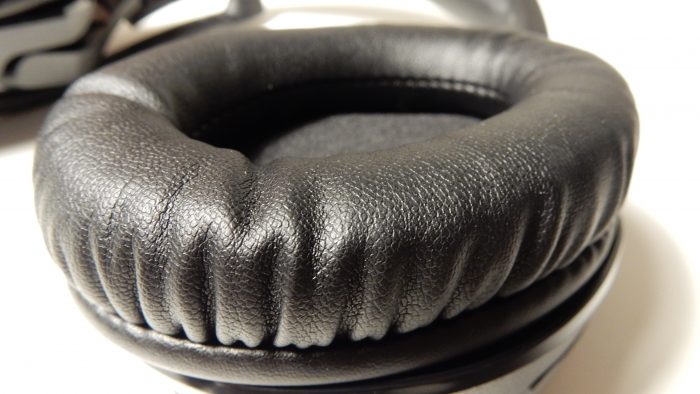 The headband of the Stinger is very simple, with HyperX branding along the top. Each side of the headband is adjustable to get a good fit, however we would have really liked to see some type of sizing markers to help make things easy to dial in when transporting the headset from one location to another.
Both the attached headset cable and extension cable feature a very flexible cable material that was a welcome sight. Some headsets will come with a braided cable, and while that is great for durability purposes, they can often be very stiff.
TESTING
We don't profess to be master audiophiles here at Bjorn3D, but we do have some standards that we like to hold our audio devices to. Since the Kingston HyperX Cloud Stinger is heralded as being a gaming headset, most of our testing was performed in a gaming environment. We did however run the headset through a playlist of various songs that feature a wide variety of sounds and styles to get a good feel for how the headset performs outside of it's gaming duties.
Fit and Comfort
First and foremost, we must again mention the low weight of this headset. There is a ton of quality packed into just 275 grams, especially when compared to the very impressive Corsair VOID Surround Hybrid that weighs 360 grams. Our personal preference regarding ear cup pads is for cloth or microfiber materials, but the leather-like material found on the Stinger was quite comfortable, and didn't get too warm, even during long periods of use. The HyperX memory foam was awesome throughout our testing, holding up great at all times.
The adjustable head strap has a nice ratchet feel to it, and keeps its size setting quite nicely. Unfortunately, the strap does not include a numbered set of lines that can help you remember your preferred settings so that you can set the strap right back to your ideal size.
Many headsets also feature an in-line volume and mic mute button on the headset cord, but we were happy that Kingston chose to place these functions on the headset itself. Being able to know exactly where the volume slider was at a moment's notice kept us from fumbling around with a corded solution. The configuration of the volume slider on the right ear cup made it very easy to increase or decrease the volume, whereas we have had issues in the past knowing which way to scroll a volume wheel when mounted on the cord.
Speaking of cords, we will note that the Stinger has a pretty short cord. However, if you utilize the included extender and Y-adapter, the cord becomes quite long. We were able to move about our testing area while wearing the headset without having to really worry about going too far away from our PC and yanking the headset off of our head or out of the audio jacks.
Gaming
Our recent games of choice have been Tom Clancy's The Division, Overwatch, and multiple VR games. The Division's 3rd-person design mixes up all sorts of game play types, from shooters to MMOs. While out on the streets of a virus-laden New York City, the Stinger kept us up to speed with updates from the in-game assistant ISAC, while simultaneously producing realistic firefight sounds between us and enemy units. Overwatch's vibrant characters, soundtrack, and sound effects were all quite well represented, and in-game communications with other players was flawless.
While the visual aspects of VR gaming and applicaitons are usually enough to leave you in awe, great sound really helps for to make the whole experience immersive. While the HyperX Cloud Stinger is not a surround-sound headset, the 50mm stereo drivers were quite impressive when paired up with our HTC Vive. No complaints here.
Music Playback
Our playlist features a variety of styles of music from hip-hop tracks to 60's and 70's classic rock. Artists from Daft Punk to Creedence Clearwater Revival to Stone Temple Pilots make an appearance on our testing playlist, and in all instances, we found the HyperX Cloud Stinger to be packing quite sufficient bass across all of our sample tracks. The upper end of the audible spectrum sounded fine, although a little more mid-range clarity would have been welcome. There didn't seem to be much separation within the mid-range, but overall, the playback was great for a $50 headset.
CONCLUSION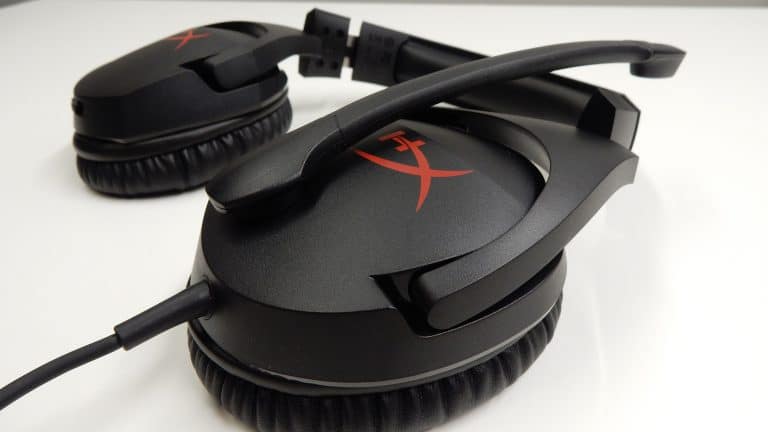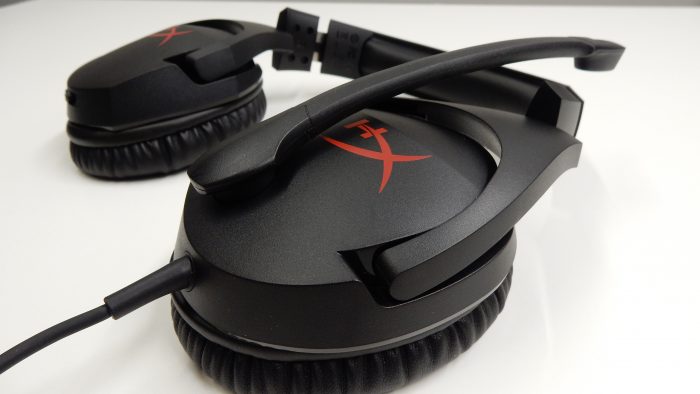 Kingston has once again impressed us with their latest headset from their HyperX Cloud series, the Stinger. Aimed at budget-conscious gamers, the Stinger offers up goodies such as HyperX signature memory foam, rotating ear cups, and intuitive microphone and volume adjustments. We found the comfort of the Cloud Stinger to be superb, even during extended sessions, and while we typically prefer cloth-based ear cup padding materials, we really found the Stinger's materials to be quite nice.
Making adjustments to the headset couldn't be easier, as the adjustable steel slider helps get a good sizing, while the rotating and pivoting ear cups dial in their fit to the shape of your head. Making changes to headset volume is as adjusting the volume slider on the right ear cup, which we find much better than fiddling with a volume wheel on the cord. The same goes with the microphone; simply raise the mic to silence its operation, and lower it back to to resume voice use.
Our testing mostly revolved around gaming, as this is a gaming headset after all, and in that testing we were quite happy with our results. Voice actors and subtle sound effects were quite clear and easy to understand, and larger explosions and low-pitch ambient sounds helped to bring you into the situation. Communicating with our gaming friends was a great experience as well; we could definitely notice a distinct improvement in the voices of other gamers in both Discord sessions, as well as with in-game proximity chat.
Bringing all of these features under the umbrella of a cost-saving headset really impressed us; many other headset manufacturers would probably try to get another $20 or more out of this unit. The Kingston HyperX Cloud Stinger currently sells for just under $50USD on Amazon, and at that price point it earns the Bjorn3D Golden Bear Award.

Kingston HyperX Cloud Stinger Pros

Kingston HyperX Cloud Stinger Cons

Very comfortable
Lightweight – 275 grams
Headset mounted volume slider is conveniently placed
Memory foam in all padding areas
Low price

No size markings on adjustable slider band
Headset cord is short when used without Y-adapter extension