Introduction
Here at Bjorn3D, we seem to be on a steady roll of peripheral device reviews, and today we will be looking at the Kingston HyperX Alloy FPS gaming keyboard. The Alloy FPS we are looking at today features Cherry MX Brown keys for a tactile response and medium audio feedback compared to some other switches like the Cherry MX Blues. Minimalistic in design, the Alloy FPS delivers a solid gaming and typing experience without many of the flashy extras that tend to rack up the price. But don't be mistaken, the Kingston HyperX Alloy FPS packs quite the punch when it comes to its features and specifications.

Features
Compact design ideal for FPS gameplay – You won't find any outlandish plastic or metal "flair" here. Just a plain, black steel frame with no frills.
Solid-steel frame – The steel frame gives the Alloy FPS a solid base, and adds quite a bit of heft to the keyboard.
Ultra-portable design with detachable cable – Being able to remove the USB cable from the keyboard base makes transporting the Alloy FPS a breeze. The included mesh travel bag makes transporting the Alloy FPS a breeze.
Cherry MX mechanical keys – By far the most well-known brand of mechanical keyboard switches. The Alloy FPS is available with Cherry MX Blue, Brown, or Red keys.
Convenient USB charge port – Although not available as a full USB pass-through port, the addition of a USB charging port makes keeping your mobile device charged much more convenient.
Game mode, 100% anti-ghosting and full N-key rollover functions – The Alloy FPS is built with gaming in mind, and these features prove that point.
HyperX red backlit keys with dynamic lighting effects – Although not RGB, the red backlit keys can be adjusted in both brightness and lighting effect.
Additional colored, textured keycaps for FPS gameplay – Swap out the common FPS keys with colored and textured keycaps for added finger placement precision.
Specifications
Kingston HyperX Alloy FPS

Switches
Cherry MX Brown (Blue, Brown, Red available)
Dimensions
441.65mm x 129.38mm x 35.59mm
Cord Length

1.8m, detachable
Standard Keys

104
USB Passthrough

Charging only
Lighting

Red, 6 LED modes and 5 brightness levels
Interface

USB 2.0 (2 USB connectors)
Polling Rate

1000Hz
Anti-Ghosting

100%
Key Rollover

6-key / N-key modes
Media Control

Yes
Weight

1049g (keyboard and cable)
Closer Look
Packaging
Kingston proudly displays an image of the HyperX Alloy FPS on the front of the box, and details a few of the standout features across the back panel. This imagery is printed on a cardstock sleeve that slides off to reveal a more protective cardboard box inside.
Once opened up, we are greeted not with a view of the keyboard itself, but of the included carrying case. This is a nice added bonus that will really help out when taking this keyboard to LAN parties. After removing the carrying case, the Alloy FPS comes into view, snugly held in place by a foam insert.
Keyboard
As mentioned in the features list above, the HyperX Alloy FPS features a compact design, and this is about as close to a plain keyboard body as you can get. Only a small border of the steel frame is visible around the perimeter of the keyboard, which really helps with the compact look and form factor.


The only branding found on the Alloy FPS is a small HyperX title in the top-right corner of the keyboard, and a HyperX logo on the spacebar. Outside of that, the keyboard is devoid of any crazy artwork or lavish embellishments. We really like the look of this keyboard when compared to some of the offerings available now that are a little bit gaudy and outlandish for our tastes.
At just 35.59mm in height, the Alloy FPS sits quite low, but does offer two adjustable feet to adjust the angle of the keyboard to your preference.


On the top-right edge of the keyboard is the mini-b USB port, as well as the type-A receptacle for charging mobile devices. Included with the HyperX Alloy FPS is a red and black braided USB cable with a mini-b plug on one end, and two USB type-A plugs on the other end. The use of a single connection can be used if you don't want to take advantage of the charging port, but both are needed if you want to provide power to your mobile device.
The keycaps feature concave surfaces with a small font used for key labeling. The included eight swappable keycaps feature a metallic red coloring, and the W, A, S, and D caps have a textured surface for easy texture recognition in intense gaming moments. The 1, 2, 3, and 4 keys sport the standard, smooth, concave surfaces. A keycap removal tool is also included to make swapping these keys out easier.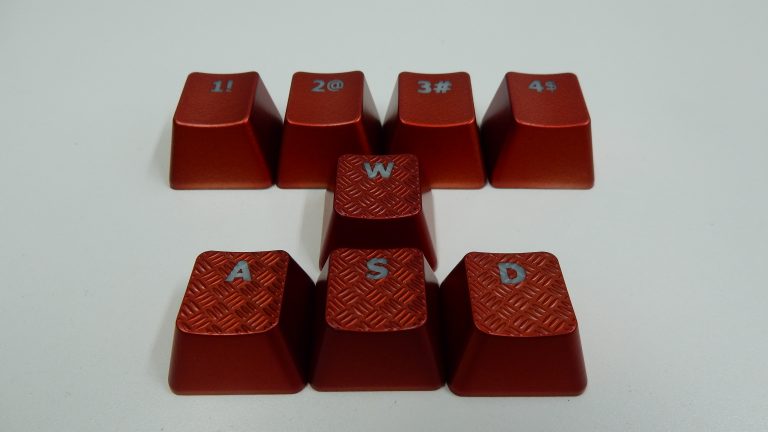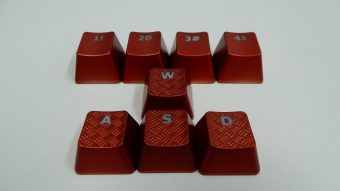 The bottom of the HyperX Alloy FPS is about as plain as you can get. Four rubber feet at the bottom help to keep the keyboard in place, while two additional feet are attached to the adjustable legs. A label in the middle of the base has your standard branding, model information, certifications, and warnings that you find on any keyboard.


Travel Bag
Kingston was generous enough to include a nice padded mesh carrying bag for the HyperX Alloy FPS. This makes taking the keyboard to LAN events much easier, and safer for your keyboard. No longer do you have to either carry it out in the open, or try to jam it into your backpack. There is even an external pocket that the detachable USB cable can slide into, along with a mouse or some other small peripheral device.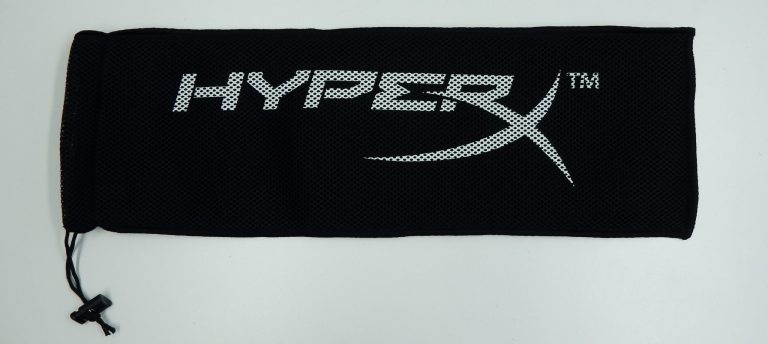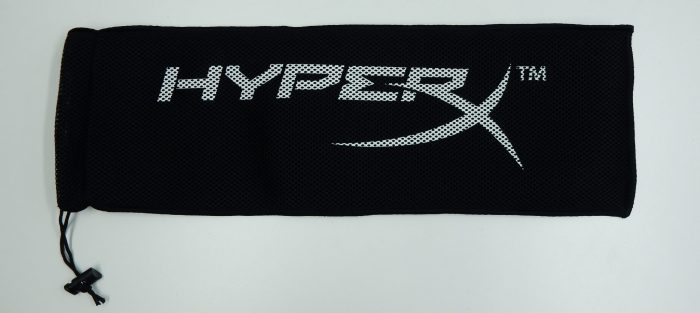 Keyboard Use
Usage
While we have come quite accustomed to using keyboard with Cherry MX Red keys, the Alloy FPS with MX Brown keys was quite a delight to use. The tactile and audio differences between the two keys was not as noticeable as we were expecting, and it really has us wondering which one we prefer.
As part of our usual testing methodology, the typing of this review was done using the HyperX Alloy FPS, and overall it was a quite comfortable experience. Mechanical switches are usually known to be a bit louder than membrane-based keyboards, so your level of tolerance for a little extra typing noise may play a little role in deciding if a keyboard like this is for you. Thankfully Kingston chose to keep with a standard key layout, and didn't use the alternate-sized "Enter" key and re-arranged "\ |" key that we have seen on other keyboards.
In our time with the HyperX Alloy FPS, we have spent quite a bit of time playing Overwatch, which is exactly what the keyboard was designed for; FPS play. The quick action of the Cherry MX Brown keys allows for fast adjustments to be made. The tactile feedback of the switches lets you know exactly when a key press has been triggered, allowing for quicker secondary actions to be performed. With headphones on for our gaming sessions, the sound from the keyboard was barely audible.
Lighting
In a world filled with RGB keyboards, the HyperX Alloy FPS stands out a bit by only offering red backlighting. While we expect that RGB lighting will come to the Alloy FPS lineup soon, the lack of this feature may keep some users from picking up a current model. That being said, the red illumination of the Cherry MX Brown keys goes right along with the HyperX color scheme of black and red. Six lighting modes and five brightness levels allow for a bit of customization, but not nearly like what is offered by more robust RGB models.


In normal, daytime lighting conditions, the brightness needed to be on the highest level in order to really see the lighting, but in low light conditions, a lower brightness level was preferred. Adjustments to the pattern and brightness can be made by using the "FN" key along with the corresponding arrow keys.
Conclusion
The HyperX Alloy FPS is aimed squarely at FPS gamers, and we think that Kingston has hit their target. This is a no-nonsense keyboard that features only the bare necessities when it comes to aesthetics, save for the red LED lighting. The steel frame is solid and provides plenty of heft to the keyboard, lending to an overall sturdy build. The Cherry MX Brown switches bridge the gap between MX Blue and MX Red switches, and provide for a good balance of speed, accuracy, and comfort. Optional FPS gaming keycaps add an extra layer of tactile accuracy for your fingertips in the heat of battle.
The inclusion of a detachable USB cable and carrying bag shows Kingston's desire to provide Alloy FPS owners to easily take their keyboard to LAN events in the most efficient way possible. And while you may not be near a phone charger at a LAN event, you will still have access to USB power via the integrated power port for mobile devices.
While it would probably increase the cost of the keyboard, we would have loved to see RGB LED lighting on the HyperX Alloy FPS. We can only hope that a future model will include this highly sought after feature.
With a $99 price tag, the Kingston HyperX Alloy FPS has a lot going for it, despite its somewhat plain looks. A solid steel frame with Cherry MX Brown keys and red backlighting, paired up with 100% anti-ghosting and full N-key rollover are just a few of the features that earn the HyperX Alloy FPS the Bjorn3D Seal of Approval.

HyperX Alloy FPS Pros

HyperX Alloy FPS Cons

Solid build quality
Cherry MX switches (Blue, Brown, or Red)
Removable USB cable
USB power passthrough
Travel bag