Overclocking
There's nothing like the smell of roasting chips in the morning and I'm not talking Fish and Chips. I like to get up early in the pre-dawn hours and throw the patio door open and set a large stand fan in the incoming cool air and blow the free cool OCing air into the chassis to get what little extra overhead I can. I keep my thermal material handy, a pretty standard tower cooler, in this case the Noctua NH-U12s shipped single fan modified to two fans in a push pull configuration.  Intending to go north of 4.4 GHz the NH-U12S might be a little underweight.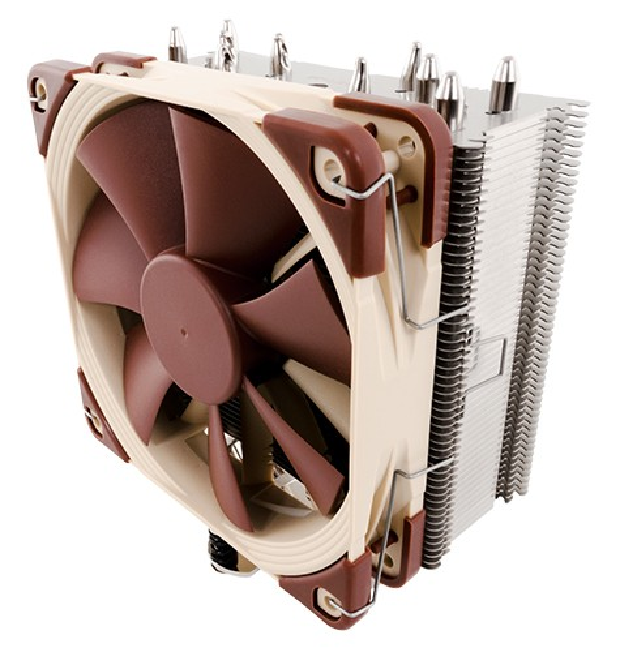 I also like to have my Noctua NH-D14 dual tower triple fan CPU cooler handy.  When it comes to Air cooling the Dual tower Noctua will squeak you enough headroom to get that last 2 – 300 MHz when a single tower gives up.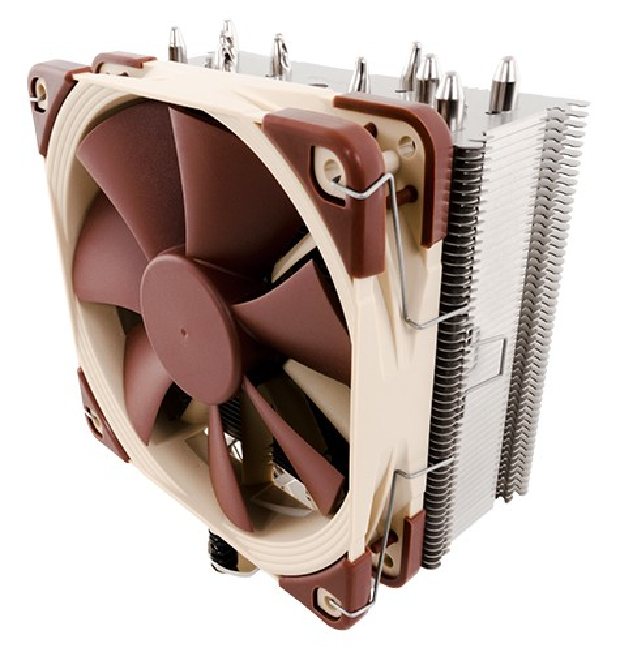 Last but not least if OCing gets real I call the one and only DocOc and he heads this way with his lab of Peltier's, dry ice, various super cooled liquids and usually a pack of red Twizzlers. The Twizzlers have nothing to do with the OCing except occasionally he stirs the LN2.
The reason that I let you know upfront, this is just a small part of the OCing arsenal. Now you can do the mental calculations on how much is invested here. Just the test rig we are looking about $2k stripped down, another thousand in various cooling solutions and a wire haired OCing mad scientist on speed dial. A $600 CPU isn't something to lightly fry, no CPU man is going to come over the hill and toss me a new CPU when this one gives up its last OC so here's the parameters for what I'll be doing.
Intel says no more than 1.4v on the Haswell E class so I'm sticking on 1.38v top end. Thermals I like to keep below 80 but will touch 85 if need be but not if temps are rising, at 85 they need to be level and stable. They start reaching those scary temps I reach for my Swiftech triple radiator stack able system. Its three triple radiators sandwiched with 9x Yate Loon fans and a Swiftech apogee 1366 Block with a 1200L/hr hour pump and mini res.
I started with no voltage increase to see how far I could push the I7 5830k on stock voltage. Be sure to turn off Speedstep and C-State those will hinder or foul up your OCing attempts. I kicked the Core Ratio Limit up to 4.2GHz and left everything else including voltage on auto.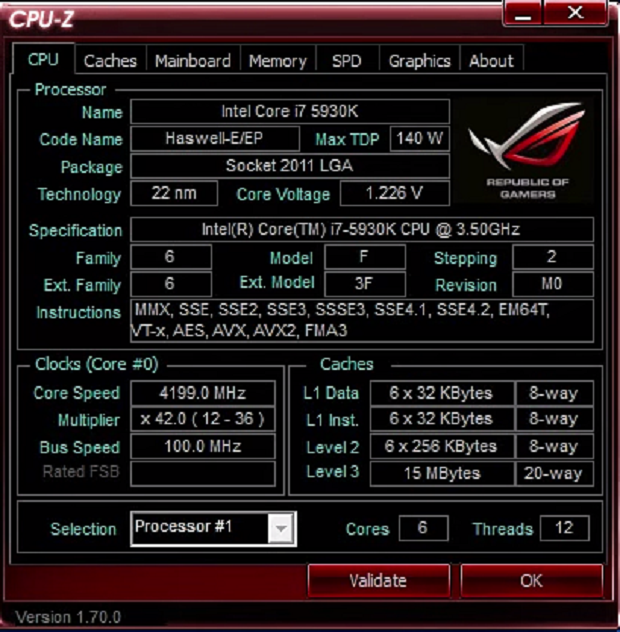 It was an easy no brainer reach for 4.2GHz the Gigabyte X99-SOC took it in stride and I ran Cinebench successfully 4 times so I called it good and checked my thermals.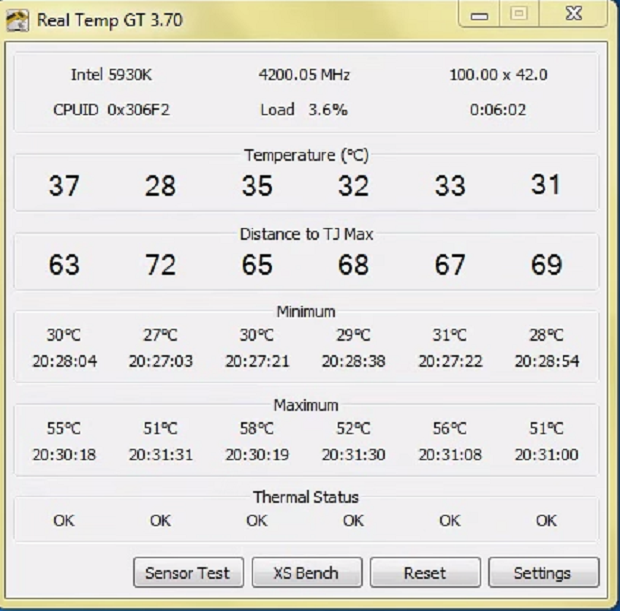 The Noctua HN-U12s held the line at a maximum of 58º C but voltage only touched 1.226v so I didn't really think we'd get toasty here.
I decided since I was already past the 4.1 GHz EasyTune wanted to use on earlier tests I'd just go for the gusto and shoot in the 4.4 – 4.5 GHz area. I went back into Bios and upped the Core Ratio Limit to 44 on the unlocked multiplier 5830k so we have a BCLK of 100 Core Ratio Limit 44. At Auto Voltage 4.4 GHz crashed quickly so I over rode the voltage on the CPU and went for a Core Ratio of 45 BCLK 100.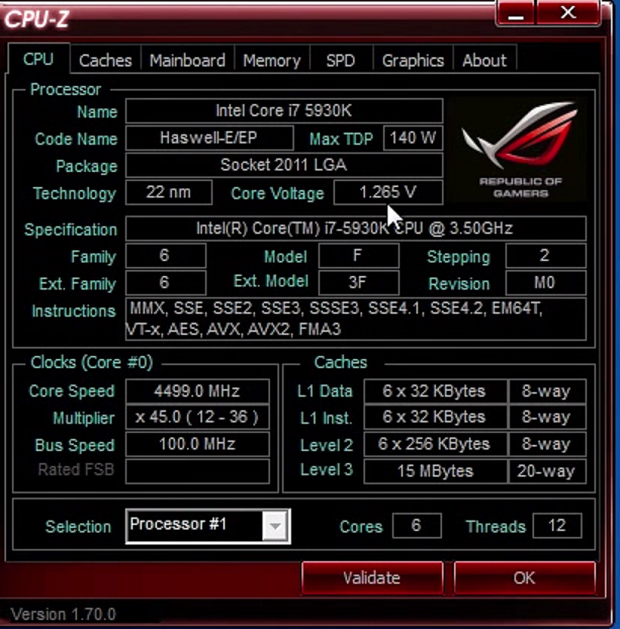 At 1.226v it was a miserable failure so I took the kid gloves off and started upping the CPU Voltage slowly then running Cinebench R15 4 times and checking for stability. I made the first run with this voltage then it froze and I was back into BIOS.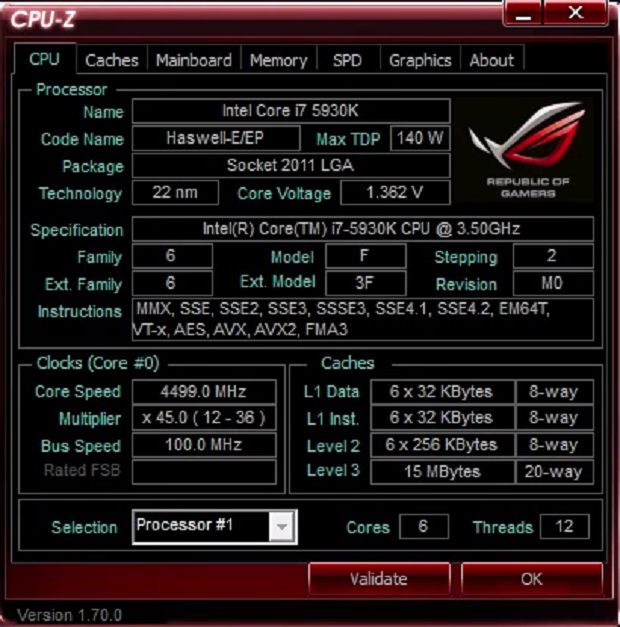 I kept bucking the CPU voltage up leaving everything the same but I took a break and strapped on the NH-D14 because Temps were starting north of 80 quickly. Do not even attempt this level of overclocking unless you've invested heavily in good moderate to extreme cooling solutions. Cinebench ran well for 4 iterations so I downloaded OCCT and ran a 3 minute iteration and checked temps.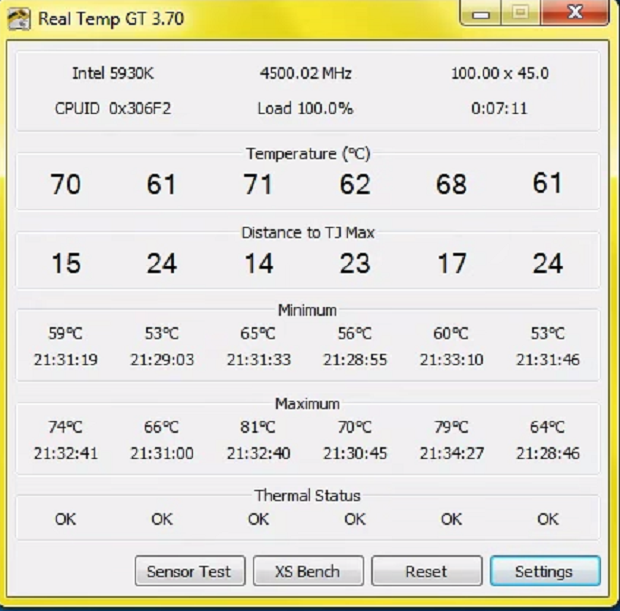 The temperatures weren't bad so I went for a 20 minute test on OCCT. I got a good run of 20 minutes on OCCT with a BCLK of 100 and Core Ratio Limit of 45, manually upped the voltage to 1.362v and maxed out temps at 81ºC. Temperatures weren't really stable at that voltage and were still creeping up so I called it at 4.5GHz stable 20 minutes OCCT and let it cool down for a half hour and ran another iteration of OCCT and everything held rock solid stable.
How far did I actually go?  I went to 4.6 GHz but ran the voltage at 1.36v and fiddled with BCLK to get the additional 100 MHz, going that route is a little more complicated and I was at the 1.38v limit I had set so I shut the OCing down and called it good with a 4.5 Rock Solid and from what I could tell without setting the wall on fire a stable 4.6 GHz. Core 3 will be the limitation on this CPU but 4.6 is extremely good on air cooling and having run out of voltage I doubt a more extreme cooling solution would help unless it was my intent to run at 4.5 GHz 24/7. I would gladly experiment in that direction if an Intel tech were showering me with CPU's and a sponsor was flooding new ram and motherboards through the lab doors. Until then let's settle at 4.5 GHz.