When you're looking at the 2011v3 Haswell E CPU family, nothing about it is inexpensive. The entry-level CPU is about $390 and it doesn't even feature 40 full PCI-E lanes. The lowest tier CPU has 28 PCI-E lanes and you have to go to the second tray CPU, the Intel Core i7-5930K Haswell-E 6-Core 3.5GHz, to get full PCI-E lanes. So for a fully functional 40 PCI-E lane CPU, we are looking at $560 smackers. Decent air cooling will set you back around hundred bucks if you want to overclock. Sixteen gigabytes of quality, high-speed DDR4 memory runs in the $300 dollar range. Just the CPU, CPU cooler and memory means that we are just short of $1,000.  If you are looking for a Champion Overclocker but don't want to break the bank the Gigabyte X99 SOC come in at $300 when you can find it on the shelves.
Gigabyte X99 SOC, Budget Overclocker?
Built with the budget conscious overclocker in mind, Gigabyte has managed to field a board that avoids the $500-plus-dollar overclocking trap. Face it, you take a board attach a LN2 pot, drop a gallon or so of LN2 on it over an hour or so to reach amazing speeds it might kill a board.  You might want to LN2 on a board that won't prevent you from filling the fridge this week.  At the end of a long session of extreme cooling I've seen boards return to room temp, let any condensation dry, and a few days later you get no joy on firing the board up, it's just dead.  You made your world record attempt got your LN2 thing on but now you're looking at a non-operable board. At that "Dead" point all the bells and whistles of a majorly expensive $500 dollar board don't look all that attractive.
On the Gigabyte X99-SOC Champion some of the top-end features are muted, so you'll find four memory slots, a minor compliment of OC buttons, space a little cramped in spots. The components were specifically selected for successful and sustainable overclocking so seeing a few compromises is expected.  Top end long life durable black capacitors are a welcome sight, 6x Gold plating, high quality POSCAPS, server level chokes by Cooper Bussman, no matter where you look on this board you won't find compromises to the quality of the components. You will notice a few features slimmed down from its big Brother the Z99-SOC Force, but the slimmed down features are not required needed or sometimes even desired for hard-core overclocking.  In many instances no drivers are loaded, earlier operating systems like Windows 98 being run for overclocking. The bare minimum software and low clutter hardware to achieve the desired OC that's what the Gigabyte X00-SOC is built for.
It's no surprise that the X99-SOC Champion is also a comfortable daily driver with ALC 1150 audio with built-in Amplifier. The auto tuning/overclocking EasyTune with a rich compliment of bundled software that you really can get good use from won't hurt your feelings. The App center makes accessing the bundle easy and quick, @BIOS, USB Locker, Cloud Station, EasyTune or Live update are all at your fingertips ready to make your life easier.
Whether your pouring LN2 all over it or kicking back looking for that head shot  or cranking up the tunes the Gigabyte X99-SOC is equally at home,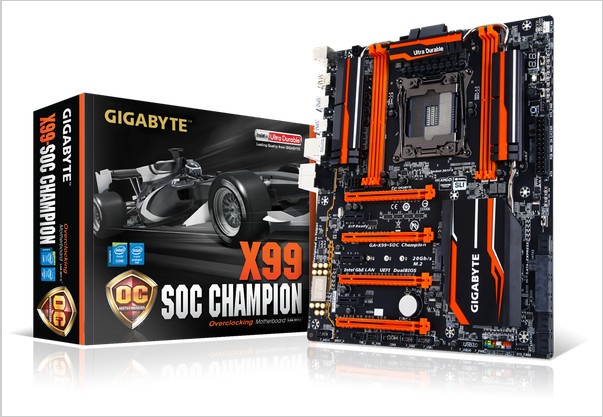 GIGABYTE X99-SOC Champion
Price
$299
Size
E-ATX (305mm x 264mm)
CPU Interface
LGA2011-3 with LGA2083 socket
Chipset
Intel X99
Memory Slots
Four DDR4 DIMM slots supporting up to 32 GBUp to Quad Channel, 1600-3200 MHz
Video Outputs
None
Network Connectivity
Intel I218-V
Onboard Audio
Realtek ALC1150 with AMP-UP
Expansion Slots
2 x PCIe 3.0 x162 x PCIe 3.0 x83 x PCIe 2.0 x1
Onboard Storage
6 x SATA 6 Gbps, RAID 0/1/5/104 x S_SATA 6 Gbps, no RAID1 x SATA Express (shares bandwidth with two SATA and M.2)1 x M.2 2.0 x4 (disabled when SATAe in use)
USB 3.0
Two via Onboard Header (PCH)4 x Rear Panel Ports (PCH via Renesas Hub)
Onboard
10 x SATAPorts1 x SATAExpress1 x M.2 x4 (PCIe 2.0)5 x FanHeaders1 x USB 3.0 Header2 x USB 2.0 HeadersThunderbolt HeaderCOM HeaderOC Panel ConnectorPower/Reset ButtonsTwo Digit DebugClear CMOS ButtonLGA2011-3 / LGA2083 SwitchOC Trigger SiwtchBIOS SwitchVoltage Measurement PointsFront Panel HeaderFront Audio Header
Power Connectors
1 x 24-pin ATX1 x 8-pin CPU1 x 4-pin CPU1 x 6-pin for VGA
Fan Headers
1 x CPU (4-pin)1 x CPU-OPT (4-pin)3 x SYS (4-pin)
IO Panel
1 x Keyboard PS/2Port1 x Mouse PS/2Port4 x USB 2.0 Ports4 x USB 3.0 PortsIntel Network PortAudio Jacks
Warranty Period
3 Years
Product Page
Gigabyte X99 SOC Champion Product Page
---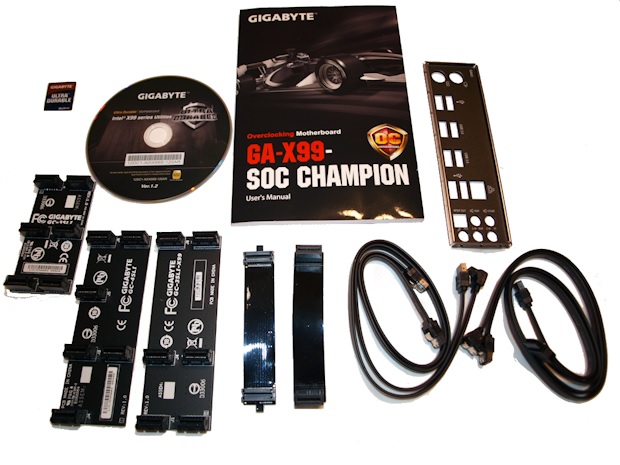 I mentioned the sparse bundle earlier but you have to take into consideration the cost savings benefit. Gigabyte was trying to field a high-end OCing motherboard on a budget, I'm not sure they succeeded very well given all the things you lose for the $40 bucks you save but here's the bundle.
Driver Disk
User Manuals
Rear IO Shield
Four SATA Cables
Two-way flexi Crossfire Bridge
Two-way flexi SLI Bridge
Three-way short rigid SLI Bridge
Three-way long rigid SLI Bridge
Four-way rigid SLI Bridge
You get the basics and a nice collection of SLI bridges. A Rear IO USB 3.0 expansion port would have been appreciated for those building into cases with limited USB 3.0 front panel slots.  How about custom coloring those SATA cables that snazzy color of red and throwing in a "Caution Extreme OCing" sticker or case badge.  The bundle will get you started but it's nothing to write home about.