Final Thoughts & Conclusions

The Gigabyte X99 SOC Champion did well in testing and kept up with the Asus X99 Deluxe, it generally ran ahead of the MSI X99S.  We didn't expect it to keep up with the Asus Rampage V but then we don't expect it's price to keep up with the Rampage either. The Gigabyte X99 SOC Champion was built for overclocking and it does that extremely well. At times the board was a little crowded like against the last PCIe slot there's an entire bank of connectors and the on board buttons and switches were a little cramped. We've seen that on a lot of boards so it's nothing new but manufacturers should try to install GPU's in the last slot with all those wires hooked up prior to marketing a board.
Performance wise we love the Gigabyte X99 SOC Champion, the board clocked right up to 4.5 GHz with a minimal amount of fiddling with it. Overclocking was as easy as upping the multiplier and increasing CPU voltage until the stability tests ran well. We hit 4.5 GHz on the Gigabyte X99 SOC Champion at 1.362v and hit 81°C max on the third core. Remember we were using a huge dual tower Noctua with 3 fans in push pull so if you plan on soaring with the OCing Eagles make sure your nest is good and cool by investing in high end air or water cooling. We would recommend one of the dual or triple radiator prefab water cooling kits to get started.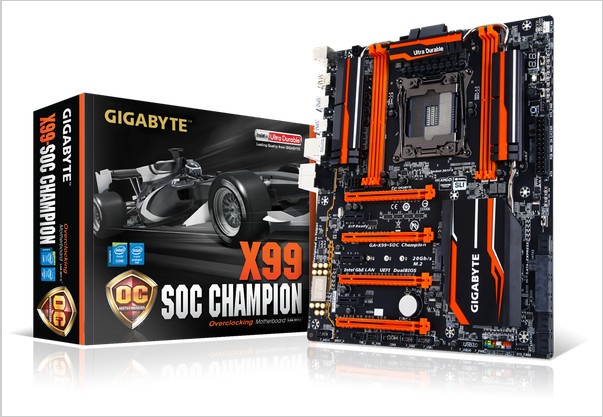 Well we've talked about the good and as with all reviews there's some bad to cover as well. The difference in the price of the Gigabyte X99 SOC Champion and the Gigabyte X99 SOC Force make the Champion board a hard hard choice. The X99 SOC Champion is scarce on store shelves and when we last saw it it was in the just above $300 dollar range. The Gigabyte X99 SOC Force comes in at $340 making the X99 SOC Champion a hard choice. For a mere $40(ish) dollars you get a much more well equipped board. On the flip side of that coin well equipped boards sometimes don't OC as well in the extreme OC of the LN2 environment.
It's a hard choice you have to make for yourself but if your an everyday overclocker the Gigabyte X99 SOC Force is probably a better choice. If your an extreme LN2 overclocker then the Gigabyte X99 SOC Champion might be better for you. We've had hands on both boards and for Air and Water cooling both will do a great job and even if we don't use all those features for $40 bucks more we'd go for the X99 Force board.
The Bear Fact: Is the Gigabyte X99 SOC Champion, A budget Overclocker or to close in price to the Gigabyte X99 SOC Force to be considered budget?
Pros
Cons

Great Overclocking
Great Audio setup
Tried and True software suite
EasyTune gave a good 4.1GHz OC with one click
2oz Copper PCB
DDR4 up to 3400Mhz by XMP
Server Level Chokes, SLI and X-Fire 4 way ready
Dual BIOS

Cramped in some areas of the motherboard
Doesn't cost much less than the X99 SOC Force
Only 4 Ram banks