OverClocking
Starting out we are working with a bit of a disadvantage here, this is the West side of Phoenix Arizona and in March it's already hitting 80°F so we aren't sure what to expect.
We decided to go with F-Stream in advanced performance mode and let it do the driving to see how far we could get. Now there's a note on F- Stream stating it will only work on the 2011v3 platform with K series CPU's so we guess it's a good thing that is all Intel has shelved so far. It may be a hint of non K series for the 2011v3 platform which we would entirely hope for the Haswell E series of processors has proven to be overclocking workhorses that are a Joy to run.
We did some initial tuning in F – Stream up to 4.2GHz and it was a one click OC the ran stable and true. The early indicator held true even at 4.4GHz and here's a CPU-Z shot of 4.4GHz running with no problem (well the CPU was a tad warm under load).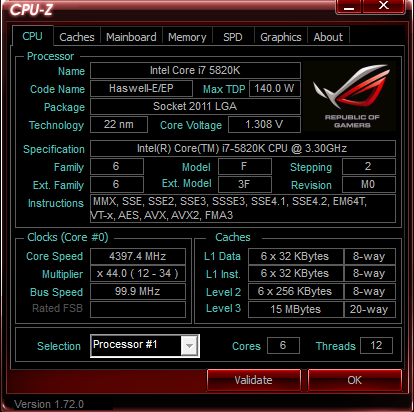 There she is at 4.4 GHz running 1.308v and we suspected we got lucky on Newegg and got a good CPU because 1.308v ran OCCT for 10 minutes stable then we let it cool down and gamed a little chatted on the internet and let the OC settle in for a couple of days, After a couple of days we decided it was time for early morning Desert overclocking and moved the test rig to a large open patio door and set a fan pulling the early morning 40 degree air over the CPU and Thermaltake Water 2.0 dual radiator water cooling system.
We hit F- Stream again which claimed to have a preset for 4.6GHz and we turned it loose, it politely came up and said you may have to reboot for those settings to take effect. So we rebooted and got this sweet overclock.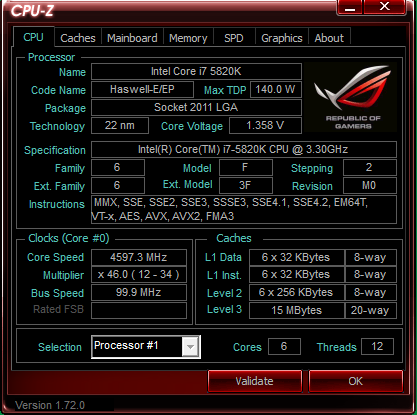 We got a stable 4.6GHz OC with OCCT running 10 minutes but we will say that's all we ran. Temperatures were up there in the don't spit your morning coffee all over the test rig range. Lets just say above 80°C on occasion. Mostly on one core but it's obvious this isn't a 24/7 OC with a dual Radiator pre-built cooling system but it was good for an early morning heart pump.
As far as overclocking goes we'd have to say that both F – Stream and the ASRock Fatality X99X Killer are winners.