ASRock Fatal1ty X99X Killer A Closer Look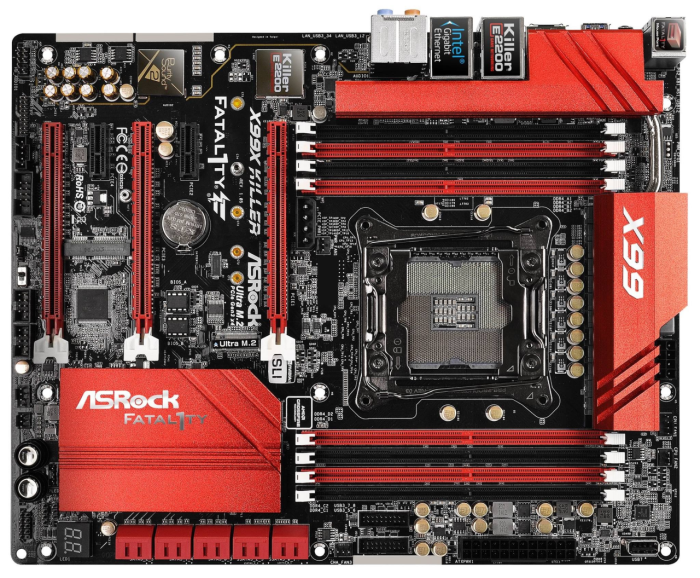 As you can see the ASRock Fatal1ty X99X Killer board doesn't lack for flash and from this point of view you can see the over-sized Aluminum Alloy Heat Sinks. We've seen a couple of 4 Ram Bank boards but seeing 8 Ram banks on the ASRock Fatal1ty X99X Killer doesn't hurt our feelings. Sure you can fit 32GB in one bank of 4 slots and that's plenty now but the expansion capability goes a long way with me. A feature you can't see on the board is the 15u gold plating in the memory slots helping to prevent corrosion and ensuring a good connection.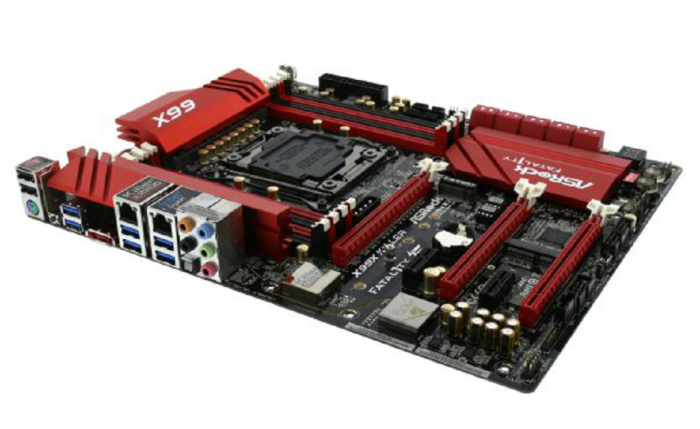 Flipping the board around a little between the first two PCIe slots you can see the M.2. slot which is capable of handling 5 sizes of [email protected] Drives (30, 42, 60, 80 and 110). We tested a Kingston M.2. 120GB drive in is as a primary boot drive and tested the speeds it could churn out. Between the last two PCIe slots you can see a mini PCIe slot.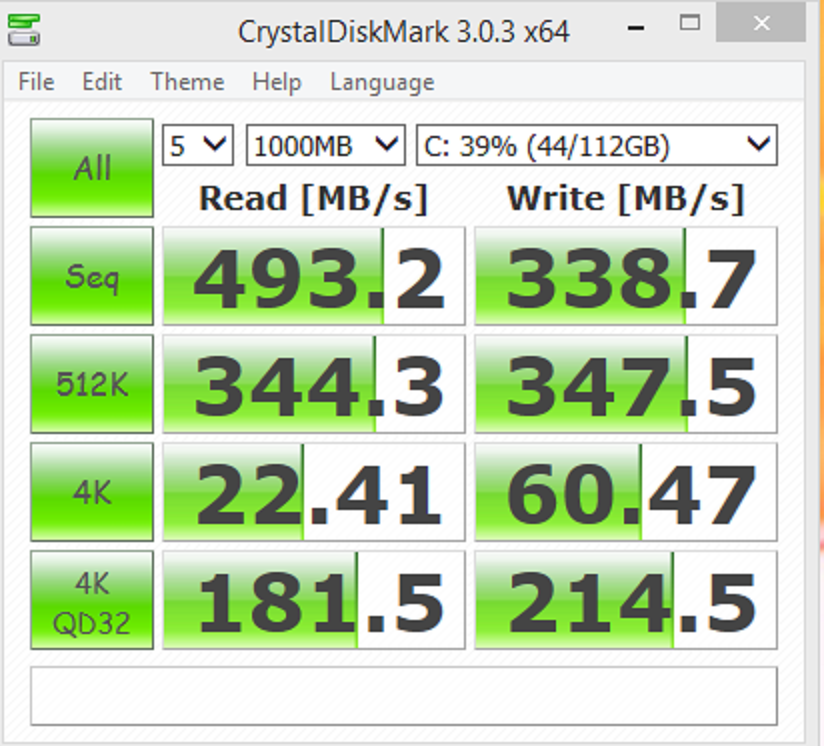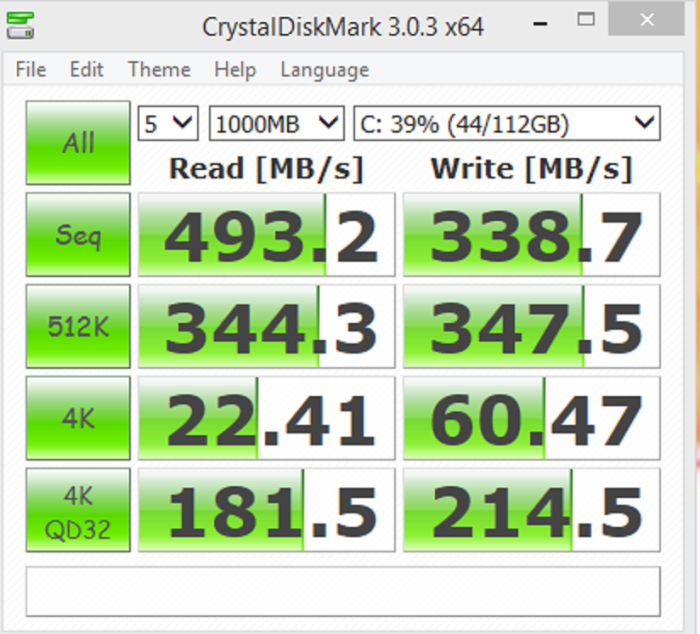 As you can see the ASRock Fatal1ty X99X Killer runs M.2. drives as well as any board manufactures. The little $86 dollar Kingston M.2. drive blew us away on this very board. Boot times were phenomenal, testing speeds were consistently high and the board ran multiple drives (bootable) with no problems with the Kingston M.2. drive installed.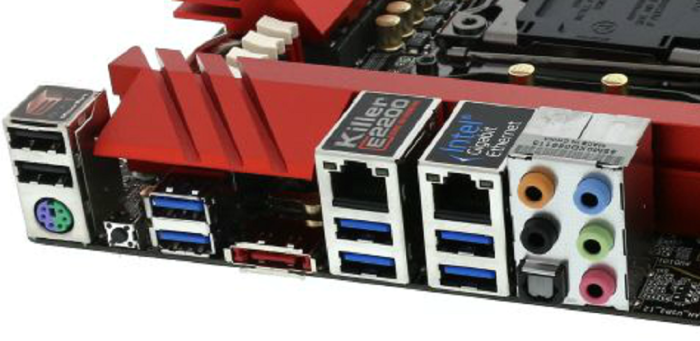 Even the back panel connectors on this board are interesting: a Fatal1ty Mouse port, USB Keyboard port, Mouse/keyboard PS2, reset CMOS, 6 USB 3.0 ports, an eSATA port, Killer e2200 network port as well as an Intel Gigabit ethernet port and 5 analog sound as well as one optical sound port. If your heavy into online gaming back away from that wireless router and directly connect your router to the ASRock Fatal1ty X99X Killer on the Killer e2200 network port and you'll have the best anti–lag technology available. Features like that on a sub $300 X99 board are practically unheard of.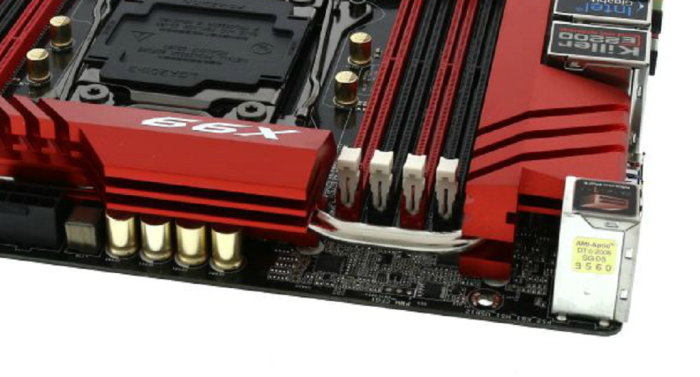 There's a good look at some of the Nichicon 12K Platinum Caps and the passive cooling heat pipe ASRock snuck on the XXL Aluminum Alloy heat sinks.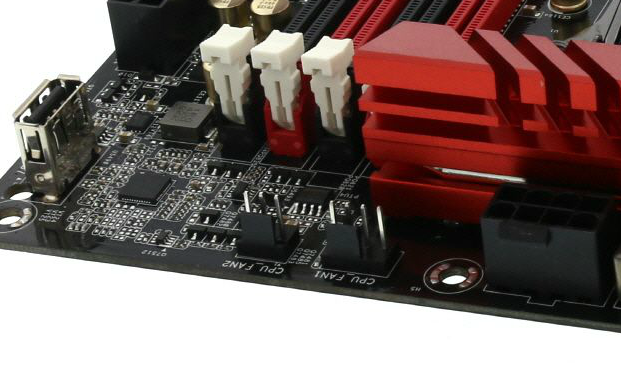 A Welcome addition to many of the X99 boards we've seen is an actual internal USB port, not a USB header but a USB port. In my case I plugged a Belkin USB Wifi stick into the port, closed the Obsidian 800D chassis and picked up Wi-FI no problem with no danger of snapping the connector in half. If it had been a USB 3.0 port I would have installed my LeadTek Pocket SSD reformatted to 4k sectors and used it for fast backup and restore of the primary operating system or storing vital review files on. You also get a peek at the two CPU fan headers and the 8 pin CPU power connector tucked away behind the XXL Aluminum Alloy heat sinks.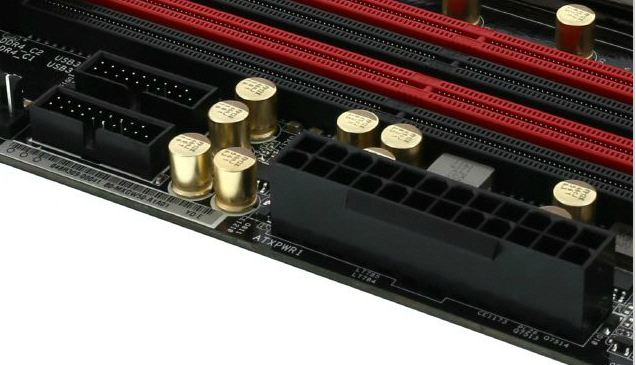 ASRock even puts an upgraded high density power connector preventing the average 23% power loss on regular connectors. Then more of those 12k Nichicon 12K Platinum Caps and a couple of internal USB 3.0 ports.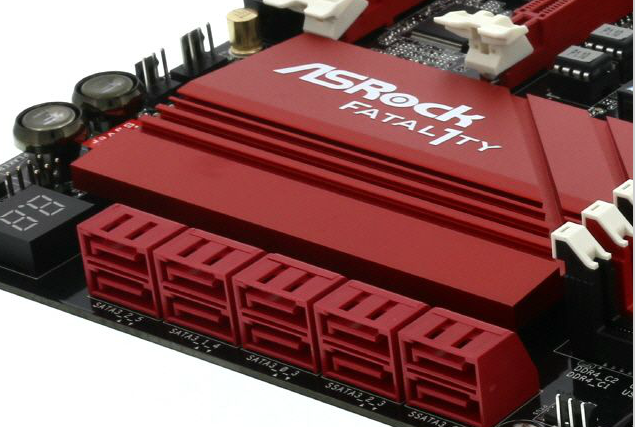 There's a lot going on in this picture and on one little corner of the ASRock X99X Fatal1ty Killer. 10x Sata controller ran by the X99 Intel Chipset, 3 fan headers, power and reset buttons with LEDs and a double-digit debug LED. Unbeknownst to anyone but me I set up several tests for the dual digit debugger. After the board was up and running and all the benchmarks were in I pulled the good EVGA GTX 960 out and put in a dead ATI 4870 and booted up. With very little fuss or fanfare the double-digit debugger threw an error code and upon checking it the code indicated a bad GPU (along with a couple other possibilities). I replaced the EVGA GTX 960 and threw on a bad set of ram I have to return to a manufacturer and sure enough another error code pointing me to the Ram/CPU and telling me to check both. Though the error codes were a little generalized they are enough to point you in the right direction and accurate to a fault (Pun intended).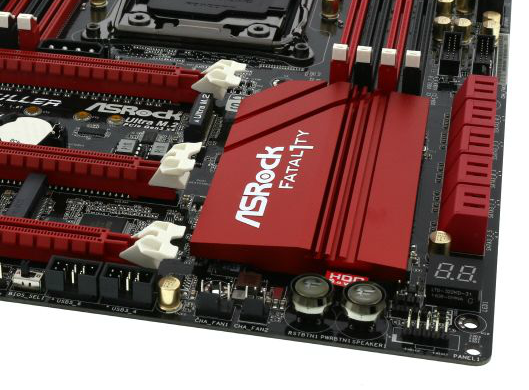 Turning to get a better look at the power and reset buttons you get a glimpse of the front panel connector, the fan header and a couple of USB connectors.  You also get a peek at the current industry standard in PCIe removal latches. Those are a tad tricky to get at under a GPU but nothing worth breaking out the nerve pills over.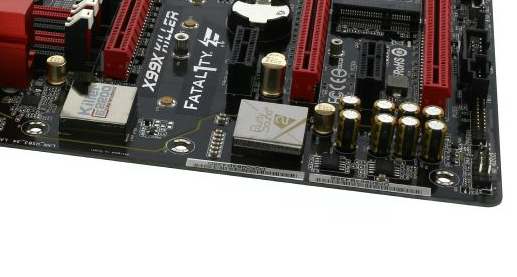 Over on this corner of the board you see the E2200 Killer network controller chip and the Alc1150 Purity Sound 2 audio with its bank of fine gold Nichicon capacitors providing 115dB SNR DAC with a differential amplifier. Even dedicated audiophiles should be happy with that setup.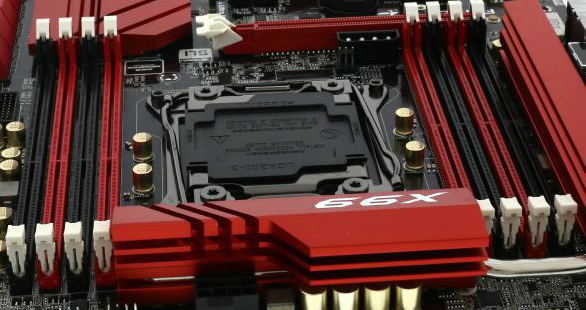 There's a good look at the 8 Ram banks and 2011v3/2083 LGA CPU socket. The ASRock Fatal1ty X99X killer is capable of running the Core I7 Haswell E family and 18 core Xeon CPU's.