Final Thoughts & Conclusions

The ASRock Fatal1ty X99X Killer held up amazingly well for a mid-range priced board. That's the thing about ASRock, they might price a board mid-range but you end up finding features other manufacturers would normally only put on their high-end boards. The 60 Amp new gen premium chokes and XXL Aluminum alloy heatsinks that cover them go a long way when overclocking. The dehumidifier is a feature you hardly see on high-end boards and 15Au gold-plated PCIe slots on a mid-priced board?  The 8 ram banks are appreciated as is the M.2. slot we tested with a Kingston 120GB drive.
We kicked on F-Stream auto overclocking a couple of times and got good solid overclocks even though we face desert temperatures adding somewhat of a disadvantage. The CPU socket covers 2011v3 and 18 core Xeon CPU's either of which are surrounded by Nichicon 12k Platinum caps. The Killer E2200 fast networking port is sure to put you ahead in frags and the Fatal1ty mouse port puts you on target for the frags faster.
Sure there are a few things missing that you find on high-end high-priced boards, there's no eSATA port for the as yet non-existent drives, WiFi will have to be a USB stick or add-on card but on the other hand the board was built for a direct wire connection which any true hardcore gamer would use anyway. There's just too much packet loss and additional lag involved with WiFi.  When it comes down to it there's not anything missing on the board that I would cut points off the final score for. It strikes an amazing bang for buck balance that heavily weights to the Bang side while going easy on the bucks.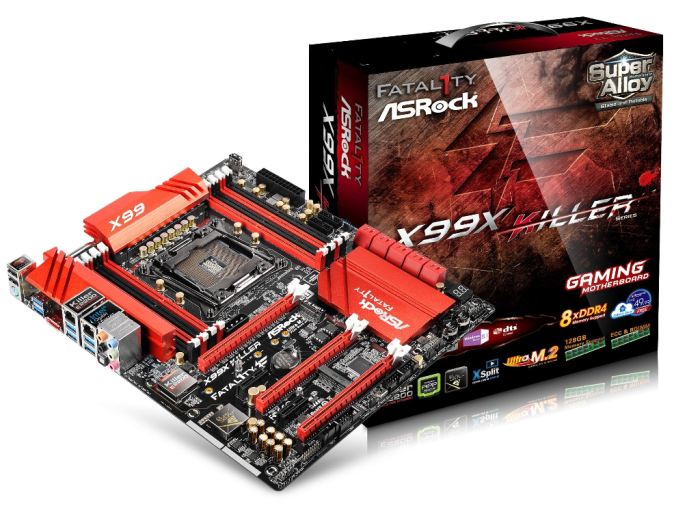 There are a lot of good features on the ASRock Fatal1ty X99X Killer, features you don't expect on a board this price. The Purity Sound 2 with fine gold Nichicon caps is a nice touch as is the headphone jack amplifier and audiophiles everywhere should be satisfied with this setup.  There are so many features we just can't cover them all like the Full Spike protection guarding against unwanted electrical spikes, surges, lightning and electrostatic discharges. OMG or Online Management Guard to defeat the kids 2am HALO raids is a feature parents will love and when the kids are on they will be delighted with KeyMaster Sniper Mode.

Because of the exception value the ASRock Fatality X99X Killer represents we are also awarding it the "Best Bang For Buck" Award. It's rare a product falls one point from Gold and garners a Best Bang For Buck Award placing the ASRock Fatal1ty X99X Killer in a category of its own.
The Bear Facts: There's a lot to like about the ASRock Fatal1ty X99X Killer both in features and price, the thing we like the best are the premium features and hardware for the mid-range price. The quality is inline with much more expensive boards, performance doesn't lack for the money saved and take your heart medicine before you OC because it might cause a Fatal1ty.
Pros
Cons

Great Overclocking
8 Ram Banks
Mid-Range Price
F-Stream is a solid Auto Overclocker
Platinum and Fine Gold Nichicon Caps
Killer E2200 networking
Premium Hardware at a Mid price
Fatal1ty Mouse Port
Purity Sound 2 with amplification
15Au Gold Plated PCIe

No WiFi
Had Loading problem with Intel Storage Driver
BIOS recovery from OCing can be a bit touchy