GIGABYTE X99 SLI Review, Excellence On A Budget!
GIGABYTE has released an entire pack of motherboards based on the Intel X99 chipset: Champion, Gaming, and Super Overclock. And now GIGABYTE has released the X99-SLI board. From the first glance, the board looks to be chock full of enthusiast-level hardware, with lots to offer most end users. To field the board with all that high-end hardware at $250 (NewEgg) , they had to make a few compromises, but based on price/performance, there's a good bang for the buck factor on the GIGABYTE GA-X99-SLI. Reality being what it is, we are seeing a lot of high-end motherboard features on a $250 board, but there might be a few after-purchase costs. Wi-Fi and Bluetooth aren't included on the board, but a special M.2. slot for Wi-Fi and Bluetooth are provided for by a W2-Wi-Fi slot. The combo cards we've seen are in the 35-40 dollar range, so if you want internal Wi-Fi and Bluetooth, that may set you back a few bucks.
We don't consider not including some of the fancier options as bad, as it does place a lot of enthusiast level hardware in a price bracket that is less painful for a lot of consumers. Looking at what you do get, there's ALC 1150 audio with fine gold capacitors, Intel LAN and up to Quad SLI (with the right CPU), and 8 RAM slots supporting OCs up to 3333 MHz via Intel XMP support.
Important to us, GIGABYTE squeezed in their Genuine All Digital Power Design with IR Digital PWM & IR PowIRstage ICs which is the MOSFET setup you see on competitor's high-end, high-priced boards. The Digital PWM & PowlRstage MOSFETs, given adequate cooling, have proven to be excellent overclocking hardware and can be found on boards ranging from $300 to $600. It's a first for us to see that "geek candy" on a $250 board, so job well done Gigabyte.
The Realtek ALC1150 115dB SNR HD audio, with built-in Rear Audio Amplifier, independent right and left audio channel PCB layers that prevent crosstalk, and high-end Nichicon audio capacitors are about as good as it gets when it comes to audio.
GIGABYTE even stuffed their Long Lifespan Durable Black solid capacitors, with an expected life of 10k hours, on this feature-packed board. What else could you want for your $250? Well, how about a gold-plated CPU socket, DIMM sockets and PCI-E sockets to ensure that corrosion doesn't cut into your high-end computing enjoyment.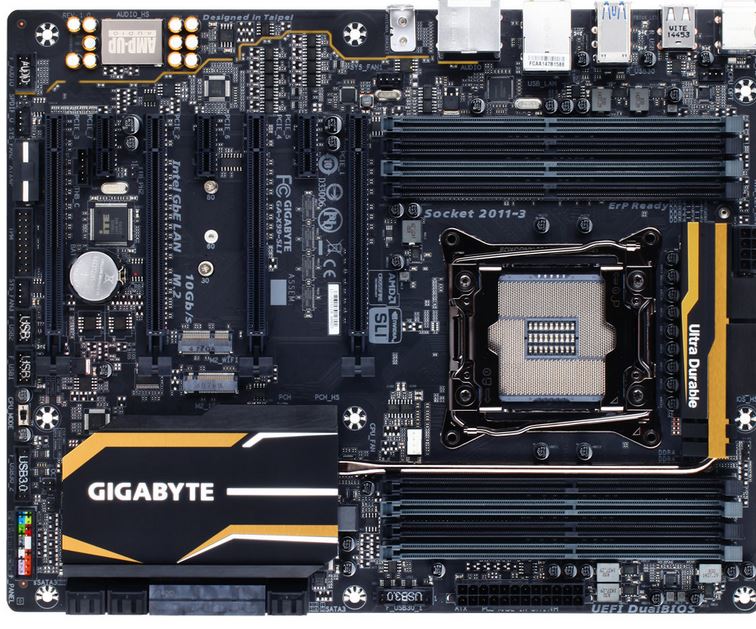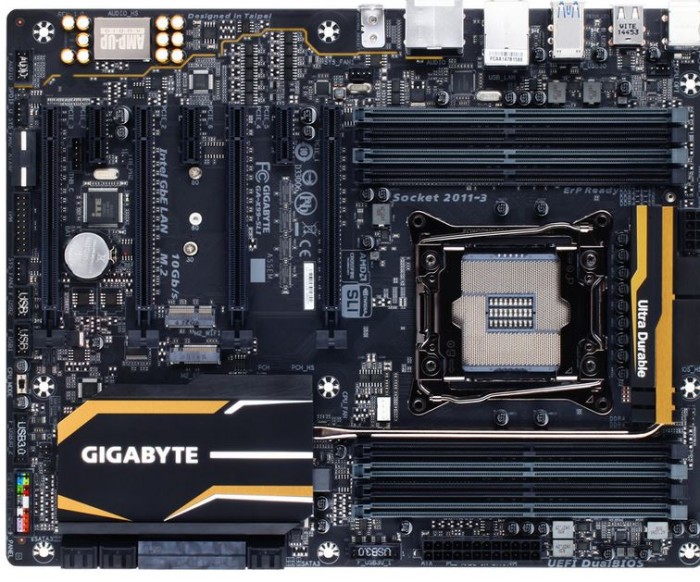 Now don't get us wrong, this is a great board with a lot of high-end features packed on it, but like with most affordable boards, certain compromises have to be made to field the board at the wallet-comfortable price of $250. Most of the cost cutting measures are extras like built-in Wi-Fi and Bluetooth and on-board On/Off and reset buttons. No double-digit debugger, so what we are looking at is a budget-friendly board with enthusiast-level hardware, minus all the frills that seldom get used anyway. With all the high-end goodies packed on the board, we aren't going to miss the on-board buttons much, and in a strange way, it takes us back to days when we kept the on switch screw driver or razor blade on our test bench. Those of us with a little "ghetto mod" in our blood used old chassis connectors and just shorted the wires for On, Off and Reset prior to casing the boards. Computing caught up to the bench needs, and for around $19, you can get professionally wired switches for bench testing, so the absence of on-board buttons is easily bypassed for us bench warriors.
GIGABYTE X99-SLI Specifications
CPU

Support for Intel® Core™ i7 processors in the LGA2011-3 package
L3 cache varies with CPU

Chipset

Intel® X99 Express Chipset

Memory

8 x DDR4 DIMM sockets supporting up to 64 GB of system memory
4 channel memory architecture
Support for DDR4 3333(O.C.) / 3200(O.C.) / 3000(O.C.) / 2800(O.C.) / 2666(O.C.) / 2400(O.C.) / 2133 MHz memory modules
Support for non-ECC memory modules
Support for Extreme Memory Profile (XMP) memory modules
Support for RDIMM 1Rx8/2Rx8/1Rx4/2Rx4 memory modules (operates in non-ECC mode)

Audio

Realtek ALC1150 CODEC
High Definition Audio
2/4/5.1/7.1 Channel
Support for S/PDIF Out

LAN

Intel GbE LAN Chip (10/100/1000 Mbit)

Expansion Slots

2 x PCI Express x16 slots, running at x16 (PCIE_1/PCIE_2)
2 x PCI Express x16 slots, running at x8 (PCIE_3/PCIE_4)
3 x PCI Express x1 slots
1 x M.2 Socket 1 connector for the wireless communication module (M2_WIFI)

Multi-GPU

Support for 4-Way/3-Way/2-Way AMD CrossFire™/NVIDIA® SLI™ technology

Storage
Chipset:

1 x M.2 PCIe connector(Socket 3, M key, type 2242/2260/2280 SATA & PCIe x2/x1 SSD support)
1 x SATA Express connector
6 x SATA 6Gb/s connectors (SATA3 0~5)
Support for RAID 0, RAID 1, RAID 5, and RAID 10

Chipset:

4 x SATA 6Gb/s connectors (sSATA3 0~3), supporting IDE and AHCI modes only

USB
Chipset:

4 x USB 3.0/2.0 ports (available through the internal USB header)
8 x USB 2.0/1.1 ports (4 ports on the back panel, 4 ports available through the internal USB headers)

Chipset + Renesas®uPD720210 USB 3.0 Hub:

4 x USB 3.0/2.0 ports on the back panel

Internal I/O

1 x 24-pin ATX main power connectorŠ
1 x 8-pin ATX 12V power connector
1 x PCIe power connector
1 x M.2 Socket 3 connector
1 x SATA Express connector
10 x SATA 6Gb/s connectors
1 x CPU fan header
1 x water cooling fan header (CPU_OPT)
3 x system fan headers
1 x front panel header
1 x front panel audio header
2 x USB 3.0/2.0 header
2 x USB 2.0/1.1 headers
1 x Trusted Platform Module (TPM) header
1 x Thunderbolt add-in card connectorŠ
1 x Clear CMOS jumper

Back Panel Connectors

1 x PS/2 keyboard port
1 x PS/2 mouse port
4 x USB 3.0/2.0 ports
4 x USB 2.0/1.1 ports
1 x optical S/PDIF Out connector
1 x RJ-45 port
5 x audio jacks (Center/Subwoofer Speaker Out, Rear Speaker Out, Line In/Mic In, Line Out)
2 x Wi-Fi antenna connector holes

I/O Controller
H/W Monitoring

System voltage detection
CPU/System/Chipset temperature detection
CPU/CPU OPT/System fan speed detection
CPU/System/Chipset overheating warning
CPU/CPU OPT/System fan fail warning
CPU/CPU OPT/System fan speed control

BIOS

2 x 128 Mbit flash
Use of licensed AMI UEFI BIOS
Support for DualBIOS™
Support for Q-Flash Plus
PnP 1.0a, DMI 2.7, WfM 2.0, SM BIOS 2.7, ACPI 5.0

Unique Features

Support for APP Center* Available applications in APP Center may differ by motherboard model. Supported functions of each application may also differ depending on motherboard [email protected] LEDEasyTuneEZSetupFastBootGameControllerCloudStationON/OFF ChargeSmart TimeLockSmart Recovery 2System Information ViewerUSB BlockerV-Tuner
Support for Q-Flash
Support for Smart Switch
Support for Xpress Install

OS Support

Support for Windows 8.1/8/7

Form Factor

ATX Form Factor; 30.5cm x 24.4cm

Warranty
One thing that jumps out at us is the extended XMP, which goes up to an amazing 3333 MHz. You just don't find features like that on budget boards.