Testing
Before we began testing the GIGABYTE X99 SLI, the test system was formatted, and Windows 8.1 x64 was installed. When the Windows installation was complete, we fully updated the OS, and installed the drivers necessary for our components. Auto-updating and Windows Defender were then disabled and we installed all of our benchmarking software, performed a disk clean-up, cleared any prefetch and temp data, and ran the tests. Each test was ran three times, then we averaged the three runs and reported that average here. If any one run was to far out of range we toss the errant score and run the test again.
Test Rig
Test Rig
"Hexzilla"
Case Type
DIYPC Open Test Bench
CPU
Intel Haswell E 5920k 3.3GHz (Running 4.4GHz)
Motherboard
GIGABYTE X99 SLI
Ram
Kingston Fury 32GB 2400MHz (15 – 15 -15)
CPU Cooler
SilverStone TD02-E Dual Radiator Cooler
Hard Drives
Kingston Predator 480GB PCIE SSD
Optical
Liteon DVD Burner
GPU
EVGA GTX 960 SSC
Case Fans
180mm Fan cooling the mosfet / CPU / Memory area
Docking Stations
None
Testing PSU
SilverStone 1500W ST-1500-GS
Legacy
None
Mouse
Razer DeathAdder Chroma
Keyboard
Razer BlackWidow Chroma
Any Attempt Copy This System
Configuration May Lead to Bankruptcy
Benchmarks
Benchmarks
Super PI Mod 1.9
Wprime 1.55
PCMark 7
CINEBENCH R11.5
x264 HD
Truecrypt 7.1
Unigine Heaven 4.0
Handbrake
AIDA64
Benchmarks
Super PI Mod 1.9
Super PI is a single-threaded benchmark that calculates Pi to a specific number of digits. It uses the Gauss-Legendre algorithm and is a Windows port of a program used by Yasumasa Kanada in 1995 to compute Pi to 232 digits.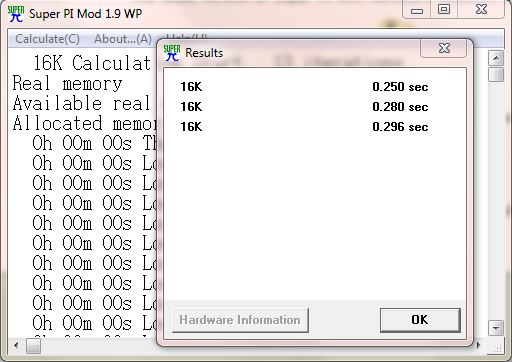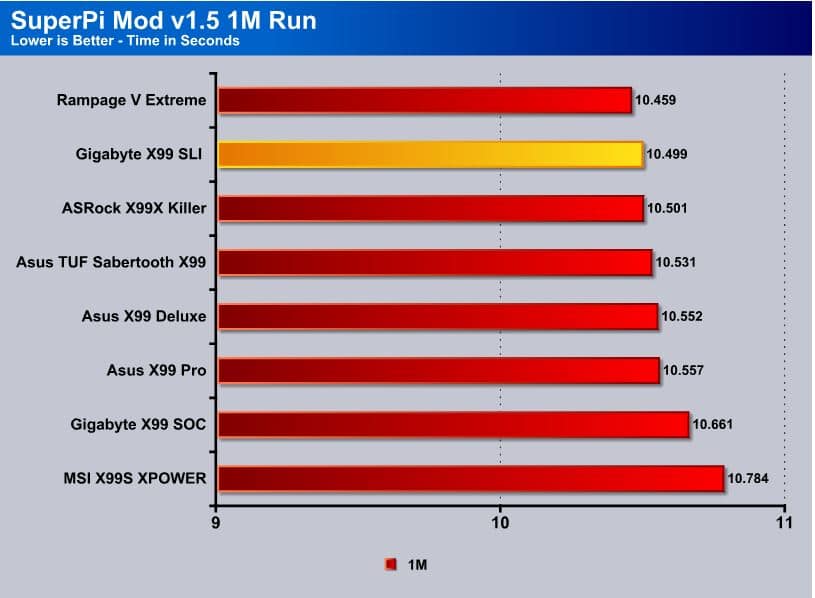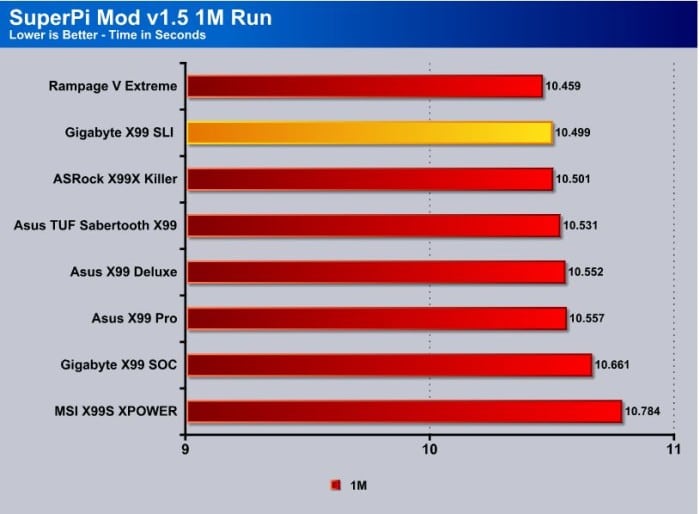 Super Pi 1M test runs so fast that to get any definition on the chart we have to set the axis to 9. The GIGABYTE X99 SLI did pretty well in the 1M test and dropped into second place.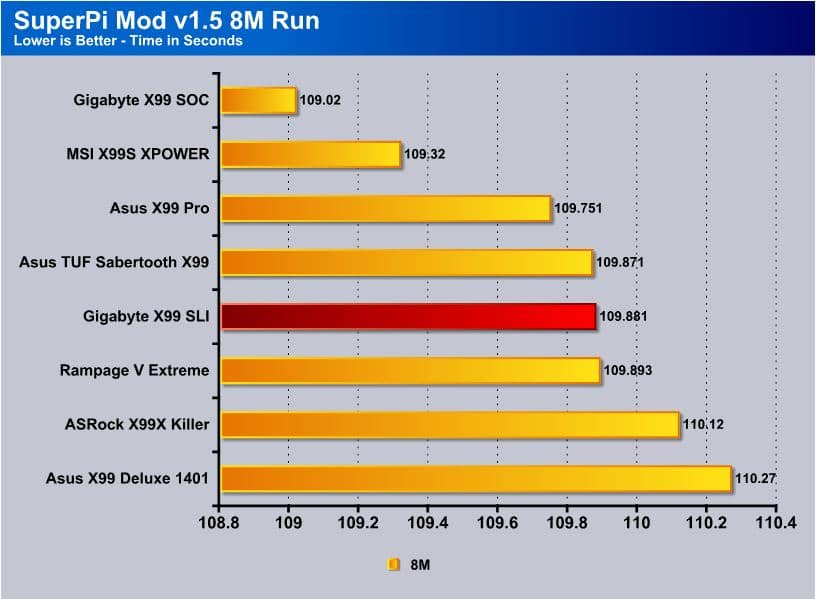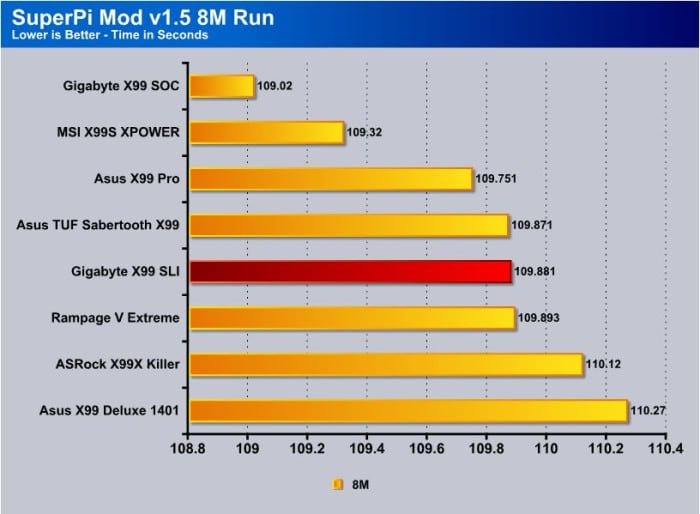 The 8M test sees the GIGABYTE X99 SLI in 5th place, turning in a score of 109.881 which puts it in the middle of the pack.
wPrime
wPrime is a leading multithreaded benchmark for x86 processors that tests your processor performance by calculating square roots with a recursive call of Newton's method for estimating functions, with f(x)=x2-k, where k is the number we're sqrting, until Sgn(f(x)/f'(x)) does not equal that of the previous iteration, starting with an estimation of k/2. It then uses an iterative calling of the estimation method a set amount of times to increase the accuracy of the results. It then confirms that n(k)2=k to ensure the calculation was correct. It repeats this for all numbers from 1 to the requested maximum.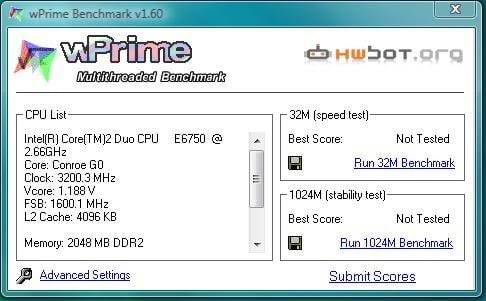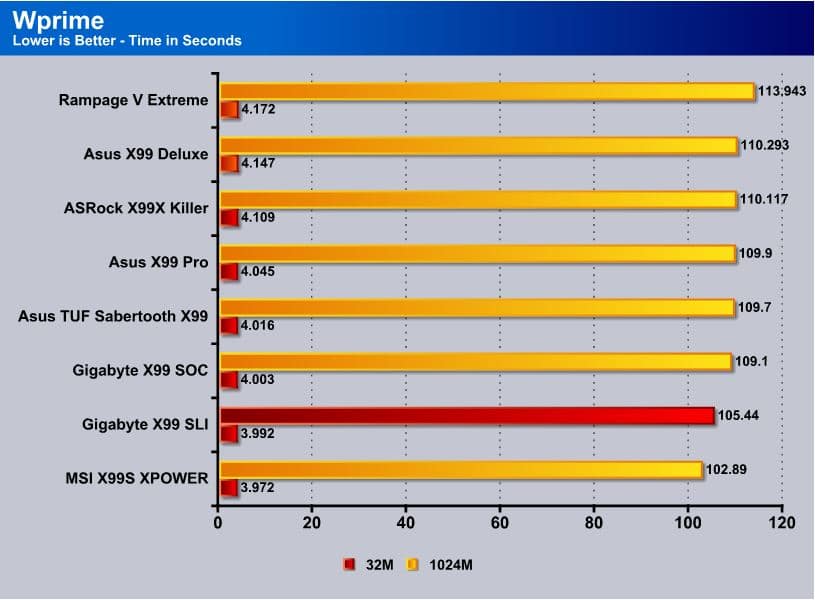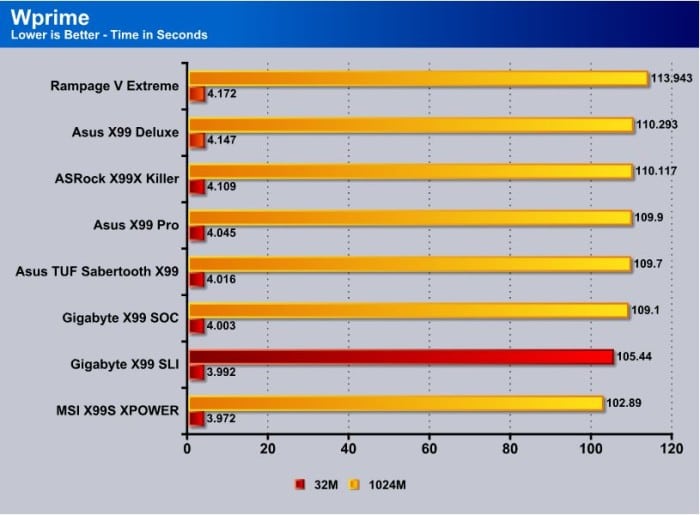 wPrime sees the GIGABYTE X99 SLI in at 105.44 on the 1024M test and 3.992 on the 32M test. That puts it toward the bottom of the chart, but in all fairness, the board is running its first BIOS, so we expect optimizations as the BIOS matures.
PCMark 7
PCMark 7 is a complete PC benchmarking solution for Windows 7 and Windows 8. It includes seven tests combining more than 25 individual workloads covering storage, computation, image and video manipulation, web browsing and gaming. Specifically designed for the full range of PC hardware from netbooks and tablets to notebooks and desktops, PCMark 7 offers complete Windows PC performance testing for home and business use.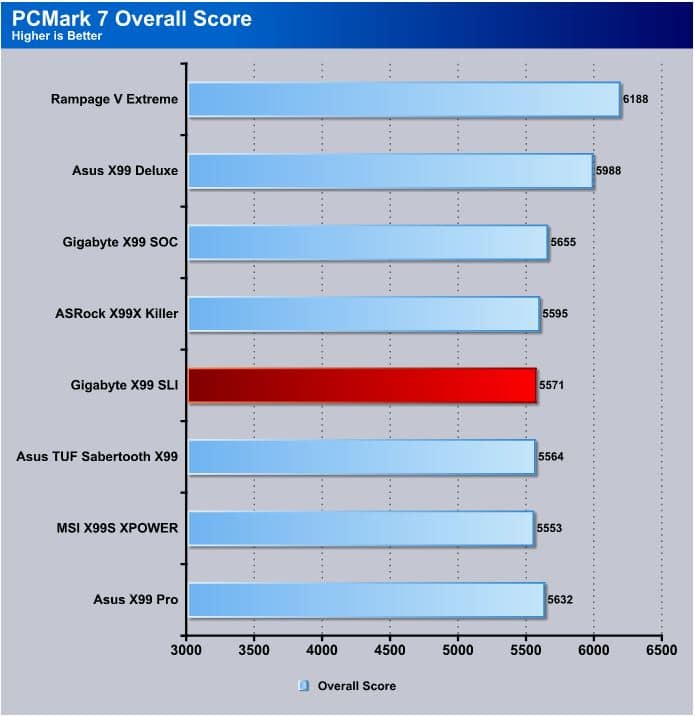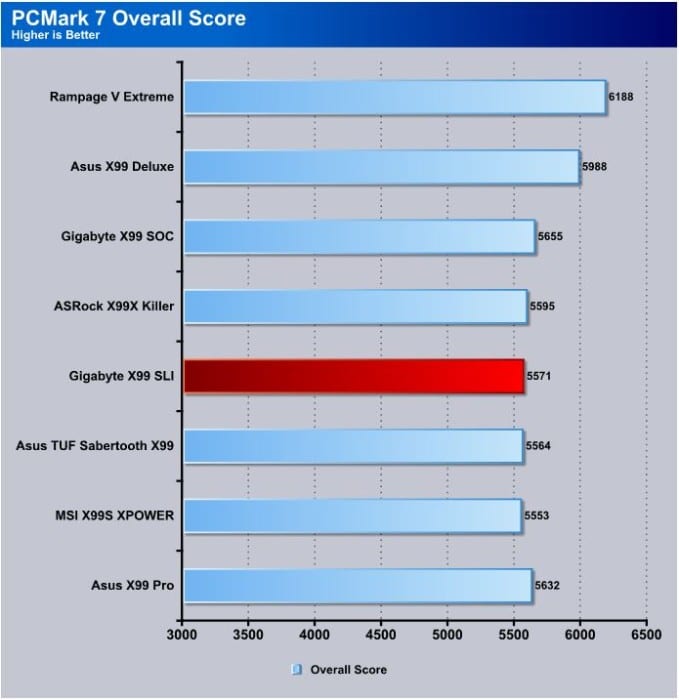 The overall score for the GIGABYTE X99 SLI is 5,571, which puts it mid-pack again. With all the basic chipsets and Intel CPU controlling a lot of the functions, we don't expect the huge differences we used to get when vendors designed their own chipsets.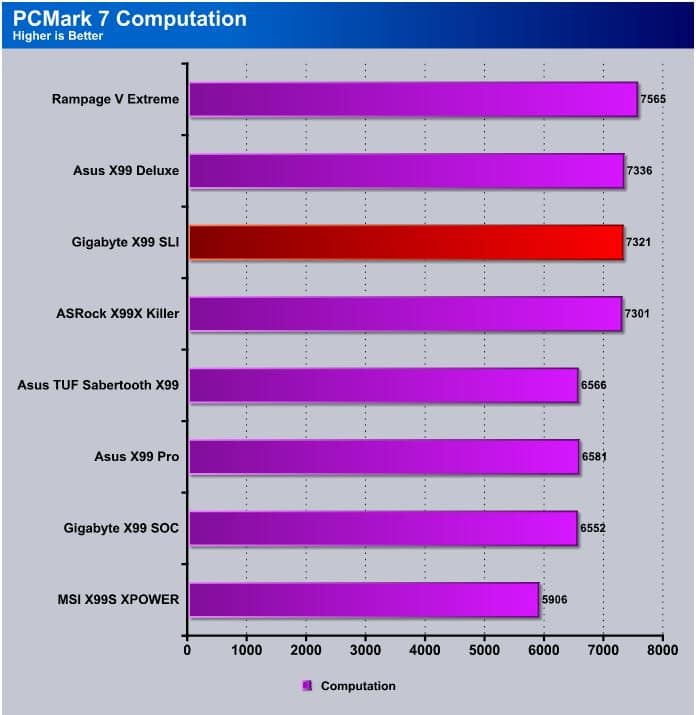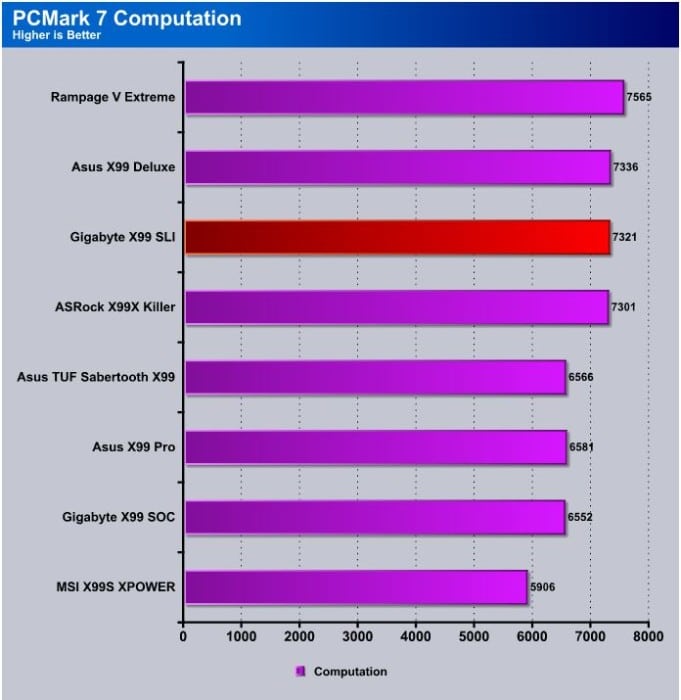 Computation sees the X99 SLI board in 3rd place with a respectable score of 7,321, dropping it square in third place.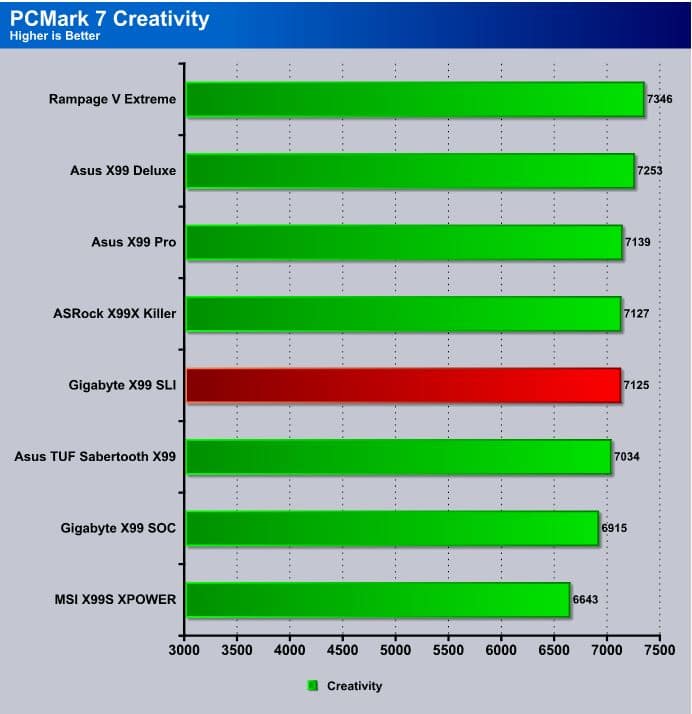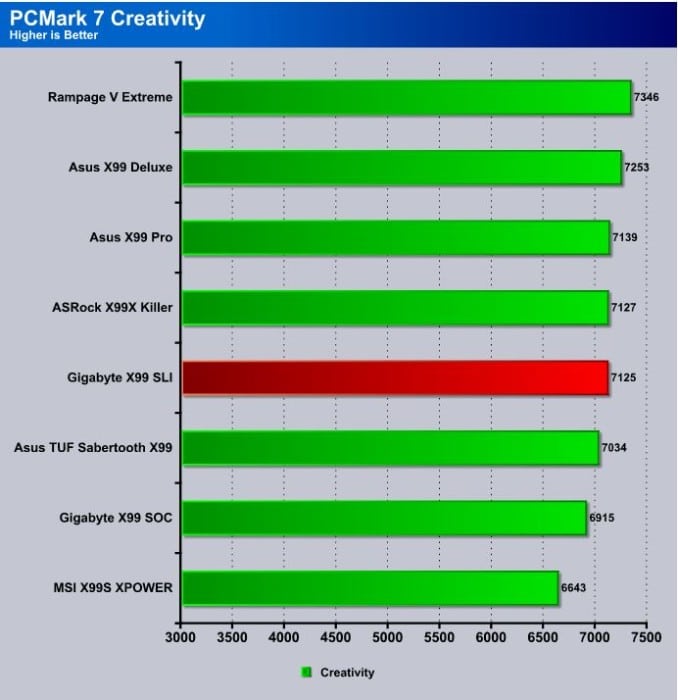 PCMark7's Creativity test puts the GIGABYTE X99 SLI board about mid chart with a score of 7,125.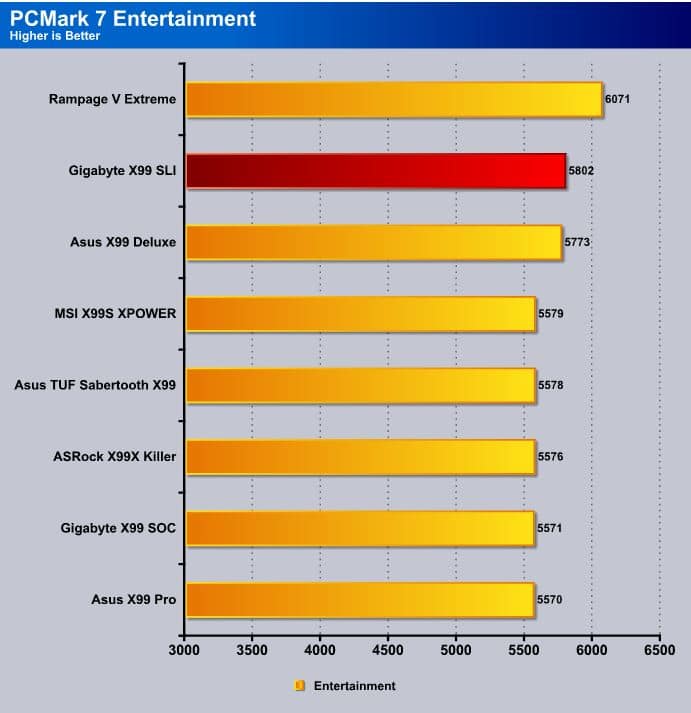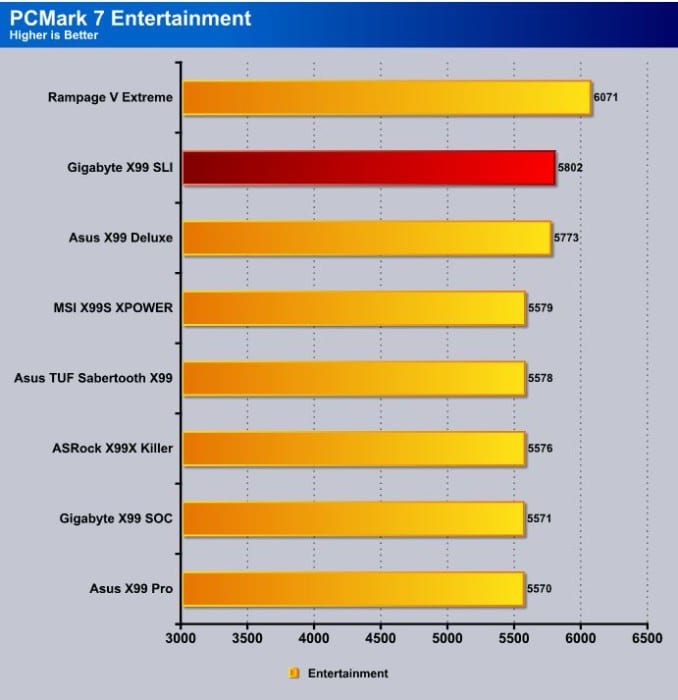 On the entertainment test the GIGABYTE X99 SLI board did extremely well and it pulled a second place finish. You wouldn't expect less from a 4-way SLI board with ACL1150 audio and a built-in amp.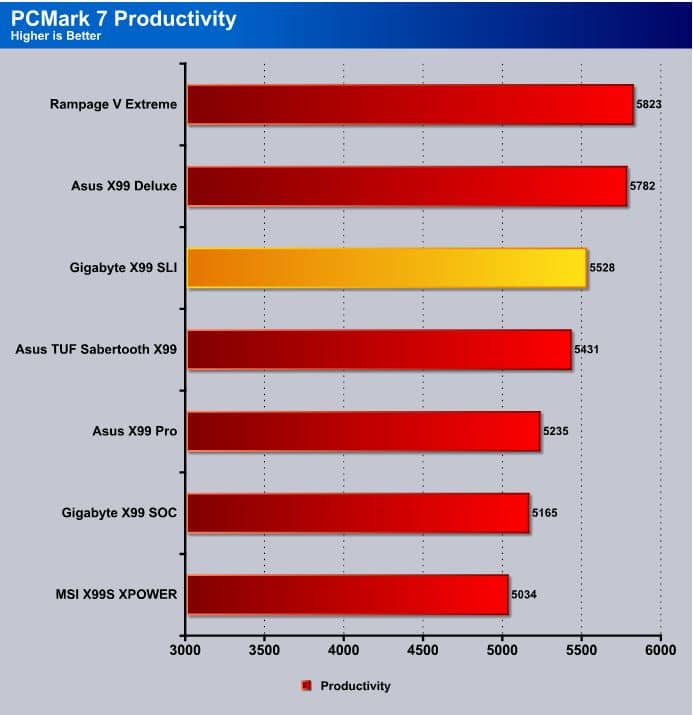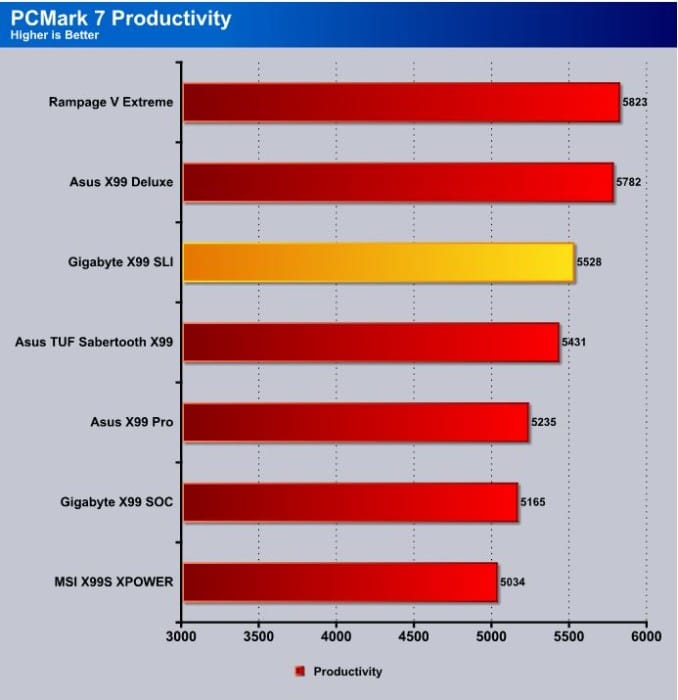 Productivity sees the GIGABYTE board at 5,528 and sitting nicely in third place. That's not bad for a board in the lower-to-mid 2011v3 price range.
3DMark11
3DMark 11 is a DirectX 11 video card benchmark test for measuring your PC's gaming performance. 3DMark 11 makes extensive use of DirectX 11 features including tessellation, compute shaders and multi-threading. Trusted by gamers worldwide to give accurate and unbiased results, 3DMark 11 consistently and reliably tests your PC's DirectX 11 performance under game-like loads.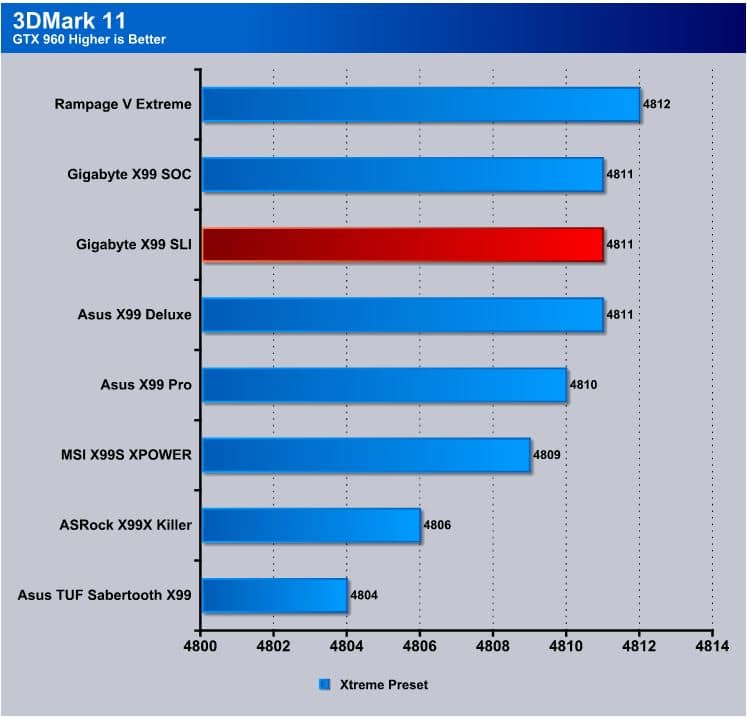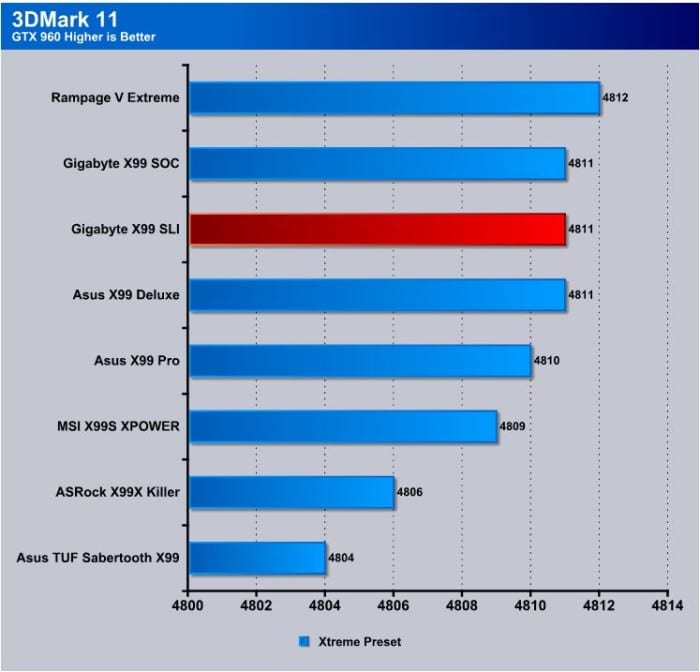 3DMark11 puts the GIGABYTE X99 SLI at 4,811 bunched into the pack of boards that all share the ProlWStage MOSFETs. Since every board is tested with the EVGA GTX 960 and the same set of 2400 MHz Kingston RAM with identical CPU speeds, the motherboards are pretty neatly tucked into about the same scoring spot.
CINEBENCH R11.5
CINEBENCH is a real-world cross-platform test suite that evaluates your computer's performance capabilities. CINEBENCH is based on MAXON's award-winning animation software CINEMA 4D, which is used extensively by studios and production houses worldwide for 3D content creation. MAXON software has been used in blockbuster movies such as Iron Man 3, Oblivion, Life of Pi or Prometheus and many more.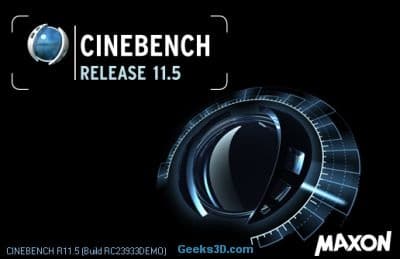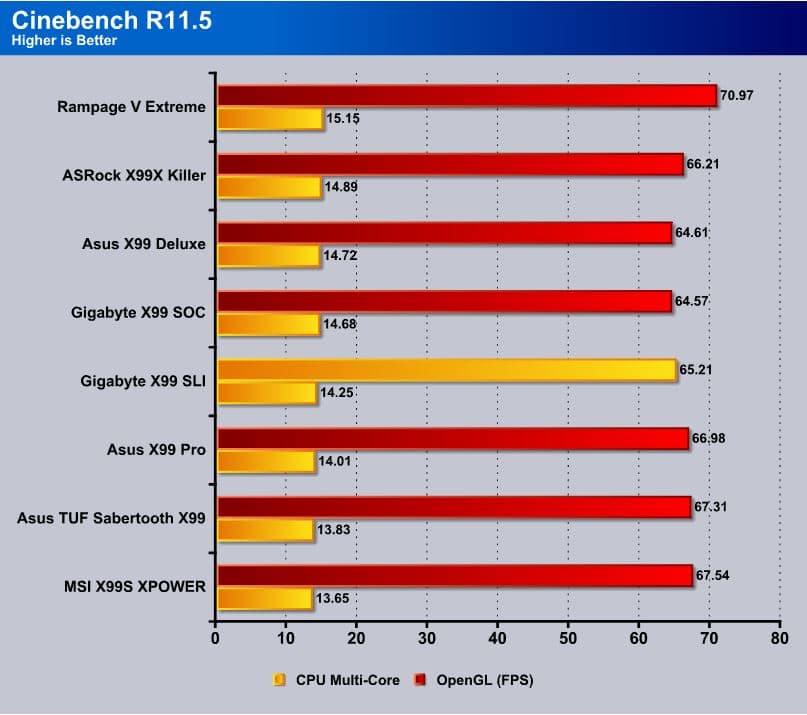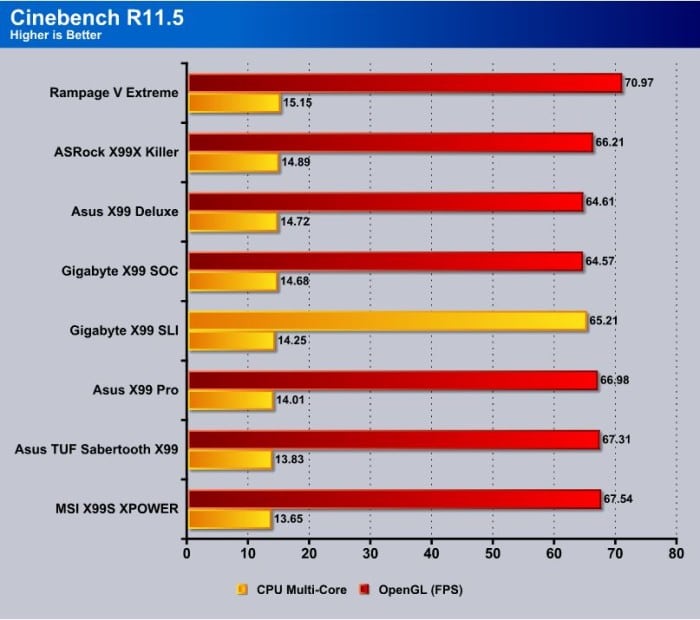 CINEBENCH puts the GIGABYTE X99 SLI in the middle of the pack as far as performance goes and again considering it's price point that's not a bad showing.
x264 HD
Simply put, x264 HD Benchmark is a reproducible measure of fast your machine can encode a short HD quality video clip into a high quality x264 video file. It's nice because everyone running it will use the same video clip and software.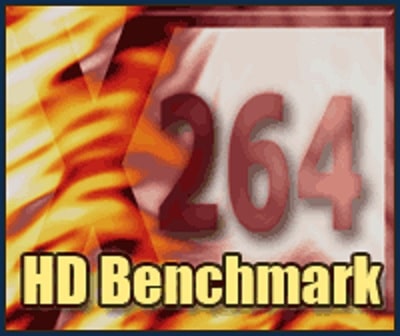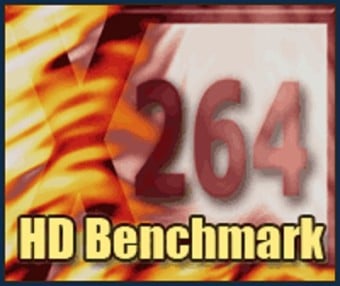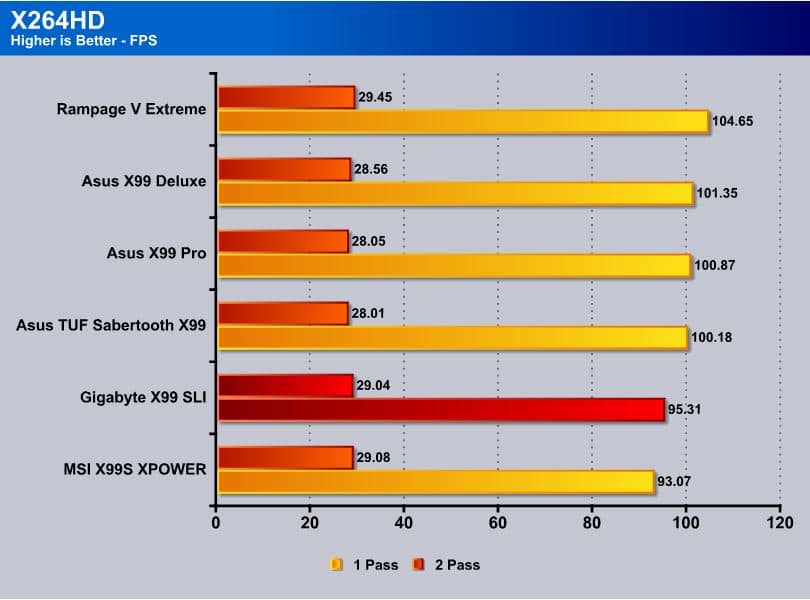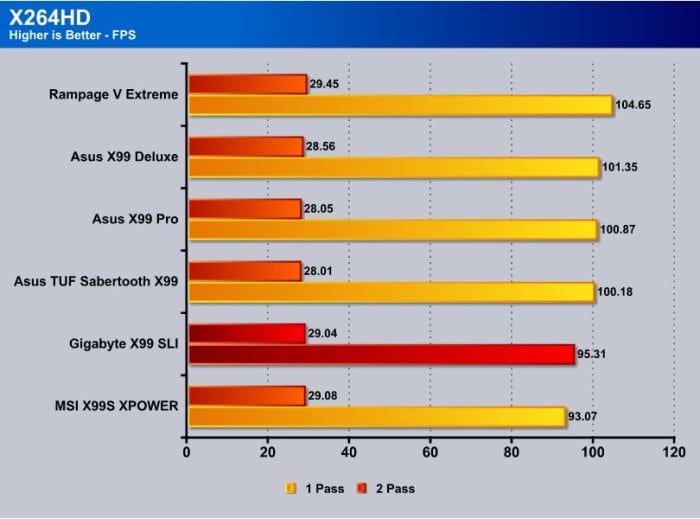 x264 HD wasn't very kind to the X99 SLI board and puts it second to last. The one pass test sees it in pretty good shape, but the two pass test dropped it down in the pack to second to last and almost a full five seconds behind the ASUS TUF Sabertooth X99.
Unigine Heaven 4.0
Heaven Benchmark, with its current version 4.0, is a GPU-intensive benchmark that hammers graphics cards to the limits. This powerful tool can be effectively used to determine the stability of a GPU under extremely stressful conditions, as well as check the cooling system's potential under maximum heat output. It provides completely unbiased results and generates true in-game rendering workloads across all platforms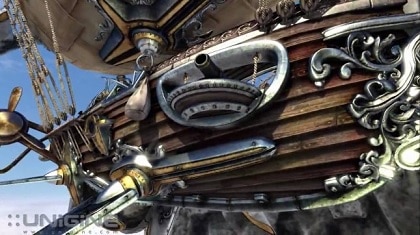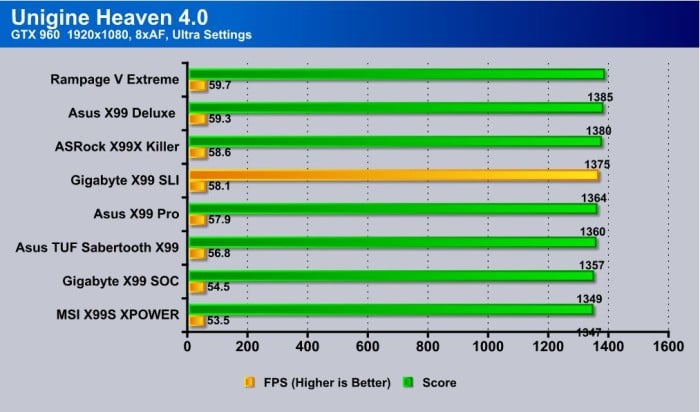 Unigine Heaven 4.0 puts the GIGABYTE X99 SLI at 58.1 FPS and a score of 1,375. We weren't expecting this good of performance from a board at this price point, but GIGABYTE spent the board's build money in vital performance spots.