Power Consumption, Temperature and Overclocking
Power Consumption
Keep in mind that the power consumption is dependent on the platform as opposed to just the CPU alone. With both Intel and AMD producing not just the CPU but also the chipset, both companies are able to more tightly regulate the chip in order to minimize power leakage.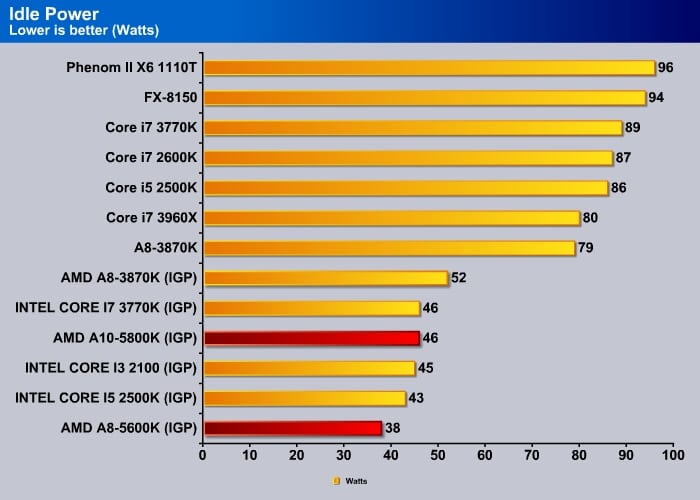 The idle power consumption for Trinity has been improved significantly. The A8-5600K is 14 watts less and the A10-5800K is 6 watts less than the A8-3870K. In fact, the idle power consumption for the Trinity is on par with the Ivy Bridge CPUs.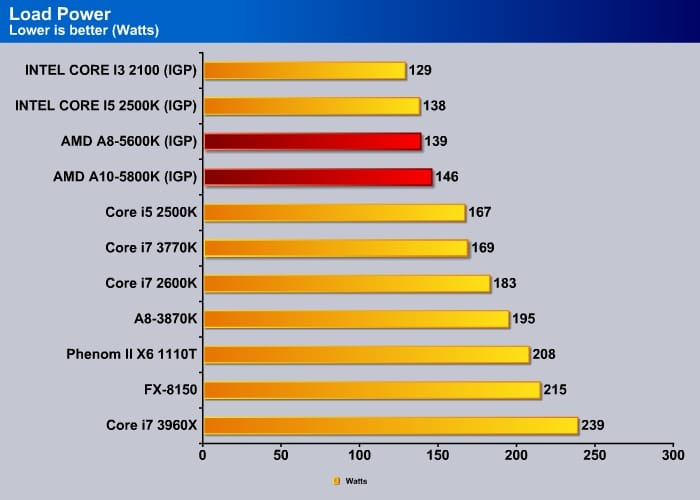 The load power consumption for the A8-5600K is about 10 watts higher than the Core i3 system. With the A10-5800K, we see 7 more watts of power consumption. While the Intel Core i3 has a lower power consumption, we an see that the power consumption for these two APU is about the same as the Core i5 2500K (aka quad core Sandy Bridge).  
Temperature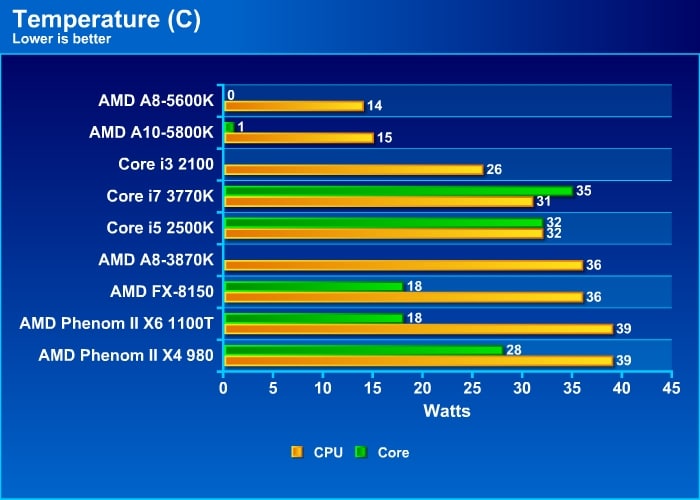 First of all, do not read too much on the absolute value of the temperature reading as it depends on the cooler used and the architecture. We use the same cooler for all of our AMD CPUs but we use a different cooler for the Intel CPU. One thing we can notice is that AMD has done some nice work in reduction the idle heat-output. We believe this is partly due to fewer transistor on the Trinity compare to Llano and possibly with internal power regulation in Trinity.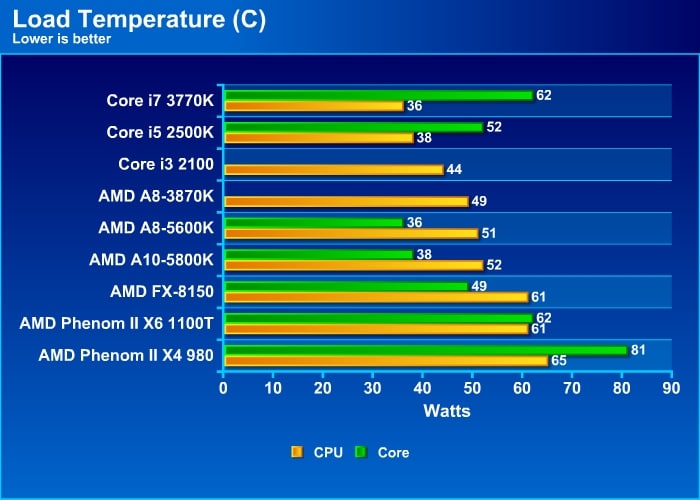 The load temperature is slightly higher on Trinity where the A10-5800K is 3 degrees hotter than the A8-3870K. If your old cooler is able to keep your Llano cool, it should not have any issue at keeping the Trinity cool as well. 
Overclocking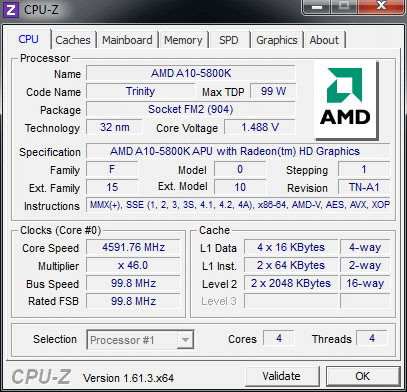 At default voltage, we were able to overclock the CPU to 4.4 GHz and the PC is able to boot but when we overclock it to 4.5GHz, we were not able to get our system to post. After raising the voltage to 1.5 V we were able to push the CPU to 4.6 GHz but it would not pass Prime95, and two of the four workers would give us errors and not complete the test. We had to lower the speed to 4.5GHz in order for us to run Prime 95 stable.
At 4.5 GHz, we ran Prime 95 and saw the power consumption jumped to 193 W, or 46 watts more than the sotkc speed. The CPU temperature also reached 85ºC and core is 68ºC.
Obviously, overclocking is not Trinity's best feature if you plan to do it with air-cooler. We were told that it can reach higher speeds but ultimately that would require more extreme cooling like liquid nitrogen.