Nowadays, memory tends to be more of a battle over who can bin the tightest, as all IC's shipping for the most part are pretty much the same. In the memory market it all comes down to how you can differentiate yourself from the same old stuff that we may see every day. Patriot has the new Viper 3 series which is what this kit is part of, and carrying the "Intel Extreme Masters" means it went through extensive testing to prove utmost compatibility with new DDR3 motherboards and XMP easy tuning.
Introduction
Patriot is a brand that mostly makes high-end memory. They are especially good for the gaming market, as they are rock solid at nice speeds. Today we have the Viper 3 based kit carrying the Intel Extreme Masters mark, which means it is limited edition, and something special. Intel Extreme Masters kits are specially hand tested and verified to be compatible with Intel's newest 6 and 7 series chipset boards. This is not something to take lightly as many users find that some boards can be selective with what memory it likes or works well with. The Intel Extreme Masters memory is aimed to alleviate that issue by ensuring you can feel confident that these modules will plug in and with the flick of the XMP profile be off to the races.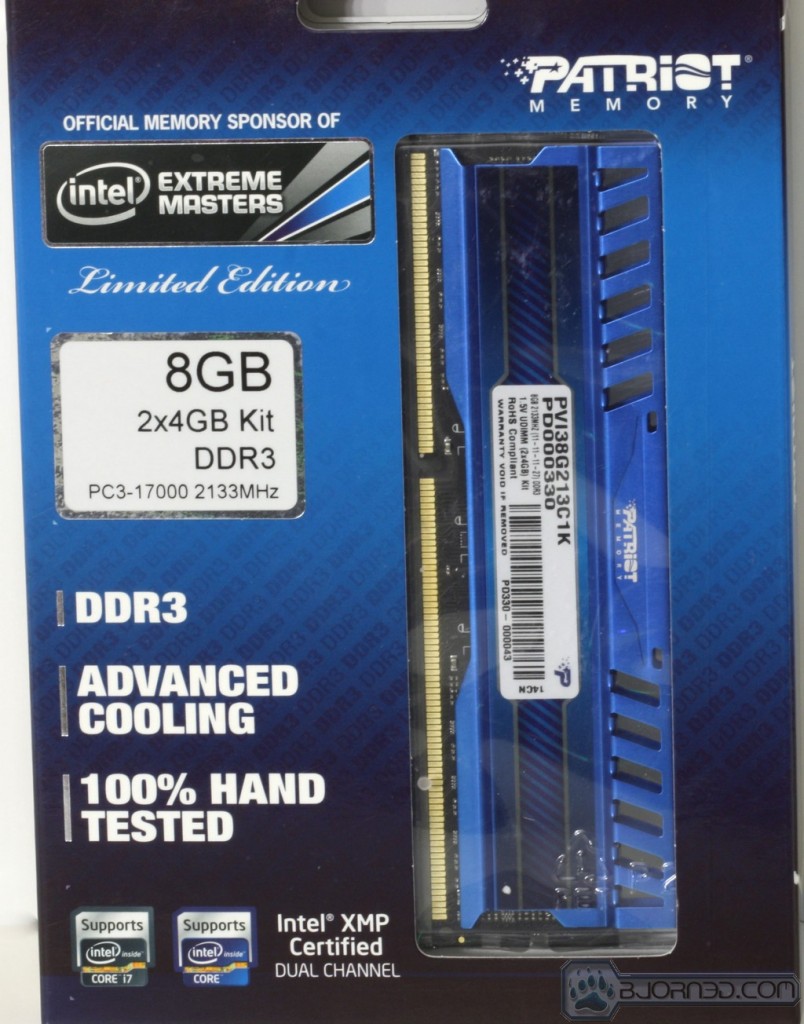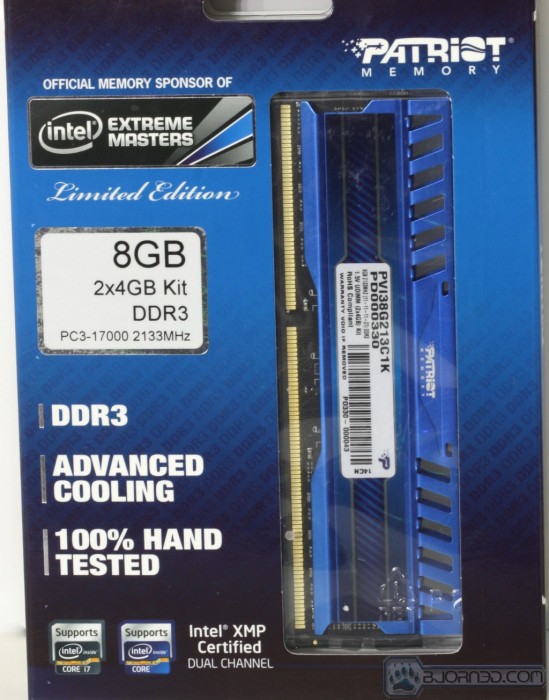 The kit we have on hand is the blue kit rated at 2133MHz with a CAS latency of 11. Present street price is $56.99 directly from Newegg at the time of testing/writing. These modules show some promise as they are not the best latencies we've seen, but they have a great price point. With such a low price, it's tough to go wrong here as they are right in the sweet spot matching other DIMMs in both price and capacity. 
Pictures & Impressions
Click Image to Enlarge
Most modules now days come in a blister pack unless of course you are buying an uber special expensive kit where a box or even special tin is used as packaging. At this price we was surprised that these modules came with a detailed package showing off the XMP certification amongst other specs.
Click Image to Enlarge
Once removed we find the standard blister pack which is used to hold the modules in place and ensure safe transport. the modules really look very nice and the new heatspreaders just look cool.
Click Image to Enlarge
The Viper 3 heatspreader is a thin metal design but it gets the job done even under heavier voltage testing as it simply spreads the heat away from the ICs themselves and some of that heat is moved away by passing air. Granted, if you look at the Viper extreme heatsinks they are much thicker units but that can also cause heat to be trapped under the heatsinks as well. Its a give and take for the most part with most of the decision being on the user's style of preference.
| | |
| --- | --- |
| M/B Chipset | Intel Z77 |
| CAS Latency | 11-11-11-27 |
| Capacity | 8GB (4GB x 2) |
| Speed | DDR3-2133 (PC3 17000) |
| Test Voltage | 1.5 Volts |
| Height | 41 mm / 1.63 inch |
| Registered/Unbuffered | Unbuffered |
| Error Checking | Non-ECC |
| Type | 240-pin DIMM |
| Warranty | Lifetime |
| Features | Intel XMP 1.3 (Extreme Memory Profile) |
These modules are listed as rated for 2133MHz which is low compared to some high performance kits which are pushing well north of 2600 even going as high as 2800+. But once again it all comes down to purpose and real world usability as this speed is more for a 24/7 user who wants the extended bandwidth but doesn't need the higher speed which most of the time will net marginal results unless highly overclocked.
Testing & Methodology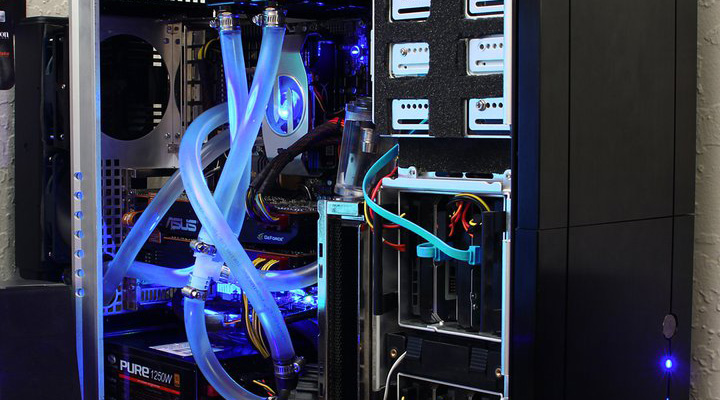 Memory testing can be tough at times as most look at a number (the frequency) and think the higher the better, but in our testing experience we do know that many times there are other numbers at play such as the timings and subtimings which can have anywhere from a minimal to drastic affect on what kind of performance we see from the system when tweaked to the max. Also price can be a determining factor as well and this is why we will run through a few benchmarks to see how this kit affects system performance running at SPD, XMP and custom tweaking to ensure we get a good idea of exactly what kind of value the end consumer can expect for their money.
Overclocking
One thing to note right off the bat is that anything past 1600MHz-1866MHz will not net you much if anything on a stock clocked 3770K. The architecture is just too efficient and therefore the higher memory frequency simply cannot be seen without the CPU moving a bit faster. In order to make this a simple play for anyone who might try this, we did the simple (or EZ) overclock supplied by the ASUS Maximus V Extreme, labeled "Gamers Overclock". This placed the CPU at a nominal frequency of 4.8GHz. When I tested the memory first at stock speeds the difference between SPD 1600MHz C9 was not there it was a marginal to non existent change no matter the benchmark.
We have tested many memory kits especially recently. Many of them are binned to their absolute max and this set is not that as when pushing the clock we were able to get from the XMP profiled 2133MHz all the way up to 2300MHz which is not a bad jump for a 50 dollar kit. On top of this we were able to tighten up the CL to 10 and overall run the memory just a little tighter with some tweaking.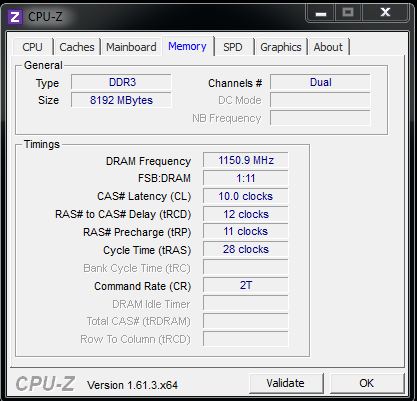 Staying with the 2133MHz speed we could get the memory down a bit tighter, we opted for the higher speed for testing comparison as it gave a little better performance. Overall staying with the XMP profile is not a bad idea but pushing the volts up to 1.65 definitely waked this kit up a bit as the 3T setting by XMP can be dropped to 2T or even 1T and the timings can be cranked down a bit to more fit your usage.
CAUTION: Overclocking can damage components, void warranties and cause all kinds of other unforseen issues.  Perform at your own risk and understand the settings I may list are from my own testing risking my own hardware so it is in no way a guide on how you should overclock your system or components.  (silly I know but I dont want someone jumping up and down on my head because they messed something up)
Test Rig
Test Rig

Case
Open Air Test Bench
CPU

Intel Core i7-3770K

Motherboard
ASUS Maximus V Extreme
RAM

8GB Patriot Intel Extreme Master 2133MHz (2x4GB)

CPU Cooler

Swiftech H20-320 Edge HD

Hard Drive
Western Digital Velociraptor 300GB
SSD

Kingston HyperX 240GB SSD

Optical
ASUS BD-ROM
GPU

Intel HD 4000

Additional Cards

N/A
PSU

Thermaltake Toughpower XT 1475W Gold

Mouse
Tt eSPORTS Black gaming mouse
Keyboard
Tt eSPORTS Meka G1 mechanical gaming keyboard
Test Suite
We will use the following applications to test the performance of the memory. Benchmarks
SiSoft Sandra 2011
AIDA64 Extreme
3DMark 11
Sniper Elite V2
SiSoft Sandra 2011
"SiSoftware Sandra (the System Analyzer, Diagnostic and Reporting Assistant) is an information & diagnostic utility. It should provide most of the information (including undocumented) you need to know about your hardware, software and other devices whether hardware or software. It works along the lines of other Windows utilities, however it tries to go beyond them and show you more of what's really going on. Giving the user the ability to draw comparisons at both a high and low-level. You can get information about the CPU, chipset, video adapter, ports, printers, sound card, memory, network, Windows internals, AGP, PCI, PCI-X, PCIe (PCI Express), database, USB, USB2, 1394/Firewire, etc."
Here we see that the bandwidth is good and the memory runs well. Bumping it to XMP gives it a nice jump forward but the manual tweaking gave us reduced results for performance with the only gain being in the latency benchmark. We are beginning to think that the memory was perfectly suited at its XMP profile and any adjustments we are making could be causing an auto 2nd or 3rd timing to adjust in lockstep actually causing negative performance.
AIDA64 Extreme
"AIDA64 Extreme is about one of the most comprehensive system information utilities I have used. The integrated memory benchmark is aso very cool as it gives me a repeatable bandwidth and latency result which can then be used for comparison."
AIDA64 shows a little more promising results as it shows gains across the board with the only loss by the custom tweaking being the copy benchmark which honestly could possibly even be improved with a little more tweaking on the timings. But in the end, most users are going to plug these in and run so lets leave the super extreme level tweaking for a benching session.
Overall the XMP shows nice increases over the default SPD values the memory boots at.
3DMARK 11

3DMark 11 is the newest in futuremark's suite of benchmarking utilities. Its a fully capable DirectX11 benchmark which also stresses and analyzes the system performance as a whole to simulate a heavy rendering environment such as a high end game or other app the end user may run. This benchmark was run with Performance settings 5 times and all runs were averaged for the result below.
3DMark 11 is a nice synthetic benchmark which represents 3D gameplay. For this we am using the integrated HD4000 running at performance preset, and we are only interested in the Physics score and test results. This is a CPU bound test and shows that just like stairs each frequency adjustment gives a bump over the one below it. This means in a gaming rig these modules could help make sure that your high end GPUs are well fed with data when needed.
Sniper Elite V2
Sniper Elite V2 is a newer game we just recently added to my testing, so we went ahead and threw it in here just to see if it added any performance in real world gameplay. As you see here switching to XMP does make a difference and the FPS gain is marginal but there is a gain. The custom tuning did not fare so well as it is above the SPD setting but loses performance vs the XMP.
CONCLUSION
The Patriot IEM kit is designed to be the a certified and awesome running XMP kit. It is not advertised as an extreme overclocking module yet it does have some tuning headroom if you wanna invest the time in some indepth tuning. The XMP profile worked without issue and is a nice low 1.5V at default and for 2133 it is right in the running with the rest and even better than some. The new Viper 3 heatspreaders are pretty cool looking and they are functional, although the argument can be made that heatspreaders are not needed as these modules never even got warm. Simply by style points they look nice and do their job while not being so flashy or crazy that they would stand out.
The only real complaint we could have would be that Patriot really didn't push these modules hard enough as there is plenty left on the table. The module spec at 3T via XMP was unecessary as these run 2T without issue, but we're sure it is done this way as a measure of safety in case a module is slightly weaker than the rest it will still fly high. Also this kit will show little benefit without an overclocked CPU.
In a world of kits reaching for the stars and hearts of extreme benchmarkers the Patriot IEM 2133 kit is a breath of fresh air as it plugs in and works at a speed that is reasonable for any gaming rig. For those who like to push it there is some room to tweak away at this kit as the modules do respond to extra voltage. All in all the price is nice and the performance is good there is no reason why we would not recommend this kit.
OUR VERDICT: Patriot IEM 2133 MHz 8GB Memory Kit
| | |
| --- | --- |
| Performance | 9 |
| Value | 9.5 |
| Quality | 9.5 |
| Features | 9 |
| Innovation | 9 |

We are using a new addition to our scoring system to provide additional feedback beyond a flat score. Please note that the final score isn't an aggregate average of the new rating system.

Pros
Cons

Good looking new model heatspreaders

Low voltage requirement

XMP works nicely

Excellent bandwidth

Need Overclocked CPU to see benefit

XMP 3T not necessary
Summary: The Patriot IEM kit is ready to drop in and run excellently for any gamer looking for a bump in performance at a great value. For this it earns the Bjorn3D Golden Bear Award.